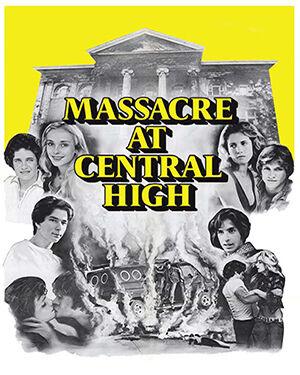 PICK OF THE WEEK
MASSACRE AT CENTRAL HIGH (Synapse Films/MVD Entertainment Group): Dutch filmmaker Renee Daalder (1944-2019) made his English-language debut with this intriguing, subversive 1976 sociological treatise in the guise of an exploitation film.
A trio of teen toughs hold sway over Central High School, berating and bullying their fellow students with vicious abandon. New student David (Derrel Maury) is disgusted by their behavior and encourages students to retaliate, much to the concern of his best friend Mark (Andrew Stevens). Inevitably, David's rebellion puts him in harm's way, and he is permanently injured as a result.
He then methodically plots the demise of his tormentors, but once they are eliminated, he comes to realize that the students he thought he was helping are completely out of control, and if anything are worse than those who terrorized them. The circle of violence is continuing and expanding, forcing David to take even more drastic action.
The "massacre," such as it is, is a series of so-called "accidents." That didn't necessarily endear the film to drive-in/grindhouse audiences expecting a full-scale slasher-movie bloodbath, but it did surprise those who also expected it – including Roger Ebert, who reviewed it favorably on Sneak Previews (guess how yours truly first heard about it?).
The film can be preachy, and there's no doubt it's ragged around the edges, but it remains credible and effective, and the talented young cast also includes Robert Carradine, Kimberly Beck, Cheryl "Rainbeaux" Smith, Steve Bond (later of General Hospital), and Lani O'Grady (of Eight is Enough fame),
The special-edition Blu-ray ($34.95 retail) includes the retrospective documentary Hell in the Hallways: The Making of "Massacre at Central High," retrospective interviews, theatrical trailer, and more. Rated R. **½ 
ALSO AVAILABLE
BRIGHT VICTORY (Kino Lorber Studio Classics): Arthur Kennedy earned five Academy Award nominations in the 1950s – without a win – and he got his only one for Best Actor portraying an embittered, blind World War II veteran struggling to come to terms with his infirmity and his racial prejudice in director Mark Robson's 1951 adaptation of Baynard Kendrick's 1945 novel Lights Out. Dated and even hokey in many respects but well-intentioned and nicely acted by a cast including James Edwards, Peggy Dow, Julie Adams, Will Geer, Jim Backus, Richard Egan, Murray Hamilton and Rock Hudson, this also received an Oscar nomination for Best Sound Recording, available on Blu-ray ($24.95 retail), replete with audio commentary and trailers. ***
CANADIAN BACON (MVD Entertainment Group): The "MVD Rewind Collection" Blu-ray bow ($19.98 retail) of writer/director Michael Moore's only narrative feature to date, a scattershot 1995 comedy in which the Alan Alda's U.S. President declares war on Canada to improve his public approval rating. Little wonder that Moore went scurrying back to documentaries, which is undeniably his specialty. A feeble farce that wastes the talents of cinematographer Haskell Wexler (!) and a star-studded cast including John Candy (to whom the film is dedicated), Rhea Perlman, Rip Torn, Kevin Pollak, Steven Wright, Jim Belushi, Bill Nunn, G.D. Spradlin, Kevin J. O'Connor, Brad Sullivan, Wallace Shawn, and an unbilled Dan Aykroyd. Look for Moore in a cameo. Rated PG. *½
"CHILD'S PLAY 4K ULTRA HD COMBO COLLECTOR'S EDITIONS" (Scream Factory/Shout! Factory): A self-explanatory collection of the first three Child's Play films, each featuring the voice of Brad Dourif as the possessed "Good Guy" doll now available in 4K Ultra HD Combos, each boasting a bevy of bonus features (including audio commentaries, retrospective featurettes and interviews, collectibles, and more): Child's Play (1988) starring Catherine Hicks, Chris Sarandon, and newcomer Alex Vincent; Child's Play 2 (1990), which sees Vincent reprise his role; and Child's Play 3 (1991), in which Justin Whalin assumed Vincent's role. Each film is rated R – for obvious reasons.
THE COP (Kino Lorber Studio Classics): Originally released as Un condé, director/co-screenwriter Yves Boisset's R-rated 1970 adaptation of Pierre Lesou's novel La mort d'un condé stars Michel Bouquet as a veteran police inspector who wages a one-man war against a French narcotics syndicate after his partner is murdered, with Francoise Fabian, Michel Constantin, Bernard Fresson, Gianni Garko, Rufus, and Adolfo Celi caught in the crossfire. In French with English subtitles, available on DVD ($19.95 retail) and Blu-ray ($24.95 retail), each replete with audio commentary and theatrical trailer.
"ELI ROTH'S HISTORY OF HORROR": SEASON 3 (AMC Studios/RLJ Entertainment): The title tells all as award-winning filmmaker/life-long genre fan/executive producer Eli Roth explores horror and fantasy with a star-studded array of guests – including Jamie Lee Curtis, Cate Blanchett, Quentin Tarantino, Edgar Wright, Rob Zombie, Geena Davis, Joe Dante, Leonard Maltin, and others – in all six episodes from the 2021 (and final) season of the award-winning AMC documentary series, available on DVD and Blu-ray (each $34.97 retail), both boasting bonus features. 
GALLANT INDIES (Distrib Films/Icarus Films Home Video): Philippe Beziat directed this immersive, almost overly detailed 2020 documentary feature (originally titled Indes galantes) explories the Opera Bastille's modern interpretation of Rameau's classic opera Les Indies galantes from conception to rehearsal to performance. Visually stunning and a must for music mavens. In French with English subtitles, available on DVD ($26.98 retail). ***
"LONDON KILLS": SERIES 3 (Acorn TV/RLJ Entertainment): Executive producer Paul Marquess created this crime series dramatizing the efforts of an elite police unit headed by Hugo Speer and Sharon Speer as they tackle the toughest cases in the titular city, with Bailey Patrick and Tori Allen-Martin as fellow detectives. All five feature-length episodes from the 2022 season – plus behind-the-scenes featurette – are available on DVD ($39.99 retail).
"MAGNUM P.I.": THE FOURTH SEASON (CBS Home Entertainment/Paramount Home Entertainment): Jay Hernandez steps into Tom Selleck's shoes as the Hawaiian-based private investigator, in all 20 episodes from the 2021-'22 season of the award-winning CBS remake/reboot of the popular '80s crime series updated to present day, with Magnum a veteran of Afghanistan, backed by Perdita Weeks (as Higgins), Stephen Hill, and Zachary Knighton. The series heads to NBC for at least two more seasons, and the five-disc DVD collection ($41.99 retail) includes bonus features.
SOME GIRLS (Kino Lorber Studio Classics): Director Michael Hoffman's middling 1988 romantic comedy, made under the auspices of executive producer Robert Redford, stars Patrick Dempsey as the bumbling beau of Jennifer Connelly, who visits her family in Quebec for the Christmas holidays and gets swept up in their eccentricities. Despite a zealous cast including Sheila Kelley (in her feature debut), Ashley Greenfield (in her feature debut), Andre Gregory, Florinda Bolkan and Lila Kedrova, this strives too hard to be quirky and ends up a misfire. The Blu-ray ($24.95 retail) includes audio commentary, retrospective featurette, and theatrical trailer. Rated R. *½
SNIPER: THE WHITE RAVEN (Well Go USA Entertainment): Writer/director Marian Bushan's fact-based, R-rated action thriller stars Aldoshyn Pavlo as a former physics teacher who vows revenge against the Russian soldiers who murdered his family in the Donbas region of the Ukraine, undergoing training as a sniper to accomplish his goal. In Russian and Ukrainian with English subtitles, available on DVD ($19.99 retail) and Blu-ray ($29.98 retail).
SPITFIRE OVER BERLIN (Shout! Studios/Shout! Factory): Callum Burn edited, produced, co-wrote, directed, and co-stars in this fact-based World War II saga detailing the efforts of dauntless officer Kris Saddler to carry out a perilous mission Berlin in an unarmed Spitfire to collect photographic evidence prior to an Allied attack on Berlin in August 1944, available on DVD ($19.99 retail) and Blu-ray ($22.98 retail), each boasting audio commentary and theatrical trailer.
TERROR SQUAD (Code Red/Kino Lorber): Peter Maris produced and directed this low-budget 1987 shoot-'em-up filmed on location in Kokomo, IN, wherein Libian terrorists whose attempt to blow up a nuclear power plant fails, after which they take a group of high-school students hostage, with top-billed Chuck Connors as the local police chief, available on Blu-ray ($29.95 retail), replete with bonus features.
WAITING: THE VAN DUREN STORY (MVD Entertainment Group): In their 2018 feature documentary debut, writer/producer Greg Carey and writer/producer Wade Jackson co-directed this chronicle of Memphis musician Van Duren (formerly of Big Star), who skirted with solo stardom in the late 1970s before fading into undeserved obscurity, remembered only by die-hard fans. The filmmakers actually become part of his efforts to reclaim his music rights and reignite his career in the present day. A little ragged at the outset, this perks up considerably in the third act and offers an engaging, upbeat look at Van Duren's talent and endurance, as well as shining a light on the Memphis music scene then and now, available on DVD ($19.95 retail), replete with behind-the-scenes footage and bonus interviews. ***
WE ARE AS GODS (Greenwich Entertainment/Kino Lorber): Jason Sossberg and cinematographer David Aldarado wrote, produced, and co-directed this feature documentary tracing the life and career of Stewart Brand, the counter-culture icon, environmental activist, member of Ken Kesey's Merry Pranksters, and author of the best-selling Whole Earth Catalog. Engaging and relevant but loses momentum in the second half, available on DVD ($19.95 retail). **½
THE WOLF AND THE LION (Breaking Glass Pictures): Upon the death of her grandfather, aspiring concert pianist Molly Kunz relocates to his remote cabin in the mountains, where she comes to care for a wolf cub and lion cub, in producer/director/story writer Gilles de Maistre's loosely fact-based, award-winning, family-friendly melodrama (originally titled Le loup et le lion). Andrew Simpson's exemplary animal training and beautiful locations are somewhat hampered by a corny, contrived storyline, available on DVD ($24.99 retail), replete with bonus features. **
(Copyright 2022, Mark Burger)