PICK OF THE WEEK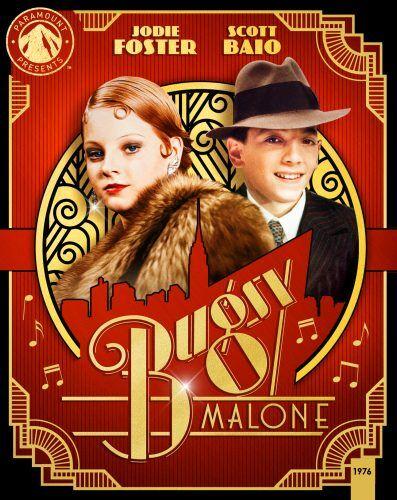 BUGSY MALONE (Paramount Home Entertainment): One of the most unique musicals ever made – released in 1976, when the genre was on the wane – this uncontested cult classic from producer David Puttnam and first-time writer/director Alan Parker certainly puts a fresh spin on '30s gangster melodramas.
The costumes, trappings, and songs all echo the era, but the cast is entirely comprised of children, many making their only feature film. The machine guns shoot marshmallow cream, and the barroom brawls frequently end up in pie fights. Yet it's played completely straight, even when characters burst into song. 
Scott Baio plays the title character, a smooth-talking hustler caught up in the ongoing rivalry between resident tough guys Fat Sam (John Cassini) and Dandy Dan (Martin Lev) – at least until he encounters ambitious would-be starlet Blousey Brown (Florrie Dugger). Hovering around is Jodie Foster as saucy showgirl Tallulah, who bids fair to steal every scene she's in with a remarkably assured turn.
 It's no surprise that composer Paul Williams scored an Oscar nomination for Best Original Song Score, even if it's a little odd that the songs are sung by adults. Yet there's an otherworldly charm to Bugsy Malone that makes it distinctive.
The ongoing "Paramount Presents" series of collectible Blu-rays also includes A Place in the Sun , the classic 1951 adaptation of Theodore Dreiser's novel An American Tragedy, which won Oscars for Best Director (George Stevens), Best Adapted Screenplay, Best Cinematography (black-and-white), Best Editing, Best Costume Design (black-and-white), and Best Score, with additional nominations for Best Picture, Best Actor (Montgomery Clift) and Best Actress (Shelley Winters); and director Frank Perry's infamous 1981 adaptation of Mommie Dearest (rated PG), starring Faye Dunaway – in an equally infamous performance as screen legend Joan Crawford. Each Blu-ray ($24.99 retail) includes bonus features, as does Bugsy Malone. Rated G. ***
ALSO AVAILABLE
BARBARA LEE: SPEAKING TRUTH TO POWER (Greenwich Entertainment/Kino Lorber): Producer/director Abby Ginzberg's self-explanatory, award-winning documentary feature offers a celebration of the idealism of California congresswoman Barbara Lee, featuring interviews with  family members, friends (including actor Danny Glover and authors Van Jones and Alice Walker), and colleagues  (including Alexandria Ocasio-Cortez, Cory Booker, Gwen Moore, North Carolina's Walter C. Jones, and the late John Lewis). Leisurely paced but timely and upbeat, available on DVD ($19.95 retail), replete with bonus features. ***
BLASTFIGHTER (Code Red/Kino Lorber): Lamberto Bava (under the pseudonym "John M. Old Jr.") directed this predictable 1984 action blow-out filmed in location in Georgia, starring Michael Sopkiw as an ex-cop/ex-con whose attempts to reconcile with young daughter Valentina Forte (in her screen debut) are complicated when they encounter a band of sadistic poachers. Originally intended as a futuristic, Mad Max-type knockoff, budget constraints forced the filmmakers to basically rip off First Blood instead! Dopey fun for fans of Italian schlock cinema, and Bava (son of cult filmmaker Mario Bava) does keep things moving. The special-edition Blu-ray ($29.95 retail) includes audio commentary, retrospective interviews, and trailer. Rated R. **
CAN YOU BRING IT: BILL T. JONES AND D-MAN IN THE WATERS (Kino Lorber): Cinematographer Tom Hurwitz and first-time producer Rosalynde LeBlanc co-directed this documentary feature exploring the creation of "D-Man in the Waters," the acclaimed ballet choreographed and created by Bill T. Jones in 1989 to shed light on the AIDS epidemic, available on DVD ($19.95 retail), boasting bonus features. 
"DOLLY: THE ULTIMATE COLLECTION" (Time Life): The title tells all in this six-DVD collection ($49.99 retail) highlighting the career of superstar Dolly Parton, including 11 episodes from her Emmy-winning ABC variety series (featuring guest appearances by Willie Nelson, Kenny Rogers, Oprah Winfrey, The Smothers Brothers, and others), Down Home Country Christmas (with Mac Davis and Burl Ives), Bob Hope's Jolly Christmas Show, the Live from London concert, and the 2019 BBC documentary feature Dolly Parton: Here I Am. 
THE EMPEROR WALTZ (Kino Lorber Studio Classics): Fresh from their Oscar-winning triumph with The Lost Weekend (1945), writer/director Billy Wilder and writer/producer Charles Brackett reunited less successfully for this 1948 musical comedy, loosely based on fact, with Bing Crosby as a smooth-talking gramophone salesman who woos Joan Fontaine while trying to establish friendly business relations with Emperor Frank-Joseph (Richard Haydn) in early 1900s Austria. Wilder's first color film is appropriately bright and cheerful, but meandering and trite, and in later interviews Wilder admitted he didn't care for the end result, which was released nearly two years after it was begun, although it did earn Oscar nominations for Best Costume Design (color) and Best Musical Score. The Blu-ray ($24.95 retail) includes audio commentary and trailers. **
FOUR FRIGHTENED PEOPLE (Kino Lorber Studio Classics): Producer/director Cecil B. DeMille's 1934 adaptation of E. Arnot Robertson's novel sees a group of passengers fleeing their plague-stricken ship and attempting to survive on a remote island, with Claudette Colbert, Hebert Marshall, William Gargan, Mary Boland, and Leo Carrillo, available on Blu-ray ($24.95 retail), replete with audio commentary and theatrical trailer.
A LOVELY WAY TO DIE (Kino Lorber Studio Classics): The Blu-ray bow ($24.95 retail) of a routine 1968 thriller starring Kirk Douglas as an ex-cop who hires on as bodyguard to rich widow Sylva Koscina, currently on trial for her husband's murder. Guess what happens next? At least it's fun recognizing the supporting cast: Kenneth Haigh, Ralph Waite, Dolph Sweet, Ruth White, Sharon Farrell, Lincoln Kilpatrick, Dana Elcar, Philip Bosco (in his feature debut), an uncredited Ali MacGraw (in her feature debut), and the always-welcome Eli Wallach as a slippery lawyer. Bonus features include audio commentary and trailers. **
"MAGNUM P.I.": SEASON THREE (CBS Home Entertainment/Paramount Home Entertainment): Jay Hernandez steps into Tom Selleck's shoes as the Hawaiian-based private investigator, in all 16 episodes from the 2020-'21 season of the award-winning CBS remake/reboot of the popular '80s crime series updated to present day, with Magnum a veteran of Afghanistan, backed by Perdita Weeks (as Higgins), Stephen Hill, and Zachary Knighton. The four-DVD collection ($41.99 retail) includes bonus features.
"NCIS: NEW ORLEANS": THE FINAL SEASON (CBS DVD/Paramount): Scott Bakula and his crack team of crime-solvers wrap up their final cases in all 16 episodes from the 2020-'21 season of the award-winning CBS crime series, spun off from the wildly popular CSI franchise, with series regulars Lucas Black, Vanessa Ferlito, Daryl Mitchell, Rob Kerkovich, Necar Zadegan, CCH Pounder, and Bakula's real-life wife, Chelsea Field, available on DVD ($39.99 retail), replete with special features. CBS DVD/Paramount have also released the self-explanatory "NCIS: New Orleans: The Complete Series" ($93.07 retail), a 39-DVD collection boasting all 157 episodes from the entire 2014-'21 series run, plus bonus features.
O.S.S. (Kino Lorber Studio Classics): The Blu-ray bow ($24.95 retail): Alan Ladd and Geraldine Fitzgerald headline director Irving Pichel's engrossing 1946 World War II thriller about the efforts of the O.S.S. (Office of Strategic Services) to smuggle saboteurs and spies into war-torn France. Producer/screenwriter/narrative Richard Maibaum would later pen many of the James Bond films, and a taut cast includes Patric Knowles, Onslow Stevens, and John Hoyt (in his screen debut). Bonus features include audio commentary and theatrical trailer. ***
OVERWHELM THE SKY  (Kino Lorber): Billed as "an existentialist epic neo-noir," producer/director/screenwriter/co-star Daniel Kremer's contemporary adaptation of Charles Brockden Brown's 1799 novel Edgar Huntly, or Memoirs of a Sleepwalker, stars Alexander Hero (making his feature screenwriting debut) in the title role of an East Coast disc jockey who embarks on a turbulent journey of self-discovery when he travels to San Francisco for his wedding, available on DVD ($19.95 retail), featuring audio commentary, deleted scenes and outtakes, and more. 
"SEAL TEAM": SEASON FOUR (CBS Home Entertainment/Paramount Home Entertainment): David Boreanaz (also an executive producer) and the members of Bravo Team are back in action, newly assigned to a hazardous mission in Serbia, with Max Theriot, Toni Trucks, Neil Brown Jr., and A.J. Buckley rounding out the regular cast in all 16 episodes from the 2020-'21 season of the Emmy-nominated CBS action series created by executive producer Benjamin Cavell, available in a four-disc DVD ($39.99 retail), replete with bonus features.
UNION PACIFIC (Kino Lorber Studio Classics): The construction of the Union Pacific Railroad is dramatized in Cecil B. DeMille's customarily overblown 1939 adaptation of Ernest Haycox's 1936 novel Trouble Shooter, which earned an Oscar nomination for Best Special Effects and boasts a star-studded cast: Barbara Stanwyck, Joel McCrea, Robert Preston, Brian Donlevy, Akim Tamiroff, Anthony Quinn, Stanley Ridges, Evelyn Keyes, Lynne Overman, and Henry Kolker, available on Blu-ray ($24.95 retail), replete with audio commentary and theatrical trailer. ***
"THE WIGGLES: HALLOWEEN PARTY" (Kino Lorber): The title tells all in this special, holiday-themed installment of the long-running Australian children's series reuniting the title characters (played by Lachlan Gillespie, Simon Pryce, Emma Watkins, and creator/director Anthony Field) as they put a fresh, musical spin on beloved nursery rhymes, available on DVD ($14.99 retail). 
ZACK SNYDER'S JUSTICE LEAGUE (DC Entertainment/Warner Bros. Home Entertainment): By popular demand, fans of the DC Universe rallied for the release of director Zack Snyder's R-rated 2017 superhero epic before the studio insisted on Joss Whedon coming aboard to reshoot scenes for the theatrical release. The star-studded cast includes Ben Affleck (also an executive producer) as Batman, Henry Cavill as Superman, Gal Gadot as Wonder Woman, Jason Momoa as Aquaman, Ezra Miller as The Flash, and Ray Fisher as Cyborg representing the forces of good, with Willem Dafoe, Amy Adams, Jesse Eisenberg, Jeremy Irons, Diane Lane, J.K. Simmons, Amber Heard, Connie Nielsen, Ciaran Hinds, Joe Morton, Harry Lennix, and Jared Leto as The Joker. This premiered on HBO Max, and is now available on DVD ($28.98 retail), Blu-ray ($35.99 retail), and 4K Ultra HD combo ($44.95 retail).
(Copyright 2021, Mark Burger)