PICK OF THE WEEK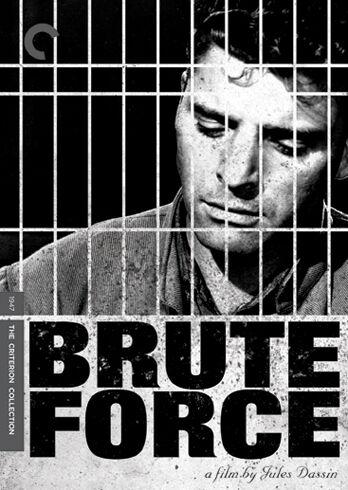 BRUTE FORCE (The Criterion Collection): One of the best and toughest of the prison pictures, Jules Dassin's tightly-wound 1947 melodrama is hardly the typical "law-and-order" treatise, and it still holds up – which doesn't necessarily speak well of the penal system.
Westgate Prison is a powderkeg waiting to explode: The warden (Roman Bohnen) is helpess, the doctor (Art Smith) a disillusioned drunk, and the real man in charge is the sadistic Capt. Munsey (Hume Cronyn), who takes wicked delight in manipulating the prisoners for his own gain – and their ruin. This may be Cronyn's finest screen performance, as well as his nastiest.
The inmates aren't being reformed or rehabilitated but instead more desperate and violent, yet it's hard not to have some empathy for Joe Collins (Burt Lancaster in an early lead), whose wife (Ann Blyth) is dying on the outside, or the cautious Gallagher (Charles Bickford), whose hopes that Munsey will recommend him for parole yields a bitter betrayal.
The inevitable riot is vividly realized, and extremely violent for its day. Loosely based on an actual incident that occurred on Alcatraz the year before, Richard Brooks's script is taut, uncompromising, even nihilistic – yet the film was a box-office hit.
Also on hand are such familiar folk as Howard Duff (in his screen debut), Whit Bissell, Sam Levene, Jeff Corey, John Hoyt, and Jay C. Flippen, but the weakest part of the film is the inclusion of female characters (Yvonne De Carlo, Ella Raines, and Anita Colby) merely for box-office purposes. Otherwise, Brute Force is a knockout.
 Both the DVD ($29.95 retail) and Blu-ray ($39.95 retail) include audio commentary, retrospective interview, trailer, and more. ***½ 
ALSO AVAILABLE
"BATWOMAN": THE COMPLETE FIRST SEASON (Warner Bros. Home Entertainment): With Batman having disappeared years before, the conflicted Kate Kane (Ruby Rose) dons the  duds of the titular superhero to battle the forces of evil plaguing Gotham City, in all 20 episodes from the inaugural 2019-'20 season of the CW adventure/fantasy series based on the popular DC Comics character, with Rachel Skarsten, Nicole Kanh, Carmus Johnson, Elizabeth Anweis, and Dougray Scott rounding out the regular cast – although Rose will not return for next season. Both the DVD ($39.99 retail) and Blu-ray ($44.98 retail) boast bonus features for Batwoman buffs.
THE CORDILLERA OF DREAMS (Icarus Films Home Video): Writer/director Patricio Guzman's award-winning feature documentary (originally titled La cordillère des songes) looks back on the tumultuous political history of his native Chile, set against the backdrop of the Andes Mountains, which run the entire length of Chile's eastern border. In Spanish with English subtitles, available on DVD ($29.98 retail) and Blu-ray ($34.98 retail), each boasting bonus interviews and making-of featurette. 
CRSHD (Lightyear Entertainment/MVD Entertainment Group): In her feature debut, Emily Cohn wrote, produced, co-edited, and directed this scattershot sex comedy about three college freshmen (Isabelle Barbier, Sadie Scott, and newcomer Deeksha Ketkar), each determined to lose her virginity at a "crush" party. Not many surprises despite an appealing cast (especially Barbier) and some inspired moments, but Cohn may be a talent to watch, available on DVD ($19.95 retail), replete with bonus features. **
DENISE HO: BECOMING THE SONG (Kino Lorber): Sue Williams wrote, produced, and directed this timely, engaging documentary feature tracing the life and career of Denise Ho, the openly gay international pop icon who has become a spokesperson for human rights violations in China and throughout the world, with her irrepressible spirit coming through loud and clear. In English, Cantonese and Mandarin with English subtitles, available on DVD ($19.95 retail), with deleted scenes and theatrical trailer. ***
THE DESTRUCTION OF MEMORY (Icarus Films Home Video): Sophie Okonedo narrates writer/producer/director Tim Slade's thoughtful and relevant 2016 documentary, which chronicles instances of historic and/or sacred buildings being destroyed by various means and various forces, and how activists are attempting to protect, restore, and in some cases rebuild these structures. Based on Robert Bevan's non-fiction best-seller The Destruction of Memory: Architecture at War, with the author among those interviewed. The DVD retails for $26.98. ***
EINSTEIN'S UNIVERSE (Corinth Films): Originally broadcast in 1979 to commemorate Albert Einstein's 100th birthday and based on Martin Calder's non-fiction best-seller, this BBC/WGBH documentary examines the life and legacy of one of the greatest scientific minds in history, narrated by Peter Ustinov, available in a DVD/Blu-ray combo ($24.95 retail).
"EMMA! 2: DANCE SPECTACULAR!" (Kino Lorber): In addition to reprising her role as "Emma Wiggle," Emma Watkins co-wrote, co-directed, and co-choreographed this compilation of dance numbers culled from the second season of the long-running Australian children's series The Wiggles, available on DVD ($14.95 retail). For those who can't get enough of The Wiggles, Kino Lorber has also released The Wiggles: Fun & Games, and The Wiggles: Happy Halloween (each $14.99 retail), featuring the entire cast  (Watkins, Lachlan Gillespie, Simon Pryce, and director Anthony Field).
GOLDIE (Film Movement): Supermodel Slick Woods lends plenty of sass and attitude to the title character of writer/director Sam de Jong's colorful urban parable, a free-wheeling (and free-stealing) dancer and would-be star struggling to land a role in a music video while her family life crumbles around her. Splashy and self-indulgent, this fades badly in the stretch, despite good work by UNCSA graduate Danny Hoch and, especially, Gbenga Akinnagbe as Goldie's estranged father. The DVD ($24.99 retail) includes the award-winning 2016 film We Love Moses. **½ 
"A HOUSE DIVIDED: SEASON 2" (UMC): Executive producer Dan Garcia created this web television soap opera dramatizing the secrets and scandals that surround the Sanders family, one of the oldest and wealthiest black families in Los Angeles, and how its members deal with the unexpected death of the matriarch – particularly after patriarch Lawrence Hilton-Jacobs takes up with a new woman (Demetria McKinney), who has an agenda of her own. Lisa Raye McCoy and Parker McKenna Posey join the regular cast, which includes Paula Jai Parker, Art Evans, Brad James, David McKnight, and Taja V. Simpson. The two-disc DVD ($17.96 retail) includes all six episodes from the 2020 season.
INSIDE THE RAIN (FilmRise/MVD Entertainment Group): For his award-winning debut feature, Aaron Fisher wrote, edited, directed, and stars in this romantic comedy/drama as a bi-polar film student threatened with expulsion from college, prompting him to enlist the help of sex worker Ellen Toland to help clear his name, with Eric Roberts, Rosie Perez, Paul Schulze, and Catherine Curtin in support, available on DVD ($19.95 retail) and Blu-ray ($24.95 retail).
"THE LEFT BEHIND TRILOGY": 20TH ANNIVERSARY EDITION (Cinedigm): A self-explanatory two-DVD collection ($14.99 retail) of the faith-based thrillers based on the best-selling series of novels novel by Tim LaHaye and Jerry B. Jenkins, each starring Kirk Cameron and Brad Johnson: Left Behind: The Movie (2000), Left Behind II: Tribulation Force (2002), and Left Behind: World at War (2005), replete with bonus features.
"MAGNUM P.I.": SEASON TWO (CBS Home Entertainment/Paramount Home Entertainment): Jay Hernandez steps into Tom Selleck's shoes as the Hawaiian-based private investigator, in all 20 episodes from the 2019-'20 season of the CBS remake/reboot of the popular '80s crime series updated to the present day, with Magnum a veteran of Afghanistan, with Perdita Weeks (as Higgins), Stephen Hill, Zachary Knighton, and Tim Kang rounding out the regular cast. The five-DVD collection ($39.99 retail) includes bonus features.
PROUD (Kino Lorber): Writer/director Philippe Faucon's three-part 2018 French mini-series (originally titled Fiertés) is set in the early 1980s, as three generations of a family come to terms with homosexuality in their midst, at a time when fear and anti-gay sentiment were at their peak due to the AIDS crisis, featuring an ensemble cast including Frederic Pierrot, Stanislas Nordey, Benjamin Voisin, Lou Roy-Lecollinet, Hafid Djemai, Sami Outabali, Nicolas Cazale, and Emanuelle Bercot. In French with English subtitles, available on DVD ($19.95 retail).
"THE REGINALD DENNY COLLECTION" (Kino Lorber Studio Classics): The title tells all in this selection of silent films starring British-born Reginald Denny (1891-1967), who was also an amateur boxing champion and renowned aviator before embarking on a successful film career, specializing in comedies: The Reckless Age (1924), directed by Harry Pollard and based on the Earl Derr Biggers novel Love Insurance; Skinner's Dress Suit (1926), based on a Henry Irving Dodge novel; and What Happened to Jones (also '26), based on George Broadhurst's Broadway play and co-starring Laura LaPlante, Arthur Lake, and Hedda Hopper. Both the DVD ($39.95 retail) and Blu-ray ($49.95 retail) include audio commentaries.
SPOOKY HOUSE (Unobstructed View/Kino Lorber): Ben Kingsley and Mercedes Ruehl headline this award-winning, family-friendly, PG-rated 2002 comedy, which marks the final film (to date) of producer/director William Sachs, who also co-wrote the script with wife Margaret, in which Kingsley's reclusive magician "The Great Zamboni" befriends young orphan Matt Weinberg (in his screen debut) and protects him from neighborhood bullies, available on DVD ($14.95 retail) and Blu-ray ($19.95 retail), each boasting behind-the-scenes interviews, music videos, and trailer.
TOMMASO (Kino Lorber): Abel Ferrara's award-winning, semi-autobiographical character study reunites him with leading man Willem Dafoe, in the title role of an expatriate American filmmaker living in Rome, re-examing his priorities as he prepares his next production, with Ferrara's real-life wife Cristina Chiriac and daughter Anna Ferrara (in her screen debut) as Dafoe's wife and daughter, available on DVD ($19.95 retail) and Blu-ray ($29.95 retail), each boasting bonus features. 
(Copyright 2020, Mark Burger)