PICK OF THE WEEK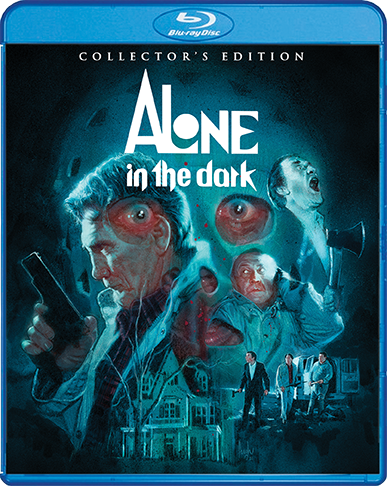 ALONE IN THE DARK (Scream Factory/Shout! Factory): Director/co-writer Jack Sholder's 1982 feature debut is among the more star-studded slasher films, with a zesty cast and a generous dose of black comedy amidst the blood and guts.
Dwight Schultz, shortly before he joined The A-Team, plays Dan Potter, the mild-mannered and bespectacled new psychiatrist at an asylum run – rather indulgently – by dotty Dr. Leo Bain (the inimitable Donald Pleasence), a habitual practitioner of medical marijuana before it was ever legal.
The veritable rogues' gallery Potter encounters, played, with varying degrees of scenery-chewing glee, by future Oscar winners Jack Palance and Martin Landau, and hulking Erland Van Lidth – as well as a fourth patient (nicknamed "The Bleeder") whose identity isn't divulged until much, much later. 
A convenient power outage allows the inmates to escape, and they make a beeline for Dr. Potter's home, having deluded themselves into thinking he murdered his predecessor. In what can only be termed as "blunt irony," the Potters must become more vicious and violent than their assailants in order to survive the night. 
Alone in the Dark, which has the distinction of being the first film produced by New Line Cinema (which hit paydirt with A Nightmare on Elm Street two years later), is hardly a horror classic, but it delivers the exploitation goods and a fair share of laughs along the way. Incidentally, the film has absolutely no relation to the video game of the same name or its (dreadful) movie versions.
The "collector's-edition" Blu-ray ($34.98 retail) includes audio commentaries, retrospective interviews and featurettes, theatrical trailer, and more. Rated R. **½ 
ALSO AVAILABLE
THE AWAKENING (Cohen Media Group/Kino Lorber): The Blu-ray bow ($29.99 retail) of director/screenwriter Nick Murphy's award-winning, R-rated 2011 chiller set in 1920s England, with Rebecca Hall as an investigator delving into the dark past of a boarding school where a rash of ghost sightings supposedly caused the death of a young child, with Dominic West, Imelda Staunton, Diana Kent, Shaun Dooley, and John Shrapnel (who died in 2020) on hand. Bonus features include retrospective and vintage featurettes and interviews, deleted scenes, and more.
BLADES (Vinegar Syndrome): Mangled bodies keep turning up at the Tall Grass Country Club, and a possessed lawn mower (!) is to blame in writer/editor Thomas R. Rodinella's feature directorial debut, which the never-bashful Troma Films (who else?) unleased upon unsuspecting audiences in 1989. An overlong but occasionally inspired horror spoof that passes the time easily enough, available in a limited-edition Blu-ray ($39.98 retail) including audio commentary, retrospective documentary, and more. Rated R. **
BLITHE SPIRIT (IFC Films/IFC Midnight/Shout! Factory): Director Edward Hall's feature debut is the latest incarnation of Noel Coward's classic farce, in which struggling writer Dan Stevens and new wife Isla Fisher are haunted by the spirit of his first wife (Leslie Mann) after a botched séance conducted by an eccentric medium (scene-stealer Judi Dench). The cast tries hard – maybe too hard – but despite some amusing scenes, this pales in comparison to the definitive 1945 screen version. Both the DVD ($19.98 retail) and Blu-ray ($22.98 retail) include behind-the-scenes featurette, Rated PG-13. **
CANNIBAL MAN (Severin Films/MVD Entertainment Group): Director/story writer Eloy de la Iglesia's grisly 1982 shocker (originally titled La semana del asesino) stars Vicente Parra as an increasingly deranged slaughterhouse worker who embarks on a killing spree but finds disposing of his victims a hurdle – at least initially. Not much else need be said, although this does have its devotees. Bonus features include original Spanish (with English subtitles) and English-dubbed audio options, retrospective interviews, and more. Rated R. *½   
THE CONJURING: THE DEVIL MADE ME DO IT (Warner Bros. Home Entertainment): Vera Farmiga and Patrick Wilson reprise their roles as real-life paranormal investigators Lorraine and Ed Warren in the latest, R-rated installment of the popular – and highly profitable – horror franchise, based on an actual 1981 case in which the defendant (Ruairi O'Connor) pled not guilty due to demonic possession, available on DVD ($29.98 retail), Blu-ray ($34.98 retail), and 4K Ultra HD combo ($44.98 retail), each replete with bonus features.
A DAY OF JUDGMENT (Severin Films/MVD Entertainment Group): A special-edition Blu-ray ($34.95 retail) of the only feature directed by and starring C.D.H. Reynolds, a low-budget 1981 supernatural shocker – filmed in location in North Carolina – in which the corrupt residents of a small rural town are brutally slain for their moral transgressions. Bonus features include retrospective interviews. 
DOWNSTREAM TO KINSHASA (Icarus Films Home Video): Writer/producer/director/cinematographer Dieudo Hamadi's feature documentary (originally titled En route Pour le Millard) details the efforts of survivors of the Ugandan/Rwandan six-day war in June 2000 who demand acknowledgement and reparations from the government. Well-intentioned and sometimes moving, but its low-key approach is further undermined by a lack of momentum – at least until the final third. In Swahili with English subtitles, available on DVD ($29.98 retail). **½ 
FOR MADMEN ONLY (Utopia Distribution/Vinegar Syndrome): Director Heather Ross makes her writing debut with this feature documentary (subtitled The Stories of Del Close) tracing the life and career of improvisational-comedy legend and teacher Del Close (1934-'99), featuring interviews with a star-studded line-up comedy luminaries including Dave Thomas, Bob Odenkirk, Tim Meadows, George Wendt, Jason Sudekis, Patton Oswalt, Michaela Watkins, and others. The limited-edition Blu-ray ($34.98 retail) includes audio commentary, additional and extended interviews, vintage improvisational footage, trailer, and more.
"FRIDAY THE 13TH 8-MOVIE COLLECTION" (Paramount Home Entertainment): The title tells all in this Blu-ray collection ($79.99 retail) boasting the first eight films in the venerable horror franchise: Friday the 13th (1980), Friday the 13th Part 2 (1981), Friday the 13th Part 3 (1982), Friday the 13th: The Final Chapter (1984), Friday the 13th Part V: A New Beginning (1985), Friday the 13th Part VII: The New Blood (1987), and Friday the 13th Part VIII: Jason Takes Manhattan (1989), each replete with bonus features (including access to digital copies of each film) and each film is R-rated (for obvious reasons).
HEAVEN (Virgil Films/Kino Lorber): Angus Benfield wrote, produced, and directed this PG-13-rated, award-winning, faith-based drama based on Alan Duprey's novel Heaven: The Adventure Begins, in which he portrays a disillusioned paramedic who awakens in Heaven and discovers that his life had more meaning than he thought, available on DVD ($19.95 retail).
I CARRY YOU WITH ME (Sony Pictures Home Entertainment): Writer/producer/director Heidi Ewing's award-winning, fact-based, R-rated narrative feature debut stars details the relationship between aspiring chef Armando Espita and free-spirited Christian Vaszquez, and the unforeseen consequences both face when the former travels to New York City to establish a career and live openly as a gay man. In Spanish with English subtitles, available on DVD ($21.99 retail) and Blu-ray ($24.99 retail).
NAKOM (Corinth Films): Producer Kelly Daniella Norris and first-time writer/producer T.W. Pittman co-directed this award-winning 2016 drama starring Jacob Ayanaba (in his feature debut) as a young medical student who returns home to the titular Ghanian village to assume responsibility for his impoverished family, only to encounter resistance from the townspeople and even his own family. In Kusaal with English subtitles, available on DVD ($24.95 retail).
NIGHT OF THE ANIMATED DEAD (Warner Bros. Home Entertainment): As the title implies, this is an animated version of George A. Romero's landmark 1968 horror classic Night of the Living Dead, in which the dead mysteriously rise and lay siege to the living in a remote Pennsylvania farmhouse. Surprisingly effective and unsurprisingly gory, with an upscale line-up of voice-over talent including Josh Duhamel, Nancy Travis, Dulé Hill, Katharine Isabelle, James Roday Rodriguez, Katie Sackoff, Will Sasso, and Jimmi Simpson. Both the DVD ($14.99 retail) and Blu-ray combo ($19.99 retail) include behind-the-scenes featurette. Rated R. ***
NOTORIOUS NICK (LionsGate): Cody Christian headlines this fact-based drama as a wrestler determined to succeed in mixed martial arts despite being born with only one hand. Formulaic but well-intentioned and watchable, thanks in large part to sincere performances, particularly Elisabeth Rohm as Christian's mother and especially Barry Livingston (a long way from My Three Sons) as his supportive coach, available on DVD ($19.98 retail). Rated PG-13. **
PLAYING FRISBEE IN NORTH KOREA (Kino Lorber): Producer/director Savanna Washington became the female African-American filmmaker to make a feature documentary from within North Korea, as she explores the political and social tumult of the region and its impact on the populace, available on DVD ($19.95 retail).
THE SCREAMING WOMAN (Kino Lorber Studio Classics): Olivia de Havilland brings considerable empathy (and star power) to this gimmicky, intermittently effective 1972 ABC-TV adaptation of Ray Bradbury's short story, in which she plays a woman recently released from a mental institution who meets resistance when she insists she hears a woman screaming from beneath the ground. In addition to Edith Head's costumes and a John Williams score, this is further boosted by a cast of old pros: Joseph Cotten, Walter Pidgeon, Ed Nelson, and Laraine Stephens. Both the DVD ($14.95 retail) and Blu-ray ($24.95 retail) include audio commentary and trailers. **½ 
SOPHIE JONES (Oscilloscope Laboratories): Producer/director/co-writer Jessie Barr's debut feature stars her real-life cousin Jessica Barr (making her debut as co-writer/producer) in the title role, an all-American suburban teenager attempting to come to terms with her mother's death and her budding sexuality. A compassionate coming-of-age story that benefits from Barr's totally credible performance, yet the narrative tends to meander. Both the DVD ($27.99 retail) and Blu-ray ($32.99 retail) include audio commentary, behind-the-scenes featurette, trailer, and more. **½ 
(Copyright 2021, Mark Burger)