PICK OF THE WEEK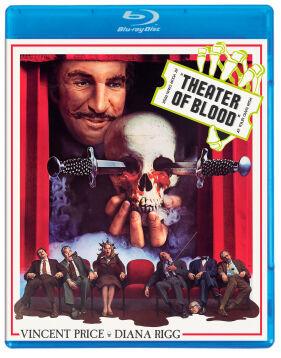 THEATER OF BLOOD (Kino Lorber Studio Classics): What would Halloween be without Vincent Price (1911-'93)? A lot less fun, that's for sure – and this inspired 1973 shocker was one of the actor's personal favorites, for numerous reasons.
The first is that he portrays Edward Lionheart, a larger-than-life Shakespearean stage actor, thereby giving him the opportunity to play a variety of scenes from the Bard's works. The second is that he is methodically exterminating the critics (gulp!) who denied him their Best Actor award – his crimes inspired by Shakespeare's bloodiest scenes. Finally, he met his third wife, Coral Browne, during production.
Combining pitch-black comedy with genuinely grisly moments, the Shakespearean references come fast and thick – and the star-studded cast is the cream of British talent: Diana Rigg, Ian Hendry, Robert Morley, Arthur Lowe, Harry Andrews, Michael Hordern (whose character perishes on the Ides of March!), Dennis Price, Milo O'Shea, Eric Sykes, Joan Hickson, Diana Dors, and Jack Hawkins and Robert Coote (each in his final feature).
Were it not for a few continuity errors and a limited budget, Theater of Blood would be perfect. Instead, it's merely a classic, with Price presiding over the proceedings in grand fashion – and the sequence in which he's disguised as a hip hairdresser named "Butch" (replete with Afro and sunglasses) is a scream.
Kino Lorber Studio Classics has also released several Vincent Price vehicles on Blu-ray: Master of the World (1961), The Raven (1963), The Comedy of Terrors (1964), The Last Man on Earth (also '64), and The Tomb of Ligeia (1965), each retailing for $24.95 and each replete with bonus features.
The special-edition Theatre of Blood Blu-ray ($24.95 retail) includes audio commentaries, theatrical trailer, and more. Rated R. ***½ 
ALSO AVAILABLE
AALTO (Film Movement): Subtitled "An Architect of Emotions," writer/producer/director Yurpi Suutari's feature documentary explores the life and career of renowned, Finnish-born architect and designer Alvar Aalto (1898-1976), and how his legacy endures to this day. In English, Finnish, French, German, Italian, and Russian with English subtitles, available on DVD ($24.95 retail). 
EMILY @ THE ART OF CHAOS (Kino Lorber): Writer/philosopher Emily Levine brings her one-woman show to the screen in this stand-up comedy documentary in which she expounds upon science, physics, metaphysics, and her life, featuring guest appearances by John Lithgow, Richard Lewis, Lily Tomlin, Paul Dooley, Matt Groening, Bruce Vilanch, Rick Overton, and the late Leonard Nimoy. Not uninteresting, but devotees of Levine have a big head start, and it's strange to watch a stand-up concert film in which the audience doesn't laugh all that much. The film is dedicated to producer/director Wendy Apple, who died in 2017, and Levine herself died in 2019. The DVD ($19.95 retail) includes theatrical trailer. **
FRIED BARRY (Shudder/RLJE Films): Actor-turned-writer/executive producer/director Ryan Kruger's award-winning debut feature, based on his 2017 short film, stars Gary Green in the title role, a drug-addled, self-destructive degenerate who is abducted and possessed by alien beings that force him to embark on a rampage through contemporary Cape Town, available on DVD ($27.97 retail) and Blu-ray ($28.96 retail), each boasting bonus features including audio commentary, behind-the-scenes featurettes, deleted and extended scenes, and more.
GUYANA: CULT OF THE DAMNED (Code Red/Kino Lorber): Having exploited the Andes plane crash in the surprise box-office hit Survive! (1976), filmmaker Rene Cardona Jr. struck again with this heavy-handed 1980 melodrama based on the mass suicide of People's Temple followers in Guyana in 1978, with Stuart Whitman as "Rev. James Johnson" (as opposed to Jim Jones) and Gene Barry as "Congressman Lee O'Brien" (as opposed to Leo Ryan), Joseph Cotten, John Ireland, Bradford Dillman, Yvonne De Carlo, Jennifer Ashley, and Robert DoQui. The actors, particularly Whitman, do what they can with dubious material, and it's remarkable in retrospect that Universal Pictures picked this up for theatrical distribution. Both the DVD ($14.95 retail) and Blu-ray ($24.95 retail) include theatrical trailer. Rated R. *½ 
HIGHER ED (Lightyear Entertainment/MVD Entertainment Group): Writer/producer/director/co-star Jean-Claude LaMarre's innocuous 2001 feature debut stars Pras Michel (also an executive producer) as a drug dealer-turned-college student trying to turn his life around. Leila Arcieri, Hill Harper, Aries Spears, Ernest Thomas, and Timothy Bottoms round out a likable cast in this one-note farce, available on DVD ($14.95 retail). *½ 
MIDNIGHT (Severin Films/MVD Entertainment Group): A "collector's-edition" Blu-ray ($34.95 retail) of writer/executive producer/director John Russo's adaptation of his novel low-budget chiller in which troubled teenager Melanie Verlin (in her screen debut) fleeing drunken stepfather Lawrence Tierney – only to fall into the clutches of a Satanic cult. Crude but intermittently effective, although Tierney's climactic transformation into a hero feels arbitrary. Filmed in 1980 but not released until 1982, and a remake (also written by Russo) was released last year. Bonus features include retrospective interviews and theatrical trailer. Rated R. **
THE RETURN OF SWAMP THING (Lightyear Entertainment/MVD Entertainment Group): Director Jim Wynorski's 1989 sequel to Wes Craven's 1982 adaptation of the DC Comics superhero franchise sees Dick Durock reprising his titular role, again pitted against nefarious scientist Louis Jourdan (evidently recovered from his demise in the first film), with Heather Locklear providing glamor as Jourdan's comely stepdaughter. A silly but fast-paced romp for comic-book fans, with plenty of in-jokes and comic relief provided by youngsters RonReaco Lee and Daniel Taylor (in their screen debuts). The "collector's-edition" DVD ($19.95 retail) includes audio commentaries, retrospective interviews, theatrical trailer, Greenpeace public service announcements (!), and more. Rated PG-13. **
SCREAM, PRETTY PEGGY (Kino Lorber Studio Classics): Taking a page – or two – from Hitchcock's 1960 classic Psycho, Gordon Hessler (who worked on Alfred Hitchcock Presents) helmed this middling, obvious 1973 ABC-TV chiller starring Sian Barbara Allen in the title role, a college co-ed hired by reclusive artist Ted Bessell as housekeeper to him and his domineering mother ("special guest star" Bette Davis) – but with strict orders never to enter the locked room where Bessell's insane sister supposedly resides. Allen screams well (appropriately), Bessell plays it twitchy, and Davis is in full-tilt grande-dame mode, but it's not enough. Both the DVD ($14.95 retail) and Blu-ray ($24.95 retail), each replete with audio commentary and TV spot. **
SILO (Oscilloscope Laboratories): Inspired by true stories, executive producer/story writer/director Marshall Burnette's feature debut depicts the efforts of a small farming community to rescue a teenager (Jack DiFalco) trapped in a corn silo. Well-intentioned and reasonably engrossing, to say nothing of well-paced (it runs under 80 minutes), but too often it falls prey to soap-opera melodrama. Jim Parrack and Jeremy Holm are appealingly earnest as two of the would-be rescuers, available on DVD ($27.99 retail) and Blu-ray ($32.99 retail), each replete with bonus features including behind-the-scenes featurette and theatrical trailer. **
SKULLDUGGERY (Kino Lorber Studio Classics): Gordon Douglas directed this disastrous 1970 adaptation of Jean Bruller's best-selling novel Les Animaux denatures depicting the discovery of a tribe of ape-like beings in the wilds of New Guinea. An uncomfortable mash-up of Planet of the Apes (1968) and the evolution debate, culminating – ridiculously enough – in a murder trial. The hapless cast includes Burt Reynolds (as the he-man hero), Susan Clark (as the sexy scientist), Roger C. Carmel, Chips Rafferty, Paul Hubschmid, Alexander Knox, Wilfrid Hyde-White, Edward Fox, William Marshall, and producer Saul David, available on DVD ($14.95 retail) and Blu-ray ($24.95 retail), both boasting audio commentary and theatrical trailer. Rated PG, *
THRESHOLD (Arrow Video/MVD Entertainment Group): Filmed on iPhones and largely improvised, cinematographer Powell Robinson and writer Patrick R. Young co-directed this award-winning psychological thriller starring Madison West as a tormented young woman who convinces her brother (newcomer Joey Millin) to accompany her on a cross-country journey to purge herself of the curse she's convinced she's under, available on DVD ($19.95 retail) and special-edition Blu-ray ($39.95 retail), the latter boasting a bevy of bonus features including audio commentaries, full-length documentary, and more.
TRICK OR TREATS (Code Red/Kino Lorber): A special-edition Blu-ray ($29.95 retail) of director Gary Graver's 1982 pseudo-black comedy/slasher opus, with Jackelyn Giroux the young babysitter charged with keeping on eye on bratty Chris Graver (the director's son, in his feature debut) on Halloween – the very night that his father (Peter Jason) has escaped from the asylum he was wrongly committed to. This ponderous, slow-moving riff on Halloween (1978) cost a reported $55,000 (!) and wastes a cast including David Carradine, Carrie Snodgress, Steve Railsback (Giroux's then-husband), Jillian Kesner (Graver's wife), Paul Bartel, John Blyth Barrymore, Tim Rossovich, and Dan Pastorini. Graver's mentor, Orson Welles, receives a credit as "magic consultant," but there's not much magic here. Bonus features include audio commentary, retrospective interview with Railsback, trailers, and more. Rated R. *
TWO EVIL EYES (Blue Underground/MVD Entertainment Group): Horror titans George A. Romero and Dario Argento joined forces for this overlong but entertaining two-part 1990 anthology based on the works of Edgar Allan Poe, albeit in contemporary settings (Pittsburgh, actually!): Romero's segment, The Case of M. Valdemar, plays like a gorier episode from his Tales from the Darkside series, but Argento's adaptation of The Black Cat, showcasing a stellar turn by Harvey Keitel as mad crime photographer Rod Usher, is among Argento's best work. Poe references (obviously) and in-jokes abound, and a sturdy cast includes Adrienne Barbeau, E.G. Marshall, Martin Balsam, Kim Hunter, John Amos, Sally Kirkland, Ramy Zada, Madeleine Potter, Tom Atkins, Bingo O'Malley, and special-effects maestro Tom Savini. The two-disc 4K Ultra HD combo ($49.95 retail) includes audio commentary, retrospective featurettes and interviews, theatrical trailer, and more. Rated R. ***
(Copyright 2021, Mark Burger)