PICKS OF THE WEEK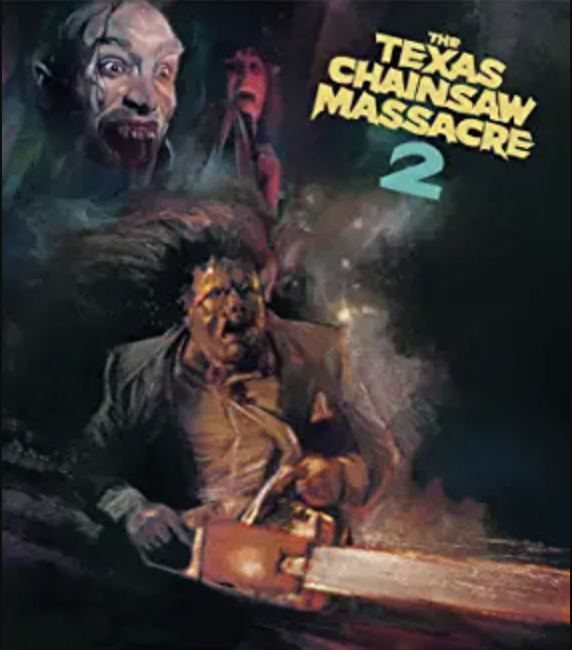 THE TEXAS CHAINSAW MASSACRE 2 (Vinegar Syndrome): For a film rushed through production and into release, lambasted by critics and barely scraped up a box-office profit, Tobe Hooper's 1986 sequel to his groundbreaking 1974 shocker is quite entertaining. As much a response to its predecessor as a follow-up, with Hooper and screenwriter L.M. Kit Carson seasoned the gory mix with a subversive satire of '80s attitudes. It's not as horrific as the original but it's a lot more fun.
Having laid low the last dozen years, the terrible triumvirate of Leatherface (Bill Johnson), Chop-Top (Bill Moseley), and Chef (Jim Siedow in his final feature) have faded into urban-legend obscurity despite the occasional murder or two, but relentless Lt. "Lefty" Enright (Dennis Hopper), a Texas Ranger whose relatives were among the first film's casualties, is obsessed with tracking them down, and persuades radio talk-show host Vanita "Stretch" Brock (Caroline Williams) to act as bait.
Not surprisingly, the plan works a little too well, with Stretch finding herself face-to-blade with the lovestruck Leatherface's roaring chainsaw and eventually held captive in the family's underground lair. But Lefty, packing a pair of chainsaws himself, is not far behind, bent on revenge. Hopper, who once said this was his worst film (ha!), brings his customarily nervy energy to a rare heroic role, and Williams -- a great screamer – earns her "scream queen" stripes as the terrorized but resilient Stretch, who may lose her marbles but isn't going down without a fight.
Siedow, the only original cast member to encore, plays Chef as a cackling capitalist, while Moseley (who loves the film) is deliriously unhinged as Chop-Top, who lost some of his skull – and some brains -- in Vietnam. Little wonder that The Texas Chainsaw Massacre 2 became a cult favorite over the years.
For the record, yours truly saw this three times in the theater, including a drive-in with a date. (She thought it was funny, too.)
The limited-edition 4K Ultra HD combo ($59.98 retail) includes multiple audio commentaries, the behind-the-scenes documentary It Runs in the Family, retrospective and vintage featurettes and interviews, deleted scenes, theatrical trailers, image and still gallery, and more. ***
ALSO AVAILABLE
ACE HIGH (Kino Lorber Studio Classics): The Blu-ray bow ($29.95 retail) of screenwriter/producer/director Giuseppe Colizzi's 1968 spaghetti Western (originally titled I quattro dell'Ave Maria) sees unjustly imprisoned outlaw Eli Wallach teaming up with bounty hunters Terence Hill and Bud Spencer to exact vengeance upon those who betrayed him years before. Colorful but overlong, this semi-satirical romp sends up genre trappings with a measure of flair, and a sturdy cast includes American expatriates Brock Peters and Kevin McCarthy, although the latter doesn't appear until late in the game. Bonus features include audio commentary and theatrical trailer. Rated PG-13. **½
"DARBY & JOAN": SERIES ONE (Acorn Media): Bryan Brown and Greta Scacchi team up as the titular twosome in this drama series created by Phillip Gwynne and Glenys Rowe and set in Australia, following the efforts of a retired detective and a retired nurse to ascertain the circumstances behind her husband's mysterious death in all eight episodes from the inaugural 2022 season, available on DVD ($39.99 retail).
ENTRE NOUS (Cohen Media Group/Kino Lorber): Isabelle Huppert and Miou-Miou shine in screenwriter/director Diane Kurys' award-winning, semi-autobiographical 1983 comedy/drama about two women who become friends during World War II, which earned an Oscar nomination for Best Foreign Language Film. In French with English subtitles, the Blu-ray ($29.95 retail) include retrospective interview with Kurys and theatrical trailer. Rated PG. ***
JANE BY CHARLOTTE (Utopia Distribution/Vinegar Syndrome): Actress Charlotte Gainsbourg makes her feature directorial debut with this heartfelt documentary (originally titled Jane par Charlotte) in which she turns her cameras on her mother, actress/singer Jane Birkin, as they discuss their lives while rehearsing a concert in New York City and later taking a visit to the Parisian apartment where Birkin lived with Charlotte's father, the noted singer/songwriter/actor/author Serge Gainsbourg (1928-'91). A beautiful, stylish, warm-hearted valentine that rambles too much in the first half but finds its footing in the second, although it's not as revelatory as one might expect. In English and French with English subtitles, available on Blu-ray ($34.98 retail), replete with bonus features. **½ 
PLANES, TRAINS, AND AUTOMOBILES (Paramount Home Entertainment): The 4K Ultra HD combo ($25.99 retail) of the hit 1987 comedy from writer/producer/director John Hughes stars Steve Martin and John Candy – both in top form – as a mismatched pair of businessmen desperately attempting to return to Chicago in time for Thanksgiving, only to encounter calamity at every turn. Arguably Hughes' best film, boasting lots of laughs and surprising heart, this remains a holiday perennial despite an R rating. Laila Robins, Michael McKean, Edie McClurg (whose airport exchange with Martin is a classic), and an unbilled Kevin Bacon also appear. Bonus features include retrospective documentaries and featurettes. ***½
ROLLERBALL (Scream Factory/Shout! Factory): The 4K Ultra HD combo bow ($34.98 retail) of producer/director Norman Jewison's award-winning 1975 adaptation of screenwriter William Harrison's short story Roller Ball Murder is set in a sterile, dystopian future where civilization is controlled by corporations and the titular sport is a global sensation, with James Caan as a star player who begins to question his status, backed by a sturdy cast including John Houseman, Maud Adams, Moses Gunn, John Beck, Shane Rimmer, Pamela Hensley, and Ralph Richardson. Great production values and bone-crunching action made this enduring cult classic (and far superior to the dismal 2002 remake), but too often prone to pretentiousness. Bonus features include audio commentaries, retrospective and vintage featurettes, theatrical trailers, and more. Rated R. **½
SATAN'S LITTLE HELPER (Synapse Films/MVD Entertainment Group): A special-edition Blu-ray ($29.95 retail) of writer/producer/director Jeff Lieberman's 2004 black comedy – his last feature to date – starring Alexander Brickel (in his feature debut) as a precocious, eccentric youngster so obsessed with the titular video game that when he encounters a masked man (Joshua Annex in his only feature to date) on Halloween, he assumes him to be the character from the game and accompanies him on a Halloween rampage that eventually puts the boy's sister (Katheryn Winnick) and mother (Amanda Plummer) in harm's way. A bit strident and overlong, this tries too hard to be a cult classic but has its moments. Bonus features include audio commentary, retrospective documentary and location featurette, promotional trailer, and more. Rated R. **
"TOM AND JERRY: SNOWMAN'S LAND" (Warner Bros. Animation/Warner Bros. Home Entertainment): The much-beloved cartoon duo of Tom and Jerry reunite for this animated, holiday-themed musical extravaganza in which they journey to the fabled Snowman's Village to celebrate the season, available on DVD ($19.99 retail), replete with bonus episodes.
THE VALACHI PAPERS (Kino Lorber Studio Classics): Hot on the heels of The Godfather (1972), producer Dino De Laurentiis tapped Terence Young to direct this 1972 gangster melodrama based on the non-fiction best-seller by Peter Maas, starring Charles Bronson as a low-level Mafioso who testifies in Congress against his former cohorts, thereby exposing their activities but also putting his life in jeopardy. Undeniably engrossing, with solid turns by Bronson and Lino Ventura (as mob boss Vito Genovese), and Jill Ireland (Bronson's real-life wife), Gerald S. O'Loughlin, Walter Chiari, Fausto Tozzi, and a hammy Joseph Wiseman (as ill-fated capo Salvatore Maranzano) on hand, but as riddled with crime-movie clichés as bullets. Maas, who later penned Serpico (also produced by De Laurentiis), reportedly disliked this film. Bonus features include audio commentary, trailers, and more. Rated R. **½
WAKING UP DEAD (Breaking Glass Pictures): Terracino wrote, produced, edited, and directed this bittersweet comedy/drama detailing the travails of neurotic gay actor Gabriel Sousa as he contends with ex-boyfriends, a floundering career, and the impending death of his mother. Highly theatrical and episodic, this benefits from Sousa's hard-working performance and good supporting turns by Traci Lords (as Sousa's coke-snorting agent) and Judy Geeson (enjoying her best screen role in years). Not perfect but worth a look, available on DVD ($24.99 retail). **½
WENDY O. WILLIAMS: LIVE AND F---ING LOUD FROM LONDON! (Pandemonium/MVD Entertainment Group): The title tells all in this 1985 concert documentary showcasing the Grammy Award-nominated punk rock icon Wendy O. Williams (1949-'98), whose onstage antics with the Plasmatics made her a controversial cult figure, as she performs live at the Camden Palace in London, performing such hits as "Goin' Wild," "Pedal to the Metal," "No Class," "Party (Tonight)," "Jailbait," "Bump and Grind," and a few titles that can't be reprinted here! The DVD retails for $19.95.
THE WEREWOLF VS. THE VAMPIRE WOMAN (Vinegar Syndrome): A limited-edition 4K Ultra HD combo ($52.98 retail) of director Leon Klimovsky's 1971 Gothic shocker (originally titled La noche de Walpurgis) sees screenwriter/leading man Paul Naschy (AKA Jacinto Molina) resurrecting his signature character of tormented werewolf Waldemar Daninsky, here pitted against the wicked bloodsucker Countess Wandesa (Patty Shepard). This solidified Naschy's status as a European cult horror star, and his devotees have a big head start. Bonus features include the international export version, the Spanish clothed version and the Spanish integral version with original Spanish (with English subtitles) and English-dubbed audio options, audio commentary, theatrical trailers, still gallery, the feature-length documentary The Man Who Saw Frankenstein Cry: Paul Naschy, the Life and Legend of a Horror Icon, and more. Rated R. ** 
(Copyright 2022, Mark Burger)