PICKS OF THE WEEK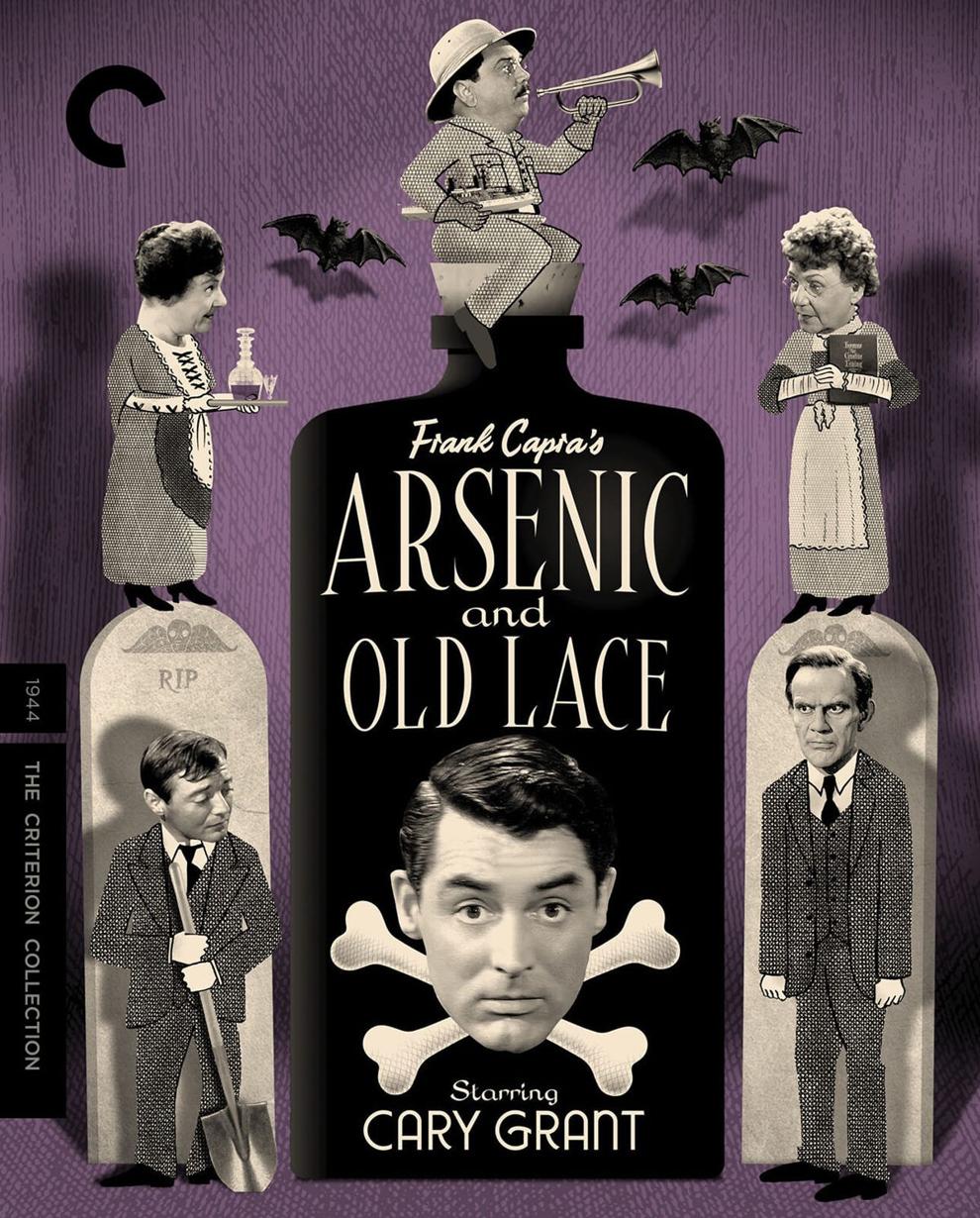 ARSENIC AND OLD LACE (The Criterion Collection): Frank Capra's 1944 screen version of Joseph Kesselring's smash Broadway comedy is often overlooked in the Capra canon, but it's a delightful black comedy that has stood the test of time as a classic, due largely to its zesty ensemble cast.
Mortimer Brewster (Cary Grant) has just popped the question to girlfriend Elaine (Priscilla Lane), but when he shares the happy news with aunts Abby (Josephine Hull) and Martha (Jean Adair), he is shocked to discover a dead body in the attic. It seems that they've been poisoning lonely traveling salesmen with elderberry wine. Mortimer's panic accelerates with the arrival of his brother Jonathan (Raymond Massey), a murderer who has escapes from prison alongside sad-sack sidekick Dr. Einstein (Peter Lorre). Adding to the craziness is brother Teddy (John Alexander), who is convinced that he's Teddy Roosevelt.
A fast-paced, door-slamming farce in the classic screwball tradition, Arsenic and Old Lace features Jack Carson, Edward Everett Horton, and James Gleason in support. Grant disliked his performance because he felt Capra had him play it too broadly, but Cary's always good company. Besides, there's plenty of room for the other actors to maneuver and bid to steal their scenes. Lane is properly flustered, Adair and Hull properly dotty, Alexander a total scream, and Massey and Lorre an unexpectedly amusing comedic duo.
The film was completed in 1942, but because the film couldn't be released until the stage production closed, it was held up for two years – although it was screened for servicemen stationed overseas during World War II. Both the DVD ($29.95 retail) and Blu-ray ($39.95 retail) include audio commentary, 1952 radio adaptation, theatrical trailer, and more. ***½
ALSO AVAILABLE
8-BIT CHRISTMAS (New Line Cinema/Warner Bros. Home Entertainment): Taking a page from Jean Shepherd's A Christmas Carol, screenwriter/executive producer Kevin Jakubowski adapts his own best-selling novel in this family-friendly, PG-rated holiday comedy starring Neil Patrick Harris as a suburban patriarch who recalls his childhood in 1980s Chicago, when his focus in life was to obtain the newest, most advanced video-game system for Christmas, with Steve Zahn, David Cross, June Diane Raphael, and Winslow Fegley in support, available on DVD ($19.99 retail), replete with bonus features.
CINEMATOGRAPHER (Lightyear Entertainment/MVD Entertainment Group): Director Dan Asma's self-explanatory feature documentary debut explores the art of filmmakers as seen through the eyes – and the lens – of the cinematographer, featuring interviews with such Hollywood luminaries as Jack Green (Unforgiven), Donald M. Morgan (Starman), and Owen Roizman (The French Connection), as well as clips from various celebrated films, available on Blu-ray ($24.95 retail).
CONJURING THE BEYOND (Breaking Glass Pictures): Newcomer Victoria Grace Borrello toplines writer/director/cinematographer Calvin Morie McCarthy's low-budget, low-impact shocker as a recently divorced woman who consents to participate in a sleep-paralysis study that unleashes diabolical forces. Moody but muddled and slow-moving, there are a few in-jokes but is otherwise sub-standard scare fare. Not related to the big-budget Conjuring horror franchise, although the filmmakers likely hope audiences think it is. The "twist" ending is a cop-out, too. The DVD retails for 24.99. *
DONBASS (Film Movement): Writer/associate producer/director Sergei Loznitsa's semi-satirical, award-winning 2018 drama takes place in the titular Ukrainian region, as the social structure collapses under the weight of rampant crime, misinformation, and the impending Russian invasion, which leaves the inhabitants seeking any semblance of hope or redemption in an unforgiving world. In Russian and Ukrainian with English subtitles, available on DVD ($24.99 retail).
HOCKEYLAND (Greenwich Entertainment/Kino Lorber): Tommy Haines wrote, produced, directed, and edited this feature documentary that explores the long-standing rivalry between the Eleveth Golden Bears and Hermantown Hawks, a pair of high-school hockey teams in the heartland of Minnesota, not far from where the United States Hockey Hall of Fame is located, available on Blu-ray ($29.95 retail).
I'VE HEARD THE MERMAIDS SINGING (Kino Lorber): The Blu-ray bow ($29.95 retail) of filmmaker Patricia Rozema's award-winning 1987 debut feature, which offers a stellar showcase for leading lady Sheila McCarthy, playing an eccentric, ambitious photographer whose friendship with lesbian gallery owner Paule Baillargeon takes an unexpected turn when she discovers that she's not quite whom she presents herself to be. Widely considered a breakthrough in "queer cinema," this boasts a quirky, insightful appeal that goes beyond such boundaries. Bonus features include audio commentary, a selection of Rozema's short films, Q&A session, and more. Rated R. ***
LONELYHEARTS (Kino Lorber Studio Classics): The Blu-ray bow ($24.95 retail) of director Vincent J. Donehue's 1958 feature debut, a glossy and occasionally noir-ish adaptation of Nathanael West's novella (previously presented onstage), scripted and produced by Dore Schary, starring Montgomery Clift as a struggling newspaper columnist whose assignment as advice columnist threatens his own relationship (with Dolores Hart) and puts him at odds with cynical editor Robert Ryan, whose own marriage (to Myrna Loy) is floundering. In her feature debut, Maureen Stapleton earned an Academy Award nomination for Best Supporting Actress. **½ 
"MURDOCH MYSTERIES": SEASON 15 (Acorn TV): Despite being stunned by the revelation that he has an illegitimate son, Yannick Bisson's back on the case as early 20th-century Toronto detective William Murdoch in all 24 episodes from the 2021-'22 season of the award-winning, long-running Canadian mystery series (also known as The Artful Detective), based on Maureen Jennings' best-selling novels, co-starring Helene Joy (as Murdoch's wife), Jonny Harris, Thomas Craig, and Lachlan Murdoch, available on DVD and Blu-ray (each $59.99 retail) – each boasting behind-the-scenes featurettes
OKA! (Kino Lorber): The Blu-ray bow ($29.95 retail) of director/producer/screenwriter Lavinia Currier's fact-based 2010 drama detailing music researcher Kris Marshall's 25-year sojourn in Central Africa, initially to study and record the music of the Bavaka Pygmies, only to become so enchanted by their culture that he remained as essentially a member of their tribe. In English, Akka, French, and Sango with English subtitles, bonus features include the behind-the-scenes 2013 documentary Listen to the Forest and trailers.
QUIET DAYS IN CLICHY (Blue Underground/MVD Entertainment Group): A 4K Ultra HD combo ($49.95 retail) of screenwriter/director Jens Jorgen Thorsen's controversial 1970 screen version (originally titled Stille dage i Clichy) of Henry Miller's equally controversial, best-selling 1956 novel, detailing the debauched, decadent lifestyle of hedonistic roommates Paul Valjean and Wayne Rodda (in his feature debut) in the Parisian nightlife, accompanied by a soundtrack composed by Country Joe McDonald. The U.S. Government seized all prints of the film on the eve of its American release, prompting a heavily-publicized lawsuit that only brought the film – and Miller's novel – further notoriety. In English and Danish with English subtitles, bonus features include retrospective interviews, theatrical trailer, poster and still gallery, official court documents (!), and more.
"RAY DONOVAN": THE COMPLETE SERIES (CBS Home Entertainment/Showtime Entertainment/Paramount Home Entertainment): Executive producer/co-writer Liev Schreiber earned three Emmy nominations portraying the titular, hard-bitten Hollywood "fixer" in all 82 episodes from the award-winning Showtime series, available in this self-explanatory 29-disc DVD collection ($68.99 retail) including all 82 episodes from the entire 2013-'20 run of the Showtime drama series, plus the 2022 reunion film Ray Donovan: The Movie and a bevy of bonus features. 
TAHARA (Film Movement): Producer/director/editor Olivia Peace's award-winning 2020 debut feature stars charming newcomers Madeline Grey DeFreece and Rachel Sennott as best friends who attend the funeral of a former Hebrew school classmate who committed suicide, which compels them to re-examine their relationship in unexpected ways. The satire is both incisive and heartfelt, and the ambiguous fade-out beautifully handled. A little gem, and we'll be seeing more of these talents before too long. The DVD ($24.95 retail) includes audio commentary. ***
THREE WISHES FOR CINDERELLA (Shout! Studios/Shout! Factory): Scandinavian pop star Astrid S (nee Smeplass) makes her feature debut as the title character in director Cecilie A. Mosli's feature debut, an award-winning version of the much-beloved fairy tale (originally titled Tre notter til Askepott), with Cengiz Al as the handsome prince and Ellen Dorrit Petersen the wicked stepmother. In English and Norwegian with Norwegian subtitles, available on DVD ($16.98 retail) and Blu-ray ($19.98 retail).
"THE TIME TRAVELER'S WIFE": THE COMPLETE SERIES (Warner Bros. Home Entertainment): Downton Abbey alumni Rose Leslie and Theo James reunite as a passionate couple whose romance is – as the title implies – complicated by time travel, in all six episodes from the inaugural 2022 (and only) season of the HBO fantasy series based on Audrey Niffenegger's best-selling novel (previously adapted into a 2009 feature film), available on DVD ($19.99 retail), replete with bonus features.
VORTEX (Utopia Distribution/Vinegar Syndrome): Writer/director Gaspar Noe's award-winning drama details the last days of an elderly couple (played by filmmaker Dario Argento and Francoise Lebrun) as they contend with dementia and attempt to come to terms with their mortality. In English and French with English subtitles, available on Blu-ray ($42.98 retail) replete with bonus features.
"THE WAR OF THE WORLDS/WHEN WORLDS COLLIDE DOUBLE FEATURE" (Paramount Home Entertainment): A self-explanatory 4K Ultra HD combo ($39.99 retail) of a pair of vintage George Pal productions: The dazzling 1953 adaptation of the H.G. Wells classic The War of the Worlds, starring Gene Barry and Ann Robinson, which won a well-deserved Oscar for Best Special Effects and nominations for Best Editing and Best Sound Recording; and the 1951 adaptation of Edwin Balmer and Philip Wylie's self-explanatory best-seller When Worlds Collide, starring Richard Derr and Barbara Rush, which also won the Oscar for Best Special Effects and a nomination for Best Cinematography (color). Both films are rated G and bonus features include the original Oct. 30th broadcast of The War of the Worlds presented by Orson Welles and the Mercury Theatre.
(Copyright 2022, Mark Burger)