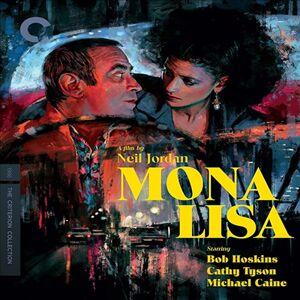 MONA LISA (The Criterion Collection): Bob Hoskins was a great actor, a latter-day Edward G. Robinson who played heroes and villains with equal force and nuance. Even better, his versatility knew few bounds. This exquisite 1986 crime drama, as emotionally layered as it is noir-ish, earned him his only Academy Award nomination: Best Actor. Had Paul Newman (for The Color of Money) not been so overdue, Hoskins might well have taken the Oscar home. He did, however, win a Golden Globe and the Best Actor award at Cannes.
George (Hoskins) is a low-level gangster recently paroled from prison. Reunited with his daughter (Zoe Nathanson), George's attempts to stay on the straight-and-narrow are compromised by local crime boss Mortwell (Michael Caine), who orders him to act as driver and de-facto bodyguard for high-class call girl Simone (newcomer Cathy Tyson). Initially antagonistic toward each other, George and Simone come to care for one another, and George even finds himself smitten with her. Yet Simone has secrets that threaten not only her safety and life, but also George's.
Beautifully shot by cinematographer Roger Pratt, the screenplay by director Neil Jordan and David Leland is both frank and compelling, with characters that are fully fleshed-out by the cast. In addition to Hoskins and Tyson, Robbie Coltrane plays George's best friend Thomas, Clarke Peters plays Simone's volatile pimp. Anderson, and Sammi Davis (in her feature debut) plays Simone's waifish friend May. The real surprise is the presence of Caine, in what may be the nastiest portrayal of his entire career. 
The special-edition Blu-ray ($39.95 retail) includes audio commentary, retrospective and vintage interviews, and more. Rated R. ***½ 
ALSO AVAILABLE
BEASTS OF NO NATION (The Criterion Collection): Producer/screenwriter/director Cary Joji Fukunaga's award-winning 2015 adaptation of Uzodinma Iweala's acclaimed best-seller stars Abraham Attah (in an impressive feature debut) as an innocent youngster indoctrinated into the ways of guerilla warfare during political strife in Western Africa. Episodic and overlong, but undeniably effective, with moments of great power and a powerhouse performance by Idris Elba as the ruthless and cunning guerilla leader. Originally broadcast on Netflix, which at the time made it ineligible for Academy Awards consideration. Both the DVD ($29.95 retail) and Blu-ray ($39.95 retail) include audio commentary, documentaries, retrospective interviews, and more. ***
COME SEPTEMBER (Kino Lorber Studio Classics): The Blu-ray bow ($24.95 retail) of director Robert Mulligan's award-winning 1960 romantic comedy set in a glamorous Italian villa, where Rock Hudson woos Gina Lollobrigida and Bobby Darin (in his feature debut) romances Sandra Dee, whom he would later marry. Joel Grey, Ronald Howard, Brenda de Banzie, Joan Freeman, and Walter Slezak also appear. Bonus features include audio commentary and theatrical trailer.
COUNTERPOINT (Scorpion Releasing/Kino Lorber): The Blu-ray bow ($29.95 retail) of director Ralph Nelson's disappointing 1967 adaptation of Alan Silitoe's novel The General, starring a stodgy Charlton Heston as a renowned orchestra conductor on a USO tour during World War II, captured by German general, Maximilian Schell and forced to perform a concert for the Nazi brass in 1944 Austria. Leslie Nielsen, Kathryn Hays, Cyril Delevanti, Linden Chiles, Neva Patterson, future director Peter Masterson, and perennial screen Nazis Anton Diffring and Curt Lowens also appear. Great music, but not much else. Bonus features include audio commentary and theatrical trailer. *½ 
"FRANCO NOIR" (Severin Films/MVD Entertainment Group): A Blu-ray double-feature ($34.95 retail) of noir-ish crime thrillers helmed by the indomitable – and some would say abominable – Spanish auteur Jesus "Jess" Franco (1930-2013): 1962's Death Whistles the Blues (La muerte silba un blues) starring Conrado San Martin, Perla Cristal, and Gerard Tichy; and 1963's Rififi in the City (Rififi en la ciudad), based on a novel by Charles Exbrayat and starring Fernando Fernan Gomez and Jean Servais.
FRANKENSTEIN'S DAUGHTER (The Film Detective/Cinedigm): Yes, they'll make a "special edition" of any movie – including director Richard E. Cunha's low-rent 1958 sci-fi shocker – reportedly shot in six days – in which Dr. Frankenstein's demented grandson (Donald Murphy) concocts a formula that turns his innocent niece (Sandra Knight, once married to Jack Nicholson) into a fanged beast that terrorizes Los Angeles. Dopey and laughable, but never dull, and a favorite among bad-movie buffs. Both the DVD ($19.95 retail) and Blu-ray ($24.95 retail) include audio commentaries, retrospective featurettes, and collectible booklet. *½ 
GENESIS: THE LAST DOMINO?/GENESIS: WHEN IN ROME (Kino Lorber): A pair of concert documentaries available on DVD (each $19.95 retail): Genesis: The Last Domino? (2021) sees Tony Banks, Phil Collins, and Mike Rutherford preparing and presenting their reunion tour, which was compromised by the COVID-19 global pandemic; and Genesis: When in Rome (2007) follows Banks, Collins, and Rutherford as they reunited after a decade apart for a triumphant worldwide concert tour. 
THE MAD DOCTOR (Kino Lorber Studio Classics): Basil Rathbone is at his sinister best in the title role of this trim 1940 thriller, as a suave physician who marries wealthy women then kills them. Ellen Drew plays his latest target and scene-stealer Martin Kosleck plays Rathbone's creepy cohort. Originally titled Destiny and also released as A Date With Destiny, this isn't a horror film (despite the title). Both the DVD ($14.95 retail) and Blu-ray ($24.95 retail) include audio commentary and theatrical trailer. **½ 
NINE DAYS (Sony Pictures Home Entertainment): Writer/director Edson Oda's award-winning, R-rated feature debut offers an existential allegory, starring Winston Duke (also an executive producer) as a monitor who determines which unborn souls will be allowed to be born on Earth, with Zazie Beetz as the potential candidate who captures his heart, with Bill Skarsgard, Benedict Wong, Geraldine Hughes, and Tony Hale in support, available on DVD ($25.99 retail) and Blu-ray ($24.99 retail), each replete with bonus featurette.
NOT GOING QUIETLY (Greenwich Entertainment/Kino Lorber): Writer/director/editor/cinematographer Nicholas Bruckman's award-winning documentary feature focuses on the life of Ady Barkan, a long-time social activist whose diagnosis of ALS (more commonly known as Lou Gehrig's Disease) further fuels his activism, prompting him to launch the "Be a Hero" bus tour to protest on behalf of healthcare. Barkan and his family allowed Bruckman total access, and it's both heartbreaking and inspiring to watch the physical toll the disease takes on his body, but not his spirit. "The weaker I get, the louder I become," he says. The DVD retails for $19.95. ***
THE PURSUIT OF D.B. COOPER (Kino Lorber Studio Classics): The Blu-ray bow ($24.95 retail) of the speculative, award-winning 1981 action/comedy, based on J.D. Reed's Free Fall: A Novel, which dramatizes the aftermath of the infamous 1971 hijacking and subsequent disappearance of thief D.B. Cooper, who parachuted from a Boeing 727 with $200,000 in cash. A likable cast includes Williams as Cooper, top-billed Robert Duvall as his former military commander and pursuer, Kathryn Harrold, Ed Flanders, Paul Gleason, R.G. Armstrong, Nicolas Coster, and newscaster Howard K. Smith. Director John Frankenheimer started the film, Buzz Kulik replaced him, and the final version is credited to Roger Spottiswoode. This caused the film to go over-budget and over-schedule, and the seams unfortunately show. Bonus features include audio commentary and theatrical trailer. Rated PG. **
THE RIFLEMAN (Omnibus Entertainment): Producer/director Dzintars Dreibergs makes his narrative feature debut with the award-winning adaptation of the best-selling, semi-autobiographical book by Aleksandrs Grins (originally titled Dvesalu putenis and also released as Blizzard of Souls), depicting the harrowing experiences of teenaged farmboy Oto Brantevics (in his feature debut) during World War I, available on DVD ($24.95 retail).
SAVING SLOANE (LionsGate): Taylor Foster (in her feature debut) stars as the titular character in executive producer/story writer/director Steve Franke's family-friendly, PG-rated drama, a rebellious teenager sent by her parents to spend the summer at a horse ranch, where she unexpectedly bonds with an equally feisty horse named "Glory," available on DVD ($14.98 retail).
SAY AMEN, SOMEBODY (Milestone Films/Kino Lorber): George T. Nierenberg directed this dynamic, award-winning 1982 feature documentary exploring and celebrating the history of Gospel music in America, particularly two of its pioneers: Thomas A. Dorsey (known as "the father of Gospel") and Willie Mar Ford Smith ("the mother of Gospel"), with show-stopping performances by the Barretyt Sisters, the O'Neal Twins, and Zella Jackson Price. Informative, uplifting, and bursting with energy, available on DVD ($19.95 retail) and Blu-ray ($29.95 retail), each replete with bonus features including audio commentary, retrospective interviews, rare outtakes, and more. ***½ 
SEVEN DAYS … SEVEN NIGHTS (Kino Lorber Studio Classics): Peter Brook directed this 1960 adaptation of screenwriter Marguerite Duras' novel Moderato Cantabile (the film's original title), starring Jeanne Moreau (who won the Best Actress award at Cannes) as a wealthy, bored housewife who becomes obsessed with a murder she witnesses and becomes convinced that fellow witness Jean-Paul Belmondo intends to kill her next. In French with English subtitles, available on DVD ($14.95 retail) and Blu-ray ($24.95 retail), each boasting audio commentary and trailers.
THE SPIDER WOMAN STRIKES BACK (Kino Lorber Studio Classics): The Blu-ray bow ($24.95 retail) of director Arthur Lubin's low-budget 1946 thriller, ostensibly spun off from the 1943 Sherlock Holmes mystery, with Gale Sondergaard reprising her titular role (under a different name) as a blind, reclusive woman experimenting with human blood and spider venom, with Brenda Joyce, Kirby Grant, Milburn Stone, and Rondo Hatton in support. Watchable but unmemorable, despite Sondergaard's scenery-chewing turn. Bonus features include audio commentary, documentary short, and theatrical trailer. ** 
TRUMAN AND TENNESSEE (Kino Lorber): Subtitled "An Intimate Conversation," producer/director Lisa Immordino Vreeland's award-winning feature documentary examines the intersecting lives and careers of authors and occasional sparring partners Truman Capote (voiced by Jim Parsons) and Tennessee Williams (voiced by Zachary Quinto), offering an analysis of their work and work process, augmented by vintage interview clips. Remarkably thorough and a must for literary devotees, available on DVD ($19.95 retail). ***
(Copyright 2021, Mark Burger)