PICK OF THE WEEK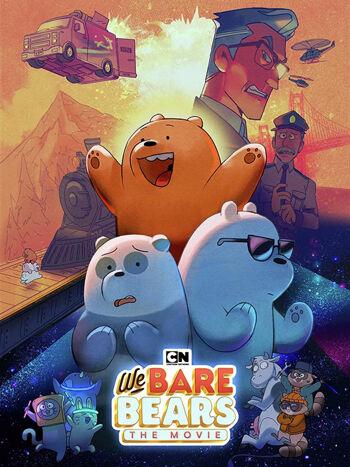 WE BARE BEARS: THE MOVIE (Cartoon Network/Warner Bros. Home Entertainment): Based on executive producer/co-writer/director Daniel Chong's award-winning Cartoon Network series (which ran 2014-'19), this bubbly animated feature reunites the titular trio of fun-loving bears: Grizz (voiced by Eric Edelstein), Panda (voiced by Bobby Moynihan), and the perennially deadpan Ice Bear (voiced by the perennially deadpan Demetri Martin).
The antics of the three bears make them the target of a concerted campaign by nasty Agent Trout (voiced by Marc Evan Jackson) of the National Wildlife Control to have them ousted from their forest home. Opting to emigrate, our furry but friendly heroes embark on a wild and woolly road trip that forces them to reassess their friendship, but also strengthens their resolve.
One of the nice things about We Bare Bears: The Movie is that the gags will appeal to both children and grown-ups, replete with some social commentary and a positive message about cultural diversity. Patton Oswalt, Ellie Kemper, Jason Lee, and Charlyne Yi also contribute their vocal talents to this cheerful diversion.
The DVD ($19.98 retail) includes audio commentary, deleted scenes, early sketches, and more. *** 
ALSO AVAILABLE
"THE ADVENTURERS OF MODERN ART" (Icarus Films Home Video): Amira Casar narrates this award-winning, self-explanatory six-part 2015 documentary mini-series (originally titled Les adventuriers de l'art moderne) that explores the history of twentieth-century art, as well as those who created it. In English, French, and German with English subtitles, the two-disc DVD  retails for $34.98.
THE BROKEN HEARTS GALLERY (Sony Pictures Home Entertainment): Natalie Krinsky makes her feature debut as executive producer/screenwriter/director of this PG-13-rated romantic comedy starring Geraldine Viswanathan as a young woman who fashions a collage of souvenirs and trinkets from people's failed relationships, with Dacre Montgomery, Utkarsh Ambudkar, Molly Gordon, Phillipa Soo, and Bernadette Peters in support, available on DVD ($30.99 retail) and Blu-ray ($34.99 retail), each boasting bonus features.
CATS AND DOGS 3: PAWS UNITE! (Warner Bros. Home Entertainment): The war between canines and felines heats up in the latest installment of the family-friendly franchise, boasting the vocal talents of Melissa Rauch, Max Greenfield, Ian Hanlin, Megan Peta Hill, and George Lopez, available on DVD ($19.98 retail) and DVD/Blu-ray combo ($24.98 retail), each boasting bonus features including behind-the-scenes featurettes and gag reel.
THE CHALK GARDEN (Kino Lorber Studio Classics): The Blu-ray bow ($24.95 retail) of director Ronald Neame's award-winning 1964 adaptation of the 1955 play by Enid Bagnold, starring Deborah Kerr as the secretive new nanny of spoiled teenager Hayley Mills, who becomes obsessed with uncovering her past. Glossy and soapy, befitting producer Ross Hunter, but the cast is first-rate: John Mills (Hayley's real-life father), Elizabeth Sellars, Felix Aylmer, and especially Edith Evans (as a manipulative grandmother), who earned an Oscar nomination for Best Supporting Actress. Bonus features include audio commentary and theatrical trailer. *** 
CHARLIE'S CHRISTMAS WISH (LionsGate): Aidan Turner headlines this PG-rated, family-friendly drama as a traumatized combat veteran who gets a new lease on life – and a better appreciation of family – when he adopts the titular rescue dog (voiced by Mira Silverman), with Lindsey McKeon, Vernon Wells, Toni Hudson, Lindsay Bloom, and Diane Ladd representing the human contingent, available on DVD ($14.98 retail).
"DELTA RAE: COMING HOME TO CAROLINA" (Cleopatra Entertainment/MVD Entertainment Group): Founded in 2009, the North Carolina-based country/rock group celebrates its 10th anniversary in its "Coming Home to Carolina" tour, which culminated the week before last Christmas in their hometown of Raleigh, performing such songs as "Take Me There,"Out of the Badlands," "Dance in the Graveyards," "The Chain," "Bottom of the River," and many others, available in a three-disc DVD/Blu-ray/CD combo ($29.95 retail).
THE DOG DOC (FilmRise/MVD Entertainment Group): Cindy Meehl produced and directed this self-explanatory, award-winning documentary feature profiling New York-based Dr. Marty Goldstein, an innovative and sometimes controversial specialist in integrative veterinary medicine, available in a special-edition Blu-ray ($24.95 retail) including deleted scenes, photo gallery, and theatrical trailer.
MARONA'S FANTASTIC TALE (GKIDS/Shout! Factory): Anca Damian produced, directed, and penned the story for this award-winning animated feature (originally titled L'extraordinaire voyage de Marona) detailing the life of the titular stray (voiced by Lizzie Brocharé) as she looks back on the human companions she's had over the years, available in a DVD/Blu-ray combo ($29.98 retail) boasting both French (with English subtitles) and English-language audio options, art gallery, interview with Damian, and more. 
MUTINY (VCI Entertainment/MVD Entertainment Group): Director Edward Dmytryk's 1952 sea-faring saga stars Mark Stevens as a fearless American Naval officer charged with breaking through the British blockade to aid the French during the War of 1812, with Angela Lansbury, Patric Knowles, Gene Evans, Rhys Williams, Peter Brocco, and Morris Ankrum, available on Blu-ray ($22.95 retail).
NEVER GIVE A SUCKER AN EVEN BREAK (Kino Lorber Studio Classics): In his final starring role, W.C. Fields (who also penned the story under the pseudonym "Otis Criblecoblis") portrays a popular star named "W.C. Fields" as he pitches his latest project to the studio – with expectedly catastrophic consequences. Fields hand-picked his co-stars – including such comedy favorites as Franklin Pangborn, Leon Errol, Gloria Jean, and the inimitable Margaret Dumont (as "Mrs. Hemogloben"), but despite re-editing by Universal (to make it more commercial) this remains a valid satire of Hollywood moviemaking – and much of it still holds up. An absolute must for Fields fans, with the special-edition Blu-ray ($29.95 retail) boasting audio commentary, vintage documentary, trailers, and more. *** 
PAULISTAS (IndiePix Films): Producer/director Daniel Nolasco's 2017 documentary feature quietly observes the day-to-day life in the titular savannah of Brazil, a farming community slowly but inexorably falling into decline due to the exodus of the population over the years. In Portuguese with English subtitles, available on DVD ($24.95 retail), which also includes Nolasco's 2019 documentary short Green Sea. **½ 
PILGRIMAGE (IndiePix Films): Screenwriter/director Joao Botelho's award-winning historical saga (originally titled Peregrinacao), based on Fernao Mendes Pinto's best-selling auobiographical novel, details the adventures and exploits of the legendary 16th-century Portuguese sailor (played by Claudio da Silva), one of the first Europeans to sail and explore the Orient. In Portuguese with English subtitles, available on DVD ($24.95 retail).
RIDERS OF DEATH VALLEY (VCI Entertainment/MVD Entertainment Group): The Blu-ray bow ($24.95 retail) of the 15-chapter 1941 Western serial co-directed by Ray Taylor and Ford Beebe, in which vigilantes protect miners from outlaws during the California gold rush, with a star-studded cast on hand: Dick Foran, Leo Carrillo, Buck Jones, Noah Beery Jr., Charles Bickford, Glenn Strange, Roy Barcroft, and Lon Chaney Jr.
SEA LEVEL/SEA LEVEL 2: MAGIC ARCH (LionsGate): A family-friendly, PG-rated DVD double-feature ($16.98 retail) including the 2011 animated feature (originally titled SeaFood), which marked the directorial debut of Aun Hoe Goh, which pits a heroic bamboo shark (voiced by newcomer Maxwell Vreeland Andrew) against the poachers who threaten his family, and the 2020 follow-up, which pits a young dolphin (voiced by Stephen Thomas Ochsner against moray eels that threaten the bucolic "Fish Town."
THE SECRET: DARE TO DREAM (LionsGate): Director/co-screenwriter Andy Tennant's PG-rated adaptation of Rhonda Byrne's best-selling 2006 self-help book stars Katie Holmes as a struggling young widow whose outlook is transformed by the appearance of handsome, sympathetic professor Josh Lucas in her life, available on DVD ($29.95 retail) and DVD/Blu-ray combo ($39.99 retail), each boasting behind-the-scenes featurette.
THE SECRET WAYS (Kino Lorber Studio Classics): Richard Widmark produced and stars in this routine 1961 Cold War melodrama, adapted from Alistair MacLean's The Last Frontier by Widmark's wife Jean Hazelwood, as a hard-bitten soldier-of-fortune enmeshed in a plan to spirit Hungarian scientist Walter Rilla to safety, available on DVD ($14.95 retail) and Blu-ray ($24.95 retail), each boasting audio commentary and theatrical trailer. **
SENIORS: A DOGUMENTARY (MVD Entertainment Group): Gorman Bechard wrote, produced, edited, directed, and appears in this warm, sweet-natured documentary about the efforts of people to care for and place older dogs in loving homes, augmented by the photography of Jane Sobel Klonsky. Impossible to resist. The DVD ($19.95 retail) includes audio commentary, world-premiere Q&A, trailers, and more. ***
SEVEN SINNERS (Kino Lorber Studio Classics): Marlene Dietrich brings glamor and John Wayne machismo to this 1940 melodrama with Dietrich as a tempestuous nightclub chanteuse in the South Seas who causes a scandal when she falls for young Naval officer Wayne, with Broderick Crawford, Albert Dekker, Anna Lee, Mischa Auer, Oscar Homolka, Samuel S. Hinds, Billy Gilbert, and Reginald Denny rounding out the cast. The first (and least) of three screen collaborations between Dietrich and Wayne, but their star power holds it together. The Blu-ray ($24.95 retail) includes audio commentary and theatrical trailer. **½
THE SHEPHERD OF THE HILLS (Kino Lorber Studio Classics): The Blu-ray bow ($24.95 retail) of director Henry Hathaway's 1941 adaptation of Harold Bell Wright's novel, starring John Wayne as a hard-bitten moonshiner whose backwoods community is alarmed by the arrival of a  mysterious, seemingly benevolent stranger (Harry Carey). Betty Field, Beulah Bondi, Samuel S. Hinds, Ward Bond, John Qualen, Marc Lawrence, and Marjorie Main ("Ma Kettle," herself) round out a sturdy cast. Bonus features include audio commentary and theatrical trailer. **½  
STRIKE (Indican Pictures/Magnolia Home Entertainment): Wobbly pacing hampers this pleasant but lightweight animated comedy in which a young mole (voiced by Lizzie Waterworth) is determined to compete in the "Wild Cup" soccer tournament. Ken Stott, Alex Kelly, Naomi McDonald, Jordan Long, Nigel Anthony, Beth Chalmers, and first-time director Trevor Hardy (as "The Bug") round out an enthusiastic voiceover cast, available on DVD ($24.95 retail). **
THE WONDERS OF ALADDIN (Kino Lorber Studio Classics): Donald O'Connor essays the title role in this silly 1961 fantasy (originally titled Le meriviglie di Aladino) directed by Henry Levin and co-directed by Mario Bava, with Vittorio de Sica providing comic relief as the Genie. Strictly kiddie-matinee fare, but watchable on those terms, available on DVD ($14.95 retail) and Blu-ray ($24.95 retail), each replete with audio commentary and trailers. ** 
(Copyright 2020, Mark Burger)