PICK OF THE WEEK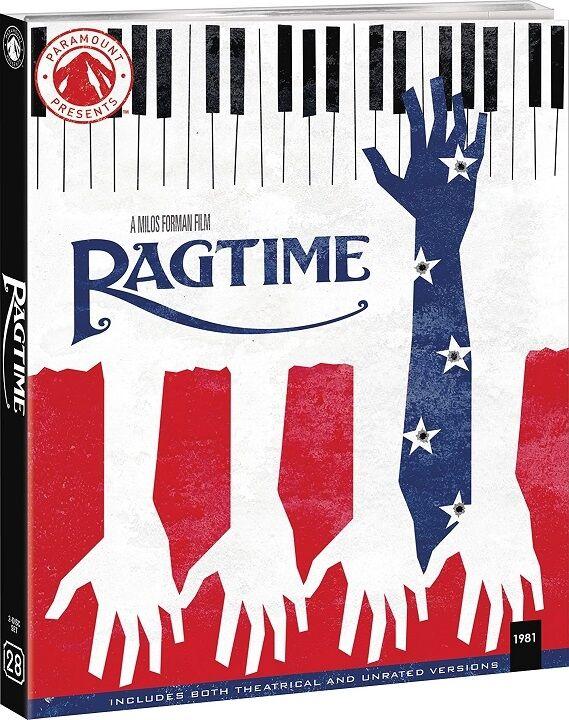 RAGTIME (Paramount Home Entertainment): Originally intended for Robert Altman, Milos Forman directed this fine 1981 adaptation of E.L. Doctorow's best-seller, which ranks among the best films produced by the inimitable Dino De Laurentiis. It's the quintessential example of historical fiction, and still plays beautifully – and with contemporary relevance.
The esteemed Booker T. Washington (Moses Gunn), ill-fated architect Stanford White (Norman Mailer), White's wistful young mistress Evelyn Nesbit (Elizabeth McGovern), and Nesbit's murderously jealous husband Harry K. Thaw (Robert Joy) – "from Pittsburgh!" – are among the prominent historical figures within in the narrative, which is ultimately dominated by proud (and fictitious) piano player Coalhouse Walker Jr. (Howard E. Rollins Jr. in a stunning feature debut) to stake his claim for his own piece of the American Dream, only to be so thwarted by racism and corruption that he takes matters into his own hands, with devastating results.
The star-studded cast is top-notch, including James Cagney (his final feature) in a widely publicized return to the screen as police commissioner Rhinelander Waldo), Mary Steenburgen, Kenneth McMillan, Brad Dourif, Mandy Patinkin, James Olson, Ted Ross, Donald O'Connor (in a wonderfully smarmy turn), and Pat O'Brien (in his final feature), and early screen appearances by Jeff Daniels, Samuel L. Jackson, Frankie Faison, Fran Drescher, Debbie Allen, Michael Jeter, and Jeffrey DeMunn (as Harry Houdini).
The film earned Oscar nominations for Best Supporting Actor (Rollins), Best Supporting Actress (McGovern), Best Adapted Screenplay, Best Cinematography, Best Art Direction/Set Decoration, Best Costume Design, Best Song ("One More Hour"), and Best Original Score. But Paramount put more marketing muscle behind Raiders of the Lost Ark and Reds that year, so Ragtime went home empty-handed.
Paramount Home Entertainment's ongoing "Paramount Presents" series also includes the limited-edition centennial Blu-ray ($24.99 retail) of the silent Rudolph Valentino saga The Sheik (1921); the limited-edition, 75th-anniversary Blu-ray ($22.99 retail) of Frank Capra's much-beloved 1946 holiday favorite It's a Wonderful Life; and the 20th-anniversary Blu-ray ($24.99 retail) of Cameron Crowe's R-rated existential fantasy Vanilla Sky, each replete with bonus features.
The 40th-anniversary Ragtime Blu-ray ($22.99 retail) includes theatrical version and director's workprint, retrospective documentary, deleted and extended scenes, and more. Rated PG. ***½ 
ALSO AVAILABLE
THE AMAZING MR. X (The Film Detective/Cinedigm): Also released as The Spiritualist, this atmospheric low-budget 1948 thriller stars Turhan Bey in the title role of a phony psychic who becomes embroiled in the mystery surrounding the death of Lynn Bari's husband. This noir-ish, surreal whodunit benefits considerably from John Alton's superior cinematography and an ideally cast Bey, whose exotic look suits the character perfectly. Cathy O'Donnell, Richard Carlson, Donald Curtis, and Virginia Gregg round out a solid cast of potential suspects. Both the DVD ($19.95 retail) and Blu-ray ($24.95 retail) include audio commentary, collectible booklet, and more. **½ 
LA CAGE AUX FOLLES II (Code Red/Kino Lorber): Following the international success of the gender-bending 1978 arthouse smash, director Eduoard Molinaro and screenwriter Francis Veber reteamed with Michel Serrault and Ugo Tognazzi for this spirited but silly 1980 follow-up, in which the bumbling partners get mixed up in international espionage. Serrault, Tognazzi, and Benny Luke (encoring as their faithful houseboy) are in good form, but this doesn't recapture the freshness of the original. The Blu-ray ($29.95 retail) includes both French-language (with English subtitles) and English-dubbed audio options, and theatrical trailer. Rated R. ** 
THE CAPOTE TAPES (Greenwich Entertainment/Kino Lorber): Writer/producer/director Ebs Burnough's 2019 feature-documentary debut explores the later years of author and social gadfly Truman Capote (1924-'84), as he reveled in his celebrity status – and his subsequent substance abuse – as he worked on his infamous, unfinished novel Unanswered Prayers. An intriguing, respectful, and honest glimpse into Capote's personal life, highlighted by Dick Cavett and Dotson Rader's spot-on impressions of him, available on DVD ($19.95 retail). ***
DEEP BLUES (Film Movement): Esteemed music documentarian Robert Mugge edited and directed this self-explanatory 1992 documentary, written and narrated by noted music scholar and music director Robert Palmer (not the singer), which explores the history and legacy of Mississippi's rural blues artists who found acclaim despite existing outside the mainstream, including Booker T. Laury, Jessie Mae Hemphill, Big Jack Johnson, R.L. Burnside, Roosevelt "Booba" Barnes and the Playboys, and many others. Both the DVD ($29.95 retail) and Blu-ray ($39.95 retail) include audio commentary and behind-the-scenes featurette.
DEPORTED (Kino Lorber Studio Classics): The Blu-ray bow ($24.95 retail) of director Robert Siodmak's 1950 adaptation of Lionel Shapiro's story Paradise Lost '49 and inspired by real-life mobster "Lucky" Luciano, starring Jeff Chandler as an American gangster who falls for widowed countess Marta Toren after he is deported to Italy. Bonus features including audio commentary and trailers.
FREUD (Kino Lorber Studio Classics): Also released as Freud: The Secret Passion, director John Huston's fact-based drama details the efforts of psycho-analyst Sigmund Freud (Montgomery Clift) to treat patients with the then-radical technique of hypnosis. Overlong and overwrought, but undeniably interesting, particularly the casting of Clift (in his penultimate film). Susannah York, Larry Parks, David McCallum, Eileen Herlie, David Kossoff, Eric Portman, and Susan Kohner (in her final feature) also appear, and the film earned Academy Award nominations for Best Original Screenplay and Jerry Goldsmith's score (his first of 18 nominations). Both the DVD ($14.95 retail) and Blu-ray ($24.95 retail) include audio commentary and theatrical trailer. **½ 
HIGH SIERRA (The Criterion Collection): Great title, great movie. Humphrey Bogart took a big step toward solidifying his star status as hair-trigger ex-con Roy "Mad Dog" Earle in Raoul Walsh's award-winning 1941 adaptation of W.R. Burnett's best-selling novel, adapted by Burnett and John Huston, in which he attempts one last big score at a California resort – with fateful results. Top-billed Ida Lupino is also excellent as Bogey's love interest (although the two reportedly did not get along), the scenery is spectacular, and a solid cast includes Arthur Kennedy, Joan Leslie, Alan Curtis, Henry Travers, Henry Hull, Jerome Cowan, Barton MacLane, and Cornel Wilde. Both the DVD ($29.95 retail) and Blu-ray ($39.95 retail) boast bonus features including retrospective documentaries and featurettes, and Walsh's 1949 Western remake Colorado Territory. ***½ 
NUMBER ONE (Scorpion Releasing/Kino Lorber): The Blu-ray bow ($29.95 retail) of director Tom Gries' 1969 sports melodrama starring Charlton Heston as an aging NFL quarterback trying to hang onto his career while indulging in drink and women. This ostensibly "adult" portrayal of middle age holds few surprises but benefits from bone-crunching playing sequences (featuring the New Orleans Saints) and a solid supporting cast including Jessica Walter, Diana Muldaur, Bruce Dern, John Randolph, G.D. Spradlin, Roy Jenson, Bobby Troup, Mike Henry, Steve Franken, and jazz great Al Hirt (as himself). Rated PG-13. **
ONE MORE TRAIN TO ROB (Code Red/Kino Lorber): The Blu-ray bow ($29.95 retail) of director Andrew V. McLaglen's 1971 Western romp starring George Peppard as a paroled outlaw determined to track down his former cohorts who betrayed him. Routine fare with a familiar cast: Diana Muldaur, John Vernon, Harry Carey Jr., Robert Donner, Steve Sandor, Richard Loo, Merlin Olsen, John Mitchum, Marie Windsor, and an unbilled Lane Chandler (in his final feature). Rated PG. **
OVERBOARD (Severin Films/MVD Entertainment Group): Director Garry Marshall's 1987 screwball comedy is a vehicle for the real-life couple of Goldie Hawn, as an arrogant – and amnesiac – heiress and Kurt Russell as the blue-collar handyman who convinces her he's married to her. Guess what happens next? A pleasant but predictable diversion, with Edward Herrmann, Katherine Helmond, Russell's real-life father Bing Russell, an unbilled Hector Elizondo, and executive producer Roddy McDowall on hand, available on Blu-ray ($24.95 retail). Rated PG. **½ 
PRISONERS OF THE GHOSTLAND (RLJE Films): Nicolas Cage goes on the rampage (again) in director Sion Sono's English-language debut, a post-apocalyptic samurai Western, in which Cage plays a notorious criminal sprung from prison to rescue the granddaughter (Sofia Boutella) of resident warlord Bill Moseley, with Nick Cassavetes, Tak Sakaguchi, and Yukuza Nakaya along for the ride, available on DVD ($29.96 retail), Blu-ray ($29.97 retail), and 4K Ultra HD Steelbook ($35.97 retail)
THE SAVIOR FOR SALE: DA VINCI'S LOST MASTERPIECE? (Greenwich Entertainment/Kino Lorber): Director Antoine Vitkine's feature-documentary debut delves into the mystery surrounding "Salvator Mundi (Savior of the World)," supposedly painted by Leonardo da Vinci and sold for a mind-boggling $450 million in 2017, despite ongoing concerns about its authenticity. Both a byzantine detective story and an examination of the complicated machinations by which art is bought and sold. In English and French with English subtitles, available on DVD ($19.95 retail). ***
THE VILLAGE DETECTIVE: A SONG CYCLE (Hypnotic Pictures/Kino Lorber): Filmmaker Bill Morrison's award-winning documentary feature tracing the unique discovery of four reels of 35mm film off the coast of Iceland, with consisted of an unfinished '60s Soviet comedy starring Mihail Zarov, a beloved Russian actor whose name and career are basically unknown in the West. In English and Russian with English subtitles, available on DVD ($19.95 retail) and Blu-ray ($29.95 retail), each replete with bonus short films.
WIFE OF A SPY (Kino Lorber): Kiyoshi Kurosawa's award-winning historical drama (originally titled Supai no tsuma) stars Issey Takahashi as an amateur Japanese filmmaker whose determination to record the atrocities occurring in pre-World War II Manchuria puts the lives of him and wife Yu Aoi in jeopardy. In Japanese with English subtitles, available on DVD ($19.95 retail) and Blu-ray ($29.95 retail), each boasting bonus features.
(Copyright 2021, Mark Burger)