PICK OF THE WEEK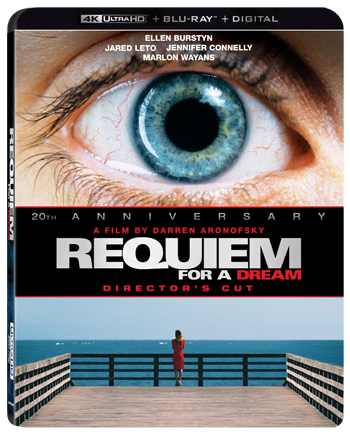 REQUIEM FOR A DREAM (LionsGate): For years, the much-acclaimed 1978 Hubert Selby Jr. novel Requiem for a Dream was considered "unfilmable" … and then writer/director Darren Aronofsky came along 22 years later and made what is undoubtedly one of the strongest, most harrowing on-screen depictions of drug abuse ever made. It's not a pretty picture, but it is a great and important one.
Set in the Brighton Beach region of Brooklyn, the film dramatizes the downward spiral of widow Sara Goldfarb (Ellen Burstyn), who becomes hooked on amphetamines when she believes she's to appear on her favorite television show, as well as her son Harry (Jared Leto), Harry's girlfriend Marion (Jennifer Connelly), and their friend Lucky (Marlon Wayans), who deal heroin, ostensibly to make money to open a clothing store.
Dreams are dashed and hopes are cruelly extinguished as each character becomes a victim, as much of their own delusions as their addictions. This was only Aronofsky's second feature, and remains his masterpiece, with a peerless cast including Keith David, Louise Lasser, Mark Margolis, Dylan Baker, and Christopher McDonald, the latter in prime form as the unctuous host of Sara's beloved The Tappy Tibbons Show. Aronofsky and Selby, who collaborated on the screenplay, also appear in cameo roles, and Burstyn deservedly received an Oscar nomination as Best Actress..
The 20th-anniversary director's cut 4k Ultra HD combo ($22.99 retail) includes audio commentaries, retrospective featurettes and interviews, and more. **** 
ALSO AVAILABLE
2067 (RLJE Films): Writer/director Seth Larney's sci-fi thriller sees Kodi Smit-McPhee traveling into the future to save the Earth from the ravages of catastrophic climate change, available on DVD ($29.96 retail) and Blu-ray ($29.97 retail), each boasting audio commentariy and behind-the-scenes featurette. 
THE ACROBAT (TLA Releasing): Montreal is the setting for writer/director Rodrigue Jean's LGBTQ-themed drama, depicting an anonymous but impassioned – and ultimately destructive – relationship that develops between middle-aged businessman Sébastien Ricard and homeless Russian acrobat Yury Paulau (in his screen debut) in an unfinished high-rise apartment during a raging blizzard. In French and Russian with English subtitles, available on DVD ($24.99 retail).
AMERIKA SQUARE (Corinth Films): Yannis Sakaridis wrote, produced, edited, and directed this award-winning 2016 drama (originally titled Plateia Amerikis) detailing the economic woes and mass infusion of immigrants in contemporary Greece, and how it affects a jobless racist (Makis Papadimitriou), his liberal best friend (Yannis Stankgolou), and a Syrian refugee (Vassilis Koukalani) determined to smuggle himself out of the country. In English, Arabic, and Greek with English subtitles, available on DVD ($24.95 retail).
AMULET (Magnet Label/Magnolia Home Entertainment): Actress Romolo Garai makes her feature debut as writer/director of this moody shocker starring Alex Secareanu as a homeless combat veteran who agrees to do repairs on the crumbling London mansion inhabited by a mysterious young woman (Carla Juri) and her ailing mother. Reminiscent of Dario Argento, Ari Aster, and early David Cronenberg, this has style and gore to spare, as well as Imelda Staunton as an ostensibly helpful nun. Not for all tastes, but cult status seems assured. The DVD ($17.99 retail) includes bonus features. Rated R. **½ 
BLACK TEST CAR/BLACK REPORT (Arrow Video/MVD Entertainment Group): A Blu-ray twin-bill ($39.95 retail) of director Yasuzo Masumura satirical 1962 espionage drama (originally titled Kuro no tesuto ka), in which rival auto manufacturers employ industrial spies to undercut the other; and Masumura's 1963 follow-up Black Report (originally titled Kuro no hokokusho and also released as Black Statement Book). In Japanese with English subtitles, bonus features include theatrical trailers, image galleries, and more.
BLOODY NOSE, EMPTY POCKETS (Utopia Select/Vinegar Syndrome): A limited-edition Blu-ray ($29.98 retail) of the award-winning documentary feature shot, produced, and co-directed by sibling filmmakers Bill Ross IV (who also edited) and Turner Ross detailing the final hours of The Roaring 20s, a ramshackle cocktail lounge in Las Vegas on the eve of the 2016 Presidential election, boasting bonus featurette, trailers, and more.
"BONANZA": THE OFFICIAL ELEVENTH SEASON (CBS DVD/Paramount): Life continues on the Ponderosa Ranch for fair-minded patriarch Lorne Greene and sons Michael Landon and Dan Blocker, in all 28 episodes from the 1969-'70 season of the long-running, award-winning NBC Western series created by producer David Dortort, with guest appearances by Bruce Dern, Slim Pickens, Tom Bosley, Jo Van Fleet, Sally Kellerman, John Astin, Mariette Hartley, and Ted Cassidy. "Volume One" ($45.98 retail) includes the first 14 episodes of the season, "Volume Two" ($45.98 retail) the remaining 14.
BOOBS: THE WAR ON WOMEN'S BREASTS (Cinema Libre Studio): Writer/producer/director Megan S. Smith's feature documentary examines the controversy regarding breast-cancer detection via mammography, featuring in-depth interviews with medical specialists and patients, available on DVD ($19.95 retail).
"CRAIG ROSS JR.'S MONOGAMY": SEASON 1 (UMC): The husband-and-wife duo of Craig Ross Jr. and Caryn Ward Ross created and serve as executive producers for this UMC (Urban Movie Channel) drama series focusing on married couples attempting to save their relationships via a controversial counseling treatment called "Swap Therapy," with an ensemble cast including Ross, Jill Marie Jones, Darius McCrary, Vanessa Simmons, Wesley Jonathan, Chrystee Pharris, and Blu Kimble – all of whom also serve as executive producers, available on DVD ($16.96 retail), which includes all six episodes from the inaugural 2018 season.
FIVE CORNERS (Liberation Hall/MVD Entertainment Group): Producer/director Tony Bill's well-acted, award-winning but wildly uneven 1987 drama, inspired by screenwriter John Patrick Shanley's experiences growing up in New York, takes place in the Bronx, circa 1964, following a disparate group of characters on a collision course with each other. The hard-working cast includes Jodie Foster, Tim Robbins, John Turturro (in a showy role), Todd Graff, Elizabeth Berridge, Daniel Jenkins, Kathleen Chalfant, Mike Starr, Bill Cobbs, Frances Foster, Eriq La Salle, Gregory Rozakis (in his final film), and Rodney Harvey. The "MVD Rewind" DVD ($14.95 retail) and Blu-ray ($19.95 retail) each include audio commentary and original trailer. Rated R. **½ 
THE GOODTIMES KID (Kino Lorber): Writer/editor/cinematographer/director Azazel Jacobs stars in this 2005 comedy of mistaken identity as an Echo Park slacker who impetuously enlists in the military to escape his clinging girlfriend (producer Sara Diaz), except that his recruitment orders are sent to someone else with the same name (writer Gerardo Naranjo), which causes confusion and consternation for all, available on DVD ($19.95 retail) and Blu-ray ($29.95 retail), each boasting bonus features including audio commentary and trailers. 
GRANT (LionsGate): Justin Salinger portrays soldier and statesman Ulysses S. Grant (1822-'85) in this three-part History Channel documentary mini-series directed by Malcolm Venville, with Francis Chouler, Dianne Simpson (in her debut), Brian Heydenrych (as Robert E. Lee), and Carel Nel (as Abraham Lincoln), available on DVD ($14.98 retail).
"GRAVEYARDS OF HONOUR" (Arrow Video/MVD Entertainment Group): A Blu-ray double-feature ($69.95 retail) of director Kinji Fukusaku's award-winning 1975 gangster thriller (originally titled Jingi no hakaba), based on Goro Fujita's fact-based novel detailing the rise and fall of high-level mob boss Rikio Ishikawa (Tetsuya Watari), and Takashi Miike's award-winning 2002 version (originally titled Shin Jingi no hakaba) with Goro Kishita in the leading role. In Japanese with English subtitles, bonus features include audio commentaries, retrospective featurettes and interviews, theatrical trailers, collectible booklet, and more. 
GUEST HOUSE (LionsGate): After buying their dream house, engaged couple Aimee Teegarden and Mike Castle discover an unwelcome, party-hearty squatter (Pauly Shore) ensconced in their guest house in this R-rated comedy, with Chris Kattan, Charlotte McKinney, Steve-O, Billy Zane, Lou Ferrigno and Lou Ferrigno Jr., and first-time writer/producer/director Sam Macaroni also on hand, available on DVD ($19.98 retail) and Blu-ray ($21.98 retail), each boasting bonus features.
HARRY CHAPIN: WHEN IN DOUBT, DO SOMETHING (Greenwich Entertainment/Kino Lorber): Executive producer/writer/director Rick Korn's feature-documentary debut offers a fond remembrance of Grammy-winning singer/songwriter Harry Chapin (1942-'81), as renowned for his humanitarian efforts to end hunger as his career, featuring interviews with friends, family members, and such luminaries as Harry Belafonte, Pat Benatar, Billy Joel, Sir Bob Geldof, Andrew Cuomo, and others, available on DVD ($19.95 retail). ***
LOVE EXPRESS: THE DISAPPEARANCE OF WALERIAN BOROWCZYK (Altered Innocence/CAV Distributing): Writer/producer/director Kuba Mikurda makes his feature debut with this documentary (originally titled Love Express: Zaginiecie Walerina Borowczyka) that offers an illuminating, informative portrait of the acclaimed and controversial Polish filmmaker Walerian Borowczyk (1923-2006), who began his career as an animator but found his career options eventually limited to softcore pornography, featuring vintage interviews with Borowczyk as well as with collaborators, actors, film critics and historians, and such acclaimed filmmakers as Terry Gilliam, Neil Jordan, Patrice Leconte, and the late Andrzej Wayda, to name a few. In English, French, Italian, and Polish with English subtitles, available on DVD ($24.99 retail) and Blu-ray ($27.99 retail), both boasting interview outtakes and trailers. ***
MORTAL (LionsGate): Executive producer/screenwriter/director Andre Ovredal's R-rated fantasy, rooted in Norwegian mythology, stars Nat Wolff as an expatriate American gifted with destructive supernatural powers and Priyanka Bose as the government agent out to stop him, available on DVD ($19.98 retail) and Blu-ray ($21.99 retail), each boasting behind-the-scenes featurette.
"PRAIRIE TRILOGY" (Metrograph/Kino Lorber): A DVD triple-feature ($19.95 retail) of documentary shorts subsidized by the North Dakota Humanities Council and the North Dakota AFL-CIO, co-directed by John Hanson and Rob Nilsson: Prairie Fire (1977), narrated by labor organizer and poet Henry Martinson, explores the origins of the Nonpartisan League in 1916; Rebel Earth (1980) sees Martinson recounting and revisiting his past; and Survivor (1980) commemorates Martinson's life, career, and legacy. Bonus features include audio commentary for each film, booklet essay, and trailer. 
THE SHORT HISTORY OF THE LONG RIDE (FilmRise/MVD Entertainment Group): Writer/producer/director Ani Simon-Kennedy's award-winning coming-of-age drama stars Sabrina Carpenter as a teenager trying to reconcile her past while embarking on an uncertain future, with Danny Trejo, Maggie Siff, Rusty Schwimmer, and Steven Ogg in support, available on Blu-ray ($24.95 retail), replete with blooper reel, photo gallery, and trailer.
(Copyright 2020, Mark Burger)