PICK OF THE WEEK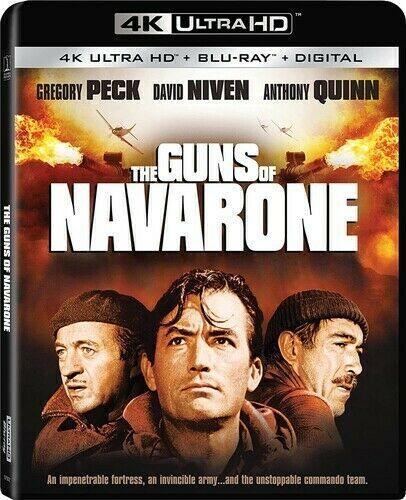 THE GUNS OF NAVARONE (Sony Pictures Home Entertainment): One of the best-remembered World War II epics, this 1961 adaptation of Alistair MacLean's huge best-seller could be trimmed a bit, but offers spectacular suspense, a moral subtext, and a first-rate ensemble cast.
Some 2,000 Allied soldiers are marooned on the Greek island of Kheros, but the Royal Navy is unable to rescue them because of two enormous guns situated on the nearby island of Navarone. Previous attempts to destroy them have ended in disaster, so a commando team is assembled to infiltrate Navarone and destroy the guns from within. Gregory Peck, David Niven, Anthony Quinn, Anthony Quayle, Stanley Baker, and James Darren comprise the team, with Gia Scala and Irene Papas as their Greek contacts.
In addition to the inherent peril of the operation, further tension is generated when it becomes evident there's a traitor in their midst. In addition to rugged heroics, screenwriter/producer Carl Foreman (who'd co-scripted The Bridge on the River Kwai) adds room for debate on the repercussions of war and betrayal, all of it expertly handled by director J. Lee Thompson, who replaced Alexander Mackendrick late in pre-production.
The film won the Academy Award for Best Special Effects, with additional nominations for Best Director, Best Adapted Screenplay, Best Editing, Best Score, Best Sound, and the big one – Best Picture. 
The 4K Ultra HD combo ($30.99 retail) includes audio commentaries, retrospective featurettes and interviews, and more. ***½  
ALSO AVAILABLE
"BIOGRAPHY: WWE LEGENDS" (A&E Network/WWE Studios/LionsGate): A self-explanatory pair of DVDs (each $19.98 retail) chronicling the lives and careers of pro wrestlers: "Volume 1" profiles "Stone Cold" Steve Austin, "Rowdy" Roddy Piper, Randy "Macho Man" Savage, and Booker T; "Volume 2" profiles Shawn Michaels, Ultimate Warrior, Mick Foley, and Bret "Hitman" Hart.
"THE CROCODILE DUNDEE TRILOGY" (Paramount Home Entertainment): A self-explanatory Blu-ray collection of ($33.99 retail) of the popular big-screen franchise that launched producer/screenwriter Paul Hogan to international stardom: 1986's Crocodile Dundee (rated PG-13) earned Hogan a Golden Globe award and earned an Oscar nomination for Best Original Screenplay, 1988's Crocodile Dundee II (rated PG) reunited Hogan with Linda Kozlowski (whom he later married), and the belated 2001 sequel Crocodile Dundee in Los Angeles (rated PG) saw Hogan and Kozlowski now ensconced in the City of Angels.
"EMILY IN PARIS": SEASON ONE (Paramount Home Entertainment): Executive producer Darren Star created this Netflix comedy series starring Lily Collins (also a producer) as the title character, a Chicago businesswoman who lands her dream job in Paris and juggles her personal and professional aspirations while navigating a new culture, with Philippine Leroy-Beaulieu, Ashley Park, Lucas Bravo, and semi-regular Kate Walsh in support. This earned an Emmy nomination as Outstanding Comedy Series, and all 10 episodes – plus bonus features – from the inaugural 2021 season are available on DVD ($25.99 retail).
ENORMOUS: THE GORGE STORY (Greenwich Entertainment/Kino Lorber): Filmmaker Nic Davis makes his debut with this affectionate documentary that celebrates the history of The Gorge Amphitheater in rural Washington, which has played host to countless, star-studded concerts over the years, featuring appearances by Dave Matthews, Shakey Graves, John Oates, Jason Mraz, Steve Miller, Pearl Jam, and many others. A must for music mavens, and the natural scenery is spectacular, available on DVD ($19.95 retail). ***
FILIBUS (Milestone Films/Kino Lorber): Director Mario Roncoroni's 1915 feature debut, subtitled "The Mysterious Air Pirate," is a silent adventure extravaganza starring Valeria Creti in the title role of a fearless thief who commits her crimes with the use of a hi-tech dirigible and is pursued by dogged detective Giovanni Spano, available on DVD and Blu-ray (each $29.95 retail), both replete with bonus features including the 1916 Italian feature Signori giurati and short films.
THE FOURTH VICTIM (Severin Films/MVD Entertainment Group): Director Eugenio Martin's award-winning 1971 adaptation of a J.B. Gilford story (originally titled La ultima senora Anderson) stars Michael Craig as a wealthy widower whose three wives have died under mysterious circumstances and Carroll Baker as an American heiress whom he targets as his next wife. The special-edition Blu-ray ($34.95 retail) includes Italian (with English subtitles) and English-language audio options, retrospective interviews, trailer, and more.
THE GANG/THREE MEN TO KILL (Cohen Media Group/Kino Lorber): A double-feature of French crime dramas, both directed by Jacques Deray and produced by Alain Delon, who stars in both: 1977's The Gang (Le gang) and 1980's Three Men to Kill (3 hommes a abattre), the latter adapted by Deray and Delon from a Jean-Patrick Manchette novel. In French with English subtitles, available on DVD ($19.95 retail) and Blu-ray ($29.95 retail), 
THE GESTAPO'S LAST ORGY (88 Films/MVD Entertainment Group): A special-edition Blu-ray ($29.95 retail) of writer/producer/director Cesare Canevari's 1977 exploitation melodrama (originally titled L'ultima orgia del III Reich and also released as Last Orgy of the Third Reich and Caligula Reincarnated as Hitler), set – obviously – against the backdrop of Nazi Germany, with Daniela Poggi (in her feature debut) as a Jewish concentration camp survivor reflecting on her traumatic, dehumanizing experiences during her incarceration. Bonus features include Italian (with English subtitles) and English-dubbed audio options, audio commentaries, and more.
ILLUSTRIOUS CORPSES (Kino Lorber Studio Classics): Francesco Rosi's politically charged, award-winning 1976 thriller (originally titled Cadaveri eccellenti and also released as The Context) stars Lino Ventura as a relentless detective who uncovers a diabolical conspiracy when he investigates of the murders of Supreme Court judges in Italy. Convoluted but entirely credible, with a chilling conclusion. A first-rate cast includes Max von Sydow, Alain Cuny, Fernando Rey, Tina Aumont, Marcel Bozzuffi, Luigi Pistilli, and Charles Vanet. In Italian with English subtitles, available on DVD ($14.95 retail) and Blu-ray ($24.95 retail), each boasting audio commentary and theatrical trailer. Rated PG. ***
THE LAUGHING DEAD (Vinegar Syndrome): A limited-edition Blu-ray ($39.98 retail) of executive producer/writer/director/composer/co-star Somtow Sucharitkul's 1990 chiller (also released as Ritual Macabro and Sacrifices) wherein a busload of tourists in Mexico uncover Satanic shenanigans in a small village on the eve of the Day of the Dead, replete with bonus features including audio commentary and retrospective documentary.
MA BELLE, MY BEAUTY (Good Deed Entertainment/Kino Lorber): Writer/producer/editor/director Marion Hill's award-winning debut feature details the unexpected reunion between Idella Johnson and newcomer Hannah Pepper, previous lovers in a polyamorous relationship, in the south of France, during which they are forced to confront the emotional turbulence of their past. In English and French with English subtitles, available on DVD ($29.,95 retail), replete with bonus features.
MOMENT BY MOMENT (Kino Lorber Studio Classics): The romance between middle-aged socialite Lily Tomlin and carefree drifter John Travolta yields one of the worst films of 1978, a laughably hokey melodrama that marked the feature debut for Tomlin's partner, writer/director Jane Wagner (who never directed another film), available on DVD ($14.95 retail) and Blu-ray ($24.95 retail), each replete with audio commentary, theatrical trailer, and radio spots. Rated PG. * 
THE PHANTOM (Greenwich Entertainment/Kino Lorber): Patrick Forbes wrote and directed this methodical, absorbing documentary feature exploring the case of Carlos DeLuna, who was tried for the 1983 murder of Wanda Lopez in Corpus Christi, found guilty, and executed in 1989 – only for evidence to come to light indicating that DeLuna was innocent. A sobering dissection of a miscarriage of justice that remains timely and thought-provoking, available on DVD ($19.95 retail). *** 
ROADRUNNER: A FILM ABOUT ANTHONY BOURDAIN (Universal Pictures Home Entertainment): Producer/director Morgan Neville's award-winning, R-rated documentary feature traces the life and career of writer, celebrity chef, and television host Anthony Bourdain (1956-2018), whose suicide caused international shockwaves, available on DVD ($22.98 retail).
THOROUGHLY MODERN MILLIE (Kino Lorber Studio Classics): Julie Andrews, riding high on the back-to-back blockbusters Mary Poppins (1964) and The Sound of Music (1965), sings and dances her way through director George Roy Hill's splashy but overblown 1967 musical extravaganza, in the title role of a fearless flapper determined to land a husband in New York City during the Roaring Twenties, backed by a star-studded cast including Carol Channing, Mary Tyler Moore, James Fox, John Gavin, Anthony Dexter, and Beatrice Lillie (in her final feature). Legendary composer Elmer Bernstein won his only Oscar (Best Original Score), and the film earned additional nominations for Best Supporting Actress (Channing), Best Art Direction/Set Decoration, Best Costume Design, Best Original Song Score, Best Sound, and Best Song (the title tune). The Blu-ray ($24.95 retail) includes the original roadshow version, audio commentary, and theatrical trailer. Rated G. **½ 
"UNDERWORLD LIMITED EDITION 5-MOVIE COLLECTION" (Sony Pictures Home Entertainment): A self-explanatory 4K Ultra HD collection ($95.99 retail) of the popular, profitable horror franchise pitting vampires against werewolves, with black-clad Kate Beckinsale in fierce, foxy form: Underworld (2003), Underworld: Evolution (2006), Underworld: Rise of the Lycans (2009), Underworld: Awakening (2012), and Underworld: Blood Wars (2016). All five films are rated R (for obvious reasons) and this also includes the unrated director's cut of Underworld, in addition to a bevy of bonus features for Underworld aficionados.
"YOUNGER": THE COMPLETE SERIES (Paramount Home Entertainment): The title tells all in this 10-disc DVD collection ($61.99 retail) of all 84 episodes from the entire 2015-'21 run of the TV Land comedy/drama series created by producer Darren Star and based on the best-selling 2005 novel by Pamela Redmond Satrin, starring Sutton Foster as a fortyish single mother who passes herself off as a twenty-something assistant, which both enhances and complicates her social life. Hilary Duff, Debi Mazar, Miriam Shor, Nico Tortorella, Peter Hermann, Molly Bernard, and Charles Michael Davis round out the regular cast. Bonus features include audio commentary on selected episodes, deleted scenes and bloopers.
(Copyright 2021, Mark Burger)