PICK OF THE WEEK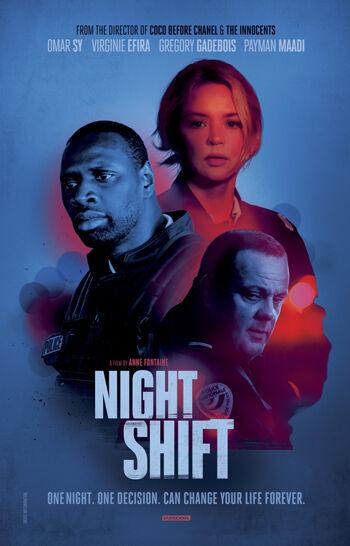 NIGHT SHIFT (Distrib Films/Icarus Films Home Video): Screenwriter/director Anne Fontaine's adaptation of a 2016 Hugo Boris novel (originally titled, simply, Police) offers a timely, serious dramatization of contemporary law enforcement.
Set in contemporary Paris, mostly over a single night, the story follows three police officers assigned to escort an illegal, Middle Eastern immigrant (Payman Maadi) who is to be deported back to his homeland, where he will likely face execution.
Virginie (Virginie Efira) wants to spend more time with her husband and child, but more pressing is that she's pregnant by her partner Aristide (a smoldering Omar Sy), and they grapple with their collective guilt. Then there's the (seemingly) most conventional cop: Erik (Gregory Gadebois), a cynical, hard-drinking veteran whose marriage has collapsed.
It would have been easy to make each character a stereotype, but Fontaine allows each a distinct measure of complexity, and the actors deliver strong, nuanced performances as a result. They may not be likable, but they're believable. The rigors of the job clearly weigh on them. Sometimes, they do the right thing for the right reason, the wrong thing for the wrong reason, and even the right thing for the wrong reason. Either way, they must face the consequences of their actions – or inaction.
Augmented by Yves Angelo's striking cinematography, Night Shift is controlled and credible throughout, offering a distinctive depiction of cops that would do Joseph Wambaugh proud. It's a sharp and absorbing piece of work. In French with English subtitles, available on DVD ($26.98 retail). Rated PG-13. *** 
ALSO AVAILABLE
"BANG": SERIES 2(Acorn TV): The Welsh city of Port Talbot is the setting for this award-winning drama series starring Catrin Stewart and Jacob Ifan star as diametrically opposed siblings – she's a cop, he's a criminal – whose relationship becomes frayed as a result. In English and Welsh with English subtitles, all six episodes from the 2020 season are available in a three-DVD collection ($49.99 retail).
BARB AND STAR GO TO VISTA DEL MAR (LionsGate): Kristen Wiig and Annie Mumolo produced, co-wrote, and star in this flaky farce as chirpy friends from Nebraska who impetuously decide to visit the titular Florida resort, only to become enmeshed in a bizarre espionage scheme cooked up by a demented albino diva (also played by Wiig). Not without its inspired bits, but this  strident, self-indulgent send-up doesn't hold together, despite a friendly cast that also includes Jamie Dornan, Damon Wayans Jr. (who hasn't much to do), and cameos by Andy Garcia, Reba McEntire, and Morgan Freeman (voicing a crab!), available on DVD ($19.98 retail) and DVD/Blu-ray combo ($24.99 retail), each replete with bonus features including audio commentary and behind-the-scenes featurettes. Rated PG-13. **
DARK WEB: CICADA 3301 (LionsGate): Producer/co-writer/co-star Alan Ritchson makes his feature directorial debut with this fact-based, R-rated espionage thriller starring Jack Kesy as a brilliant computer hacker whose discovery of the titular on-line treasure hunt propels him on a high-tech adventure and the enmity of the National Security Agency (NSA), available on DVD ($19.98 retail) and Blu-ray ($21.99 retail).
DEEPSTAR SIX (Kino Lorber Studio Classics): Producer/director Sean S. Cunningham's silly but enjoyable 1989 underwater shocker, designed to cash in on that year's big-screen craze (Leviathan, The Abyss, et al), in which the crew of a research station at the bottom of the ocean is picked off one by one by a prehistoric monster. The game, if rapidly diminishing, cast includes Cindy Pickett, Miguel Ferrer, Taurean Blacque, Greg Evigan, Nancy Everhard, Matt McCoy, Nia Peeples, Marius Weyers, and Thom Bray. The special-edition Blu-ray ($29.95 retail) includes audio commentary, retrospective featurettes, behind-the-scenes footage, theatrical trailer, television spots, and more. Rated R. **
THE DON IS DEAD (Kino Lorber Studio Classics): Producer Hal B. Wallis and director Richard Fleischer made a feeble attempt to jump on the Godfather bandwagon with this clichéd 1973 adaptation of screenwriter Marvin H. Albert's novel, dramatizing a gang war between rival families. Standard stuff, despite a Jerry Goldsmith score and a star-studded cast: Anthony Quinn, Robert Forster, Frederic Forrest, Angel Tompkins, Charles Cioffi, Ina Balin, Joe Santos, Vic Tayback, Godfather alumni Al Lettieri and Abe Vigoda, and Sid Haig. The late, great Forster told yours truly that cast members were calling this "The Don is Dumb" on the set (!). The special-edition Blu-ray ($24.95 retail) includes audio commentary and theatrical trailer. Rated R. *½ 
FEAR NO EVIL/RITUAL OF EVIL (Kino Lorber Studio Classics): Louis Jourdan stars as intrepid psychiatrist David Sorrell and Wilfrid Hyde-White his resident "Watson" (Harry Snowden) as they investigate unusual phenomena in a pair of ABC television films originally designed as a potential series pilot: Fear No Evil (1969) features Bradford Dillman, Lynda Day, Carroll O'Connor, and Marsha Hunt; Ritual of Evil (1970) features Anne Baxter, Diana Hyland, John McMartin, Belinda Montgomery, and Georg Stanford Brown. This diabolical double feature is available on DVD ($19.95 retail) and Blu-ray ($24.95 retail), each boasting audio commentaries and trailers.
"FINDING JOY": SERIES 2 (Acorn): Amy Huberman serves as associate producer, writer, creator (with Rebecca O'Flanagan), and leading lady of this Irish comedy series in which she plays the title role of a network vlogger whose career tends to be overwhelmed by her personal life, in all six episodes from the 2020 season, available on DVD ($34.99 retail), replete with behind-the-scenes featurette. 
JAZZ ON A SUMMER'S DAY (Kino Classics): Producer/cinematographer/director Bert Stern's award-winning 1959 documentary feature showcases the highlights of the 1958 Newport Jazz Festival, featuring such luminaries as Thelonius Monk, Gerry Mulligan, Louis Armstrong, Chuck Berry, Mahalia Jackson, Dinah Washington, Chico Hamilton, and others. This was Stern's only feature film, and it's an irresistible celebration of American jazz music and of the legendary performers who immortalized it, available on DVD ($19.95 retail) and Blu-ray ($29.95 retail), each boasting bonus features including the 2011 documentary Bert Stern: Original Madman, audio commentary, and more. ***½ 
THE LITTLE THINGS (Warner Bros. Home Entertainment): Denzel Washington and Rami Malek team up in writer/producer/director John Lee Hancock's R-rated whodunit as detectives pursuing a serial killer at large in Los Angeles, with Jared Leto, Chris Bauer, Terry Kinney, and Natalie Morales rounding out the supporting cast, available on DVD ($28.98 retail) and Blu-ray ($35.99 retail).
"THE MARY MILLINGTON MOVIE COLLECTION" (Screenbound International/MVD Entertainment Group): The title tells all in this limited-edition Blu-ray collection ($69.95 retail) showcasing English model and sex goddess Mary Millington (1945-'79), whose life and career were cut short by her suicide at age 33: Come Play With Me (1977), The Playbirds (1978), Confessions from the David Galaxy Affair (1979), Queen of the Blues (1979), Mary Millington's World Striptease Extravaganza (1981), and the 2015 documentary Respectable: The Mary Millington Story. Bonus features include audio commentaries, 80-page biography, retrospective featurettes and interviews, short films, and more.
M.C. ESCHER: JOURNEY TO INFINITY (Zeitgeist Films/Kino Lorber): Stephen Fry narrates filmmaker Robin Lutz's award-winning documentary feature tracing the life and career of the Dutch graphic artist Maurits Cornelius Escher (1898-1972), whose work was only recognized later in his career but whose legacy continues to flourish decades after his death, available on DVD ($19.95 retail) and Blu-ray ($29.95 retail), each replete with bonus features. 
MELLOW MUD (Corinth Films): Writer/director Ranars Vimba's award-winning 2016 feature debut (originally titled Es esmu seit) offers a stellar showcase for screen newcomer Elina Vaska as a teenager whose resilience is tested when she and her younger brother (newcomer Andzejs Janis Lilientals) are forced to live with their uncaring grandmother (Ruta Birgere) she prepares for an academic competition in London. The portrayal of adolescent angst is portrayed with heart-breaking credibility by Vaska. In Latvian with English subtitles, available on DVD ($24.95 retail). ***
THE PENTHOUSE (LionsGate): Michael Paré and director Massimiliano Cerchi reunite for this asinine, one-dimensional thriller reportedly "based on a true incident," in which a boring couple (boringly played by David Schifter and Vanessa Ore) are terrorized by neighbor Paré when they suspect him of killing his girlfriend (Krista Grotte Saxon). The exploitation of so serious a topic as spousal abuse borders on the offensive, to say the least. Rated R. Zero stars
WONDER WOMAN 1984 (Warner Bros. Home Entertainment): Producer Gal Gadot returns as the title character in co-writer/producer/director Patty Jenkins's award-winning, PG-13-rated follow-up to the 2017 blockbuster based on the popular DC Comics character, with the intrepid heroine keeping a low profile during the Cold War era of the 1980s -- circumstances intervene and compel her to once more soar into action. Chris Pine, Robin Wright, and Connie Nielsen encore from the earlier film, joined this time by Kristen Wiig, Pedro Pascal, and TV's Wonder Woman, Lynda Carter (in a cameo appearance), available on DVD ($28.98 retail), DVD/Blu-ray combo ($35.99 retail), and 4K Ultra HD combo ($44.95 retail), the latter two boasting bonus features.
YOU NEVER HAD IT: AN EVENING WITH BUKOWSKI (Kino Lorber): The title tells all in writer/editor/cinematographer/director Metteo Burghardt's 2016 feature debut, which consists of a never-aired interview with author and poet Charles Bukowski (1920-'94) in San Pedro in 1981 by journalist Silvia Bizio (also a producer). Despite Bukowski's reputation as "the poet laureate of Skid Row" and his thirst for spirits – clearly shown here – his observations and ruminations are mostly lucid, perceptive, and even charming. An absolute must for Bukowski buffs. The DVD ($19.95 retail) includes extended interview with Bisio and theatrical trailer. ***
(Copyright 2021, Mark Burger)