PICK OF THE WEEK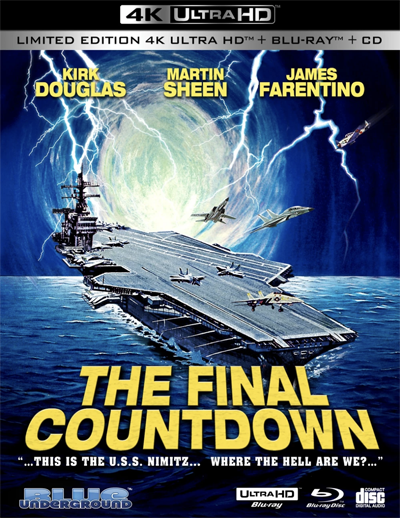 THE FINAL COUNTDOWN (Blue Underground/MVD Entertainment Group): This hokey but entertaining 1980 sci-fi melodrama has earned cult status, primarily due to its seemingly endless cable reruns throughout that decade. Then again, the genre has always been a cult unto itself.
The film combines a "Twilight Zone" premise with a Navy recruiting poster, as the nuclear aircraft carrier U.S.S. Nimitz – the true star of the show – enters a time warp near Pearl Harbor and is transported back to Dec. 6, 1941, the day before the Japanese attack that directly led to U.S. involvement in World War II. It's a tantalizing "what-if?" scenario.
Kirk Douglas is perfectly cast as the stalwart skipper and James Farentino lends sturdy support as his flight commander. Martin Sheen, saddled with exposition and theorizing, is nevertheless engaging as the civilian efficiency expert conveniently aboard. Katharine Ross, Ron O'Neal, Soon Teck-Oh, and the always-welcome Charles Durning round out a solid cast whose conviction rises above potentially dodgy material.
The flight scenes are impressive, and the special effects, courtesy Maurice Binder (famed for the James Bond films) are appropriately flashy. Admittedly, the ending's a bit of a cop-out, but The Final Countdown is a diverting, enjoyable popcorn yarn.
The three-disc limited-edition 4K Ultra HD combo ($59.95 retail) includes audio commentary, retrospective featurettes, collectible booklet, CD of John Scott's soundtrack, and more. Rated PG. ***
ALSO AVAILABLE
7 YARDS: THE CHRIS NORTON STORY  (Virgil Films/Kino Lorber): Jonathon Link directed this feature documentary focusing on Chris Norton, who was severely injured in a 2010 college football game but tirelessly inspired by friends, family, and future wife Emily Summers to rehabilitate himself and walk her down the aisle at their wedding. The re-enactments of the accident are the weakest part of the film (primarily because Norton is so obviously older), but the sincerity is palpable and inspiration overcomes all, available on DVD ($19.95 retail). ***
ALL-AMERICAN MURDER (Vinegar Syndrome): A limited-edition Blu-ray ($39.98 retail) of the 1991 feature directorial debut of Anson Williams (erstwhile "Potsie" from Happy Days), starring Charlie Schlatter as a college lothario who becomes a murder suspect when his latest conquest is brutally slain. An offbeat but uneven combination of black comedy and whodunit, with Christopher Walken enlivening the proceedings, as only he can, playing the quirky cop on the case. Josie Bissett, Richard Kind, Mitchell Anderson, J.C. Quinn, and Joanna Cassidy also appear. Bonus features include audio commentary and retrospective interviews. Rated R. ** 
AMERICAN FIGHTER (LionsGate): Writer/director Shaun Paul Piccinino's R-rated action melodrama stars George Kosturos as a college wrestler who enters the world of underground cage fighting to pay his mother's medical bills, with Sean Patrick Flanery as his world-weary trainer, available on DVD ($19.98 retail) and Blu-ray ($21.99 retail).
"BATWOMAN/THE PANTHER WOMEN DOUBLE FEATURE" (VCI Entertainment/MVD Entertainment Group): A self-explanatory twin-bill of Mexican exploitation films written by Alberto Salazar and directed by the prolific Rene Cardona: 1968's The Batwoman (La mujer murcielago) stars Maura Monti in the title role, battling mad scientist Roberto Caneda, who's been abducting wrestlers and turning them into amphibious hybrids (!); and 1967's The Panther Women (Las mujeres panteras) pits the titular, all-female coven of Satan worshipers against wrestlers (!), available on Blu-ray ($29.95 retail).
BLADE: THE IRON CROSS (Full Moon Features/MVD Entertainment Group): The latest in the seemingly deathless Puppetmaster horror franchise details a sinister Nazi plot to reanimate the dead in 1945 Los Angeles, available on Blu-ray ($21.95 retail), replete with bonus features including audio commentary.
"THE BUREAU": THE COMPLETE SERIES (Federation Entertainment/Kino Lorber): A self-explanatory, 15-disc DVD collection ($89.95 retail) of all 50 episodes from the entire 2015-'20 series run of the popular, award-winning French-language espionage series (originally titled Le Bureau des Legendes), created by executive producer/writer/director Eric Rochant and based on actual events, detailing the actions of the Directorate-General for External Security (DGSE), France's external intelligence agency, with Mathieu Kassovitz, Sara Gireaudau,  Florence Loiret Caille, Jonathan Zaccai, and Jules Sagot rounding out the regular cast.
THE CELLAR (Vinegar Syndrome): A limited-edition Blu-ray ($39.98 retail) of director Kevin S. Tenney's PG-13-rated shocker in which the new residents of an old house in New Mexico are terrorized by a malevolent Native American spirit lurking – where else? – in the cellar. Bonus features include both the original theatrical version and the unrated director's cut, audio commentary, and retrospective documentary. 
"COLD CALL" (Acorn): Sally Lindsay stars in director Gareth Tunley's four-part 2019 mini-series as a single mother who vows revenge when her finances are depleted by a telephone scam, teaming up with old boyfriend Daniel Ryan to ferret out the culprit(s). Paul Higgins, Taj Atwal, Dan Skinner, Samantha Power, Katie Redford, and Geoff McGovern also appear, available on DVD ($34.99 retail).
THE COOL LAKES OF DEATH (Cult Epics/CAV Distributing): Director/screenwriter Nouchka van Brakel's 1982 adaptation of Frederik van Eeden's novel (originally titled Van de Koele Meren des Doods) dramatizes the downfall of Renee Soutendijk, a wealthy woman trapped in loveless marriage who descends into prostitution, addiction, and madness in late-19th century Paris. In Dutch with English subtitles, available on DVD ($29.95 retail) and Blu-ray ($34.95 retail), each replete with bonus features.
DELIVER US FROM EVIL (Well Go USA Entertainment): Writer/director Hong Won-Chan's award-winning action thriller (originally titled Daman akeseo guhasoseo) stars mercenary Hwang Jung-min as he travels to Thailand to investigate a kidnapping, only to find himself pursued by a relentless gangster (Lee Jung-jae) whose sibling he killed years before. In Korean with English subtitles, available on DVD ($24.98 retail) and Blu-ray ($29.98 retail). 
EYE OF THE TIGER (Scorpion Releasing/Kino Lorber): The Blu-ray bow ($29.95 retail) of director Richard C. Sarafian's action-packed but utterly routine revenge melodrama pitting ex-con Vietnam veteran Gary Busey against William Smith's murderous motorcycle gang. Yaphet Kotto, Seymour Cassel, Bert Remsen, Denise Galik, and the tragic Judith Barsi (in her feature debut) also appear. Yes, Survivor performs the title track. Rated R. *½ 
"INFINITY TRAIN": BOOK TWO (Cartoon Network/Warner Bros. Home Entertainment): A DVD collection ($14.97 retail) of all 10 episodes – plus bonus features – from the 2020 season of the animated anthology series, created by executive producer Owen Dennis, in which random passengers aboard an endless train in which each car is a passageway to a different universe.
LAST DAYS (IndiePix Films): Director Biodun Stephen's award-winning drama is set in contemporary Nigeria, with Vivian Metchie as a widowed shopkeeper struggling to hold her family together and retain her religious faith when she is diagnosed with a terminal illness. In Igbo, Pidgin English, and Yoruba with English subtitles, available on DVD ($24.95 retail). 
MERRILY WE GO TO HELL (The Criterion Collection): Dorothy Arzner directed this pre-Code 1932 comedy/drama, based on the Cleo Lucas play I, Jerry, Take Thee, Joan, starring Fredric March as an alcoholic reporter who finds comfort in the arms of supportive heiress Sylvia Sidney, with Cary Grant, Richard "Skeets" Gallagher, Kent Taylor, Adrianne Allan, George Irving, and Florence Britton in support. Some aspects are understandably dated, but fast pacing and good performances carry the day. Both the DVD ($29.95 retail) and Blu-ray ($39.95 retail) include the 1983 documentary Dorothy Arzner: Longing for Women. ***
THE NEST (IFC Films/Shout! Factory): Writer/producer/director Sean Durkin's award-winning, R-rated drama stars Jude Law (also a co-producer) and Carrie Coon as an affluent couple whose already frayed marriage continues to unravel when they relocate to England, available on Blu-ray ($22.98 retail), replete with behind-the-scenes featurette and theatrical trailer.
SON (RLJE Films): Writer/director Ivan Kavanagh's atmospheric, award-winning chiller stars Andi Matichak as a young mother whose son (Luke David Blumm) develops a bizarre medical condition that compels him to drink blood, prompting her to go on the lam – all the while fearful that a religious cult she once belonged to is pursuing them. The sense of isolation and paranoia is enhanced by Aza Hand's sound design and score as well as Piers McGrail's cinematography, and the narrative recalls both Let the Right One In (2008) and Ari Aster's Hereditary (2018), although the "twist" ending is hardly a surprise. Matichak, Blumm, and Emile Hirsch (as an attentive cop) acquit themselves well, available on DVD ($27.97 retail) and Blu-ray ($28.96 retail), each boasting bonus features. **½ 
THAT CLICK (Omnibus Entertainment): Admirers of renowned photographer Douglas Kirkland should enjoy producer/director Luca Severi's authorized documentary feature tracing his life and career, featuring appearances by such show-biz luminaries as Virginia Madsen, Nicole Kidman, Sharon Stone, Elle Fanning, Andy Garcia, Paris Hilton, Tracee Ellis Ross, Baz Luhrmann, Michelle Williams, and others, available on DVD ($24.95 retail). **½ 
THE TWENTIETH CENTURY (Oscilloscope Laboratories): Editor/writer/director Matthew Rankin's award-winning debut feature, loosely inspired by the life of William Lyon Mackenzie King (played by Dan Beirne), the influential and enigmatic Canadian politician who served three non-consecutive terms and remains the longest-serving Prime Minister in Canadian history. available on DVD ($27.99 retail) and Blu-ray ($32.99 retail), each boasting bonus features including audio commentary, short films, theatrical trailer, and more.
WHY NOT YOU (TLA Releasing): Evi Romen makes her feature debut as writer/director of this award-winning drama (originally titled Hochwald) starring Thomas Premm as a young dancer whose life is irrevocably altered when he survives a deadly terrorist shooting at a gay nightclub during his visit to Rome. In German and Italian with English subtitles, available on DVD ($24.99 retail).
(Copyright 2021, Mark Burger)