PICK OF THE WEEK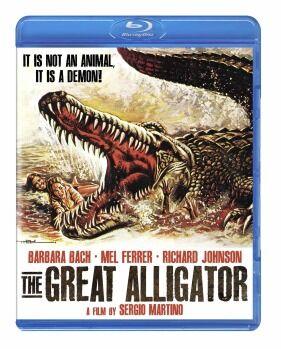 THE GREAT ALLIGATOR (Code Red/Kino Lorber): For years, the Italian film industry churned out countless rip-offs of popular American genres. Originally titled Il fiume del grande caimano and also released as The Big Alligator River, take a wild guess what early Steven Spielberg blockbuster "inspired" this water-logged 1979 potboiler?
The set-up is simple, to say nothing of simple-minded: It's the grand opening of Paradise House, a new tropical resort in Sri Lanka. The usual party-hearty tourists arrive for fun and frolic, only to get chomped by the titular menace, supposedly a manifestation of the "great god Kroona." If that weren't enough, the superstitious natives go on the warpath, proving as lethal to the guests as the 'gator – at least until a ridiculous fade-out with smiles and handshakes all around. 
Heading the cast are several veterans of Italian exploitation: Barbara Bach as the plucky and sexy heroine, Claudio Cassinelli as the hunky photojournalist hero, Mel Ferrer as the resort owner typically determined to suppress panic, and Richard Johnson, in a wild-eyed cameo as a bedraggled old missionary who encountered Kroona years before. (It ate the nuns.)
Sure, there's an ecological bent and a few digs at corporate chicanery, but let's face it: This is a monster movie, and quite a goofy one, replete with laughable special effects and overripe dialogue. But writer/director Sergio Martino, an old hand at this sort of thing (Mountain of the Cannibal God, Torso), does keep things moving. The Great Alligator may be silly – and definitely falls into "guilty pleasure" territory – but it's never boring.
The Blu-ray ($29.95 retail) includes retrospective interviews and original trailer. ** 
ALSO AVAILABLE
ADRIFT IN SOHO (Burning Films Ltd.): Producer Pablo Behrens makes his feature debut as writer/director of this award-winning adaptation of Colin Wilson's novel, set in the titular, trendy London district during the late 1950s, with producer Owen Drake an aspiring filmmaker who befriends cocksure artist Chris Wellington (in his feature debut) as the Beat Generation holds sway. Highly stylized and self-indulgent but worth a look, and Behrens may be a talent to watch. The DVD retails for $14.95. **½ 
"BARTENDER" (Shout! Factory): A 15th-anniversary two-disc "collector's-edition" Blu-ray ($69.98 retail) of all 11 episodes from the 2006 (and only) season of the animated Japanese, anthology series created by Araki Jo, based on his best-selling manga, set in the popular nightspot Eden Hall, where titular character Ryuu Susakura (voiced by Takahiro Mizushima) serves magical drinks and helps his clientele solve their personal and professional problems. In Japanese with English subtitles, this includes collectible coasters, cocktail recipe cards, and more.
"BOB HOPE BLU-RAYS" (Kino Lorber Studio Classics): A selection of vintage screen comedies starring the legendary Bob Hope (1903-2003) make their Blu-ray bows, each retailing for $24.95 and each boasting bonus features including audio commentaries: Nothing But the Truth (1941) with Paulette Goddard and Willie Best; My Favorite Blonde (1942) with Madeline Carroll, Gale Sondergaard, and George Zucco; and Caught in the Draft (1943) with Dorothy Lamour and Eddie Bracken.
BUDDY GAMES (Saban Films/Paramount Home Entertainment): Producer/star Josh Duhamel makes his award-winning (!) feature debut as screenwriter/producer/director with this loud, raunchy comedy in which he reunites his boyhood pals to compete in a series of ridiculous games and stunts to reap a $150,000 prize. One of those movies where the cast appears to be having a ball, although viewers may not share that feeling. A star-studded ensemble works hard to wring a few laughs out of weak material: Dan Bakkedahl, Olivia Munn, Kevin Dillon, Dax Shepard, Jensen Ackles, Neal McDonough (as himself), James Roday, and co-producer Nick Swardson. The DVD ($11.99 retail) includes bonus features. Rated R. * 
BURST CITY (Arrow Video/MVD Entertainment Group): A special-edition Blu-ray ($39.95 retail) of editor/writer/director Sogo Ishii's 1982 cult classic (originally titled Bakuretsu Toshi Bāsuto Shiti), adapted from Jugatsu Toi's cyberpunk novel, in which punk rock groups and the authorities repeatedly clash in a futuristic, post-apocalyptic Japan, featuring such popular bands as The Stalin, The Roosters, The Rockers, and INU. In Japanese with English subtitles, bonus features include audio commentary, retrospective interviews, original trailer, and more.
THE CHANGIN' TIMES OF IKE WHITE (Kino Lorber): Director/cinematographer/co-producer Dan Vernon's fascinating documentary feature traces the enigmatic life of Ike White, who made headlines in the 1970s when he released the award-winning album Changin' Times – which was recorded while he was incarcerated. Compassionate and even haunting, particularly after an unexpected turn of events compels Vernon to delve deeper into White's past, which are best not revealed here. The DVD ($19.95 retail) includes image gallery and trailer. ***½ 
FATMAN (Saban Films/Paramount Home Entertainment): Sibling co-writer/co-directors Eshom and Ian Nelms put an award-winning spin on the yuletide season in this R-rated black comedy starring Mel Gibson as a down-on-his luck Santa Claus, targeted for extermination by assassin Walton Goggins, who's been hired by spoiled brat Chance Hurstfield after receiving  a lump of coal in his stocking, available on DVD ($12.96 retail) and Blu-ray ($14.96 retail).
THE FEAR (Vinegar Syndrome): A limited-edition Blu-ray ($39.98 retail) of director Vincent Robert's only directorial feature, a low-budget 1995 shocker in which a therapy group convenes in a remote cabin to confront their worst fears, only to be preyed upon by a supernatural wooden carving called "Morty" (Erick Weiss). Initially intriguing but overlong and silly. Actors Eddie Bowz and Stacy Edwards later married, and Ann Turkel, filmmaker Wes Craven, and Vince Edwards (in his final feature) also appear. Bonus features include audio commentaries, retrospective documentary, and more. Rated R. *½ 
HARD TO HOLD (Kino Lorber Studio Classics): The Blu-ray bow ($24.95 retail) of director Larry Peerce's utterly predictable, cliché-riddled 1984 melodrama, starring rock star Rick Springfield (in his feature debut) as – what else? – a rock star who unexpectedly finds romance with child psychologist Janet Eilber. Even Springfield jokes about the film, which pretty much says it all. Bonus features include audio commentary, retrospective interview with Peerce, and theatrical trailer. Rated PG. *
LITTLE ENGLAND (Corinth Films): Originally titled Mikra Anglia, director Pantelis Voulgaris's award-winning 2013 adaptation of the acclaimed novel by his wife Ioanna Karystiani (scripted by the author) takes place on the Greek island of Andros in the 1930s, starring Penelope Tsilika (in her feature debut) and Sofia Kokkali (in her feature debut) as sisters whose fates are bound together by their love for the same man (Andreas Konstantinou) as the clouds of World War II begin to gather. In Greek with English subtitles, available on DVD ($24.95 retail).
THE LITTLE PRINCE (Paramount Home Entertainment): The classic 1943 novella by Antoine de Saint-Exupéry becomes an award-winning, PG-rated animated feature originally broadcast on Netflix in 2016, with Riley Osborne voicing the title character, backed by an all-star voice-over cast including Jeff Bridges, Rachel McAdams, Marion Cotillard, Benicio del Toro, Paul Giamatti, Ricky Gervais, Paul Rudd, Albert Brooks, James Franco, Mackenzie Foy, and Bud Cort, available on DVD ($16.99 retail) and Blu-ray ($22.98 retail), each boasting bonus features.
MARKIE IN MILWAUKEE (Icarus Films Home Video): Filmed over a 10-year span, filmmaker Matt Kliepman's award-winning documentary feature profiles Mark Wenzel, a Baptist minister in Wisconsin whose decision at age 46 to transition into a woman ("Markie") forced him to relinquish his vocation, alienated him from family and friends, and (understandably) threw his life into turmoil. How Wenzel wrestles with his conscience and his faith while attempting to reconcile with his children is undeniably moving, yet the film never really expands upon its initial focus, available on DVD ($29.98 retail). **½ 
THEY LIVE (Scream Factory/Shout! Factory): John Carpenter's 1988 cult classic is a thinly veiled science-fiction allegory of the Reagan Era, with Roddy Piper (surprisingly strong) as a quintessential everyman (named "John Nada") who discovers that malevolent alien beings are controlling Earthlings through greed, vice, and subliminal advertising. Remarkably, as the years go by this grows more relevant instead of dated. Keith David (whose brawl with Piper is a highlight), Meg Foster, Raymond St. Jacques, Peter Jason, and George "Buck" Flower round out a fine cast, available in a 4K Ultra HD combo ($34.98 retail) and a limited-edition 4K Ultra HD combo ($74.99 retail) that includes a Keith David action figure. Bonus features include audio commentary, retrospective interviews, original theatrical trailer, and more. Rated R. ***
TRAFFICKED: A PARENT'S WORST NIGHTMARE (Virgil Films/Kino Lorber): Producer/director/screenwriter Joel Paul Reisig's self-explanatory melodrama stars Kristy Swanson and Mark Boyd as a Detroit couple whose teenaged daughter (Sophie Bolen) is abducted by sex traffickers, compelling them to call upon hard-bitten combat veteran Dean Cain, who specializes in such rescue operations. Potentially topical, but doomed by draggy pacing, soap-opera angst, and sappy music montages. When Cain announces "We're going to do this by the numbers," he could be referring to this undertaking, although Bolen is affecting as the innocent victim. *
ZOMBIE BRO (Indican Pictures): Writer/producer/director May Grehan's debut feature stars Lauren Grego (in her feature debut) as an Australian schoolgirl desperately trying to convince family and friends that her brother (newcomer Cooper Flynn) has joined the ranks of the living dead. Despite having won some awards and Grego's charming turn, this is a one-note send-up that scares up few laughs and pales in the shadow of Shaun of the Dead (2004). Rated PG-13. *½ 
(Copyright 2021, Mark Burger)