PICKS OF THE WEEK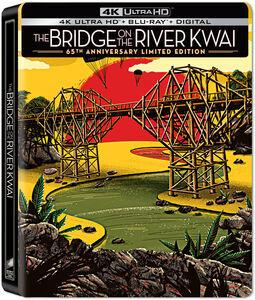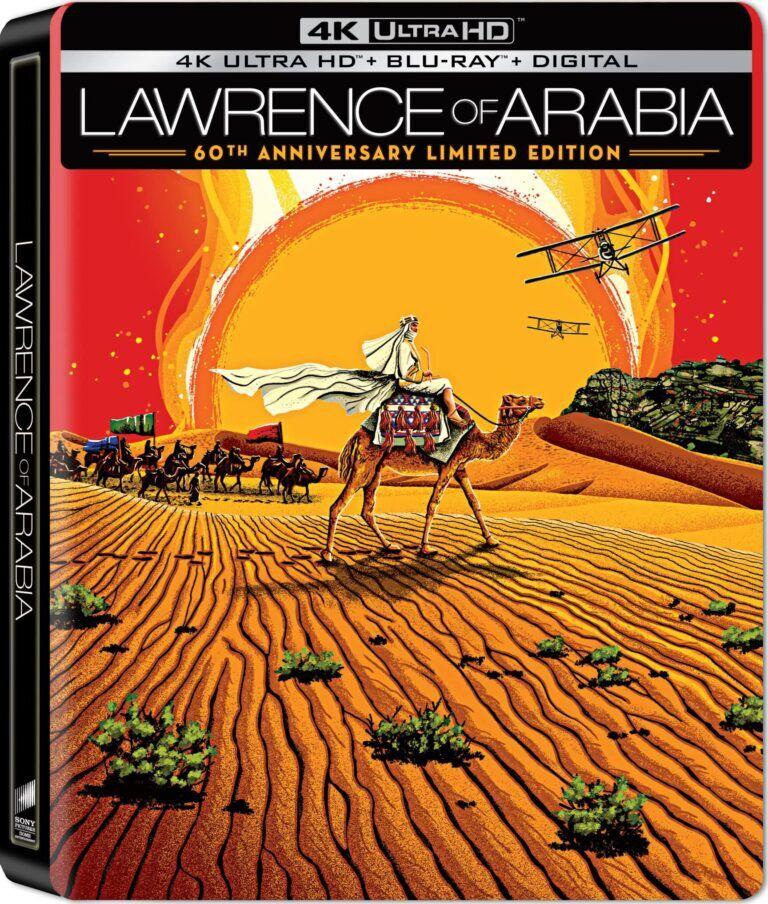 THE BRIDGE ON THE RIVER KWAI and LAWRENCE OF ARABIA (Sony Pictures Home Entertainment): The esteemed filmmaker David Lean (1908-'91) – certainly a favorite of this critic -- is remembered for many films, but none more so than this duo of screen epics that both won Academy Awards for Best Director and Best Picture.
The Bridge on the River Kwai (1957), based on Pierre Boulle's best-selling novel, is quite simply one of the definitive World War II epics, as British P.O.W.s under the command of Col. Nicholson (Alec Guinness at his best) build the titular structure for their captors, led by Col. Saito (Sessue Hayakawa). Meanwhile, a British commando unit sent to blow up the bridge. Jack Hawkins is the stiff-necked commando leader and top-billed William Holden the escaped P.O.W. forced to accompany the unit. The film also won Oscars for Best Actor (Guinness), Best Adapted Screenplay, Best Cinematography, Best Editing and Best Original Score, with an addition nomination for Best Supporting Actor (Hayakawa).
Lawrence of Arabia (1962) is the spellbinding saga of T.E. Lawrence, the British soldier and diplomat who united – by means fair, foul, and otherwise -- the Arab tribes of the Middle East against the Ottoman Empire during World War I. Peter O'Toole became an instant sensation in the title role, as did Omar Sharif as his confidante Sherif Ali, with star-studded back-up provided by Kwai veterans Guinness and Hawkins, José Ferrer, Anthony Quinn, Anthony Quayle, Claude Rains, Donald Wolfit, and Arthur Kennedy as the cynical war correspondent (based on Lowell Thomas) who does journalism proud. The film also won Oscars for Best Art Direction/Set Decoration (color), Best Cinematography (color), Best Cinematography, Best Editing, Best Score and Best Sound, with additional nominations for Best Actor (O'Toole), Best Supporting Actor (Sharif), and Best Adapted Screenplay.
Both films layer their traditional trappings with moral and psychological complexities, and in the case of Lawrence of Arabia also political complexities – which still reverberate in the Middle East to this day. Both are classics and both essential viewing.
 The limited-edition 65th-anniversary 4K Ultra HD Steelbook ($38.99 retail) of The Bridge on the River Kwai and the 60th-anniversary 4K Ultra HD Steelbook ($38.99 retail) of Lawrence of Arabia both include a bevy of bonus features. Both films: ****
ALSO AVAILABLE
ALIEN ABDUCTION: ANSWERS (Virgil Films/Kino Lorber): John Yost wrote and directed this self-explanatory documentary feature that profiles various individuals who have experienced alien encounters during their lives, including Yost himself and author Whitley Streiber, who has written several books on the topic (including the 1987 best-seller Communion). To its credit, this is more thoughtful than sensationalistic, although some of the re-enactments (particularly the animated ones) are distracting, available on DVD ($19.95 retail). **½ 
"BILLIONS": SEASON SIX (Showtime/CBS Entertainment/Paramount Home Entertainment): Paul Giamatti returns as the ruthless U.S. Attorney bent on cracking cases of financial malfeasance – which leads him on a direct collision course with high-powered tycoon Corey Stoll – in all 12 episodes from the 2020 season of the award-winning Showtime drama series, with Maggie Siff, David Constabile, Asia Kate Dillon, Condola Rashad, and Jeffrey DeMunn rounding out the regular cast, available in a four-disc DVD collection ($33.99 retail) replete with bonus features.
BIX: AIN'T NONE OF THEM PLAY LIKE HIM YET (Kino Lorber): Richard Basehart narrates the self-explanatory, award-winning 1981 feature debut of writer/editor/producer/director Brigitte Berman, which offers a thorough chronicle of jazz legend Leon Bix Biederbecke (1903-'31), whose meteoric rise to fame was tragically cut short by alcoholism, featuring interviews with friends, family members, colleagues (including Hoagy Carmichael and Artie Shaw), a treasure trove of vintage photographs, and delirious instrumentals. The subtitle, incidentally, was a quote by Louis Armstrong (played in the film) in praise of Beiderbecke, available on DVD ($19.95 retail). ***
BLEEDING AUDIO (Good Deed Entertainment/Kino Lorber): Producer/director Chelsea Christer's award-winning feature-documentary debut traces the ups and downs of the popular, Oakland-based punk bank The Matches, which broke out in the early 2000s, earning a worldwide following but still struggling to reap the financial rewards of their success, resulting in numerous break-ups and numerous reunions over the years, available on Blu-ray ($29.95 retail). 
BREATHE IN (Cohen Media Group/Kino Lorber): Drake Doremus wrote and directed this R-rated 2013 domestic drama starring Guy Pearce and Amy Ryan as a middle-aged couple who open their home to exchange student Felicity Jones, whose tempestuous presence rocks their relationship to the core, with Mackenzie Davis, Ben Shenkman, Alexandra Wentworth, and Matthew Daddario (in his feature debut) in support, available on Blu-ray ($29.95 retail), replete with bonus features.
THE CELLAR (RLJE Films): Executive producer/writer/director Brendan Muldowney expands his 2004 short The Ten Steps for this feature-length chiller toplining Elisha Cuthbert as a mother whose young daughter (Abby Fitz) mysteriously vanishes in the basement of their new home in Ireland, forcing her to confront the possibility that supernatural forces are at work, available on DVD ($27.97 retail) and Blu-ray ($28.96 retail), each replete with bonus features including audio commentary, beyond-the-scenes featurette, and the original short film (with commentary). 
COMPARTMENT NO. 6 (Sony Pictures Home Entertainment): Writer/director Juho Kuosmanen's award-winning, R-rated adaptation of Rosa Liksom's novel (originally titled Hytti nro 6) depicts the unexpected relationship that develops between Finnish student Seidi Haarla and uncouth Russian miner Yuriy Borisov) during a long train journey to the arctic port of Murmansk. In Russian with English subtitles, available on DVD ($25.99 retail) and Blu-ray ($30.99 retail).
EDGE OF SANITY (Arrow Video/MVD Entertainment Group): An amusingly unhinged Anthony Perkins headlines this sleazy but entertaining 1989 adaptation of Robert Louis Stevenson's Dr. Jekyll and Mr. Hyde, playing the repressed Victorian scientist whose experiments unleash his murderous alter-ego, who cuts a swath of violence in London's Whitechapel district, thereby riffing on the Jack the Ripper phenomenon. Glynis Barber plays Jekyll's unsuspecting spouse, who's certainly in for an unpleasant surprise. The special-edition Blu-ray ($39.95 retail) includes audio commentary, retrospective interviews, original theatrical trailer, and more. Rated R. **
FATHER STU (Sony Pictures Home Entertainment): The feature debut of writer/executive producer/director Rosalind Ross, this fact-based, R-rated drama stars Mark Wahlberg (also a producer) in the title role of a hard-luck, hard-partying aspiring actor who experiences a religious vision after a near-fatal accident and vows to give his life to the Catholic Church, with Mel Gibson and Jacki Weaver as his estranged parents, available on DVD ($30.99 retail) and Blu-ray ($34.99 retail), each boasting bonus features.
FORTRESS: SNIPER'S EYE (LionsGate): Bruce Willis and Chad Michael Murray reprise their roles from last year's Fortress in this R-rated cyber-thriller pitting the two against each other in a futuristic military camp, with Jesse Metcalfe and Natalie Burn also encoring, available on DVD ($19.98 retail) and Blu-ray ($21.99 retail), each boasting bonus features. 
HIT THE ROAD (Kino Lorber): Writer/producer/director Panah Panahi's award-winning debut feature (originally titled Jaddeh Khaki) details the misadventures of a close-knit but inevitably dysfunctional Iranian family on a tumultuous road trip across the Iranian countryside, which becomes a journey of self-discovery for all of them. In Persian with English subtitles, available on DVD ($19.95 retail) and Blu-ray ($29.95 retail).
IP MAN: THE AWAKENING (Well Go USA Entertainment): The latest installment of the popular martial-arts franchise sees Miu Tse assuming the title role of the fearless fighter, who thwarts a kidnapping and unwittingly ignites a full-blown war against a human-trafficking ring in Hong Kong. Both the DVD ($19.99 retail) and Blu-ray ($29.98 retail) include original Cantonese (with English subtitles) and English-dubbed audio options.
PUTIN'S WITNESSES (Icarus Films Home Video): Vitaliy Mansky's award-winning 2018 documentary feature (originally titled Svideteli Putina) traces the rise to power of Russian president Vladmir Putin, who tapped Mansky to create "news" for broadcast on state television to boost Putin's profile and political accomplishments, which likely explains why Mansky is now in self-imposed exile. In Russian with English subtitles, available on DVD ($29.98 retail), which includes Tania Rakhmanova's 2018 featurette How Putin Came to Power.
TREKKIES (Shout! Factory): A 25th-anniversary Blu-ray ($22.98 retail) of Roger Nygard's award-winning, self-explanatory 1997 documentary feature in which Denise Crosby (of Star Trek: The Next Generation) delves into the immense Star Trek fanbase that has existed the world over since the original 1960s TV series, featuring interviews with Trek veterans as Leonard Nimoy, George Takei, Kate Mulgrew, DeForest Kelley, Walter Koenig, James Doohan, Nichelle Nichols, Brent Spiner and others, as well as aficionados from all walks of life – including filmmaker and former UNCSA School of Filmmaking faculty member Richard Clabaugh (and his wife Fran!). Crosby and Nygard also appear in A Trek Back, a retrospective documentary about the making of the film. Rated PG. *** 
THE UFO INCIDENT (Kino Lorber Studio Classics): Based on John G. Fuller's non-fiction best-seller The Interrupted Journey, director Richard A. Colla's absorbing, well-rendered 1975 TV movie (originally broadcast on NBC) dramatizes the alien abduction experienced by Barney and Betty Hill in 1961. James Earl Jones and Estelle Parsons bring conviction to their roles as the Hills, as does Barnard Hughes as the sympathetic hypnotist who helps them confront their trauma. The Blu-ray ($29.95 retail) includes audio commentary, trailers, and a full-length documentary about composer Billy Goldenberg. ***
VOYAGE OF THE ROCK ALIENS (Grindhouse Video/Vinegar Syndrome): The Blu-ray bow ($23.99 retail) of director James Fargo's PG-rated 1984 sci-fi musical spoof in which rock 'n' roll extra-terrestrials find safe haven in suburban America, featuring an eclectic cast including Craig Sheffer (in his feature debut), Pia Zadora, Tom Nolan, Michael Berryman, Jermaine Jackson (in his feature debut), and Ruth Gordon as the local sheriff. Bonus features include retrospective documentary and featurette.
(Copyright 2022, Mark Burger)