PICK OF THE WEEK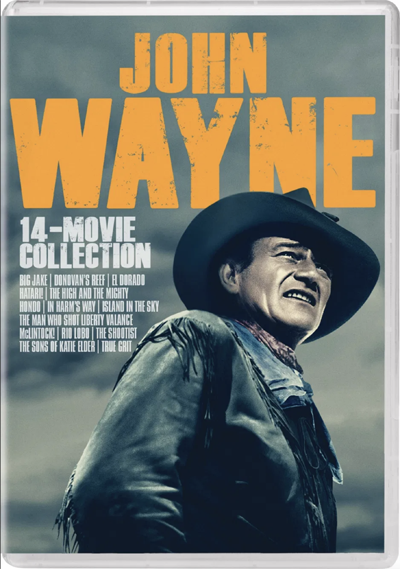 "JOHN WAYNE ESSENTIAL 14-MOVIE COLLECTION" (Paramount Home Entertainment): The title tells all in this DVD collection ($79.99 retail) commemorating the screen legacy of one of Hollywood's most legendary stars, John Wayne (1907-'79). His unabashed right-wing politics have long been subject to criticism – even during his lifetime -- but there's no doubt The Duke (born in Iowa as Marion Michael Morrison) was a larger-than-life, quintessentially American star.
The three films from the 1950s included here are Hondo (1953), based on a Louis L'Amour story, which earned Oscar nominations for Best Supporting Actress (Geraldine Page, in her feature debut) and Best Motion Picture Story; William A. Wellman's fact-based Island in the Sky (also '53), scripted by Ernest K. Gann; and Wellman's 1954 adaptation of  Gann's best-seller The High and the Mighty, scripted by Gann, which won an Oscar for Dimitri Tiomkin's original score and earned nominations for Best Director, Best Supporting Actress (both Jan Sterling and Claire Trevor), Best Editing, and Best Song.
The '60s are represented by John Ford's 1962 adaptation of The Man Who Shot Liberty Valance, which earned an Oscar nomination for Best Costume Design (black-and-white); Howard Hawks's Hatari! (also '62), which earned an Oscar nomination for Best Cinematography (color); Ford's Donovan's Reef (1963); McLintock! (also '63); Otto Preminger's 1965 adaptation of In Harm's Way, which earned an Oscar nomination for Best Cinematography (black-and-white); Henry Hathaway's The Sons of Katie Elder (also '65); Hawks's El Dorado (1967), and Hathaway's 1969 adaptation of True Grit (rated G), for which Wayne earned his only Oscar as Best Actor, with an additional nomination for Best Song.
Rounding out the collection are 1970's Rio Lobo (rated G), the final film of producer/director Hawks; 1971's Big Jake (rated PG-13), director George Sherman's swan song; and Don Siegel's 1976 adaptation of The Shootist (rated PG), which marked Wayne's final feature (and one of his best performances), which earned an Oscar nomination for Best Art Direction/Set Decoration.
ALSO AVAILABLE
ALIEN FROM L.A. (Vinegar Syndrome): Cult filmmaker Albert Pyun's low-budget 1988 sci-fi spoof, inspired by the works of Jules Verne (replete with in-jokes), stars super-model Kathy Ireland (in her feature debut) as a geeky Los Angeles waitress who travels to South Africa in search of her late archaeologist father's body, but instead falls into the center of the Earth and discovers the lost continent of Atlantis. Ireland brings a spunky sexiness to her role, but even Pyun's customarily quirky touches can't enliven things, nor can a supporting cast including William R. Moses, and previous Pyun collaborators Linda Kerridge, Thom Mathews, and Don Michael Paul. The limited-edition Blu-ray ($39.99 retail) includes retrospective interviews. Rated PG. *½ 
THE COLUMNIST (Film Movement): Director Ivo van Aart's well-made but one-note black comedy (originally titled De Kuthoer) stars Katja Herbers as a columnist so enraged by negative social media that she methodically seeks out and murders her critics. Herbers is great fun, but too many plot twists are telegraphed in advance. In Dutch with English subtitles, available on DVD ($24.95 retail). **½ 
CROSSED SWORDS (Kino Lorber Studio Classics): Director Richard Fleischer's 1977 adaptation of Mark Twain's The Prince and the Pauper stars Mark Lester (in his final feature to date) as the street urchin who trades places with Edward VI amid royal intrigue that threatens to shake the foundation of the British monarchy. The all-star cast includes Oliver Reed, Raquel Welch, Charlton Heston (as Henry VIII), Rex Harrison (as the Duke of Norfolk), George C. Scott, Ernest Borgnine, David Hemmings, Harry Andrews, Sybil Danning, Felicity Dean (in her feature debut), and scene-stealer Lalla Ward (as Princess Elizabeth).  Colorful and splashy, but Lester's wooden performance (in both roles) is a drawback. Both the DVD ($14.95 retail) and Blu-ray ($24.95 retail) include both the American and international theatrical versions, audio commentary, and more. Rated PG. **½ 
DARK INTRUDER (Kino Lorber Studio Classics): The Blu-ray bow ($24.95 retail) of director Harvey Hart's 1965 supernatural thriller starring Leslie Nielsen as an occult authority called upon to investigate a series of murders in San Francisco. Originally conceived as the pilot for the unsold television series "The Black Cloak," it was instead released to theaters (despite running less than one hour). Bonus features include audio commentary, theatrical trailer, and more.
EXPLORERS (Shout! Factory): Ethan Hawke (in his feature debut), River Phoenix (in his feature debut), and Jason Presson star in director Joe Dante's light-hearted 1985 sci-fi romp as three friends who build their own spaceship. Despite a delightful concept and a typically solid Jerry Goldsmith score, this is a major disappointment, largely due to the studio's insistence in rushing post-production to make a summer release date. A friendly cast includes long-time Dante favorites Dick Miller and Robert Picardo, Mary Kay Place, James Cromwell, Brooke Bundy, Dana Ivey, Meshach Tayalor, and Amanda Peterson (in her feature debut). The "Shout Select" Blu-ray ($29.98 retail) includes both the theatrical and home-video versions, retrospective documentary, theatrical trailer, and more. Rated PG. *½ 
FEED THE GODS (Bleiberg Entertainment/MVD Entertainment Group): The Blu-ray bow ($19.95 retail) of writer/editor/executive producer/director Braden Croft's 2014 shocker pitting siblings Shawn Roberts (also an executive producer) and Tyler Johnston against a malevolent creature when they return to their remote Canadian hometown to uncover their past. The "MVD Marquee Collection" Blu-ray ($19.95 retail) includes audio commentary, behind-the-scenes featurette, theatrical trailer, and more.
KINDRED (IFC Films/IFC Midnight/Scream Factory/Shout! Factory): The Blu-ray bow ($22.98 retail) of writer/director Joe Marcantonio's feature debut, a surreal shocker with Tamara Lawrence as a mother-to-be who begins to suspect her late boyfriend's mother (Fiona Shaw) and stepbrother (Jack Lawson) have nefarious designs on her unborn child. Bonus features include audio commentary, audio-descriptive track, and trailer.
LILLY'S LIGHT: THE MOVIE (FilmRise/MVD Entertainment Group): A special-edition Blu-ray ($24.95 retail) of the musical fantasy detailing the adventures of the title character (played by creator/producer/screenwriter Sherry Hursey, who also plays "Mudge Curmudgeon") after she and her friends discover "The Big Book of Little Adventures," hidden in a lighthouse. This is an expansion of the 2010 television pilot "Lilly's Light," with Mindy Sterling, Jordyn Curet, Brianne Tju, Philece Sampler, Newell Alexander, and Fred Willard (in his final feature). Bonus features include behind-the-scenes footage and interviews, theatrical trailer, and more.
OUR FRIEND (Universal Pictures Home Entertainment): Based on executive producer Matthew Teague's 2015 essay The Friend (published in Esquire), this fact-based, R-rated drama stars Casey Affleck (as Teague) and Dakota Johnson as a couple whose lives are torn asunder by her cancer diagnosis, prompting best friend Jason Segel to move into their home to help them during her final months, available on DVD ($22.98 retail), replete with behind-the-scenes featurette.
POISON (Zeitgeist Films/Kino Lorber): Writer/director Todd Haynes made his feature debut with this award-winning 1991 anthology inspired by the works of Jean Genet, each one presented in a different cinematic style and each one exploring homosexuality from different perspectives. Stylish and unmistakably self-indulgent, but undoubtedly a landmark in what is referred to as "queer cinema," this sparked controversy because it was partially funded by the NEA (National Endowment for the Arts), leading some conservative figures to condemn the film – many of whom hadn't even seen it. The resulting publicity, needless to say, only enhanced the profile of the film and its maker, available on Blu-ray ($29.95 retail), replete with audio commentary, collectible booklet, theatrical trailer, and more. *** 
SWITCHBLADE SISTERS (Arrow Video/MVD Entertainment Group): Cult filmmaker Jack Hill's 1975 exploitation melodrama (originally titled The Jezebels) sees Robbie Lee and Joanne  Nail (in her feature debut) vying for leadership of an all-girl street gang in Southern California, with Monica Gayle, Marlene Clark, and the feature debuts of Janice Karman, Don Stark, and Lenny's daughter Kitty Bruce. Hill claimed the film was inspired by Shakespeare's Othello, which is a bit of a stretch, but this does have its followers, including Quentin Tarantino, who supervised its theatrical re-release in the 1990s. The special-edition Blu-ray ($39.95 retail) boasts such bonus features as audio commentary, retrospective documentary and interviews, theatrical trailers, and more. Rated R. **
THE TIME TRAVELERS (Kino Lorber Studio Classics): Screenwriter/director Ib Melchior's self-explanatory 1964 sci-fi fantasy sees a scientific team discovering a portal into Earth's future, where the planet has been ravaged by nuclear war and the survivors terrorized by mutants (played by members of the Los Angeles Lakers!). Despite an extremely low budget and dicey special effects, some interesting ideas shine through. The ensemble cast includes Preston Foster, Philip Carey, John Hoyt, Merry Andrews, Dennis Patrick, Steve Franken, Joan Woodbury (in her final feature), and Famous Monsters of Filmland editor Forrest J. Ackerman in a cameo, available on Blu-ray ($29.95 retail). **
TINA BARNEY: SOCIAL STUDIES (IndiePix Films): Jaci Judelson directed this laid-back but lively, hour-long 2005 documentary tracing the life and career of noted photographer Tina Barney, who proves an engaging hostess as she discusses her specialty – taking photographs of those who represent Europe's upper-crust society, available on DVD ($16.95 retail). ***
"THE WALKING DEAD: WORLD BEYOND" – SEASON 1 (AMC Networks/RLJE Films): The next generation of zombie hunters comes of age in all 10 episodes from the inaugural 2020 season of the latest spin-off from AMC's immensely popular horror series "The Walking Dead," set 10 years after the apocalypse near Omaha, Nebraska, featuring an ensemble cast including Aliyah Royale, Alexa Mansour, Hal Cumpston, Nicolas Cantu, Nico Tortorella, Annet Mahendru, and Julia Ormond, available on DVD ($34.97 retail) and Blu-ray ($39.98 retail), each boasting bonus features.
(Copyright 2021, Mark Burger)