PICK OF THE WEEK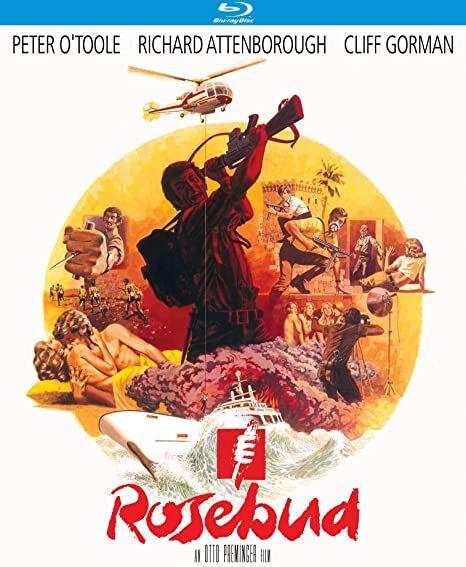 ROSEBUD (Kino Lorber Studio Classics): Every dog has his day, and every director his dog – and so it is with this 1975 thriller, the penultimate film of the distinguished Otto Preminger (1905-'86), and very likely his worst. Based on a best-selling novel, extremely topical for its time, boasting a high-profile cast, it doesn't work. At all.
The title refers not to the Orson Welles classic Citizen Kane (1941) but the luxury yacht where five wealthy heiresses are kidnapped by the rogue Palestinian terrorist network Black September and held for ransom. Enter Peter O'Toole as Larry Martin, an international Newsweek correspondent who moonlights for the CIA (!) and drifts through the talk-filled, tension-deflating proceedings with as much aplomb as possible. If nothing else, the inimitable O'Toole – who replaced Robert Mitchum early on – manages to emerge unscathed.
The admittedly stellar cast includes Richard Attenborough (utterly miscast as the terrorist ringleader), Cliff Gorman (as a stalwart Israeli commando), former New York City mayor John V. Lindsay (no actor he), a pickled Peter Lawford, Raf Vallone, Claude Dauphin, Isabelle Huppert, Adrienne Corri, Lalla Ward, and Kim Cattrall (in her feature debut). Mostly they just stand or sit around, talking. 
There's limitless potential here, and one waits (in vain) for the momentum to get going, but it never does. Cattrall, whom yours truly once interviewed, jokingly referred to her screen debut as Rosedud – and she wasn't kidding. It's an unbelievably trivial work from a filmmaker capable of much more.
Both the DVD ($14.95 retail) and Blu-ray ($24.95 retail) include audio commentary (more talk!) and theatrical trailer. Rated PG. *½  
ALSO AVAILABLE
ANYTHING FOR JACKSON (RLJE Films): Sheila McCarthy and Julian Richings topline this award-winning supernatural shocker as bereaved grandparents who abduct a pregnant woman (newcomer Konstantina Mantelos) with the express purpose of resurrecting the soul of their dead grandson in her unborn baby, a plot that – not surprisingly -- doesn't quite go according to plan, available on DVD ($27.97 retail) and Blu-ray ($28.96 retail). 
BAPHOMET (Cleopatra Entertainment/MVD Entertainment Group): Satanic panic rocks a California clan when they are cursed by a Satanic cult leader (genre favorite Giovanni Lombardo Radice) who covets their land in this contemporary shocker written, produced, and directed by co-star Matthan Harris, available on Blu-ray ($20.95 retail), replete with deleted scenes, blooper reel, behind-the-scenes footage, and more.
BODY  SLAM (Kino Lorber Studio Classics): Dirk Benedict stars in this raucous but predictable 1986 comedy as a slick talent agent whose scheme to combine rock 'n' roll with professional wrestling becomes a smash success. The final feature directed by Hal Needham, whose disputes with the producers basically scuttled a theatrical release, with Tanya Roberts, Barry Gordon, John Astin, Charles Nelson Reilly, Billy Barty, John Fujioka, and Kellie Martin joined by wrestlers "Rowdy" Roddy Piper, Sam "The Tonga Kid" Fatu, Bruno Sammartino, Ric Flair, "Classy" Freddie Blassie, and the immortal Captain Lou Albano, available on DVD ($14.95 retail) and Blu-ray ($24.95 retail), each boasting bonus features. Rated PG. ** 
CAREER OPPORTUNITIES (Kino Lorber Studio Classics): The Blu-ray bow ($24.95 retail) of director Bryan Gordon's 1991 debut feature, written and co-produced by John Hughes, starring Frank Whaley as the overnight janitor at Target who is locked in overnight, where he encounters both his dream girl (Jennifer Connelly) and a pair of bumbling crooks (real-life brothers Dermot and Kieran Mulroney). Whaley and especially Connelly are attractive, but this flimsy fluff doesn't add up to much, despite appearances by Barry Corbin, William Forsythe, Noble Willingham, and an unbilled John Candy (as the store manager). Both the DVD ($14.95 retail) and Blu-ray ($24.95 retail) include audio commentary and theatrical trailer. Rated PG-13. *½ 
COHERENCE (Oscilloscope Laboratories): Executive producer/screenwriter/director James Ward Byrkit's award-winning 2013 feature debut is a largely improvised, frequently impressive low-budget fantasy/drama in which a suburban dinner party is interrupted by strange phenomena during a celestial event. Intentionally ambiguous throughout, but well-acted and well worth a look, available on DVD ($24.99 retail) and Blu-ray ($32.99 retail), each replete with bonus features including audio commentaries, behind-the-scenes featurette, and more. ***
"CSI: NY" – THE COMPLETE SERIES (CBS DVD/Paramount): The title tells all in this massive 55-disc collection – plus bonus features – of all 197 episodes from the entire 2004-'13 run of the award-winning CBS crime series spun off from the wildly successful "CSI" franchise, obviously set in New York, with Gary Sinise leading a crack team of forensic investigators Carmine Giovinazzo, Hill Harper, Vanessa Ferlito, and Melinda Kanakredes, with guest appearances by Robert Forster, Edward James Olmos, Peter Fonda, John Larroquette, Aly Michalka, Ted Danson, and many others, available on DVD ($139.98 retail).
DONNIE DARKO (Arrow Video/MVD Entertainment Group): A 4K Ultra HD combo ($59.95 retail) of writer/director Richard Kelly's award-winning 2001 debut feature, an instant cult classic starring Jake Gyllenhaal in the title role of a troubled teenager who fears the end of the world is imminent and begins seeing visions of a large rabbit named Frank that compels him to commit crimes. Surreal and nihilistic, this is a polarizing film and not for all tastes, with sequences that stand out while others fizzle out. A mixed bag, but its devoted following would disagree. An all-star cast includes Maggie Gyllenhaal (Jake's real-life sister, playing his sister here), executive producer Drew Barrymore, Patrick Swayze, Jena Malone, Katharine Ross, Noah Wyle, Mary McDonnell, James Duval, Seth Rogen (in his feature debut), Beth Grant, Daveigh Chase, and Ashley Tisdale. Bonus features include both the unedited director's cut and R-rated theatrical version, multiple audio commentaries, collectible hardcover book, posters and postcards, feature-length documentary, deleted and extended scenes, and much more. **½  
JSA: JOINT SECURITY AREA (Arrow Video/MVD Entertainment Group): Director Park Chan-wook's award-winning 2000 thriller (originally titled Gongdong gyeongbi guyeok JSA), based on Park Sang-yeon's international best-seller DMZ follows a murder investigation in the demilitarized zone between North and South Korea, which naturally has potentially severe political ramifications, starring Lee Young-ae as the officer in charge of the case. In Korean with English subtitles, available on Blu-ray ($39.95 retail), boasting audio commentary, archival and retrospective featurettes, music videos, theatrical trailer, image gallery, and more.
LUST FOR GOLD: A RACE AGAINST TIME (SenArt/Kino Lorber):  Writer/producer/editor/director Robert May's feature documentary follows a group of latter-day treasure hunters seeking a legendary caché of gold bullion supposedly buried in federally-protected land in Arizona's Superstition Mountain, available on DVD ($19.95 retail) and Blu-ray ($29.95 retail), replete with bonus features.
PIXIE (Saban Films/Paramount Home Entertainment): Producer/director Barnaby Thompson's  quirky crime thriller, written by son Preston Thompson, stars Olivia Cooke in the title role of the mastermind of a drug heist in rural Ireland – so rural that no police seem to exist. Cheeky and colorful but obvious, this is a failed attempt to replicate the flash of Quentin Tarantino or Guy Ritchie, populated by characters – including Cooke's crime-boss father Colm Meaney and gun-toting priest Alec Baldwin (sporting a ripe brogue) – that aren't terribly appealing. The climactic, and predictable, Mexican stand-off takes place in a church, where clergy and gangsters blast away at each other in slow-motion, available on DVD ($19.98 retail). Rated R. *
"SONY 4K ULTRA HD COMBOS" (Sony Pictures Home Entertainment): The latest selection of feature films newly restored and reissued on 4K HD Ultra HD combos (each $30.99 retail): Tim Burton's Big Fish (rated PG-13), the 2003 adaptation of Daniel Wallace's 1996 novel Big Fish: A Novel of Mythic Proportions, with Ewan McGregor and Albert Finney heading an all-star cast and Danny Elfman's original score earning an Oscar nomination; the 2016 computer-animated sci-fi action blow-out Kingsglaive: Final Fantasy XV (rated PG-13), based on the popular video-game franchise; and producer/director John McTiernan's star-studded 1993 Arnold Schwarzenegger vehicle Last Action Hero (rated PG-13), which proved a critical and financial fiasco. Each film boasts bonus features.
TAKE THIS JOB AND SHOVE IT (Kino Lorber Studio Classics): Robert Hays headlines this amiable but innocuous 1981 comedy as a hot-shot executive who returns to his hometown to revive the fortunes of the local brewery. Based on the popular song written by David Allan Coe and sung by Johnny Paycheck (both of whom appear in cameos), a friendly cast includes Art Carney, Barbara Hershey, David Keith, Tim Thomerson, Eddie Albert, Martin Mull, Penelope Milford, James Karen, Royal Dano, Len Lesser, Fran Ryan, Virgil Frye, Joan Prather, George Lindsey, and country singers Lacy J. Dalton (in her only screen role) and Charlie Rich (in his last screen role), available on DVD ($14.95 retail) and Blu-ray ($24.95 retail). Rated PG. ** 
TOM & JERRY (Warner Bros. Home Entertainment): The much-beloved and mighty durable cat-and-mouse duo created by Hanna/Barbera bust through to the big screen in director Tim Story's PG-rated extravaganza, which combines animation with live action set in New York City, with Chloe Grace Mortez, Michael Pena, Colin Jost, Rob Delaney, Pallavi Sharda, and Ken Jeong representing the human contingent, available on DVD ($28.98 retail) and Blu-ray combo ($35.99 retail), each boasting bonus features.
UNDER THE SAND (Kino Classics): Writer/director Francois Ozon's award-winning 2000 psychological thriller (originally titled Sous le sable) stars Charlotte Rampling (in a terrific turn) as a college professor whose grip on reality crumbles when her husband (Bruno Cremer) inexplicably vanishes during their annual vacation. Like many of Ozon's films, this is eerie, evocative, and ambiguous. In French with English subtitles, available on DVD ($19.95 retail) and Blu-ray ($29.95 retail), each replete with audio commentaries, retrospective interview with Rampling, and trailer. *** 
(Copyright 2021, Mark Burger)