PICKS OF THE WEEK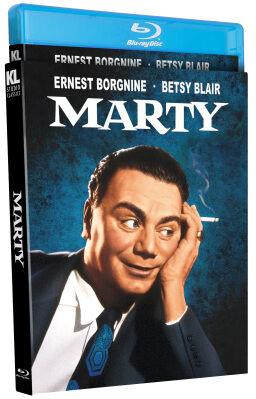 MARTY (Kino Lorber Studio Classics): For first-time screenwriter Paddy Chayefsky and first-time director Delbert Mann, this 1955 adaptation of their 1953 television drama (originally broadcast on "The Philco Television Playhouse") became "the little film that could," a low-budget romantic drama that scored big with audiences and critics alike.
The much-missed Ernest Borgnine is wonderfully touching as Marty Piletti, a middle-aged Bronx butcher whose affability masks a lonely heart. By chance, he attends a local dance and meets schoolteacher Clara Snyder (Betsy Blair), who considers herself plain, and a tentative relationship blooms – much to the chagrin of Marty's well-meaning but misguided mother (Esther Minciotti, reprising her small-screen role)
In retrospect, the Italian characterizations are a little broad, but there's a slice-of-life charm – perhaps appropriate given Marty's vocation! – and humanity that remain indelible. Borgnine and Blair are utterly delightful, as is Joe Mantell (also encoring from the TV version) as Marty's best friend Angie, who doesn't know Marty as well as he thought. Running a trim 90 minutes, there's nary a wasted moment the entire time.
A surprise box-office sleeper, Marty swept the Oscars that year: Best Picture, Best Director, Best Actor, and Best Screenplay, with additional nominations for Best Supporting Actor (Mantell), Best Supporting Actress (Blair), Best Art Direction/Set Decoration (black-and-white), and Best Cinematography (black-and-white).
 The special-edition Blu-ray ($29.95 retail) includes audio commentary, theatrical trailer, and more. ***½
ALSO AVAILABLE
 ACCEPTED (Greenwich Entertainment/Kino Lorber): Producer/director/cinematographer Dan Chen's absorbing, award-winning feature documentary debut explores the inner workings of T.M. Landry College Preparatory School in Louisiana, which boasts a remarkable record of success in its predominantly minority students being accepted into prestigious colleges – until it was rocked by a 2018 New York Times exposé that prefigured subsequent college-admission scandals. The scandal, which could have derailed this documentary, instead compelled the filmmakers to focus on the students swept up in the controversy – which proves its most potent attribute. A real eye-opener on several levels, available on DVD ($19.95 retail). ***½
ALASKAN NETS (Good Deed Entertainment/Kino Lorber): Jeff Harasimowicz makes his feature directorial debut with this full-length documentary focusing on the Metlakatla Chiefs, a high-school basketball team comprised primarily of members of the Tsimshian Tribe in a remote corner of Alaska, as cousins Danny Marsden and D.J. King lead the team on its first championship run in over three decades, available on DVD ($19.95 retail) and Blu-ray ($29.95 retail).
"BALTHAZAR": SERIES 4 (RLJE Entertainment/Acorn): Tomer Sisley's back in action as the brilliantly eccentric – or eccentrically brilliant – forensic pathologist with an uncanny knack for solving the most perplexing cases in contemporary Paris, in all eight feature-length episodes from the 2021 season of the popular mystery series created by Clelia Constantine and Clothide Jamin. In French with English subtitles, available on DVD ($39.99 retail).
BIGFOOT OR BUST (Coldwater/MVD Entertainment Group): The indomitable Jim Wynorski wrote, produced, and directed this low-budget farce featuring such sexpots as co-producer Gail Thackray, producer Becky LeBeau, Christine Nguyen, Melissa Brasselle, and Lisa London, in which celebrities and time-traveling aliens each seek out the elusive Sasquatch, available on Blu-ray ($19.95 retail), boasting audio commentary, behind-the-scenes featurette, original trailer, and more.
DESPERATE HOURS (MVD Entertainment Group): Producer/director Michael Cimino's truly desperate 1990 remake of William Wyler's 1955 thriller (based on screenwriter Joseph Hayes' 1954 novel) stars Mickey Rourke as an escaped convict who holes up in the mansion owned by estranged couple Anthony Hopkins and Mimi Rogers, taking them hostage and forcing them to confront their own family dysfunction in order to survive. Rourke's self-indulgently showy, seemingly "Method" performance sets the tone for this bloated, off-balance melodrama that fails to connect on every level, wasting a talented cast that includes Lindsay Crouse, Kelly Lynch, David Morse, Shawnee Smith, and Elias Koteas. A critical and financial fiasco that marked Cimino's penultimate film – and possibly his worst. The "MVD Rewind" Blu-ray ($24.95 retail) includes behind-the-scenes featurette, original trailer, collectible mini-poster, and more. Rated R. *
I'M CHARLIE WALKER (Shout! Studios/Shout! Factory): Writer/director Patrick Gilles makes his feature producing debut with this ostensibly fact-based comedy/drama starring Mike Colter in the title role, a struggling trucker who manages to secure a hefty contract to clean up the California coastline following the infamous 1971 oil spill, but must contend with bureaucratic red tape and corporate racism along the way. Colter's winning turn isn't enough to overcome a spotty storyline filled with stereotypical characters, including Dylan Baker again playing a typically smarmy corporate fatcat. The real Charles T. Walker was a producer, and an affable but ill-used supporting cast includes Safiya Fredericks, Steven Wiig, Greg Cipes, Mark Leslie Ford, Travis Johns, Emma Caulfield Ford, and reliable Carl Lumbly, available on DVD ($19.99 retail). **
"JFK REVISITED: THE COMPLETE COLLECTION" (Shout! Factory): Nearly 60 years since the assassination of President John F. Kennedy and over 30 years after Oliver Stone's acclaimed, controversial 1991 feature JFK, the Oscar-winning filmmaker expands upon his long-held fascination with that earth-shaking event in a pair of documentaries released in 2021: The four-part documentary mini-series JFK: Destiny Betrayed and the feature documentary JFK Revisited: Through the Looking Glass, based on James DiEugenio's non-fiction best-seller, available in a DVD/Blu-ray combo ($38.98 retail), replete with audio commentary by Stone and DiEugenio.
MARTIAL CLUB (88 Films/MVD Entertainment Group): The Blu-ray bow ($29.95 retail) of the complete, uncut version of director Chia-liang Lu's R-rated martial arts extravaganza (originally titled Wu guan), detailing the ongoing and escalating conflict between rival fight schools. Bonus features include the original Mandarin (with English subtitles) and English-dubbed audio options, audio commentary, retrospective interviews, collectible booklet, and more.
NATIVE SON (Kino Classics): The first screen version of Richard Wright's ground-breaking 1940 novel, this 1951 adaptation (originally titled Sangre Negra), filmed in Argentina by French director Pierre Chenal (who co-scripted with Wright), details the plight of Bigger Thomas, an impoverished young black chauffeur hired by an affluent Chicago family who comes to ruin when he accidentally commits a murder. The political and social observations, which are still relevant, are muted by a melodramatic presentation, and although there's novelty in having Wright himself play Thomas, he's far too old for the role and his performance is unconvincing. The Blu-ray ($29.95 retail), which is the full 108-minute version, includes collectible booklet and re-release trailer. **
"ROCCO SCHIAVONE: ICE COLD MURDERS" – SEASONS 3 & 4 (Kino Lorber): Marco Giallini returns as the title character, a widowed, middle-aged, and patently rebellious deputy police commissioner transferred from Rome to the Alpine tourist village of Aosta, in all eight episodes from the 2019 season and all four episodes from the 2021 season of the popular mystery series based on the best-selling works by Antonio Manzini. In Italian with English subtitles, available on DVD ($39.95 retail) and Blu-ray ($49.95 retail).
"STAR TREK: LOWER DECKS" – SEASON 2 (CBS Home Entertainment/Paramount Home Entertainment): The Star Trek universe further expands in this Emmy-nominated CBS All Access animated comedy series, created by executive producer Mike McMahan, details the misadventures of the U.S.S. Cerritos, one of the least important starships in the Federation, in all 10 episodes from the 2021 season, featuring the voices of Dawnn Lewis, Jerry O'Connell, Jack Quaid, Tawny Newsome, Eugene Cordero, Samanthan Rutherford, D'Vana Tendi, Fred Tatasciore, Gillian Vignam, Paul Scheer, and Carl Tart, available on DVD ($25.99 retail) and Blu-ray ($31.99 retail), each replete with bonus features including audio commentaries, behind-the-scenes featurettes, and more.
TIMES SQUARE (Kino Lorber Studio Classics): Allan Moyle penned the story and directed this 1980 melodrama starring Trini Alvarado and Robin Johnson (in he feature debut) as teenagers who flee a mental institution and end up trying to start a punk revolution in New York City, with top-billed Tim Curry as the disc jockey who provides encouragement. A vivid portrait of Times Square at the time with a stellar soundtrack (including The Ramones, The Pretenders, The Cure, Lou Reed, and others), yet too often it meanders despite Alvarado and Johnson's appealing chemistry. Lots of familiar folk turn up: David Margulies, Anna Maria Horsford, Herbert Berghof, J.C. Quinn, Elizabeth Pena, and playwright Miguel Pinero. Both the special-edition DVD ($19.95 retail) and Blu-ray ($29.95 retail) include audio commentaries and theatrical trailer. Rated R. **½
WHERE THE LILIES BLOOM (Scorpion Releasing/Kino Lorber): Earl Hamner Jr. (of The Waltons fame) scripted this 1974 adaptation of Vera and Bill Cleaver's award-winning, best-selling novel detailing the plight of a close-knit scarecropping family in the Smoky Mountains, with Julie Gholson (in her only feature) as the sister who struggles to hold the clan together after the death of patriarch Rance Howard. The always-welcome Harry Dean Stanton, in a rare lead, plays the family's landlord, who takes a shine to Gholson's older sister (Jan Smithers, in her feature debut). Filmed on location in North Carolina, this affecting if soapy melodrama has long been out of circulation. Both the DVD ($14.95 retail) and Blu-ray ($24.95 retail) include audio commentary and theatrical trailer. Rated G. **½
WHY IS WE AMERICANS? (Corinth Films): Writer Udi Aloni and first-time co-producer Ayana Stafford-Morris co-directed this documentary feature focusing on the Baraka family of Newark, which found itself at the forefront of the Civil Rights movement in the '60s due to the tireless activism of poet, playwright, and activist Amiri Baraka (AKA LeRoi Jones), and how it informed – and sometimes complicated – the lives of his descendants, among them current Newark mayor Ras Baraka. That the narrative bounces back and forth chronologically can be distracting, but more often it's a timely, even inspiring exploration of social activism, particularly when it focuses on matriarch Amina Baraka, who has weathered both tragedies and triumphs but remains steadfast. The DVD ($24.95 retail) includes bonus features. ***
(Copyright 2022, Mark Burger)