PICK OF THE WEEK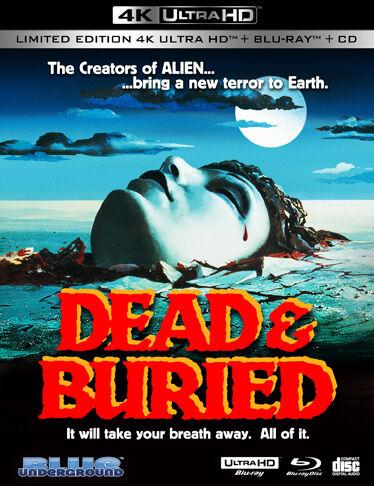 DEAD & BURIED (Blue Underground/MVD Entertainment Group): Despite considerable post-production problems, this 1981 chiller, penned by the Alien duo of Dan O'Bannon and producer Ronald Shusett, has a slyly subversive tone that has made it a cult favorite for four decades.
Potter's Bluff is a typical, picturesque town on the Northern California coast where everybody knows everybody and nothing ever seems to happen. Local sheriff Dan Gillis (James Farentino) thinks otherwise, especially when mutilated bodies start turning up, much to the delight of eccentric mortician Dobbs (Jack Albertson, in his final film), whom Dan has a distinct dislike for.
Melody Anderson (fresh from 1980's Flash Gordon) plays Dan's wife Janet, a schoolteacher whose lessons seem to focus on strange rituals involving the dead … and the undead. 
To say that things get "curiouser and curiouser" would be an understatement, as Dan draws ever closer to the darkest secrets of Potter's Bluff, one of which hits uncomfortably close to home.
The sudden shifts in characterization and tone are likely due to the reshoots and re-editing, yet there's no denying director Gary A. Sherman's achievement, with a major assist from cinematographer Steven Poster, in creating a seemingly idyllic atmosphere with a palpably menacing undercurrent. There's some great, creepy stuff here, as well as excessive yet effective violence, with special-effects maestro Stan Winston certainly making his presence felt. Little wonder that, gaps and lapses notwithstanding, Dead & Buried won't stay that way.
The limited-edition, three-disc 4K Ultra HD combo ($59.95 retail) includes four (!) audio commentaries, retrospective featurettes and interviews, theatrical trailers, collectible booklet, CD of Joe Renzetti's (very good) score, and more. Rated R. **½ 
ALSO AVAILABLE
THE 317TH PLATOON (Icarus Films Home Video): Former combat photographer Pierre Schoendoerffer adapted his own novel and directed this award-winning, highly credible 1965 chronicle (originally titled La 317eme section) of a perilous retreat by French and Laotian soldiers from advancing Communist forces in what was then Indochina, circa 1954, with sturdy turns by Jacques Perrin as the inexperienced, baby-faced officer and especially Bruno Cremer as his cynical, more experienced German adjutant. Raoul Coutard's stark black-and-white cinematography gives this an almost documentary-like feel. In French and Vietnamese with English subtitles, available on DVD ($29.98 retail). ***
CLAY PIGEONS (Kino Lorber Studio Classics): The Blu-ray bow ($24.95 retail) of director David Dobkin's 1998 debut feature, an uneven film-noir black comedy detailing the unlikely "partnership" between small-town bumbler Joaquin Phoenix and affable serial killer Vince Vaughn, with Janeane Garofalo, Scott Wilson, Georgina Cates, Phil Morris, and Vince Vieluf on hand. Bonus features include audio commentary and theatrical trailer. Rated R. ** 
THE DELICIOUS LITTLE DEVIL (Kino Classics): Robert Z. Leonard directed this silent 1919 comedy/drama starring his then-wife Mae Murray as a working-class girl who takes a job at a popular New York nightclub and is wooed by dashing Rudolph Valentino, whose wealthy family disapproves of the relationship, available on Blu-ray ($29.95 retail), replete with bonus features including audio commentary.
FIRE (Shout! Studios/Shout! Factory): Writer/director Alexey Nuzhny's disaster epic (originally titled Ogon and also released as No Escapes) dramatizes the heroism of veteran firefighter Konstantin Khabenskiy and his crack Aerial Forest Protection Service team as they battle a cataclysmic inferno deep in the Russian inerior, available on DVD ($19.98 retail) and Blu-ray ($22.98 retail), each boasting both Russian (with English subtitles) and English-dubbed audio options.
IMMENSEE/THE GREAT SACRIFICE (Kino Classics): A Blu-ray double feature ($29.95 retail) of vintage features showcasing the talents of Swedish-born actress/producer Kristina Soderbaum (1912-2001), who became one of Germany's biggest stars during World War II, with both films directed and co-written by her husband Veit Harlan: Immensee: A German Folk Song (1943) and 1944's The Great Sacrifice (originally titled Onfergang). In German with English subtitles, bonus features include audio commentary for both films.
"THE KEN JACOBS COLLECTION": VOL. 1 (Kino Classics): The title tells all in this two-disc Blu-ray selection ($39.95 retail) of experimental short films, dating from 1955 to the present day, made by the award-winning, Brooklyn-born filmmaker and teacher who, along with wife (and frequent collaborator) Flo founded the the Millennium Film Workshop, as well as helping to create SUNY Binghamton's experimental cinema department, where he became a distinguished professor and continues to influence up-and-coming filmmakers of the next generation. Bonus features include collectible booklet and retrospective interview.
L'AMOUR BRAQUE (Kino Lorber Studio Classics): Inspired by Dostoyevsky's The Idiot, writer/director Andrzeg Zulawski's existential 1985 thriller (also released as Mad Love) details the ill-fated romantic triangle between a tormented bank robber (Tcheky Karyo), the prostitute (Sophie Marceau) he's obsessed with, and a simple-minded neurotic (Francis Huster) who also becomes infatuated with her. In French with English subtitles, available on DVD ($19.95 retail) and Blu-ray ($29.95 retail), each replete with bonus features including audio commentaries, retrospective interviews, theatrical trailer, and more. 
THE MAN IN SEARCH OF HIS MURDERER (Kino Classics): Originally titled Der Mann, der seinen Morder sucht, director Robert Siodmak's 1931 black comedy, adapted from Ernst Neubach's play by screenwriters Billy Wilder and Curt Siodmak (the director's brother), stars Heinz Ruhmann as a suicidal man who hires a killer to knock him off during a supposed robbery, only to have his fortunes improve – forcing him to desperately attempt to cancel the arrangement. In German with English subtitles, available on Blu-ray ($29.95 retail), replete with audio commentary.
THE PEOPLE NEXT DOOR (Scorpion Releasing/Kino Lorber): Screenwriter J.P. Miller and David Greene reunite for this 1970 adaptation of their Emmy-winning 1968 "CBS Playhouse" drama, starring Eli Wallach and Julie Harris as a suburban couple whose teen-aged daughter (Deborah Winters, reprising her small-screen role) becomes hooked on drugs. Well-intentioned and well-acted but obvious and melodramatic, despite a strong cast including Hal Holbrook, Cloris Leachman, Nehemiah Persoff, Rue McClanahan, Mike Kellin, the feature debuts of Stephen McHattie and Don Scardino, available on DVD ($14.95 retail) and Blu-ray ($24.95 retail), each replete with audio commentary. Rated R. **½  
SEARCH ENGINES (Indican Pictures): Writer/producer/director Russell Brown's award-winning 2016 comedy/drama is set in Southern California on Thanksgiving Day, as friends and family congregate at Joely Fisher's house for a chatty afternoon disrupted when everyone's cellphone goes dark. An appealing ensemble cast includes Fisher's real-life mother Connie Stevens, real-life couple Natasha Gregson Wagner and Barry Watson, Jonathan Slavin, and Daphne Zuniga, but the abrupt and inconclusive ending is a major drawback. The DVD ($24.99 retail) boasts bonus features including audio commentary. **
"THE SIGNIFYIN' WORKS OF MARLON RIGGS" (The Criterion Collection): A self-explanatory collection of digitally restored short films by the acclaimed, Emmy-winning educator/filmmaker Marlon Riggs (1957-'94), a gay black social activist who conveyed his observations about racism and the AIDS crisis that sparked controversy then and continue to resonate with audiences today, nearly 30 years after his death from AIDS-related complications, available in a three-disc DVD ($39.95 retail) and two-disc Blu-ray ($49.95 retail), each replete with bonus features including retrospective interviews, Karen Everett's 1996 documentary I Shall Not Be Removed: The Life of Marlon Riggs, Riggs's 1981 graduate thesis film The Story of the Oakland Blues, and more.
"STAR TREK: DISCOVERY" – SEASON THREE (CBS Home Entertainment/Paramount): The immortal science-fiction franchise soars once more in all 13 episodes from the 2020-'21 season of the award-winning, prime-time Paramount+ series created by executive producers Bryan Fuller and Alex Kurtman, based (naturally) on Gene Roddenberry's original vision and set a decade before the events of the original series, featuring an ensemble cast including Sonequa Martin-Green, Doug Jones, Mary Wiseman, Anthony Rapp, Wilson Cruz, David Ajala, and Michelle Yeoh, plus guest appearances by Paul Guilfoyle, Janet Kidder, Sonja Sohn, and filmmaker David Cronenberg, available on DVD ($30.99 retail), Blu-ray ($45.99 retail), and limited-edition Blu-ray Steelbook ($51.99 retail), each boasting extensive bonus features.
TOURIST TRAP (Full Moon Features/MVD Entertainment Group): A DVD/Blu-ray combo ($39.95 retail) of screenwriter/director David Schmoeller's 1979 feature debut, an intermittently effective, low-budget chiller in which a group of dumb teenagers (Tanya Roberts and Robin Sherwood among them) encounter bizarre phenomena when they visit a remote roadside attraction run by eccentric Chuck Connors (in a full-tilt performance). It doesn't always make sense, but there's good atmosphere and a classy score by Pino Donaggio as compensations. Bonus features include audio commentary, trailers, and more. Rated PG (!). **
VISIONS OF EIGHT (The Criterion Collection): Executive producer David L. Wolper enlisted the services of eight international directors – Arthur Penn, John Schlesinger, Mai Zetterling, Yuri Ozerov, Michael Pfleghar, Milos Forman, Kon Ichikawa, and Claude Lelouch – to create short films offering different impressions of the 1972 Munich Olympic Games for this award-winning, if inherently episodic, 1973 documentary feature, augmented by Henry Mancini's fine score. Schlesinger's installment ("The Longest") is the only one to directly address the murder of 11 Israeli athletes and coaches by the Black September terrorist faction. Both the DVD ($29.95 retail) and Blu-ray ($39.95 retail) include audio commentary, retrospective documentary, theatrical trailer, and more. Rated G. ***
WOMEN COMPOSERS (Film Movement): Noted pianist Kyra Steckeweh makes her feature debut as screenwriter/producer/director of this award-winning, self-explanatory documentary feature (originally titled Komponistinnen) in which she delves into the lives of classical female composers Mel Bonis (1858-1937), Lili Boulander (1893-1918), and Fanny Mendelssohn-Hensel (1805-'47). An enlightening celebration of artistry and creative struggle, augmented by rare photographs and, of course, splendid music. In English and German with English subtitles, available on DVD ($24.95 retail), replete with bonus features. ***
(Copyright 2021, Mark Burger)