PICK OF THE WEEK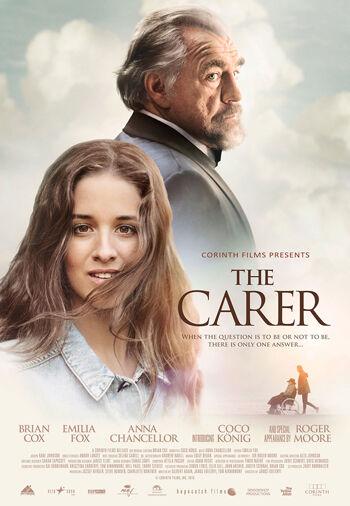 THE CARER (Corinth Films): Writer/director Janos Edelenyi's award-winning drama provides a stellar showcase for leading man (and executive producer) Brian Cox, for whom this might be considered a career-capping turn – except he's still working regularly.
Cox is perfectly cast as Sir Michael Gifford, an ailing Shakespearean actor who reluctantly consents to a caregiver in the person of Dorottya (appealing newcomer Coco Konig), an aspiring actress who knows well Sir Michael's career and is about to get first-hand experience contending with his bluster and bombast, which masks an inner vulnerability.
Yes, it's bittersweet and sentimental, to say nothing of highly theatrical, but it's also irresistible. Vintage clips of Cox's earlier work are a highlight, as is the character's propensity for launching into Shakespearean soliloquies. As far as this critic is concerned, there's no such thing as "too much" Shakespeare, and in whatever context Cox nails them perfectly.
A fine cast includes Anna Chancellor as Sir Michael's devoted but long-suffering estate manager and former lover, Emilia Fox as his domineering daughter, and Carl Johnson as his ever-faithful driver and gardener. The Carer also marks the big-screen swan song of Roger Moore, who briefly appears on video at a ceremony honoring Sir Michael with a lifetime achievement award.
The DVD ($24.95 retail) includes bonus material. ***½ 
ALSO AVAILABLE
ALI BABA AND THE FORTY THIEVES (Kino Lorber Studio Classics): Jon Hall swings into action in the title role of this enjoyable 1944 romp loosely based on the legend of Arabian Nights, as he endeavors to avenge his father's murder, restore order to Baghdad, and win the hand of his beloved Maria Montez. No prize for guessing how it all turns out. Turhan Bey, Fortunio Bonanova, Frank Puglia, Kurt Katch, and Andy Devine (playing a character named "Abdullah"!) lend zesty support, available on Blu-ray ($24.95 retail), replete with audio commentary and theatrical trailer. ***
ANGEL (Kino Lorber Studio Classics): Ernst Lubitsch's 1937 comedy/drama, based of Melchior Lengyel's play Angyal, stars the ever-alluring Marlene Dietrich as the pampered but neglected wife of British diplomat Herbert Marshall, torn between him and dashing young Melvyn Douglas. Entertaining but no classic. The special-edition Blu-ray ($29.95 retail) includes audio commentary and trailers. **½
BEAU GESTE (Kino Lorber Studio Classics): The Blu-ray bow ($24.95 retail) of William Wellman's exciting 1939 adaptation of P.C. Wren's classic novel, starring Gary Cooper (in the title role), Ray Milland, and Robert Preston as adopted brothers who escape a scandalous past by joining the French Foreign Legion, only to encounter the brutish and sadistic Sgt. Markoff (the unforgettable Brian Donlevy). A timeless tale of lost honor and redemption, with Susan Hayward, Broderick Crawford, J. Carrol Naish, Albert Dekker, and Donald O'Connor rounding out a fine cast. Academy Award nominations for Best Supporting Actor (Donlevy) and Best Art Direction/Set Decoration. Bonus features include audio commentary and theatrical trailer. ***½ 
"CASTLE ROCK": THE COMPLETE SECOND SEASON (Warner Bros. Home Entertainment): The scare-filled small-town Maine village that figured so prominently in the works of executive producer Stephen King is the setting for this award-winning Hulu anthology series created by executive producers Sam Shaw and Dustin Thomason, with an ensemble cast including Lizzie Caplan, Paul Sparks, Barkhad Abdi, Elsie Fisher, Yusa Warsama, Matthew Alan, and Tim Robbins. All 10 episodes from the 2019 season, plus bonus features, are available on DVD ($24.98 retail) and Blu-ray ($29.98 retail).
DATELINE – SAIGON (First Run Features): Sam Waterston narrates writer/producer/director Thomas D. Herman's award-winning 2016 feature documentary debut, a clear and concise chronicle of the early days of American involvement in the Vietnam War, as covered by Pulitzer Prize-winning journalists David Halberstam, Neil Sheehan, Malcolm Browne, Peter Arnett, and photo-journalist Horst Fass, whose reporting sometimes put them in harm's way and often contradicted official U.S. military reports. An effective salute to journalism, augmented by vintage footage and photographs, available on DVD ($24.95 retail). ***
ENTER THE FAT DRAGON (Well Go USA Entertainment): Taking a page (or two) from Bruce Lee's 1972 vehicle Way of the Dragon (released in the United States as Return of the Dragon after Lee's death), director Kenji Tanigaki's light-hearted martial-arts romp (originally titled Fei lung gwoh gong) stars Donnie Yen as an overweight ex-cop trying to redeem himself – and get back into shape – as he tracks down a murderer. In English, Cantonese and Japanese with English subtitles, available on DVD ($24.98 retail) and Blu-ray ($29.98 retail).
THE GENERAL DIED AT DAWN (Kino Lorber Studio Classics): The Blu-ray bow ($24.95 retail) of Lewis Milestone's entertaining 1936 saga, adapted from a Charles C. Booth story by Clifford Odets, starring Gary Cooper as a mercenary determined to prevent ruthless warlord Akim Tamiroff from conquering the provinces of Northern China, with Madeleine Carroll the femme fatale who compromises the mission. Given the time it was made, several Chinese characters aren't played by Asian actors – Dudley Digges as "Mr. Wu," anyone? -- although the Russian-born Tamiroff is memorably malevolent as the titular general and earned an Oscar nomination for Best Supporting Actor. The film also earned nominations for Best Cinematography and Best Score, and a stalwart supporting cast includes Dudley Digges, William Frawley, Porter Hall, and J.M. Kerrigan. Special features include audio commentary and theatrical trailer. ***
THE GOLEM (Kino Classics): The ancient Hebrew legend comes to life – literally and figuratively – in one of the earliest horror classics of the screen, starring co-writer and co-director Paul Wegener in the title role of this silent 1920 chiller (a remake of his lost 1915 film), in which rabbi Albert Steinruck creates the titular giant to protect the populace of 16th-century Prague, until the rabbi's assistant (Ernst Deutsch) wrests control of the creature, leading to the abduction of the rabbi's daughter (Lyda Salmanova) and the destruction of the ghetto. A masterpiece of German expressionism and narrative irony that clearly inspired Frankenstein (1931), with special effects that remain impressive a century later. Both the DVD ($19.95 retail) and Blu-ray ($29.95 retail) include the original German and U.S. versions, audio commentary, and more. ***½ 
L'INNOCENTE (Film Movement Classics): Luchino Visconti's award-winning 1976 adaptation of Gabrielle d'Annunzio's novel The Intruder stars Giancarlo Giannini as a lusty aristocrat who forsakes wife Laura Antonelli for mistress Jennifer O'Neill, only to become increasingly deranged when he learns his wife is also being unfaithful. This marked Visconti's final film, an elegant and ironic meditation on themes he'd explored in earlier films. Well-acted but slow-moving, this wasn't released in the United States until 1979 (as The Innocent), three years after Visconti's death. In Italian with English subtitles, both the DVD ($19.95 retail) and Blu-ray ($29.95 retail) include bonus features. Rated R. **½ 
"PARAMOUNT PRESENTS" (Paramount Home Entertainment): One of Hollywood's most venerable studios has issued special-edition Blu-rays (each $29.99 retail) of some of its most popular and acclaimed films, replete with bonus features: Cary Grant and Grace Kelly star in Alfred Hitchcock's To Catch a Thief (1954), which won the Oscar for Best Cinematography and nominations for Best Art Direction/Set Decoration and Best Costume Design; the 1958 Elvis Presley vehicle King Creole, directed by Michael Curtiz and based on the Harold Robbins best-seller A Stone for Danny Fisher; 1983's Flashdance (rated R), which won the Oscar for Best Song ("What a Feeling") and nominations for Best Cinematography, Best Film Editing, and Best Song ("Maniac"); the 1986 John Hughes production Pretty in Pink  (rated PG-13) starring Molly Ringwald, Harry Dean Stanton, and Andrew McCarthy; Michael Douglas and Glenn Close in Adrian Lyne's 1987 thriller Fatal Attraction (rated R), which earned Oscar nominations for Best Picture, Best Director, Best Actress (Close), Best Supporting Actress (Anne Archer), Best Adapted Screenplay, and Best Film Editing; and Patrick Swayze and Demi Moore in 1990's Ghost (rated PG-13), which earned Whoopi Goldberg the Oscar for Best Supporting Actress and nominations for Best Picture, Best Original Screenplay, Best Cinematography, and Best Film Editing. 
THE PRINCE (Artsploitation Films/Kino Lorber): Sebastian Munoz Costa del Rio makes his award-winning feature debut as writer/director of this LGBTQ-themed drama (originally titled El Principe), based on Mario Cruz's novel, starring Juan Carlos Maldonado as a narcissistic sociopath who becomes the lover of a ruthless crime czar (Alfredo Castro) when both are sentenced to prison. In Spanish with English subtitles, available on DVD ($14.95 retail) and Blu-ray ($29.95 retail), each boasting bonus features.
PROMISE AT DAWN (Menemsha Films/Kino Lorber): Writer/director Eric Barbier's award-winning 2017 adaptation of Romain Gary's novel (and subsequent play) La Promesse de l'aube dramatizes the relationship between Gary (played by Pierre Niney) and his mother (Charlotte Gainsbourg) from his childhood to his World War II service. In French with English subtitles, available on DVD ($19.95 retail) and Blu-ray ($29.95 retail).
STARFISH (Altered Innocence/CAV Distributing): A deluxe Blu-ray/CD special edition ($32.99 retail) of filmmaker Al White's award-winning 2018 debut feature, an existential, low-budget science-fiction parable starring Virginia Gardner as seemingly the last woman on Earth, attempting to fend off alien creatures while trying to restore order to the planet,  replete with bonus features including audio commentaries, deleted scenes, featurettes, music video, original trailer, and more.
THE WILD GOOSE LAKE (Film Movement): Writer/director Yi'nan Diao's award-winning crime drama (originally titled Nan fang che zhan de ju hui) follows small-time gangster Hu De as his mistakenly kills a cop and goes on the lam, desperately trying to elude both police and the underworld. In Chinese with English subtitles, available on DVD ($24.95 retail) and Blu-ray ($34.95 retail), each boasting bonus features.
(Copyright 2020, Mark Burger)