PICK OF THE WEEK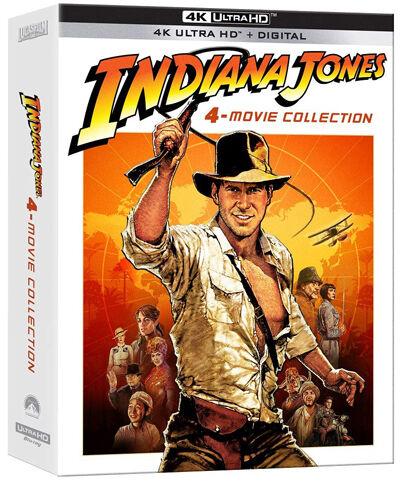 "INDIANA JONES 4-MOVIE COLLECTION"(Lucasfilm Ltd/Paramount Home Entertainment): Some 40 years ago, George Lucas and Steven Spielberg teamed up and concocted another billion-dollar big-screen franchise, with Harrison Ford creating another iconic character in swashbuckling archaeologist Indiana Jones.
The PG-rated Raiders of the Lost Ark (1981) was the biggest box-office hit of the year, earning Academy Awards for Best Art Direction/Set Decoration, Best Editing, Best Sound, Best Sound  Editing, and Best Visual Effects, while also being nominated for Best Picture, Best Director (Spielberg), Best Cinematography, and Best Original Score.
Three years later came the somewhat more controversial prequel, Indiana Jones and the Temple of Doom (rated PG), which earned an Oscar for Best Visual Effects and a nomination for Best Original Score. In 1989, Sean Connery joined the franchise as Indy's father in Indiana Jones and the Last Crusade (rated PG-13), which won the Oscar for Best Sound Editing and nominations for Best Original Score and Best Sound, and 2006 saw the release of Indiana Jones and the Kingdom of the Crystal Skull (rated PG-13).
The fifth installment, with Ford reprising his role but James Mangold replacing Spielberg as director, is scheduled for release next year.
Paramount Home Entertainment has also released 4K Ultra HD combos of the Oscar-winning 1964 musical My Fair Lady ($25.99 retail), J.J. Abrams' PG-13-rated 2011 sci-fi extravaganza Super 8 ($25.99 retail), Cameron Crowe's R-rated 2000 comedy/drama Almost Famous ($30.99 retail), and a twin-bill of the PG-13-rated Angelina Jolie vehicles Lara Croft: Tomb Raider (2001) and Lara Croft: Tomb Raider – The Cradle of Life (2003), which retails for $33.99, All titles boast bonus features.
In addition, Paramount Home Entertainment has released special-edition Blu-rays of Almost Famous ($24.99 retail), Lara Croft: Tomb Raider ($17.99 retail), the 1959 John Sturges Western Last Train from Gun Hill ($24.99 retail), a 25th-anniveresary collector's edition of Brian DePalma's PG-13-rated blockbuster Mission: Impossible ($22.98 retail), Nick Nolte and Eddie Murphy in Walter Hill's R-rated action thrillers 48 HRS. ($24.99 retail), which was released in 1982, and the 1990 follow-up Another 48 HRS. ($24.99 retail), and the self-explanatory, G-rated "Snoopy Collection" (A Boy Named Charlie Brown, Snoopy Come Home, Race for Your Life, Charlie Brown, and Bon Voyage, Charlie Brown – and Don't Come Back), which retails for $57.99.
The "Indiana Jones 4-Movie Collection" is available on Blu-ray ($47.99 retail) and 4K Ultra HD combo ($99.99 retail), each replete with a bevy of bonus features. 
ALSO AVAILABLE
AN AMERICAN IN PARIS: THE MUSICAL (Liberator Films/MVD Entertainment Group): Choreographer Christopher Wheeldon makes his feature directorial debut with this 2018 adaptation of the classic 1928 George Gershwin musical (later immortalized in the Oscar-winning 1951 film version), detailing the romance between an American soldier (Robert Fairchild) and a winsome young dancer (newcomer Leanne Cope) in the City of Lights, available on Blu-ray ($24.95 retail). 
"BORDERTOWN": SEASON 3 (Kino Lorber): Miikko Oikennon created and directed multiple episodes of this award-winning Finnish mystery series (originally titled Sorjonen and aired stateside on Netflix) follows eccentric police inspector Ville Virtenan as he attempts to keep the peace as head of the Serious Crime Unit (SECRI) in the city of Lappeenranta, situated near the Russian border, where he is teamed with female partner Anu Sinisalo. In Finnish with English subtitles, all 10 episodes from 2019-'20 season are available in a three-disc Blu-ray collection ($39.95 retail). 
THE BRIDE COMES HOME (Kino Lorber Studio Classics): Wesley Ruggles produced and directed this pleasant but unsurprising 1935 screwball comedy set against the backdrop of the Great Depression, with Claudette Colbert as a penniless heiress who takes a position at a magazine and is promptly wooed by both editor Fred MacMurray and publisher Robert Young, with William Collier Sr., Donald Meek, Jimmy Conlin, and Edgar Kennedy adding to the fun, available on Blu-ray ($24.95 retail), boasting audio commentary and theatrical trailer. **½
DEVIL IN THE FLESH (Icarus Films Home Video): Originally titled Il diavolo in corpo, Marco Bellochio's award-winning, highly controversial 1986 adaptation of Raymond Radiguet's novel Le Diable au corps depicts the sexually charged relationship that develops between a Marushchka Detmers, a young woman whose fiancee is imprisoned for political crimes, and a lovestruck teenager (Federico Pitzalis in his only feature to date). Originally rated X for its explicit sexuality, this is nonetheless a meditation on political and social upheaval set against the backdrop of Italy's "Years of Lead" (Anni di piombo), with Detmers in a no-holds-barred performance. In Italian with English subtitles, available on DVD ($26.98 retail). ***
"FORBIDDEN FRUIT: THE GOLDEN AGE OF THE EXPLOITATION PICTURE" (Something Weird Video/Kino Classics): A selection of vintage "cautionary" tales that frequently flaunted the "controversial" topics addressed by the film: "Volume 9" is The Lash of the Penitentes (1936), which reveals the controversial practices of the Los Hermanos Penitentes religious faction in New Mexico, combined with a fictitious murder/mystery, available on Blu-ray ($29.95 retail), which includes both the censored theatrical release and the uncut original version, as well as audio commentary; "Volume 10" is 1966's Wages of Sin (originally titled Der Arzt stellt fest...), which examines life inside a women's health clinic, available on Blu-ray ($29.95 retail), including audio commentary, the bonus film The Mystery and Fortune of Women, and more; and "Volume 11" is the twin-bill of the George Weiss productions Girl Gang (1954), starring exploitation veteran Timothy Farrell as a small-time mob boss hooking high-school students on dope, and 1951's Pin Down Girl (also released as The Blonde Pick Up and Racket Girls), starring Peaches Page (in her one and only feature) as a woman named "Peaches Page," who is caught up in the corrupt world of female wrestling, available on Blu-ray ($29.95 retail), replete with audio commentaries, trailers, and more.
"GANGS OF LONDON": SEASON 1 (RLJE Films): Created by Gareth Evans (who also directed selected episodes) and Matt Flannery, this crime series, aired on AMC+, depicts the violence that transpires following the murder of high-powered crime boss Colm Meaney, as his surviving family and rivals jockey for power in contemporary London, in all nine episodes from the inaugural 2020 season, featuring an ensemble cast including Joe Cole, Sope Dirisu, Lucian Msamati, Michelle Fairley, Paapa Essiedu, and Pippa Bennett-Warner, available on DVD ($34.97 retail) and Blu-ray ($39.98 retail), each replete with bonus features.
HYDRA (Well Go USA Entertainment): Having forsaken his past as a hired killer to become a sushi chef, Masanori Mimoto finds himself drawn back into the perils of the underworld when recruited for one last assignment, in director Kensuke Sonomura's debut feature, set in contemporary Tokyo. In Japanese with English subtitles, available on DVD ($12.99 retail) and Blu-ray ($19.98 retail).
J.C. (Code Red/Kino Lorber): Screenwriter/producer/director Bill McGaha stars in this (very) offbeat, low-budget 1972 melodrama in which he plays the title role, a rebellious biker who begins having religious visions and perceives himself to be the Second Coming of Jesus Christ (note his character's initials). A potentially intriguing reinterpretation of Scripture instead becomes a self-indulgent wallow in sub-par Easy Rider trappings, '60s psychedelia, and ham-fisted social commentary, with a predictable, pretentious climax. Both the DVD ($19.95 retail) and Blu-ray ($29.95 retail) include theatrical trailer. Rated R. * 
LEONA (Menemsha Films/Kino Lorber): Executive producer Isaac Cherem makes his feature debut as writer/director of this award-winning 2018 drama, which stars Naian Gonzalez Norvind (making her debut as writer/co-producer) in the title role of a Jewish woman torn between orthodox tradition and her heart when she falls in love with a gentile (Christian Vasquez) – much to the consternation of her family and community. In Spanish with English subtitles, available on DVD ($19.95 retail).
ROOM 9 (LionsGate): Horror icons Scout Taylor-Compton, Michael Berryman, and Kane Hodder are utterly wasted in writer/producer/executive producer/director/co-star Thomas Dalton's dismal shocker, centering around the titular room in a bed-and-breakfast where a violent murder occurred 40 years before. The intentionally frenetic and ragged cinematography (courtesy Dalton and co-star John Jillard Sr.) doesn't help any, and the film takes forever to go absolutely nowhere, available on DVD ($19.98 retail). Zero stars 
ROYAL DECEIT (Bleiberg Entertainment/MVD Entertainment Group): Director/screenwriter Gabriel Axel's R-rated 1994 medieval adventure (originally titled Prince of Jutland and based on the writings of Saxo Grammaticus) stars Christian Bale as young prince bent on avenging the murder of his father, with Gabriel Byrne, Helen Mirren, Kate Beckinsale, Brian Cox, Tom Wilkinson, Steven Waddington, Freddie Jones, Ewen Bremner, Tony Haygarth, and Andy Serkis (in his feature debut) rounding out a star-studded cast. The "MVD Marquee Collection" Blu-ray ($19.95 retail) includes original trailer. 
"SCOTT ADKINS DOUBLE FEATURE" (Bleiberg Entertainment/MVD Entertainment Group): The title tells all in this Blu-ray twin-bill ($19.95 retail) of action thrillers showcasing the talents of British-born martial-arts champ-turned-movie star Scott Adkins, who also served as executive producer on both: 2015's Close Range, co-starring Nick Chinlund and Caitlin Keats; and 2017's Savage Dog, written and directed by Jesse V. Johnson. Each film boasts bonus content. 
WRATH OF MAN (Metro-Goldwyn-Mayer/Miramax/Warner Bros. Home Entertainment): Based on the 2004 French thriller Cash Truck (Le Convoyeur), screenwriter/producer/director Guy Ritchie's R-rated action thriller reunites him with Jason Statham, as a mysterious security guard with his own violent agenda, with Andy Garcia, Scott Eastwood, Holt McCallany, Jeffrey Donovan, Josh Hartnett, Laz Alonso, Chris Reilly, and Eddie Marsan (another frequent Ritchie collaborator) caught in the crossfire, available on DVD ($29.98 retail) and Blu-ray ($34.98 retail)
(Copyright 2021, Mark Burger)