PICK OF THE WEEK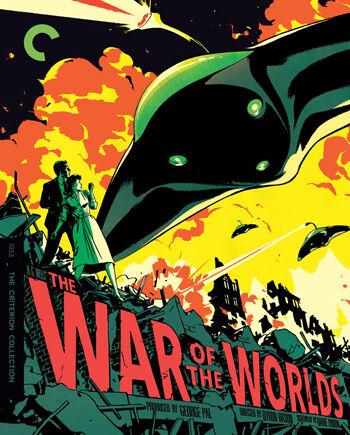 WAR OF THE WORLDS (The Criterion Collection): The classic 1896 H.G. Wells novel is given grade-A treatment – with alterations – by producer George Pal and director Byron Haskin in this terrific 1953 sci-fi melodrama, itself a classic and miles (or worlds) ahead of Steven Spielberg's 2005 version.
For those unfamiliar with the storyline, Mars attacks Earth in sleek, seemingly indestructible flying warships that lay waste to the planet in spectacular, still-impressive, and still-scary fashion. Unlike many '50s sci-fi films, this one's played perfectly straight. The future of Earth is at stake, so there's no time for jokes. Running a tight 85 minutes, the film is perfectly paced.
The human contingent is comprised of archetypes: Gene Barry (heroic scientist), Ann Robinson (love interest), and Les Tremayne (stalwart general). Yet they acquit themselves well enough not to get lost in the shuffle. The impeccable technical credits yielded Oscar nominations for Best Editing and Best Sound Recording, with a deserved win for Best Special Effects ... even if it was the only nominee (!).
Both the DVD ($29.95 retail) and Blu-ray ($39.95 retail) include audio commentary, retrospective and vintage featurettes and interviews, theatrical trailer, and – best of all – Orson Welles's notorious 1938 Mercury Theater radio broadcast, which caused a national uproar. ***½ 
ALSO AVAILABLE
ADVOCATE (Film Movement): Writer/producer Rachel Leah Jones and cinematographer/producer Philippe Bellaiche co-directed this award-winning documentary tracing the life and (often-controversial) career of Israeli attorney Lea Tsemel, well-known for defending Palestinians in high-profile cases, which has earned her the nickname "devil's advocate" in some circles. A thoughtful and in-depth examination of a firebrand and the passion that fuels her. In Arabic and Hebrew with English subtitles, available on DVD ($24.95 retail). ***
"BARBARA STANWYCK COLLECTION" (Kino Lorber Studio Classics): The title tells all in this three-disc Blu-ray selection ($49.95 retail) of films starring the inimitable golden-era superstar Barbara Stanwyck (1907-'90), who received an honorary Oscar in 1982: Internes Can't Take Money (1937), co-starring Joel McCrea and Lloyd Nolan, was Paramount's only contribution to the long-running Dr. Kildare series; Stanwyck and McCrea reunited for William Wellman's 1942 Western The Great Man's Lady ; and The Bride Wore Boots (1946), co-starring Robert Cummings and a young Natalie Wood, marked Stanwyck's final comedy. Bonus features include audio commentaries and theatrical trailers.
BODY CAM (Paramount Home Entertainment): In the midst of community unrest, Louisiana cop Mary J. Blige encounters supernatural phenomena that's killing her fellow officers and terrorizing the community. Well-made, with its topical undertones credibly handled, but the narrative unravels in the second half. Pedro Luque's atmospheric cinematography is a plus, as are the performances of Blige (who sings the theme song "Can't Be Life"), Nat Wolff, David Zayas, and David Warshofsky. Rated R. **
BRICK (Kino Lorber Studio Classics): Inspired by Dashiell Hammett, writer/director Rian Johnson's auspicious, award-winning 2005 debut feature is steeped in noir-ish trappings, set against the backdrop of a Southern California high school, with Joseph Gordon-Levitt as an amateur sleuth delving into the disappearance of ex-girlfriend Emilie de Raven (in her feature debut). Occasionally long-winded but remarkably assured, with Lukas Haas, Nora Zehetner, Matt O'Leary, Meagan Good, Noah Fleiss, Matt O'Leary, Noah Segan, and always-welcome Richard Roundtree offering solid support. The special-edition Blu-ray ($29.95 retail) includes audio commentary, deleted and extended scenes, theatrical trailer, and more. Rated R. ***
COBRA WOMAN (Kino Lorber Studio Classics): The Blu-ray bow ($29.95 retail) of director Robert Siodmak's colorful, campy 1944 South Seas adventure, co-scripted by future Oscar winner Richard Brooks headlining Maria Montez in a dual role as a beautiful innocent and her wicked twin sister, with frequent Montez co-star Jon Hall the handsome hero, and Sabu, Edgar Barrier, Lois Collier, Samuel S. Hinds, and Lon Chaney in support. Bonus features include audio commentary and theatrical trailer. **½  
HANDS OF GOD (Film Movement): Riccardo Romani makes his feature debut as producer and director of this documentary (originally titled Throwing Bombs in Baghdad) follows the training of the Iraqi National Boxing Team as its members attempt to qualify for the Olympic Games despite military service and the constant threat of ISIS retaliation. In Arabic with English subtitles, available on DVD ($24.95 retail).
AN INSPECTOR CALLS (Kino Lorber Studio Classics): Future James Bond director Guy Hamilton helmed this low-key but effective 1954 adaptation of J.B. Priestley's play, in which an upper-crust family's dinner party is unexpectedly interrupted by the arrival of the title character (Alastair Sim) investigating a young woman's death, with each family member a potential suspect and each one hiding a secret, available on DVD ($19.95 retail) and Blu-ray ($29.95 retail), each replete with audio commentary, retrospective interview, and trailers. ***
KILL THEM ALL AND COME BACK ALONE (Kino Lorber Studio Classics): Chuck Connors saddles up for Enzo G. Castellari's R-rated 1968 spaghetti Western (originally titled Ammazzali tutti e torno sola), as a hard-bitten mercenary who leads a band of thugs on a mission to steal Union gold during the Civil War, available on DVD ($19.95 retail) and Blu-ray ($29.95 retail), each boasting audio commentary and theatrical trailer.
LOST IN AMERICA (Indican Pictures): Having once been homeless himself, writer/producer/director Rotimi Rainwater brings keen insight into this sobering, straightforward documentary feature exploring the plight of homeless youth in America today, featuring such celebrities as Halle Berry, Jon Bon Jovi, Miley Cyrus, Sanaa Lathan, Tiffany Haddish, Rebecca Gayheart-Dane, and executive producers Rosario Dawson and Jewel Kilcher, but the interviews with the homeless resonate the loudest, and get the film's message across. ***
THE MERGER (IndiePix Films): Popular Australian comedian Damian Callinan wrote and stars in this cheeky, overly eager-to-please comedy, based on his award-winning play, as a lovably grouchy ex-soccer star who turns the fortunes of his impoverished town around when convinced to coach the local team by single mother (and love interest) Kate Mulvany and precocious son Rafferty Grierson (in his feature debut). Pleasant but unremarkable, although the message about cultural diversity is nicely handled. The DVD retails for $24.95. **
MISS FISHER AND THE CRYPT OF TEARS (Acorn TV): Essie Davis returns as glamorous '20s-era sleuth Phryne Fisher in this feature-length spin-off of the award-winning series, based on Kerry Greenwood's best-selling novels, in which she delves into an ancient mystery while visiting Jerusalem. Nathan Page and Miriam Margolyes encore from the series, joined by guest stars Daniel Lapaine, Rupert Penry Jones, and Jacqueline McKenzie, available on DVD and Blu-ray (each $24.99 retail), replete with bonus features.
"MURDOCH MYSTERIES": SEASON 13 (Acorn TV): Yannick Bisson's back on the case as early 20th-century Toronto detective William Murdoch in all 18 episodes from the 2019-'20 season of the award-winning, long-running Canadian mystery series (also known as The Artful Detective), based on Maureen Jennings' best-selling novels, co-starring Helene Joy (as Murdoch's wife), Jonny Harris, and Thomas Craig, available on DVD and Blu-ray (each $59.99 retail). 
MY NAME IS MYEISHA (Shout! Studios): Writer/producer/director Gus Krieger and first-time producer/screenwriter Rickerby Hinds bring the latter's NAACP-award-winning play Dreamscape to the screen in this topical and award-winning, although overly stylized, hip-hop musical inspired by the life of the titular California teenager (dynamic newcomer Rhaechyl Walker) whose life would end in a tragic encounter with police, available on DVD/Blu-ray combo ($22.97 retail). **½ 
"MYSTERY SCIENCE THEATER 3000": VOLUME TWELVE (Shout! Factory): The latest four-film installment of the long-running, Peabody-winning comedy series that riffed on "misunderstood" cinema: The Rebel Set (1959), The Starfighters (1964), 1966's Secret Agent Super Dragon (New York chiama Superdrago), and 1979's Parts: The Clonus Horror, available on DVD ($44.99 retail) replete with bonus features including retrospective featurettes and interviews, original trailers, and more.
SEMI-TOUGH (Kino Lorber Studio Classics): Michael Ritchie directed this 1977 adaptation of the 1972 best-seller by Dan Jenkins, with Burt Reynolds and Kris Kristofferson as NFL teammates vying for the affections of Jill Clayburgh, the sassy daughter of team owner Robert Preston (who all but steals the show). The satirical emphasis on self-help analysis, which deviates from the novel, has dated considerably, but is still enjoyable. Lots of familiar faces on hand: Lotte Lenya, Bert Convy, Roger E. Mosley, Richard Masur, Carl Weathers, Ron Silver, Norman Alden, Mary Jo Catlett, and the much-missed Brian Dennehy (in his screen debut). Both the DVD ($19.95 retail) and Blu-ray ($29.95 retail) include original trailer. Rated R. **½ 
SIBERIA & HIM (TLA Releasing): Filmmaker Viatcheslav Kopturevskiy makes his feature debut with this romantic drama set in the titular region of Russia, in which he plays a closeted homosexual having a clandestine affair with local policeman Ilya Shubochkin (in his feature debut), who happens to be his brother-in-law. In Russian with English subtitles, available on DVD ($24.99 retail).
TOKYO GODFATHERS (GKIDS/Shout! Factory): A special-edition DVD/Blu-ray combo ($26.99 retail) of Satoshi Kon's award-winning, PG-13-rated 2003 feature animé (originally titled Tokyo Goddofazazu), loosely based on Peter B. Kyne's novel, in which three derelicts discover an abandoned infant on Christmas Eve and embark on a journey of self-discovery and redemption, replete with original Japanese (with English subtitles) or English-dubbed audio options, retrospective featurettes, trailers, and more.
"UNIVERSAL HORROR COLLECTION VOL. 5" (Scream Factory/Shout! Factory): The latest four-film Blu-ray compilation ($69.97 retail) of vintage shockers produced by Universal Pictures, each replete with bonus features including audio commentary: The Monster and the Girl (1941) starring Ellen Drew, Paul Lukas, and mad-scientist extraordinaire George Zucco; Captive Wild Woman (1943), directed by Edward Dmytryk and starring Evelyn Ankers, John Carradine, and Acquanetta (in her screen debut); and its sequels, Jungle Woman (1945) starring Ankers, Acquanetta, and J. Carrol Naish, and The Jungle Captive (1944) with Otto Kruger and Rondo Hatton.
(Copyright 2020, Mark Burger)