PICK OF THE WEEK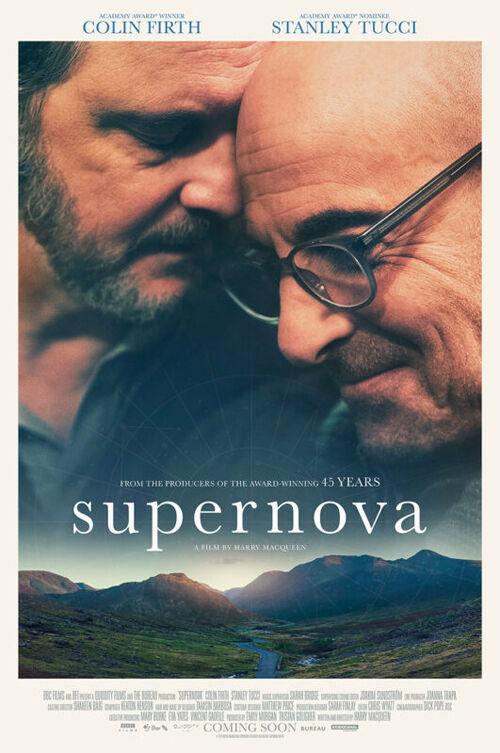 SUPERNOVA (Bleecker Street/Wolfe Video): Writer/director Harry Macqueen's beautifully written drama details a love story in intimate, heartbreaking terms. That the lovers are both male makes no difference whatsoever.
Sam (Colin Firth) and Tusker (Stanley Tucci) have been together for more than two decades, and intend to stay together to the end. Unfortunately, the end is looming quicker than either anticipated, due to Tusker's encroaching dementia. How they deal with this shattering dilemma forms the heart of this lovely, timely film that eschews soap-opera trappings for genuine emotional heft.
Sam is a retired concert pianist who consents to perform one last recital, if for no other reason than to share a leisurely trip with Tusker through the English countryside in their camper – which will likely be their last big trip together. Tusker, a successful novelist, is attempting to finish one last book, although it will likely remain unfinished.
Dick Pope's lush cinematography certainly makes their journey picturesque, but the heart of the film lies in the brilliant performances of Firth and Tucci, who reportedly swapped roles just prior to filming. These are two actors at the top of their game, and their chemistry is something to behold. Had the film's theatrical release not been hampered by the COVID-19 pandemic, it's entirely likely that Supernova would have been in contention for major awards. 
Both the DVD ($26.95 retail) and Blu-ray ($29.95 retail) include bonus features. Rated R. ***½ 
ALSO AVAILABLE
42ND STREET: THE MUSICAL (Liberator Films/MVD Entertainment Group): Based on the 1932 Bradford Ropes novel, subsequent 1933 big-screen extravaganza, and later Tony Award-winning Broadway musical, this award-winning and much-beloved show-biz saga follows ambitious small-town girl Bonnie Langford as she strives to achieve fame and fortune on the Great White Way, with Tom Lister, Claire Halse, Jasna Ivir, Christopher Howell and Philip Bertioli (in his feature debut) lending their talents, available on Blu-ray ($24.95 retail). 
BONNEVILLE (SenArt/Kino Lorber): Jessica Lange, Joan Allen, and Kathy Bates star as three friends who embark on a cross-country journey of self-discovery in a 1966 Pontiac Bonneville convertible in story writer/director Christopher N. Rowley's PG-rated 2006 drama, with Tom Skerritt, Christine Baranski, Victor Rasuk, and Tom Wopat in support, available on Blu-ray ($29.95 retail), replete with behind-the-scenes featurette and trailers.
CANCER: THE INTEGRATIVE PERSPECTIVE (Cinema Libre Studio): Writer/director/editor Nathan Crane's self-explanatory, award-winning feature-documentary debut explores the potential causes of cancer, as well as a variety of alternative therapies and treatments that go beyond traditional medicine, featuring interviews with experts (including Crane, who also narrates), scientists, and cancer survivors. Occasionally rambling and repetitious but also informative and potentially helpful, available on DVD ($19.95). **½ 
"CAROLE LOMBARD COLLECTION II" (Kino Lorber Studio Classics): A self-explanatory Blu-ray triple feature ($49.95 retail) of vintage screen comedies highlighting the talents of actress Carole Lombard (1908-'42): Hands Across the Table (1935), directed by Mitchell Leisen, co-starring Fred MacMurray and Ralph Bellamy; Love Before Breakfast (1936), based on Faith Baldwin's short story Spinster Dinner, co-starring Cesar Romero and Preston Foster; and The Princess Comes Across (also '36), again pairing her with MacMurray. Bonus features include audio commentaries.
A CINDERELLA STORY: STARSTRUCK (Warner Bros. Home Entertainment): Bailee Madison headlines writer/producer/director Michelle Johnston's latest, PG-rated installment in the popular comedy franchise, as a small-town girl with show-biz aspirations who gets her big chance when a Hollywood film crew arrives in town to make a feature film, available on DVD ($19.98 retail), replete with bonus features.
DAYS OF THE BAGNOLD SUMMER (Greenwich Entertainment/Kino Lorber): Actor-turned-director Simon Bird makes his feature debut with this self-consciously quirky, bittersweet adaptation of Jeff Winterhart's 2012 graphic novel, detailing the rocky relationship between single mother Monica Dolan and her rebellious, teen-aged son (Earl Cave) during one summer. Dolan, Cave, and Rob Brydon (as a lascivious neighbor with designs on Dolan) deliver good performances, but the film is too slight – and too predictable -- to make much of an impact, available on DVD ($19.95 retail). **
"DRUNK HISTORY": THE COMPLETE SERIES (Comedy Central Home Entertainment/Paramount): A self-explanatory 11-DVD collection ($50.99 retail) including all 72 episodes –plus bonus feaures – from the entire 2013-'19 run of the Emmy-winning Comedy Central series, based on the "Funny or Die" web series, hosted by creator/executive producer Derek Waters as he hoists spirits while exploring history, featuring a star-studded line-up of guest stars including Ed Helms, Elizabeth Olsen, Josh Charles, Liev Schreiber, Aubrey Plaza, Tiffany Haddish, Ben Folds, Dave Grohl, Bob Odenkirk, Bill Hader, and many others.
"GENNDY TARTAKOVSKY'S PRIMAL": THE COMPLETE FIRST SEASON (Warner Bros. Home Entertainment): The unlikely bond between a neanderthal man (voiced by Aaron LaPlante) and a female Tyrranosaurus forms the basis of this Emmy-winning animated fantasy series created by noted Russian-born animator and executive producer Genndy Tartakovsky, and aired by Cartoon Network on its late-night Adult Swim programming. All 10 episodes of the inaugural 2019-'20 season are available on DVD ($24.98 retail) and Blu-ray ($29.98 retail), each boasting behind-the-scenes interviews.
A GHOST WAITS (Arrow Video/MVD Entertainment Group): Writer/producer/director/co-star Adam Stovall's award-winning debut feature puts a unique spin on the supernatural by having a lonely handyman (producer MacLeod Andrews, making his feature writing debut) fall in love with an equally lonely spirit (newcomer Natalie Walker) as he renovates the run-down rental home she haunts, available on Blu-ray ($39.95 retail), replete with bonus features including audio commentaries, behind-the-scenes interviews, Easter eggs, outtakes, theatrical trailer, and more.
GODZILLA VS. KONG (Legendary Pictures/Warner Bros. Home Entertainment): The title tells all in this long-awaited, grand-scale monster mash pitting Godzilla against King Kong, featuring plenty of spectacular destruction and eye-popping special effects, as well as a star-studded cast including Alexander Skarsgard, Rebecca Hall, Millie Bobby Brown, Millie Bobby Brown, Demian Bichir, Brian Tyree Henry, Lance Reddick, Julian Dennison, Kyle Chandler, and newcomer Kaylee Hottle, available on DVD ($34.98 retail), DVD/Blu-ray combo ($39.98 retail), and 4K Ultra HD combo ($49.98 retail) – each replete with special features. Rated PG-13. ***
THE LOVEBIRDS (Paramount Home Entertainment): Executive producers Kumail Nanjiani and Issa Rae bring likability to this flimsy romp as a bickering couple on the verge of breaking up – until they witness a murder and become targets themselves. Nothing special, but a painless way to kill 90 minutes, available on DVD ($19.98 retail), replete with bonus features. Rated R. **
MOMENTS WITHOUT PROPER NAMES (Kino Classics): The final feature from noted photographer/filmmaker/composer Gordon Parks, this hour-long 1987 pseudo-documentary sees Parks re-examining his life through his photographic works and personal reminiscences as performed by actors Avery Brooks, Roscoe Lee Browne, and Joe Seneca, available on DVD ($14.95 retail) and Blu-ray ($19.95 retail), each replete with bonus features including audio commentary. 
NIGHT OF THE SICARIO (Saban Films/Paramount Home Entertainment): Originally titled Blindsided, the debut feature of director Joth Riggs is a sub-par shoot-'em-up set in an assisted-living facility during a raging hurricane, where the administrator (Natasha Henstridge) and patients are terrorized by gun-toting members of a drug cartel (led by Manny Perez) bent on assassinating a potential witness in an upcoming trial. A few novel twists but not enough, available on DVD and Blu-ray (each $14.99 retail). Rated R. *
SILAT WARRIORS: DEED OF DEATH (Well Go USA Entertainment): Cinematographer Areel Abu Bakar makes his feature debut as story writer/director of this award-winning martial-arts extravaganza (originally titled Geran) stars Namron as a legendary teacher whose wayward son (Fad Anuar) is abducted by loan sharks, prompting his brother (Khoharulla Majid) and sister (newcomer Feiyna Tajudin) to plan a daring rescue. In Malay with English subtitles, available on DVD ($24.98 retail) and Blu-ray ($29.98 retail).
SUPER FRENCHIE (Greenwich Entertainment/Kino Lorber): Producer/director/editor/story writer Chase Ogden's feature documentary debut profiles the life of daredevil skier and BASE jumper Matthias Girard (nicknamed "Super Frenchie") as he balances his career with marriage and impending fatherhood. The dazzling, often hair-raising visuals are augmented by Girard's boyish enthusiasm in pursuing his dreams, available on DVD ($19.95 retail). ***
THERE IS NO EVIL (Kino Lorber): Inspired by his own experience as a filmmaker officially banned from filmmaking, dissident writer/producer/director Mohammad Rasoulof's award-winning, epic drama (originally titled Sheytan vojud nadarad) offers a meditation on the policy of state-sanctioned murder in contemporary Iran as experienced by four different characters under different circumstances. In German and Persian with English subtitles, available on DVD ($19.95 retail). 
THE UNHOLY (Sony Pictures Home Entertainment): Producer/screenwriter Evan Spiliotopoulos makes his feature directorial debut with this PG-13-rated adaptation of James Herbert's best-selling novel Shrine, starring Jeffrey Dean Morgan as a disgraced journalist drawn into supernatural phenomena when he investigates a deaf-mute girl (Cricket Brown) who claims she was cured by the Virgin Mary and begins performing miraculous healings, with Katie Aselton, William Sadler, Diogo Morgado, and Cary Elwes in support, available on DVD ($30.99 retail) and Blu-ray ($34.99 retail)
THE VAULT (Saban Films/Paramount Home Entertainment): Director Jaume Balaguero's slick, hi-tech heist thriller (originally titled Way Down) sees producer Freddie Highmore joining a team of master thieves to rob Sir Francis Drake's treasure from a seemingly impregnable vault located in the basement of The Bank of Spain during a World Cup soccer match. Well-made but convoluted, although Liam Cunningham (as the mastermind), Sam Riley (Cunningham's long-suffering partner), and Jose Coronado (the bank's steely security chief) give it a lift. The ending hints strongly at a potential follow-up, available on DVD ($11.99 retail) and Blu-ray ($14.99 retail). Rated R. **
(Copyright 2021, Mark Burger)