PICK OF THE WEEK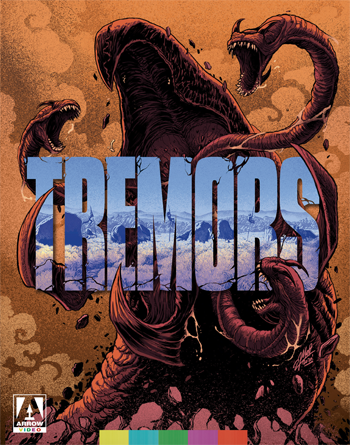 TREMORS (Arrow Video/MVD Entertainment Group): An instant cult classic, director Ron Underwood's 1990 feature debut is an inspired mash-up of action, comedy, and vintage B-movie science-fiction that inspired a later television series and an ongoing direct-to-video franchise.
Something very strange is going on in the tiny Nevada town of Perfection: People are mysteriously disappearing and property damage is rapidly escalating. The reason? Subterranean creatures (nicknamed "Graboids") with a taste for human victims. They're big. They're mean. And they're hungry.
Representing the human contingent are the delightful Kevin Bacon and Fred Ward as a pair of dim-witted handymen, perky Finn Carter as the obligatory seismologist on the scene, and Michael Gross (fresh from Family Ties) and country-music superstar Reba McEntire (in her screen debut) as a survivalist couple whose first encounter with the creatures is the film's undeniable showstopper.
Fast-moving, funny, and scary, Tremors embraces the conventions of the genre while sending them up in witty fashion. 
The limited-edition two-disc Blu-ray ($49.95 retail) and two-disc 4K Ultra HD combo ($59.95 retail) both include audio commentaries, retrospective featurettes, interviews and documentary, 60-page book, collectible posters, theatrical trailers, and more. Rated PG-13. ***
ALSO AVAILABLE
THE BLUE EYES (IndiePix Films): Eva Aridjis makes her feature debut as writer/producer/director of this tepid 2012 chiller starring Zachary Booth and Allison Case (in her screen debut) as American tourists bewitched by a sorceress (Ofelia Medina) while on vacation in Mexico. Despite Jo Thirlwell's pounding score, this plays like a boring travelogue and disappoints on almost every level. In English, Spanish, and Tzotzil with English subtitles, available on DVD ($24.95 retail). *
COLD LIGHT OF DAY (Arrow Video/MVD Entertainment Group): Writer/director Fhiona-Louise's award-winning, fact-based 1989 psycho-thriller (her only feature to date) details the  exploits of infamous Scottish-born serial killer Dennis Nilsen (played by Bob Flag), who committed over a dozen murders in London from 1978-'83, thus earning him the moniker "The Muswell Hill Murderer." The limited-edition Blu-ray ($39.95 retail) includes audio commentaries, retrospective interviews, collectible booklet, short films, and more.
CUT THROAT CITY  (Well Go USA Entertainment): In the aftermath of Hurricane Katrina, a group of boyhood friends plot a daring heist in New Orleans in producer/director RZA's R-rated shoot-'em-up, boasting a star-studded ensemble including Shameik Moore, Tip "T.I." Harris, Kat Graham, Demetrius Shipp Jr., Terrence Howard, Ethan Hawke, Isaiah Washington, Rob Morgan, Joel David Moore, Keean Johnson, Denzel Whitaker, Eiza Gonzalez, and Wesley Snipes, available on DVD ($24.98 retail) and DVD/Blu-ray combo ($29.98 retail).
EPICENTRO (Kino Lorber): Hubert Sauper wrote, edited, directed, and narrates this award-winning documentary feature that examines the culture and history of Cuba – and how both have been shaped by propaganda over the years, there and abroad. In English and Spanish with English subtitles, available on DVD ($19.95 retail).
GRACE OF MY HEART (Scorpion Releasing/Kino Lorber): The Blu-ray bow ($29.95 retail) of writer/director Allison Anders's 1996 drama set against the backdrop of the '50s/'60s pop music scene, with Illeana Douglas (nailing a rare big-screen lead) as an aspiring singer who initially finds success as a songwriter. Terrific period atmosphere, with plenty of great tunes, but soap-opera melodrama dominates the second half. Matt Dillon, Eric Stoltz, John Turturro, Bruce Davison, Bridget Fonda, Chris Isaak, Christina Pickles, Patsy Kensit, David Clennon, and Richard Schiff round out a star-studded supporting cast. Bonus features include audio commentary, behind-the-scenes featurette, deleted scenes, and trailer. Rated R. **½ 
GUNCRAZY (MVD Entertainment Group): Loosely inspired by the 1950 film of the same name, director Tamra Davis's award-winning 1992 debut feature stars Drew Barrymore and James Le Gros as star-crossed lovers who embark on a cross-country crime spree, with Michael Ironside, Joe Dallesandro, Billy Drago, Rodney Harvey, Ione Skye, and Jeremy Davies (in his screen debut) on hand. One of many noir-ish efforts that dominated the independent film landscape in the early 1990s, this is well-acted and gutsy but somewhat predictable. The "MVD Rewind Collection" Blu-ray ($29.95 retail) includes audio commentary, retrospective and vintage featurettes, theatrical trailers, collectible mini-poster, and more. Rated R. **½ 
THE KEEPER (Menemsha Films/Kino Lorber): Writer/director Marcus H. Rosenmuller's award-winning, fact-based 2018 biographical drama (originally titled Trautmann), which depicts the life of Bert Trautmann (David Kross),  a German P.O.W. who, following the end of World War II, caused a scandal when tapped by the Manchester City football (soccer) team to be its goalkeeper, only to become a superstar, available on DVD ($19.95 retail).
KING OF THE MOUNTAIN (Kino Lorber Studio Classics): Based on an article published in New West Magazine, this flashy but empty-headed 1981 melodrama depicts illicit auto racing along Mulholland Drive in Los Angeles, with Harry Hamlin (who replaced Brad Davis) as a hard-driving mechanic determined to be crowned "King," with Joseph Bottoms, Deborah Van Valkenburgh, Richard Cox, Dan Haggerty, Seymour Cassel, and Dennis Hopper along for the ride, available on DVD ($19.95 retail) and Blu-ray ($29.95 retail), each boasting retrospective interviews and trailer. Rated PG. *½ 
THE LAST STARFIGHTER (Arrow Video/MVD Entertainment Group): Director Nick Castle's gimmicky but entertaining 1984 sci-fi romp stars Lance Guest as an all-American trailer-park teenager whose expertise at playing video games results in his being whisked to a distant galaxy to participate in an inter-galactic war. One of the first films to extensively utilize computer-generated special effects (before even the "CGI" label had been invented), with an appealing cast including Dan O'Herlihy, Catherine Mary Stewart, Barbara Bosson, and Robert Preston, essentially reprising his Music Man role in his final screen appearance as a fast-talking alien "recruiter." Although a mild theatrical success, cult status was ensured by home-video and endless cable-television showings in the 1980s. The limited-edition Blu-ray ($39.95 retail) includes audio commentaries, four-part documentary, collectible booklet and poster, and more. Rated PG. ***
MAYBE NEXT YEAR (Virgil Films/Kino Lorber): Philadelphia native Kyle Thrash makes his feature debut as producer/director of this award-winning documentary that follows Shirley Dash, Barry Vagnoli, Bryant Morland, and Jesse Callsen, a quartet of Philadelphia Eagles fans during the 2017 NFL season, which culminated with the Eagles winning their first Super Bowl (at last!), available on DVD ($19.95 retail) and Blu-ray ($29.95 retail).
MY DOG STUPID (Distrib Films/Icarus Films Home Video): Director/co-screenwriter Yvan Attal and stars in this adaptation of John Fante's novel (originally titled Mon chien Stupide) as a writer whose mid-life crisis is upended by the unexpected arrival of an enormous dog at his doorstep, with Attal's real-life wife Charlotte Gainsbourg and their son Ben Attal playing his character's wife and son. In French with English subtitles, available on DVD ($26.98 retail).
MY GERMAN FRIEND (Corinth Films): Inspired by her own experiences and observations, writer/producer/director Jeanine Meerapfel's award-winning 2012 drama (originally titled El amigo aleman), set in 1950s Buenos Aires, details the burgeoning relationship between a  Jewish girl (Celeste Cid) and a German man (Max Riemelt), the latter unaware that his parents were staunch Nazis during World War II. In German and Spanish with English subtitles, available on DVD ($24.95 retail).
MY PRINCE EDWARD (Golden Scene/Cheng Cheng Films): Writer/director Norris (Yee-Lam) Wong's award-winning debut feature is a nimble, wistful portrait of contemporary Hong Kong, with Stephy Tang (enormously appealing) as a woman whose impending marriage to long-term boyfriend Chu Park Hon is complicated by the prerequisite of having to divorce a "fake husband" (Jin Kaijie) whom she wed years before only to move off the mainland. Colorful cinematography by first-timer Ho Wai Pong and Tang's theme song are added incentives. In Cantonese with English subtitles, available on DVD ($24.95 retail), replete with bonus features. ***
"THE RETRO AFRIKA COLLECTION" (IndiePix Films): During the apartheid era in South Africa, numerous low-budget feature films were produced exclusively for black audiences, and this marks the latest volume of this ongoing series, which offers the films as originally made: The 1975 family comedy Trompie (in Afrikaans with English subtitles), an adaptation of Topsy Smith's popular series of children's books; and writer/director Bernard Buys's 1984 buddy comedy Upondo & Nkinsela (in Zulu with English subtitles), starring Ndaba Mhlongo and Masoja Mota in the title roles. Each DVD retails for $24.95.
THURSDAY  (Kino Lorber Studio Classics): Writer/producer/director Skip Woods's award-winning, R-rated 1998 debut feature is a noir-ish black comedy taking place over a single day in Los Angeles, with Thomas Jane a reformed grifter drawn back into a life of crime by former partner Aaron Eckhart unexpectedly shows up with a suitcase full of heroin. Paulina Porizkova, James Le Gros, Paula Marshall, Glenn Plummer, Michael Jeter, and Mickey Rourke round out an all-star ensemble, available on DVD ($14.95 retail) and Blu-ray ($24.95 retail), each boasting audio commentary and more.
"THE TWILIGHT ZONE": SEASON TWO (CBS Home Entertainment/Paramount Home Entertainment): Executive producer Jordan Peele hosts and narrates the latest, award-winning incarnation of Rod Serling's legendary fantasy anthology series, broadcast on CBS All Access, and boasting a star-studded line-up of guest stars including Gretchen Mol, Topher Grace, Daniel Sunjata, Morena Baccarin, Jenna Elfman, Ethan Embry, Tony Hale, Gil Bellows, Donna Dixon, Colleen Camp, George Takei, Christopher Meloni, and others, available in a three-disc DVD ($39.98 retail) that includes all 10 episodes from the 2020 season plus bonus features.
"WARNER BROS. 4K ULTRA HD COMBOS" (Warner Bros. Home Entertainment): A selection of box-office hits making their debuts in a 4K Ultra HD format (each $24.99 retail): Richard Donner's award-winning 1985 adventure The Goonies (rated PG); Tim Burton's 1988 supernatural farce Beetlejuice (rated PG), which won the Oscar for Best Makeup; Guy Ritchie's 2009 whodunit Sherlock Holmes (rated PG-13), which earned Oscar nominations for Best Original Score and Best Editing; and Ritchie's 2011 follow-up Sherlock Holmes: Game of Shadows (rated PG-13). 
(Copyright 2021, Mark Burger)