PICK OF THE WEEK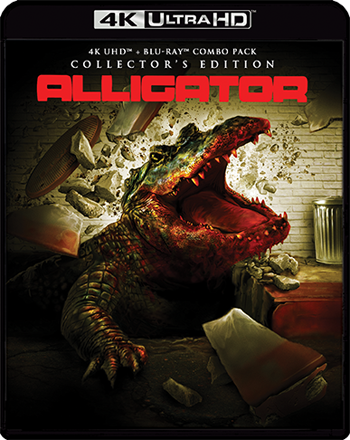 ALLIGATOR (Scream Factory/Shout! Factory): Horror and humor are in harmony in director Lewis Teague's entertaining 1980 creature feature, which remains a B-movie cult classic of the highest order.
Something very large and very hungry is chowing down on folks in an unnamed Midwestern city, the titular terror, havinbg giant-sized by feeding on animal carcasses dumped into the sewers by a corrupt chemical corporation experimenting with growth hormones.
The much-missed Robert Forster is in top form as David Madison, the quintessential Cop With A Past, who takes it upon himself to best the beast with assistance of pretty young herpetologist – and love interest – Marisa Kendall (newcomer Robin Riker). The ingratiating screenplay, co-written by John Sayles, is inspired and even witty. One of the earliest victims is a sewer worker named "Edward Norton," and the graffiti in the last scene is also a knowing nod to cinema history.
A sturdy cast of B-movie stalwarts includes Henry Silva as a pompous big-game hunter, Dean Jagger (in his final feature) as the corporate heavy, Michael V. Gazzo as the police chief, Jack Carter as the toadying mayor, Sue Lyon (in her final feature) and Angel Tompkins as TV reporters, Sydney Lassick, Perry Lang, Mike Mazurki, and Bart Braverman, very funny as an aggressive reporter. Needless to say, most aren't around at the fade-out. As for the title character, his name is "Ramon" and he's big, bad, and has lots of bite. So too does the movie.
The "collector's-edition" 4K UHD Combo ($39.98 retail) includes both the theatrical and television versions, audio commentary, retrospective interviews, teaser and trailer, and more. Rated R. *** 
ALSO AVAILABLE
"ALAN ALDA BLU-RAYS" (Kino Lorber Studio Classics): During his long stint on M*A*S*H, Alan Alda resumed his big-screen career with a pair of films, now available on Blu-ray (each $24.95 retail), each replete with audio commentaries: The award-winning, R-rated political drama The Seduction of Joe Tynan (1979), which marked Alda's screenwriting debut, with Barbara Harris, Meryl Streep, Melvyn Douglas, and Rip Torn; and the award-winning, PG-rated comedy hit The Four Seasons (1981), which Alda scripted and made his feature directorial debut, with Carol Burnett, Len Cariou, Sandy Dennis, Rita Moreno, Jack Weston, and Bess Armstrong (in her feature debut).
AMERICAN NATIVE (Indican Pictures): Filmmaker Steven Oritt's award-winning debut feature documentarty, originally produced in 2015, details the efforts of the Ramapough Tribe, a latter-day Native American tribe located in New Jersey, to be officially recognized by the Bureau of Indian Affairs. Informative and well-meaning, but this could – and likely should -- have had more urgency, but its pleas about cultural identity are timely and worthwhile. The DVD retails for $24.99. **½ 
THE ANTICHRIST (Kino Lorber Studio Classics): One of the more repulsive rip-offs of The Exorcist (1973), writer/director Alberto De Martino's 1974 shocker (originally titled L'anticristo) stars Carla Gravina as the paraplegic daughter of Italian nobleman Mel Ferrer, possessed by an ancestor burned at the stake as a witch centuries before. Less scary than stomach-churning, squandering Arthur Kennedy (always-welcome even under these circumstances), Alida Valli, Umberto Orsini, Anita Strindberg, and George Coulouris (as the exorcist) in support, while Ennio Morricone and Bruno Nicolai's bombastic score blares incessantly. At least Rome looks nice. This sat on the shelf for four years until it was dumped onto the American marketplace as The Tempter (replete with the original, discarded poster artwork for Exorcist II: The Heretic!). The special-edition DVD ($14.95 retail) and Blu-ray ($29.95 retail) include audio commentary, retrospective interviews, and more. Rated R. *½ 
CURFEW (Vinegar Syndrome): A limited-edition Blu-ray ($39.98 retail) of director Gary Winick's R-rated 1989 feature debut, starring Wendell Wellman and John Putch as serial-killer siblings who engineer a daring prison break and embark on a bloody campaign of vengeance against those who had them incarcerated. Bonus features include retrospective interviews.
CURIOSA (Film Movement): Style trumps substance in director/co-writer Lou Jeunet's 2019 debut feature, dramatizing the illicit romance between photographer and poet Pierre Louys (Niels Schneider) and his muse Marie de Heredia (Noémie Merlant) despite her marriage of convience to Louys's friend Henri de Régnier (Benjamin Lavernhe) in late 19th-century Paris. Explicit and provocative, but despite Simon Roca's lovely cinematography this doesn't connect on an emotional level, and the incongruous score by Arnaud Rebotini doesn't help matters. In French with English subtitles, available on DVD ($24.95 retail). **
DANCING PIRATE (The Film Detective/Cinedigm): Actor Lloyd Corrigan directed this 1936 romp, reportedly the first Technicolor musical, starring Charles Collins (in his feature debut) as a 19th-century Boston dance instructor abducted by pirates and spirited away to Spanish California, where he falls for the daughter (Steffi Duna) of territorial governor Frank Morgan. This earned an Oscar nomination for Best Dance Director (a category that no longer exists), available on DVD ($19.95 retail) and Blu-ray ($24.95 retail), each replete with audio commentary and retrospective featurettes. 
DOUBLE DOOR (Kino Lorber Studio Classics): The Blu-ray bow ($24.95 retail) of one of Charles Vidor's earliest directorial efforts, a 1934 adaptation of Elizabeth McFadden's loosely fact-based play, starring Mary Morris (reprising her stage role) as a monstrously manipulative New York society matron who makes life a living hell for half-brother Kent Taylor and tremulous younger sister Anne Revere (reprising her stage role in her feature debut). This creaky but enjoyable pre-Code "old dark house" mystery is a showcase for Morris (in her only feature), with Evelyn Venable (top-billed as Taylor's love interest), Colin Tapley (in his feature debut) Sir Guy Standing, and Halliwell Hobbes rounding out a tight ensemble. Bonus features include audio commentaries and trailers. **½ 
EXPRESSO BONGO (Cohen Film Collection/Kino Lorber): Producer/director Val Guest's 1959 adaptation of Wolf Mankowitz's play (co-scripted by the author) stars Laurence Harvey as an opportunistic Soho talent agent who sees amateur singer Cliff Richard (in an early lead) as his ticket to the big leagues. A competent show-biz parable that captures the sights and sounds of the era, and it's a surprise to see Harvey hoofing and singing, available on Blu-ray ($29.95 retail). **½ 
LAUGHING HEIRS (Kino Classics): Originally titled Lachende Erben), this 1933 comedy was one of the first features directed by Max Ophuls and his last before fleeing Germany, with Heinz Ruhmann as a carefree bachelor who stands to inherit his family's extensive vineyards – if he can abstain from drinking for a month. Reminiscent of Brewster's Millions, this fluffy farce passes the time easily enough. In German with English subtitles, available on Blu-ray ($29.95 retail), replete with audio commentary. **½ 
LIAR'S MOON (MVD Entertainment Group): The "MVD Rewind Collection" Blu-ray ($29.95 retail) of director/screenwriter David Fisher's 1981 feature debut, a romantic melodrama set in 1950s Texas, starring Matt Dillon (oozing charisma) as a working-class teen who falls for wealthy and sheltered Cindy Fisher, leading to unforeseen consequences. Nice period detail but rather hokey, although the cast is good: Broderick Crawford (in his final feature), Hoyt Axton, Susan Tyrrell, Christopher Connelly, Yvonne De Carlo, Margaret Blye, and Richard Moll. Bonus features include collectible mini-poster, retrospective documentary and featurette, theatrical trailer, and more. Rated PG. ** 
PARANOIAC (Scream Factory/Shout! Factory): Loosely based on Josephine Tay's novel Brat Farrar, Freddie Francis directed this 1963 Hammer Films thriller (his first for the studio), starring an appropriately tremulous Janette Scott as a young heiress whose supposedly long-dead brother (Alexander Davion) unexpectedly turns up, which sends her on a tailspin of obsession and paranoia. This typically tricky melodrama boasts a nice mood of menace and a vivid turn by Oliver Reed as Scott's unhinged brother. The "collector's-edition" Blu-ray ($34.98 retail) includes audio commentary, retrospective interviews, theatrical trailer, and more. **½ 
POWERBOMB (Indican Pictures): Zach Shildwachter and first-timer B.J. Colangelo produced, co-wrote, and co-directed this uneven black comedy starring real-life wrestler Matt Cross (in his feature debut) as a wrestler abducted and held hostage by deranged fan Wes Allen (also story writer and producer). This is Misery for the wrestling set, and the filmmakers are well-versed in the subject, but the narrative continually shifts focus and tone – although Cross acquits himself well. Aaron Sechrist adds extra nastiness as a sleazy promoter. The DVD retails for $24.99. **
EL PLANETA (Utopia Distribution/Vinegar Syndrome): Acclaimed artist Amalia Ulman makes her feature debut as writer/producer/director/star of this award-winning 2020 absurdist satire, loosely based on actual events, in which she and her real-life mother Ale Ulman (in her feature debut) play a mother/daughter con-artist duo scrambling to scam their way to affluence when they are threatened with eviction in post-crisis Spain. In Spanish with English subtitles, available on Blu-ray ($34.98 retail), boasting bonus features including collectible booklet, trailer, blooper reel, and more. 
SURF NAZIS MUST DIE! (Troma Films/MVD Entertainment Group): With a title like that, it just has to be a Troma production and, indeed it is – writer/producer/director/co-star Peter George's 1987 feature debut, a typically low-rent, energetically cheesy 1987 post-apocalyptic romp set in a future where skinhead neo-Nazis (led by newcomer Barry Brenner as "Adolf") terrorize the beaches of Southern California – until they meet their match in pistol-packing, cigar-chomping, motorcycle-riding "Mama" Washington (show-stopping Gail Neely). Not for all tastes – what Troma film is? – but devotees will relish every moment, available on Blu-ray ($19.95 retail), replete with bonus features including retrospective interviews, deleted scenes, and more. **
(Copyright 2022, Mark Burger)