PICK OF THE WEEK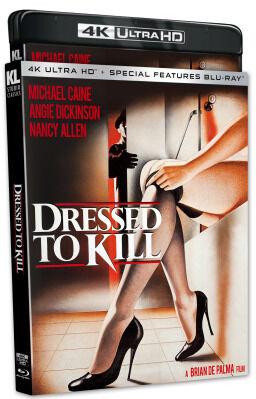 DRESSED TO KILL (Kino Lorber Studio Classics): Mind over matter. Style over substance. Murder most foul.
With his unabashedly Hitchcockian 1980 thriller Dressed to Kill, Brian De Palma not only scored both a critical and financial hit, but managed to rouse the ire of both women's groups and what would now be called LGBTQ+ groups, the resulting controversy only serving to boost its profile. Never a stranger to controversy, De Palma always seemed to revel in the attention his films were receiving, as the subsequent Scarface (1983) and Body Double (1984) indicated.
Angie Dickinson stars as the attractive, affluent, sexually unfulfilled Kate Miller, a patient of trendy Manhattan psychiatrist Dr. Robert Elliott (Michael Caine). Following an unexpected, adulterous tryst with a handsome stranger, Kate is slashed to death in an elevator by a razor-wielding killer, the only witness being elegant call girl Liz Blake (Nancy Allen). Fearing that she could be next, Liz pairs with Kate's teenaged son Peter (Keith Gordon), an electronics wiz whose expertise exceeds even that of the police, to track down the killer.
Elliott is convinced that the culprit is "Bobbi," a transvestite patient who has pilfered his straight razor, and he shares his concerns with colleague Dr. Levy (David Margulies), while gum-chewing cop Detective Marino (a hilarious Dennis Franz) does his best – and worst – to antagonize Liz. For Caine, who had endured a share of duds (The Swarm, Beyond the Poseidon Adventure, The Island), the success of Dressed to Kill restored his box-office luster. It also boosted the profile of Dickinson as an enduring sex symbol – and a talented actress – and it proved that Allen (then married to DePalma) could essentially carry a film, which she does.
Bolstered by Pino Donaggio's florid score (appropriately echoing Bernard Herrmann) and Ralf Bode's sleek cinematography, the film is perhaps the most stylish of all the "slasher" films that proliferated at that time, and it prefigures the flashy panache that would become commonplace during the MTV era. The mystery angle is perhaps the weakest touch, because the identity of the killer no surprise to anyone paying attention. But it hardly matters in the grand – and grandly entertaining -- scheme of things.
The 4K Ultra HD combo ($39.95 retail) includes audio commentary, retrospective and vintage interviews, vintage documentary, theatrical trailer, and more. Rated R. ***  
ALSO AVAILABLE
ALIENOID (Well Go USA Entertainment): Writer/director Choi Dong-hoon's science-fiction epic (originally titled Oegy+in 1bu) stars Ryu Jun-Yeol as a bumbling 14th-century magician whose quest for a mystical sword propels him into a head-spinning odyssey through time where he confronts a potential alien invasion while contending with the trappings of the contemporary world. The first in a proposed franchise, the second film is currently in post-production. In Korean with English subtitles, available on DVD ($19.99 retail) and Blu-ray ($29.98 retail), each replete with bonus features.
THE BALLAD OF THE SAD CAFÉ (Cohen Media Group/Kino Lorber): The Blu-ray bow ($29.95 retail) of actor Simon Callow's only directorial effort, a 1991 adaptation of the Carson McCullers novella and subsequent Edward Albee play, detailing the simmering tensions in a Depression-era Southern town where ex-convict Keith Carradine arrives to marry reclusive spinster Vanessa Redgrave, with Rod Steiger, Cork Hubbert, Austin Pendleton, Anne Pitoniak, and Earl Hindman in support. Well-meaning and well-mounted but talky and melodramatic. Still, it does have its admirers. Bonus features include audio commentary and trailers. Rated PG-13. **
THE BLOOD BEAST TERROR (Kino Lorber Studio Classics): The Blu-ray bow ($24.95 retail) of director Vernon Sewell's lackluster 1968 shocker (released stateside as The Vampire-Beast Craves Blood), starring Peter Cushing as a police inspector investigating a series of bizarre murders seemingly committed by a giant death's-head moth, which leads to an encounter with reclusive scientist Robert Flemyng (who replaced the late Basil Rathbone) and enigmatic daughter Wanda Ventham (Benedict Cumberbatch's real-life mother). Cushing is always worth watching, but even he considered this his worst film – and he's not far from the truth. Bonus features include audio commentary and theatrical trailer. Originally rated G (!). * 
BLUE ISLAND (dGenerate Films/Icarus Films Home Video): Writer/director Tze Woon Chan's documentary feature profiles several political activists of different ages and experiences in Hong Kong, and the circumstances leading up to their activism, as well as the consequences they've faced – as many are imprisoned and/or awaiting trial. Distracting re-enactments interrupt the film's momentum, but the final, silent scene is utterly devastating – and speaks volumes about global politics. In Cantonese and Mandarin with English subtitles, available on DVD ($29.98 retail). **½
THE COUNTERFEIT TRAITOR (Kino Lorber Studio Classics): The Blu-ray bow ($24.95 retail) of director/screenwriter George Seaton's absorbing, suspenseful 1962 adaptation of Alexander Klein's non-fiction best-seller, starring William Holden as a Swedish oil trader coerced by British Intelligence to act as a double agent during World War II. Refreshingly mature and vastly underrated, this boasts one of Holden's best performances of the 1960s and equally fine turns by Lilli Palmer (luminous and heartbreaking) as his contact-turned-lover and Hugh Griffith as the crafty British operative who "recruits" him, with Ernst Schroder, Wolfgang Preiss, Eva Dahlbeck, Werner Peters, and Klaus Kinski on hand. A first-rate espionage thriller perennially ripe for rediscovery. Bonus features include audio commentary and trailers. ***½
"CREEPSHOW": SEASON 3 (RLJE Films): Executive producer (and sometime writer/director) Greg Nicotero created this horror anthology series, aired on Shudder, based on the 1982 George A. Romero/Stephen King film inspired by classic EC Comics, featuring a star-studded cast including Mark Hamill, James Remar, Ethan Embry, Danielle Harris, Ron Livingston, Jonathan Schaech, Michael Rooker and many others. All six episodes from the 2021 season – plus bonus features – are available on DVD and Blu-ray (each $34.97 retail).
 "A DISCOVERY OF WITCHES": SEASON 3 (RLJE Films): Teresa Palmer returns as Diana Bishop, an academic and witch attempting to learn the secrets of her craft and to seek out the Book of Life with the assistance of fellow academic and vampire Matthew Clairmont (Matthew Goode) in Elizabethan England, with series regulars Alex Kingston, Trevor Eve, Lindsay Duncan, Owen Teale, and Aiysha Hart on hand for all seven episodes from the 2022 (and final) season of the AMC series based on the best-selling "All Souls" trilogy by executive producer Deborah Harkness, available on DVD and Blu-ray (each $34.99 retail), each boasting bonus features. RLJE Films has also released the self-explanatory "A Discovery of Witches: The Complete Trilogy," which includes all 25 episodes – plus bonus features – from the entire 2018-'22 series run, available on DVD and Blu-ray (each $79.99 retail). 
HOLD ME TIGHT (Kino Lorber): Actor-turned-screenwriter/director Mathieu Amalric's drama (originally titled Serre moi fort), based on Claudine Galea's play Je reviens de loin) stars Vicki Krieps as a woman who inexplicably walks out on her husband and children, and how the resulting fall-out affects them. In French with English subtitles, available on DVD ($19.95 retail) and Blu-ray ($29.95 retail), each boasting audio commentary, Q&A and interview session, theatrical trailer, and more.
A KNIFE IN THE HEAD (Cohen Media Group/Kino Lorber): Bruno Ganz headlines director Reinhard Hauff's award-winning 1978 political thriller (originally titled Messer im Kopf) as a scientist who survives being shot in the head during a police raid, only to awaken from his coma to a firestorm of controversy with the police claiming he was engaged in terrorist activities and the political revolutionaries celebrating him as an innocent victim of police brutality. Still relevant and resonant, with Ganz in top form as the conflicted, contemplative protagonist and solid support from Hans Christian Blech and Angela Winkler. In German with English subtitles, available on Blu-ray ($29.95 retail), featuring retrospective interviews. ***
THE LAST ROMANTIC LOVER (Cult Epics/MVD Entertainment Group): Just Jaeckin (who died in September) directed and scripted this R-rated 1978 romantic comedy/drama (originally titled Le dernier amant romantique) starring Dayle Haddon as a glamorous magazine editor who arranges a contest in which the winner will spend 10 days (and nights) with her, and Gerard Ismael (billed as "Gerald Tybalt" in his feature debut) as a struggling circus performer who wins. In English and French with English subtitles, available on DVD ($29.95 retail) and Blu-ray ($34.95 retail), each replete with bonus features including audio commentary, retrospective interviews, promotional gallery, and more.
LOVE, CHARLIE: THE RISE AND FALL OF CHARLIE TROTTER (Greenwich Entertainment/Kino Lorber): The title tells all in writer/director Rebecca Halpern's feature documentary debut tracing the life and career of esteemed Chicago chef and restaurateur Charlie Trotter (1959-2013), whose undeniable culinary expertise was perennially compromised by his fiery, obsessive personality, featuring interviews with friends, family members, and such fellow chefs as Emeril Lagasse and Wolfgang Puck, to name a few. A penetrating, thorough study of a complicated artist, available on DVD ($19.95 retail). ***
LOVING HIGHSMITH (Zeitgeist Films/Kino Lorber): Director/screenwriter Eva Vitija's illuminating documentary feature examines the life and sexuality of renowned novelist Patricia Highsmith (1921-'95) and how that influenced her work, featuring interviews with family members and former lovers, clips from films based on Highsmith's works (Strangers on a Train, The Talented Mr. Ripley, Carol), and nicely augmented by Noel Akchoté's score and selections from Highsmith's diaries read by Gwendoline Christie. The DVD ($19.95 retail) includes bonus features. ***
"WE BABY BEARS: THE MAGICAL BOX" (Cartoon Network/Warner Bros. Home Entertainment): Spun off from Cartoon Network's popular animated comedy series We Bare Bears, this DVD ($19.98 retail) includes 20 episodes from the inaugural 2022 season of the Cartoon Network series detailing the origins of the lovably bumbling siblings Grizz (voiced by Connor Andrade), Panda (voiced by Amari McCoy), and Ice Bear (voiced by Max Mitchell) as they seek a safe place to call home, with Demetri Martin serving as narrator.
(Copyright 2022, Mark Burger)