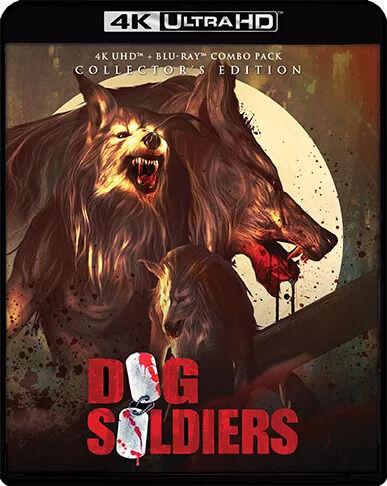 PICKS OF THE WEEK
DOG SOLDIERS (Scream Factory/Shout! Factory): Writer/editor Neil Marshall's award-winning 2002 feature directorial debut was an immediate cult classic, and put a fierce, fresh spin on the werewolf legend in a contemporary context.
Luxembourg and Norway pass remarkably well for the Scottish Highlands, the setting of this tantalizing tale, in which a squadron of soldiers is deposited to engage in a training mission for the Special Air Service (SAS), Britain's legendary crack commando unit. Their training hasn't quite prepared them for what they're about to face – rampaging lycanthropes that don't require a full moon to transform.
With confident enthusiasm, Marshall sets up the narrative in shrewd fashion, and displays a knack for orchestrating mayhem with snatches of black comedy, intriguing twists and turns, and splashes of gore. The squeamish, understandably, are forewarned, but fans will devour it gleefully.
A tight ensemble cast includes Sean Pertwee, Liam Cunningham, Kevin McKidd, Thomas Lockyer, and the feature debuts of Emma Cleasby, Darren Morfitt, and Chris Robson. Despite the film's acclaim and success, proposed sequels never materialized.
 The 4K Ultra HD combo ($36.98 retail) includes multiple audio commentaries, retrospective interviews, vintage featurette, still galleries, and more. Rated R. ***
ALSO AVAILABLE
THE BAD GUYS (DreamWorks/Universal Pictures Home Entertainment): Pierre Perfiel makes his feature directorial debut with this light-hearted, elaborately produced adaptation of Aaron Blabey's best-selling series of children's books, detailing the misadventures of the titular crew of miscreants (voiced by Sam Rockwell, Marc Maron, Awkwafina, Craig Robinson, and Anthony Ramos) forced to undergo "rehabilitation" at the hands of a pompous scientist (voiced by Richard Ayoade) who has other, nefarious plans in mind for them. A few jokes will appeal to grown-ups, but this is primarily directed toward kids – and none the worse as a result, available on DVD ($17.96 retail), Blu-ray ($22.96 retail), and 4K Ultra HD combo ($44.98 retail), each replete with bonus features including audio commentary, behind-the-scenes featurettes, and more. Rated PG. *** 
BELLE (GKIDS/Shout! Factory): Writer/director Mamoru Hosoda's award-winning, PG-rated animated feature (originally titled Ryu to sobakasu no hime) detailing the fantastic misadventures of a shy teenager who enters a virtual realm and adopts the on-line persona of the titular "Belle," a gorgeous international superstar, available in a DVD/Blu-ray combo ($26.98 retail) and a collector's-edition 4K Ultra HD combo ($64.99 retail), each replete with bonus features including original Japanese (with English subtitles) and English-dubbed audio options, behind-the-scenes featurettes and interviews, trailers, and more. 
"BLUE BLOODS": THE TWELFTH SEASON (CBS Home Entertainment/Paramount Home Entertainment): Standing tall for law and order in New York City, the Reagan family's back in action in all 20 episodes from the 2021-'22 season of the award-winning CBS crime series starring Tom Selleck, Bridget Moynihan, Donnie Wahlberg, Will Estes and Len Cariou, with guest appearances by Jimmy Buffett and Ali Stroker, available in a five-DVD collection ($42.99 retail) – replete with bonus features including behind-the-scenes featurettes, deleted scenes, and gag reel. 
COMING APART (Kino Classics): The Blu-ray bow ($29.95 retail) of writer/director Milton Moses Ginsberg's 1969 debut feature (originally rated X), starring Rip Torn is a psychiatrist (!) who installs hidden surveillance cameras in his bachelor pad to satisfy his voyeuristic tendencies, with Viveca Lindfors and Sally Kirkland among the objects of his obsessive attention. Bonus features include retrospective interviews, Ginsberg's short films, theatrical trailer, and more.
THE CRIMINAL LIFE OF ARCHIBALDO DE LA CRUZ (VCI Entertainment/MVD Entertainment Group): The Blu-ray bow ($29.95 retail) of Luis Bunuel's award-winning 1955 adaptation of Rodolfo Usigli's novel (originally titled Ensayo De Un Crimen) stars Ernesto Alonso in the title role of a wealthy, unhinged wastrel determined to pull off the perfect crime, only to see his efforts repeatedly go awry. In Spanish with English subtitles, bonus features include a video essay celebrating the film.
"FILM NOIR: THE DARK SIDE OF VIII" (Kino Lorber Studio Classics): The latest Blu-ray triple feature ($49.95 retail) of vintage film noir thrillers: Burgess Meredith and Claire Trevor headline Street of Chance (1942), based on a Cornell Woolrich story; Charles Korvin plays the title role in Enter Arsine Lupin (1944), based on the character created by Maurice Leblanc; and Korvin joins Merle Oberon, George Brent and Paul Lukas in Temptation (1946), based on the novel Bella Donna by Robert Hichens. Bonus features include audio commentaries and theatrical trailers.
LOVECUT (Omnibus Entertainment): In their award-winning debut feature, writer Iliana Estanol and writer/producer Johanna Lietha co-directed this credible but fragmented drama focusing on three aimless couples in modern-day Vienna as they indulge in thievery, casual sex, and hedonism in an effort to combat boredom and their own immaturity and inadequacies. Flaws and all, it's worth a look. In German with English subtitles, available on DVD ($24.95 retail). **½
MYSTERIOUS ISLAND OF BEAUTIFUL WOMEN (Kino Lorber Studio Classics): The title tells all in Joseph Pevney's directorial swan song, a 1979 CBS-TV movie (released theatrically overseas as Island of Sister Theresa) in which millionaire Peter Lawford's private jet crash-lands on a remote island populated entirely by females battling a hostile tribe known as "the Headchoppers." Total camp nonsense, with an embarrassed-looking cast including Clint Walker, Steven Keats, Jaime Lyn Bauer, Jayne Kennedy, Deborah Shelton, Sandy McPeak, Michael McGreevey, and Rosalind Chao (in her TV-movie debut), available on DVD ($14.95 retail) and Blu-ray ($24.95 retail), each boasting audio commentary and trailers. *
"NCIS: LOS ANGELES" – THE THIRTEENRTH SEASON (CBS Home Entertainment/Paramount Home Entertainment): Chris O'Donnell and LL Cool J are back on the case in the City of Angels, in all 22 episodes from the 2021-'22 season of the award-winning CBS crime series (the first NCIS spin-off), with Eric Christian Olsen, Daniela Ruah, Medalion Rahimi, and Gerald McRaney rounding out the regular cast, available in a five-disc DVD collection ($39.99 retail) including such bonus features as behind-the-scenes featurettes, deleted and extended scenes, and gag reel.
OLGA (Kino Lorber): Writer/director Elie Grappe's award-winning feature debut stars Anastasiia Budiashkina (in her feature debut) in the title role, an exiled Ukrainian gymnast and Olympic hopeful living in exile in Switzerland whose family is caught up in the Maidan Revolution in her homeland. Real-life gymnast Budiashkina had to flee her native Ukraine during the recent turmoil there, lending this even more relevance and credibility. In French, Russian and Ukrainian with English subtitles, available on Blu-ray ($29.95 retail).
SAMIRA'S DREAM (IndiePix Films): Filmmaker Nino Tropiano spent over a decade filming this award-winning documentary feature in which he trained his cameras on Samira, a modern-day Zanzibari woman, following her academic ambitions to become a teacher and other events that occurred in her life during that period of time. Both a compassionate, in-depth character study and a persuasive depiction of contemporary life in Africa. In English and Swahili with English subtitles, available on DVD ($24.95 retail), replete with audio commentary and deleted scenes. ***
SHRIEK OF THE MUTILATED (Vinegar Syndrome): Mere words can hardly describe this ultra-cheap, ultra-sleazy 1974 shocker edited and directed by Michael Findlay, starring Alan Brock (in his only feature) as a college professor who investigates the legend of the Abominable Snowman on a weekend expedition with his graduate students, only to see it turn into a gruesome nightmare for all concerned – including the viewer. Nevertheless, this played drive-ins and grindhouses for years after its initial release and boasts a fervent cult following. The limited-edition (!) Blu-ray ($42.98 retail) includes audio commentary, retrospective interviews, and more. Rated R. *
SUMMER HEAT (Kino Lorber Studio Classics): There's trouble down on the farm when lonely Lori Singer embarks on a torrid affair with field hand Bruce Abbott, much to the mounting consternation of her husband (Anthony Edwards), in screenwriter/director Michie Gleason's dour, dullish 1987 adaptation of a Louise Shivers novel, set in North Carolina during the Great Depression and featuring Clu Gulager (who died earlier this month), Noble Willingham, and Kathy Bates in support, available on Blu-ray ($24.95 retail). Rated R. *½
THE TENTH MAN (Kino Lorber Studio Classics): The Blu-ray bow ($24.95 retail) of director Jack Gold's 1988 adaptation of Graham Greene's novel, originally broadcast by CBS as a "Hallmark Hall of Fame" presentation, starring Anthony Hopkins as a survivor of World War II who returns to Paris to make amends for the prisoner who traded identities with him in captivity, only to fall in love with the man's sister (Kristin Scott Thomas) and encounter a mysterious stranger (Derek Jacobi) who knows his secret. Jacobi copped the Emmy Award for Outstanding Supporting Actor in a Mini-Series or Special.
TERROR CIRCUS (Code Red/Kino Lorber): The Blu-ray bow ($29.99 retail) of the tacky, trashy, low-budget 1973 psychological shocker (also released as Nightmare Circus and Barn of the Naked Dead) in which three showgirls (Sherry Alberoni, Gyl Roland, and Manuella Thiess in her final feature to date) headed for Las Vegas are waylaid by sadistic, irradiated rapist Andrew Prine (who later claimed this was the one film he regretted making). This was director Alan Rudolph's feature debut, although he denies it … and who can blame him? Bonus features include retrospective documentary. Rated R. ½
THEY CALL ME MISTER TIBBS!/THE ORGANIZATION (Kino Lorber Studio Classics): Sidney Poitier reprised his iconic role as police inspector Virgil Tibbs in a pair of big-screen sequels to the groundbreaking In the Heat of the Night (1967), both set in San Francisco and both featuring Barbara McNair as Mrs. Tibbs: 1970's They Call Me Mister Tibbs! (rated PG) co-starring Martin Landau, Anthony Zerbe, Edward Asner, and Jeff Corey; and 1971's The Organization (rated PG) co-starring Gerald S. O'Loughlin, Sheree North, Ron O'Neal, and Raul Julia, available on Blu-ray ($29.95 retail).
(Copyright 2022, Mark Burger)