PICK OF THE WEEK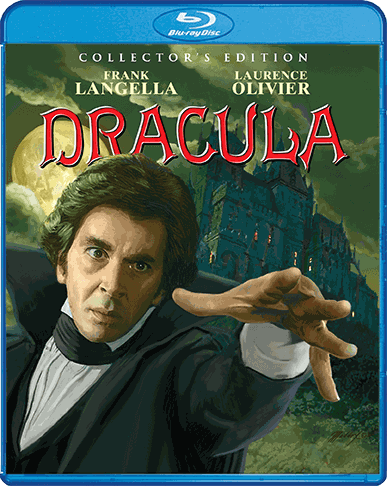 DRACULA (Scream Factory/Shout! Factory): Of the many screen incarnations of Bram Stoker's undead count, few were more charismatic and magnetic as Frank Langella, reprising his Tony-nominated triumph in this 1979 version of the oft-told tale.
Having just penned the 1978 Invasion of the Body Snatchers, screenwriter W.D. Richter borrows from Stoker's novel and the Hamilton Deane/John Balderston play, while adding some new wrinkles. With a florid score by John Williams, atmospheric cinematography by Gilbert Taylor (The Omen, Star Wars), and excellent special effects, this Dracula is a class act, combining big-budget elegance with gruesome thrills. It's hokey at times, but clearly made with affection by director John Badham.
Having relocated to England – in dusty, musty Carfax Abbey – the vampire Dracula sets his sights (and fangs), first on delicate Mina (Jan Francis) and then assertive Lucy (Kate Nelligan), neither of whom can resist him. This doesn't sit well with Lucy's fiancee, the increasingly envious solicitor Jonathan Harker (Trevor Eve, in a solid screen debut).
Of course, sooner or later Prof. Van Helsing – here Mina's father – must make his entrance, and here the filmmakers lucked out, casting a frail but game Laurence Olivier. Some said he was slumming, others that he hammed it up. Maybe so, but he brings an inherent gravitas to the most gimmicky of roles. Besides, compared to Donald Pleasence's outrageous dithering as Lucy's father Dr. Seward, Lord Olivier is positively subtle in comparison!
The "collector's-edition" two-disc Blu-ray ($34.93 retail) includes both original theatrical and color-desaturated versions of the film, audio commentaries, retrospective interviews,theatrical trailer, and more. Rated R. ***
ALSO AVAILABLE
BACKLASH (Kino Lorber Studio Classics): The Blu-ray bow ($24.95 retail) of director John Sturges's 1956 adaptation of Frank Gruber's novel, starring steely Richard Widmark as a cowpoke bent on avenging his father's death and Donna Reed as a frontier widow who catches his eye, with Western stalwarts William Campbell, John McIntire, Barton MacLane, Harry Morgan, Robert J. Wilke, and Roy Roberts in support. Competently made, with interesting psychological tidbits, but mostly routine. Bonus features include audio commentary and theatrical trailer. **½ 
THE BALCONY (Kino Lorber Studio Classics): Producer/director Joseph Strick's 1964 adaptation of Jean Genet's 1957 political satire (scripted by the author and Ben Maddow) stars the inimitable Shelley Winters as the madam of the titular establishment, an elegant brothel where customers' every whims are satisfied – oblivious to the revolution raging outside. Once considered scandalous, now it just seems a well-intentioned, highly theatrical misfire, although the star-studded "Actor's Studio" cast certainly makes it a curio: Peter Falk, Lee Grant, Leonard Nimoy, Ruby Dee, Jeff Corey, Peter Brocco, Joyce Jameson, and Kent Smith. The music is by Stravinsky, and George Folsey Sr.'s cinematography (black-and-white) earned an Oscar nomination, available on DVD ($19.95 retail) and Blu-ray ($24.95 retail), each boasting bonus features. **½ 
"THE BLACKLIST": SEASON 7 (Sony Pictures Home Entertainment): Intrigue and suspense simmer in all 19 episodes from the 2019-'20 season of the award-winning NBC series created by executive producer Jon Bokenkamp, with James Spader (also an executive producer) returning as the enigmatic and manipulative criminal mastermind Raymond "Red" Reddington, with Megan Boone, Diego Klattenhoff, Amir Arison, Laura Sohn, and Harry Lennix in support. Both the DVD ($45.99 retail) and Blu-ray ($55.99 retail) boast bonus features.
BLOODSTONE (Arrow Video/MVD Entertainment Group): Dwight H. Little directed this 1988 PG-13-rated adventure starring Brett Stimely (in his feature debut) and Anna Nicholas as newlyweds whose honeymoon in India goes awry when they come into possession of a priceless ruby coveted by international fence Christopher Neame and his minions, with Indian superstar Rajinikanth as a two-fisted taxi driver who aids their plight. The "collector's-edition" Blu-ray ($39.95 retail) includes audio commentary, video essay, trailers, and more.
CANNIBAL CORPSE KILLERS (Indican Pictures): Joaquin Montalvan wrote, produced, edited, and directed this post-apocalyptic/sci-fi blow-out – seasoned with spaghetti-Western trappings – with Dennis Haggard (also the film's fight coordinator) leading a ragged band of survivors to the mysterious town of Jawbone. Plenty of gory action, but this is another genre film that pushes too stridently to achieve cult status, and instead ends up a wearisome exercise in repetition, available on DVD ($26.97 retail), replete with bonus features. *½ 
FIRST SNOW (MVD Entertainment Group): Writer/director Mark Fergus's 2006 debut feature is a noir-ish, existential thriller starring Guy Pearce as a salesman obsessed with the dire prediction of fortune teller J.K. Simmons (!) that he has no future beyond the first snow of the season. Atmospheric, but muddled and murky, despite a hard-working cast including Piper Perabo, Shea Whigham, Jackie Burroughs, Adam Scott, and reliable William Fichtner. Both the "MVD Marquee" DVD ($14.95 retail) and Blu-ray ($19.95 retail) include featurettes, interviews, and theatrical trailer. Rated R. **
"THE FLASH: THE COMPLETE SIXTH SEASON" (Warner Bros. Home Entertainment): Grant Gustin returns as scientist Barry Allen and his fleet-footed superhero alter-ego in all 19 episodes from the 2019-'20 season of the award-winning, top-rated CW fantasy series based on the DC Comics character, with Candice Patton, Danielle Panabaker, Jesse L. Martin, Carlos Valdes, Hartley Sawyer, Danielle Nicolet, Keiynan Lonsdale, Efrat Dor, and Tom Cavanagh rounding out the regular cast. Both the DVD ($39.99 retail) and Blu-ray ($44.98 retail) boast special features for the "Flash" faithful.
GOLD DIGGER (Acorn TV): Executive producer Marnie Dickens wrote and created this six-part 2019 mini-series, originally broadcast by BBC One, starring Julia Ormond as a recent divorcee swept off her feet by a much younger man (Ben Barnes), which arouses the concern and suspicion of her ex-husband (Alex Jennings) and adult children (Jemima Rooper, Sebastian Armesto, and Archie Renaux), available on DVD ($39.99 retail), replete with behind-the-scenes featurette.
GORDON LIGHTFOOT: IF YOU COULD READ MY MIND (Greenwich Entertainment/Kino Lorber): Martha Kehoe and Joan Tosoni wrote, produced, and directed this well-paced, self-explanatory feature documentary tracing the life and career of singer/songwriter Gordon Lightfoot, five-time Grammy nominee, international superstar, and Canadian icon.  Respectful and even reverent at times, but never fawning -- and it never shies away from the turbulence in Lightfoot's life. A must for music mavens, available on DVD ($19.95 retail). ***
THE HIGH NOTE (Universal Pictures Home Entertainment): Dakota Johnson and Tracee Ellis Ross topline this PG-13-rated musical comedy/drama set against the backdrop of the contemporary Los Angeles music scene, with Johnson the devoted personal assistant determined to revive the career of fading superstar Ellis, with Ice Cube, Bill Pullman, Eddie Izzard, Kelvin Harrison Jr., Zoe Chao, and an unbilled Melanie Griffith (Johnson's real-life mother) in support,available on DVD ($22.98 retail) and Blu-ray ($34.98 retail), each replete with bonus features.
THE LAWYER (TLA Releasing): Romas Zabarauskas wrote, produced, and directed this drama (originally titled Advokatas) starring Eimutis Kvosciauskas as the title character, a successful corporate attorney intrigued by Dogac Yildiz, a Syrian refugee and on-line sex worker whom he impetuously decides to visit in Belgrade, leading to unforeseen complications and consequences. In English and Lithuanian with English subtitles, available on DVD ($24.99 retail).
RIDE YOUR WAVE (GKIDS/Shout! Factory): Masaaki Yuasa directed this award-winning animé (originally titled Kimi to, nami ni noretara) detailing the passionate romance between a young surfer and the firefighter who saves her life, which extends beyond the boundaries of life and death following a tragedy. Both the DVD ($16.97 retail) and DVD/Blu-ray combo ($26.99 retail) boast bonus features including the original Japanese (with English subtitles) and English-dubbed audio options, collectible booklet, animated storyboards, theatrical trailers, and more.
SAMURAI MARATHON (Well Go USA Entertainment): British-born screenwriter/director Bernard Rose pays homage to his love of martial-arts action with this adaptation of Akhiro Dobashi's novel (originally titled Samurai marason), set in 19th-century Japan, with Takeru Satoh as a young ninja who participates in the grueling titular competition. In English and Japanese with English subtitles, available on DVD ($24.98 retail) and Blu-ray ($29.98 retail).
"S.W.A.T.": SEASON 3 (Sony Pictures Home Entertainment): The iconic '70s police action series has been updated to the 21st century in this Emmy-nominated CBS reboot, with Shemar Moore (also a producer) leading a crack team of Los Angeles cops as they navigate the mean streets of Los Angeles, trying to stop crime and keep the peace – both a challenge in these troubled times, with Alex Russell, Lina Esco, Kenny Johnson, David Lim, Patrick St. Esprit, Amy Farrington, and Jay Harrington rounding out the regular cast. All 21 episodes from the 2019-'20 season (plus bonus features) are available on DVD ($55.98 retail).
THOSE WHO DESERVE TO DIE (Kino Lorber): Bret Wood wrote, edited, and directed this contemporary shocker following demented war veteran Joe Sykes as he embarks on a bloody campaign to avenge the death of his mother and younger sister (newcomer Alice Lewis), whose ghostly apparition continues to haunt him, available on DVD ($19.95 retail) and Blu-ray ($29.95 retail), each boasting bonus features.
TONI (The Criterion Collection): Based on a true story, Jean Renoir's 1934 romantic drama stars Charles Blavette in the title role, an Italian migrant worker in the French Provence who forsakes his lover (Jenny Helia) for another woman (Celia Montalvan) already engaged to be married, which causes heartbreak for all concerned. Not in the same league as Renoir's best but unmistakably bearing the imprint of a master filmmaker. In French with English subtitles, both the DVD ($29.95 retail) and Blu-ray ($39.95 retail) boast bonus features including audio commentary, video essay, and more. ***
(Copyright 2020, Mark Burger)