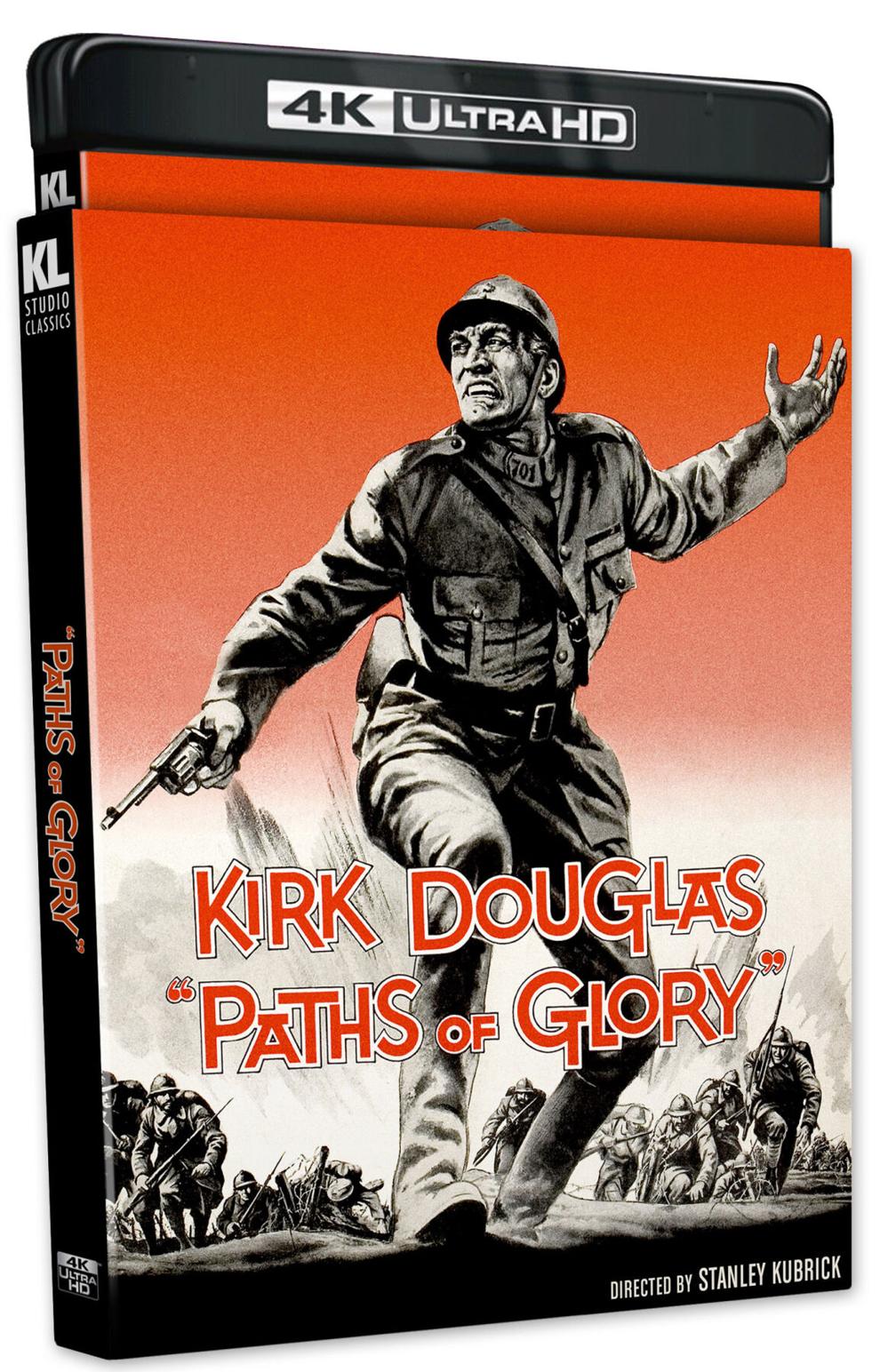 PICK OF THE WEEK
PATHS OF GLORY (Kino Lorber Studio Classics): This superb 1957 anti-war drama firmly established Stanley Kubrick among the front rank of filmmakers – a position he essentially held for the rest of his life -- and remains one of the best (and shortest!) films he ever made.
Adapted from Humphrey Cobb's fact-based novel by no less a triumvirate than Kubrick, Calder Willingham and Jim Thompson, the setting is France during World War I, the film stars Kirk Douglas as Col. Dax, the commanding officer of a platoon ordered to undertake a suicide mission against the Germans. The result is a slaughter, and Dax's men refuse to continue. Col. Mireau (George Macready), who ordered the mission, is determined to court-martial 100 soldiers, yet only three – Cpl. Paris (Ralph Meeker), Pvt. Ferol (Timothy Carey), and Pvt. Arnaud (Joe Turkel, who died in June) – are tried.
The trial, not surprisingly, is a sham, designed to deflect the blame from Mireau, and Dax – who represents the defendants – is utterly outraged. Not that it matters. It was always fun to watch Kirk Douglas in hair-trigger mode, and he had plenty of opportunity to do so here, as he castigates his superiors for their corruption and cowardice allowing three innocent men to be executed.
The parallels to the Hollywood Blacklist (at the time) and corruption (in general) remain timely and all-too-believable, and Kubrick's resolutely unsentimental approach to the story lends it a cold-blooded but compelling impact. The cast, which also includes Adolphe Menjou (himself an outspoken supporter of the Blacklist), Richard Anderson, Wayne Morris, Emile Meyer and Bert Freed, could hardly be better. Paths of Glory is essentially a perfect movie, and has lost none of its power over the years.
The 4K Ultra HD combo ($39.95 retail) includes audio commentary and theatrical trailer. ****
ALSO AVAILABLE
ALI & AVA (Greenwich Entertainment/Kino Lorber): Writer/director Clio Barnard's award-winning drama focuses on the unlikely relationship that develops between its titular characters, an unhappily married Pakistani immigrant (Adeel Akhtar) and a recently widowed tutor (Claire Rushbook), which is complicated by the biases of those around them. Simple yet sincere, with the two leads in terrific form, and a fine depiction of the working-class milieu in contemporary England, available on DVD ($19.95 retail). ***
BABY ASSASSINS (Well Go USA Entertainment): Yugo Sakamoto wrote, directed, and edited this award-winning action extravaganza (originally titled Beibi warukyure) stars Akari Takaishi and Saori Izawa as the title characters, a pair of highly skilled teen-aged assassins and roommates whose skills are put to the test when they clash with the Japanese Yakuza and spark an all-out gang war. In Japanese with English subtitles, available on DVD ($19.99 retail) and Blu-ray ($29.98 retail).
CANDYMAN (Scream Factory/Shout! Factory): Director Bernard Rose's award-winning 1992 adaptation of executive producer Clive Barker's short story The Forbidden stars Virginia Madsen as a graduate student investigating urban legends who unwittingly conjures up the title character (an iconic turn by Tony Todd), a murdered 19th-century slave who exacts bloody retribution. The urban setting, exemplified by Chicago's Cabrini Green apartments, meshes well with the story's darker historical aspects, but despite a superb Philip Glass score and some terrific jolts this continually lapses back into exploitation territory. Nevertheless, it became a cult classic, spawned a franchise, and offers a solid cast including Xander Berkeley (as Madsen's unfaithful, disbelieving husband), Vanessa A. Williams, Ted Raimi, Rose himself, and Kasi Lemmons (a real scene-stealer as Madsen's predictably ill-fated best friend), available in a 4K Ultra HD combo ($39.98 retail) boasting such bonus features as the original unrated director's cut and R-rated theatrical version, multiple audio commentaries, retrospective interviews, theatrical trailer, and more. **½
"HARRY WILD": SERIES 1 (Acorn/RLJ Entertainment): Jane Seymour (also a co-executive producer) essays the title role of retired literature professor Harriet "Harry" Wild, whose restlessness manifests itself when she begins to assist her policeman son Charlie (Kevin Ryan) with his investigations – whether he likes it or not – in all eight episodes from the inaugural 2022 season of the light-hearted mystery series created by executive producer David Logan, with Rohan Nedd, Amy Huberman, Stuart Graham, and Paul Tylak rounding out the regular cast, available in a three-DVD collection ($49.99 retail), replete with bonus features.
KILL A DRAGON (Kino Lorber Studio Classics): Taking its "inspiration" from Kurosawa's Seven Samurai (1954), this slick but predictable 1967 action opus (originally titled Nitro) stars Jack Palance as a mercenary hired by Chinese villagers to rid them of sadistic smuggler Fernando Lamas and his minions, with Aldo Ray, Alizia Gur, Don Knight (in his feature debut), and Kam Tong (in his final feature) caught in the crossfire, available on Blu-ray ($24.95 retail). *½
LITTLE MAN, WHAT NOW? (Kino Lorber Studio Classics): The Blu-ray bow ($24.95 retail) of director Frank Borzage's 1934 adaptation of Hans Fallada's novel Kleiner Mann – was nun? with Margaret Sullavan and Douglass Montgomery as an impoverished couple who move to Berlin to seek their fortune, only to encounter the Third Reich in its inexorable rise to power. Lots of familiar folk on hand: Alan Hale, Mae Marsh, George Meeker, Fred Kohler, Paul Fix, Alan Mowbray, Frank Reicher, and Hedda Hopper. Bonus features include audio commentary and trailers.
MURDER AT YELLOWSTONE CITY (RLJE Films): Producer/director Robert Gray's well-made but ponderous Western whodunit details the murder of prospector Zach McGowan in the titular town, and how it affects the local population. Too much talk, not enough action. Gabriel Byrne plays the local lawman, executive producer Thomas Jane the local minister, and Isaiah Mustafa (very good) as the prime suspect, with Richard Dreyfuss (also an executive producer), Anna Camp, Aimee Garcia, Nat Wolff, Lew Temple, John Ales, and Isabella Ruby (in her feature debut) on hand, available on DVD ($29.96 retail) and Blu-ray ($27.97 retail), each replete with bonus features including audio commentary, deleted scenes, and more. **
SNIPER: ROGUE MISSION (Sony Pictures Home Entertainment): Oliver Thompson, who wrote and co-produced 2020's Sniper: Assassin's End, wrote and directed the latest, R-rated installment of the long-running action franchise, with Chad Michael Collins encoring as a highly skilled CIA sniper who goes rogue to demolish a sex-trafficking ring aided by Ryan Robbins and Sayaka Akimoto (also returning from Assassin's End, with Josh Brener, Brendan Sexton III, and Dennis Haysbert caught in the crossfire, available on DVD ($19.99 retail) and Blu-ray ($25.99 retail).
TERROR OUT OF THE SKY (Kino Lorber Studio Classics): With Irwin Allen's big-budget The Swarm poised to hit theaters (where it promptly bombed), Lee H. Katzin directed this watchable if predictable 1978 CBS-TV sequel to the 1976 NBC-TV movie The Savage Bees (one of the better killer-bee movies), with Tovah Feldshuh (replacing Gretchen Corbett from the earlier film) as a heroic scientist determined to vanquish a swarm of killer bees, backed by a star-studded cast including Efrem Zimbalist Jr., Dan Haggerty, Richard Herd, Lonny Chapman, Steve Franken, Philip Baker Hall, and Charles Hallahan (in his TV-movie debut), available on Blu-ray ($24.95 retail), replete with audio commentary and trailers. **
TEY (Kino Lorber): Alain Gomis scripted and directed this award-winning 2012 drama (originally titled Aujourd' hui and also released as Today) is a superb showcase for leading man Saul Williams, in a soulful turn as a resident of modern-day Dakar who awakens one day knowing it will be his last day alive, then embarks on a journey of self-discovery as he is celebrated by the community and attempts to atone for his past misdeeds. A colorful, occasionally satirical examination of Senegalese customs and culture, as well as a successful character study. In French and Wolof with English subtitles, available on DVD ($19.95 retail). ***
THEY WENT THAT-A-WAY AND THAT-A-WAY (Kino Lorber Studio Classics): Tim Conway scripted and stars in this flimsy 1978 farce in which he and former kiddie host Chuck McCann play bumbling cops working undercover in a maximum-security prison – with the expected slapstick results. Such familiar folk as Dub Taylor, Richard Kiel, Reni Santoni, Grace Zabriskie, Joe Dorsey, Hank Worden, Lenny Montana, and Dukes of Hazzard veterans Sonny Shroyer and Ben Jones join in the silly shenanigans, available on Blu-ray ($24.95 retail). Rated PG. *½
WHEN TOMORROW COMES (Kino Lorber Studio Classics): Hot off Love Affair (1939), Irene Dunne and Charles Boyer were immediately reteamed in director John M. Stahl's 1939 adaptation of James M. Cain's A Modern Cinderella, detailing the tentative relationship between concert pianist Boyer and middle-class waitress Dunne, who is unaware that he is already married (to Barbara O'Neil). Cain was so incensed by the film that he instituted legal action against Universal Pictures for copyright infringement, but it did win the Academy Award for Best Sound Recording. The Blu-ray ($24.95 retail) includes audio commentary and trailers.
WHITE ELEPHANT (RLJE Films): Writer/director Jesse V. Johnson's competent but routine shoot-'em-up affords reliable Michael Rooker a rare big-screen lead as a disillusioned mob enforcer who turns against his boss (Bruce Willis) when he decides to help endangered detective Olga Kurylenko. John Malkovich picks up an easy check as a corrupt attorney, Kurylenko manages to overcome the limitations of her stock role, Willis (in one of his last films before his self-imposed retirement) is more engaged than he has been in other recent B movies, and for sure the film doesn't skimp on violence, available on DVD ($29.96 retail) and Blu-ray ($29.97 retail). ** 
(Copyright 2022, Mark Burger)