PICK OF THE WEEK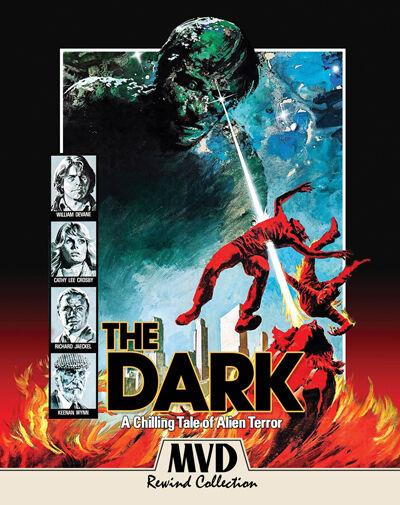 THE DARK (Code Red/MVD Entertainment Group): Certainly one of the oddest shockers of its day, 1979's The Dark commenced production with director Tobe Hooper at the helm. Days later, Hooper was dismissed and long-time stunt coordinator/sometime-director John "Bud" Cardos took up the reins … but that's just the beginning of our story.
Los Angeles is gripped by fear when a mysterious killer – dubbed "The Mangler" – goes on a rampage. William Devane plays an ex-con-turned-best-selling author whose daughter is among the dead. He teams with ambitious TV reporter Cathy Lee Crosby and tangles with homicide cop and old nemesis Richard Jaeckel, as he attempts to track the fiend down. Easier said than done.
In addition to Devane (who adds class), Crosby (who adds glamor and pluck), and Jaeckel (at his pugnacious best), the film is bolstered by a familiar cast including Keenan Wynn, Jacquelyn Hyde, Vivian Blaine, Biff Elliot, Warren Kemmerling, a pre-Miami Vice Philip Michael Thomas, and Casey Kasem (!) as the coroner, and Cardos manages to establish an eerie mood punctuated by sudden bursts of violence.
Just prior to release, however, the producers opted to hop aboard the Star Wars bandwagon by making the killer an alien being. Instead of merely a superhuman slasher, it's a bellowing inter-stellar beast with laser-beam eyes. The last-minute alteration only made things more choppy and confusing, but all told The Dark does deliver a fair share of exploitation thrills.
The collector's-edition "MVD Rewind Collection" Blu-ray ($29.95 retail) includes audio commentary, retrospective  interviews, theatrical trailer, and more. Rated R. **
ALSO AVAILABLE
AGAINST THE CURRENT (Zeitgeist Films/Kino Lorber): Cinematographer Oskar Pall Sveinsson makes his feature directorial debut with this documentary exploring the life of Veiga Gretarsdottir, the first person to attempt to navigate the 2,000-mile journey around Iceland in a kayak -- while also adjusting to her new life as a transgender woman. In Icelandic with English subtitles, available on DVD ($19.95 retail) 
ALIAS NICK BEAL (Kino Lorber Studio Classics): Ray Milland (at his wily best) essays the title role of this 1949 melodrama as a master manipulator who strikes a Faustian bargain with district attorney Thomas Mitchell to achieve his political ambitions, Director John Farrow juggles political allegory, noir-ish atmosphere, and even supernatural overtones in this political allegory, boosted by a solid cast including Audrey Totter, George Macready, Fred Clark, King Donovan, and Darryl Hickman. Both the DVD ($14.95 retail) and Blu-ray ($24.95 retail), each boasting audio commentary and theatrical trailer. ***
"BACKSTROM": SERIES 1 (Acorn TV): Kjell Bergqvist stars in the title role of an egotistical yet brilliant homicide detective investigating a mysterious murder in all six episodes from the inaugural 2020 season of the Swedish mystery series based on the best-selling novels by Leif G.W. Persson, with Agnes Lindstrom Bolmgren, Livia Millhagen, Pekka Strong, Peshang Rad, and Rolf Lydahl rounding out the regular cast. In Swedish with English subtitles, available on DVD ($39.99 retail).
"BALTHAZAR": SERIES 3 (Acorn TV): Tomer Sisley portrays the title role of a brilliant but eccentric forensic pathologist who joins forces with homicide inspector Helene de Fougerolles to solve the most perplexing crimes in Paris, in all eight feature-length episodes from the 2020 season of the popular mystery series created by Clelia Constantine and Clothilde Jamin. In French with English subtitles, available on DVD ($39.99 retail).
"THE BROKENWOOD MYSTERIES": SERIES 7 (Acorn TV): Neill Rea, Fern Sutherland and Nic Sampson are back on the case, investigating crimes in the titular New Zealand town, a seemingly bucolic burg with dark secrets all its own, in all six feature-length episodes from the 2021 season of the popular mystery series, available on DVD and Blu-ray (each $59.99 retail), each replete with behind-the-scenes featurette.
DON'T GO GENTLE: A FILM ABOUT IDLES (MVD Entertainment Group): This feature-length rock documentary examines the history and ongoing impact of the British-based band IDLES, founded in 2009 and scoring big with the release of the hit 2017 album Brutalism, and whose latest album, Ultra Mono, was released last year. available on Blu-ray ($19.95 retail). 
THE FATAL RAID (Well Go USA Entertainment): Director Jacky Lee makes his feature writing and editing debut with this martial-arts blow-out starring Jade Leung and Patrick Tam as former members of an elite police squad who are reunited to battle political extremists on the rampage in present-day Macao, available on DVD ($12.99 retail) and Blu-ray ($19.98 retail), boasting both Cantonese (with English subtitles) and English-dubbed audio operations, as well as theatrical trailer. 
HERE TODAY (Sony Pictures Home Entertainment): Producer/co-writer/director Billy Crystal's adaptation of co-writer Alan Zweibel's short story The Prize details the unlikely friendship that develops between a Crystal's veteran TV comedy writer, who is suffering from dementia, and sassy young singer (producer Tiffany Haddish). The two leads have great chemistry and Haddish can certainly belt out a tune, but the story's inherent sentimentality goes into overdrive in the third act. Both the DVD ($25.99 retail) and Blu-ray ($24.99 retail) include audio commentary and behind-the-scenes interviews. Rated PG-13. **½ 
"KEEPING FAITH": SERIES 3 (Acorn TV): Eve Myles returns in the title role of a small-town Welsh lawyer trying to rebuild her life and career after the mysterious disappearance – and equally mysterious reappearance – of her husband and business partner (Myles's real-life husband Bradley Freegard), in all six episodes from the 2021 (and reportedly final) season of the award-winning BBC Wales drama series created by Matthew Hall, filmed on location, featuring Mark Lewis Jones, Matthew Gravelle, Eiry Thomas, Rhian Morgan, and Aneirin Hughes in support. Both the three-disc DVD and Blu-ray (each $39.99 retail) include featurettes.
LOVE RITES (Kino Classics): The final film (originally titled Ceremonie d'amour) of the perennially provocative screenwriter/director Walerian Borowczyk, this R-rated 1987 adaptation of the Andre Pieyre de Mandiargues novel Tout disparaitra dramatizes the obsessive, ultimately destructive relationship between arrogant clothing buyer Mathieu Carriere and manipulative prostitute Marina Pierro. In French with English subtitles, available on DVD ($19.95 retail) and Blu-ray ($29.95 retail), each boasting both the theatrical version and Borowczyk's (shorter) director's cut, audio commentary, Borowczyk's 1976 short Brief von Paris, and more.
"MURDOCH MYSTERIES": SEASON 14 (Acorn TV): Yannick Bisson's back on the case as early 20th-century Toronto detective William Murdoch in all 11 episodes from the 2021 season of the award-winning Canadian mystery series (also known as The Artful Detective), based on Maureen Jennings' best-selling novels, co-starring Helene Joy (as Murdoch's wife), Jonny Harris, Thomas Craig and Daniel Maslany, available on DVD and Blu-ray (each $49.99 retail). (8/31)
PUZZLE (VCI Entertainment/MVD Entertainment Group): Director/screenwriter Duccio Tessari's 1974 thriller (originally titled L'uomo Senza Memoria and also released as Man Without a Memory) stars Luc Merenda as an amnesiac whose attempts to uncover his past lead him to a beautiful wife (Senta Berger) and possible involvement in an international heroin-smuggling ring. This middling crime drama, replete with giallo overtones, offers few surprises but boasts lovely Portofino locations and a memorable chainsaw finale, available in a DVD/Blu-ray combo ($29.95 retail) that includes audio commentary and trailers. Rated R. **
SURF II (Vinegar Syndrome): Writer/director Randall Badat's 1983 debut feature stars the inimitable Eddie Deezen as the quintessential geeky scientist who develops a formula to turn local surfers into mindless zombies when they guzzle Buzzz Cola. An unabashed send-up of '60s beach-party movies and '80s teen sex comedies, this offers a non-stop barrage of gags (some inspired) and an enthusiastic cast including Cleavon Little, Linda Kerridge, Ruth Buzzi, Lyle Waggoner, Eric Stoltz, Carol Wayne, Morgan Paull, Ron Palillo, and Terry Kiser. Best of all is the soundtrack, including Oingo Boingo, Thomas Dolby, The Cycle Jerks, The Beach Boys, Split Enz, Stray Cats, Wall of Voodoo, and more. Incidentally, there never was a Surf I. The limited-edition two-disc Blu-ray ($44.98 retail) includes both the theatrical version and Badat's director's cut, audio commentaries, retrospective documentary, collectible booklet, and more. Rated R. **
"S.W.A.T.": SEASON 4 (Sony Pictures Home Entertainment): The iconic '70s police action series has been updated to the 21st century in this Emmy-nominated CBS reboot, with Shemar Moore (also a producer) leading a crack team of Los Angeles cops as they navigate the mean streets of Los Angeles, trying to stop crime and keep the peace – both a challenge in these troubled times, with Alex Russell, Lina Esco, Kenny Johnson, David Lim, Patrick St. Esprit, Amy Farrington, and Jay Harrington rounding out the regular cast. All 18 episodes from the 2020-'21 season (plus bonus features) are available on DVD ($55.98 retail).
VIVA (Kino Lorber): Filmmaker Anna Biller's award-winning, R-rated 2007 comedy focuses on a bored housewife swept up in the sexual revolution of early '70s Los Angeles, which forces here to come to terms with the shifting moral landscape in which she exists, available on Blu-ray ($29.95 retail), replete with audio commentary. 
WHAT'S SO BAD ABOUT FEELING GOOD? (Kino Lorber Studio Classics): Writer/producer/director George Seaton's misguided, instantly dated 1968 farce, set against the backdrop of New York City's beatnik culture, stars George Peppard and Mary Tyler Moore (both miscast) as a couple afflicted by a strange virus that causes euphoria and happiness, with Dom DeLuise, Susan Saint James, Don Stroud, John McMartin, George Furth, Charles Lane, and Thelma Ritter (in her final feature) along for the ride. Flimsy and leaden in equal measure, available on DVD ($14.95 retail) and Blu-ray ($24.95 retail), each including audio commentary and trailers. * 
(Copyright 2021, Mark Burger)