PICKS OF THE WEEK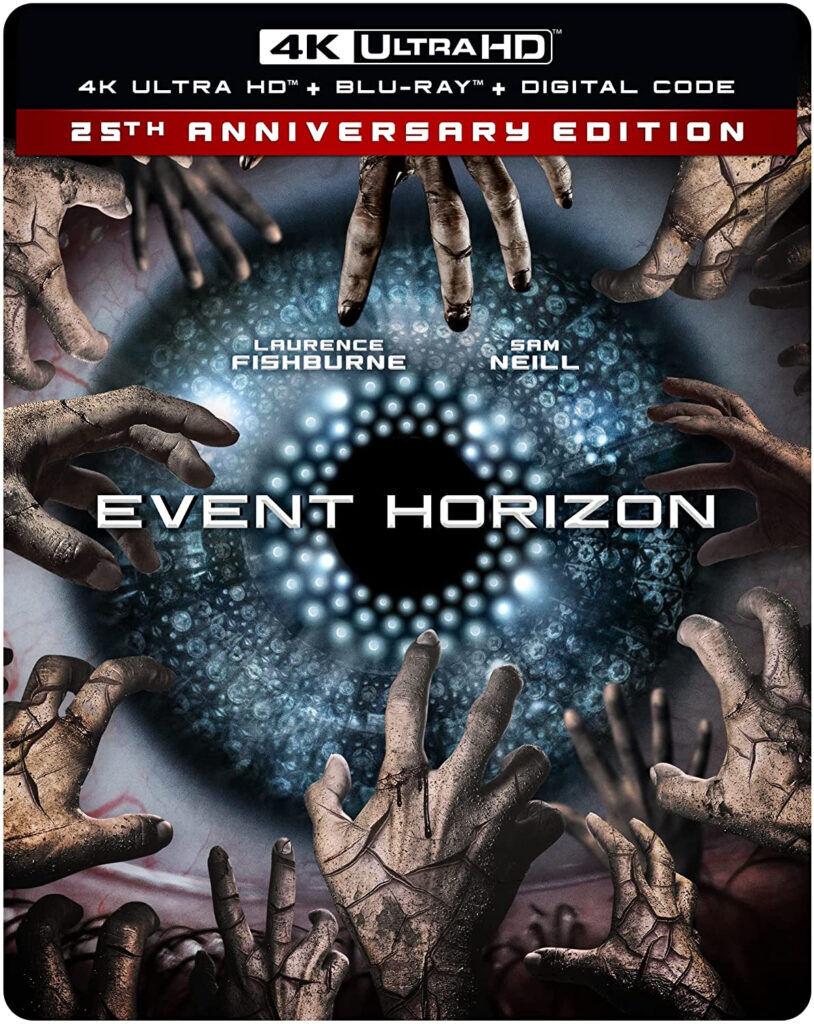 EVENT HORIZON (Paramount Home Entertainment): When the James Cameron's Titanic (1997) went over-schedule, Paramount Pictures needed a big movie for the summer season – and hastily slotted this sci-fi shocker in its place, much to the consternation of director Paul W.S. Anderson, who had to rush post-production. Yet despite negative reviews and disappointing box-office, it may be Anderson's best film, replete with a fervent cult following that has only grown over the years.
The titular spaceship vanished on its maiden voyage in 2040, and when a belated distress signal reaches Earth seven years later, the Lewis & Clark is dispatched on a rescue mission, the crew members unaware that they're the ones who'll need rescuing. As befits the genre, they're heading directly into an inter-stellar nightmare. A solid cast lends heft to stock characters: Laurence Fishburne, Sam Neill, Kathleen Quinlan, Joely Richardson, Sean Pertwee, Jason Isaacs, Richard T. Jones, and Jack Noseworthy. Needless to say, some of them aren't around – or intact – at the fade-out.
Derivative yet entertaining, Event Horizon doesn't make a lot of sense – nor does it need to – but succeeds in repeatedly spooking the viewer with a palpable sense of dread, excellent special effects, some surprise plot twists, and an appropriate splattering of gore, although some of the more frightening ideas are left to the audience's imagination.  
Paramount Home Entertainment has also released the 30th-anniversary Blu-ray ($17.99 retail) of the award-winning, R-rated Eddie Murphy vehicle Boomerang (1992) and a limited-edition 25th-anniversary Blu-ray Steelbook ($17.99 retail) of the PG-rated Kenan Thompson/Kel Mitchell comedy Good Burger (1997), each boasting bonus features.
 The limited-edition, 25th-anniversary Event Horizon 4K Ultra HD Blu-ray Steelbook ($30.99 retail) includes audio commentary, behind-the-scenes documentaries, deleted and extended scenes, theatrical trailer, and more. Rated R. ***
ALSO AVAILABLE
APPLES (Cohen Media Group/Kino Lorber): Writer/producer/director Christos Nikou's award-winning debut feature (originally titled Mila) is a timely, satirical parable is set during the aftermath of a worldwide pandemic in which the victims suffer amnesia, starring Aris Servetalis as a middle-aged everyman who attempts to recover his memories while helping others do likewise, which brings him into contact with potential love interest Sofia Georgovasili. In Greek with English subtitles, available on DVD ($19.95 retail) and Blu-ray ($29.95 retail), each boasting bonus interview and trailers.
BATTLE OF THE WORLDS (The Film Detective/Cinedigm): Antonio Margheriti (under his usual pseudonym "Anthony M. Dawson") directed this 1961 sci-fi thriller (originally titled Il Pianeta degli uomini spenti) in which a rogue planet, controlled by an alien intelligence, is headed on a collision course with Earth, causing panic and disaster. Clunky but interesting, this benefits mightily (and amusingly) from the presence of a slumming Claude Rains – whose next film was Lawrence of Arabia (!) -- as a cantankerous scientist determined to decipher the aliens' purpose. Both the DVD ($19.95 retail) and Blu-ray ($29.95 retail) includes audio commentary, original essay, and the documentary A Cinematic Outsider: The Fantastical Worlds of Antonio Margheriti. **
CATCH THE HEAT (Kino Lorber Studio Classics): Some 20 years after both winning Academy Awards for In the Heat of the Night (1967), Rod Steiger and executive producer/screenwriter Stirling Silliphant were unceremoniously reunited for this innocuous 1987 shoot-'em-up (originally titled Feel the Heat) designed as a showcase for Silliphant's wife Tiana Alexander, cast as government agent "Checkers Goldberg," who goes undercover to bust heroin kingpin Steiger (wearing one of his worst hairpieces) in Buenos Aires. Alternately played straight or for laughs, the result is a mess that wastes David Dukes (miscast in a rare big-screen lead), Brian Thompson, Brian Libby, John Hancock, and the ever-imposing Prof. Toru Tanaka, available on Blu-ray ($24.95 retail). *
EL CORTEZ (Kino Lorber): Stephen Purvis produced and directed this contemporary, R-rated 2006 film noir (originally titled Three for the Devil)stars Lou Diamond Phillips as an autistic man who is released from an asylum and takes a job as the clerk at the titular Reno hotel, where he becomes ensnared in a byzantine scheme by a host of colorful underworld characters, with associate producers Glenn Plummer, Bruce Weitz, Tracy Middendorf, James McDaniel, and Peter Onorati on the guest list, available on Blu-ray ($29.95 retail), boasting behind-the-scenes featurette, deleted scenes, and theatrical trailer.
"EMMA": SEASON THREE – BOWTIFUL! (Wiggles/Kino Lorber): Emma Watkins co-created, directed and stars in this selection of episodes from the popular Australian children's series spun off from the long-running Wiggles franchise, in which she sings, dances, and teaches children about problem-solving, available on DVD ($14.99 retail), including photo gallery. 
THE ENORMITY OF LIFE (Bayview Entertainment): Writer/producer/director Eric Swinderman's award-winning comedy/drama stars Breckin Meyer as a suicidal man who, after unexpectedly receiving an inheritance, embarks on an unlikely but eventful road trip with eccentric single mother Emily Kinney and her young daughter (Giselle Eisenberg), who has an unhealthy fascination with mass shootings, available on DVD ($14.99 retail) and Blu-ray ($19.99 retail).
"THE GILDED AGE": THE COMPLETE FIRST SEASON (Warner Bros. Home Entertainment): Executive producer/writer Julian Fellowes (of Downton Abbey fame) created this Emmy-nominated HBO drama series set during the same 19th-century period, at the height of the industrial revolution in New York City and the shift of social strata in the upper classes, featuring a star-studded ensemble cast including Carrie Coon, Cynthia Nixon, Jeanne Tripplehorn, Morgan Spector, Christine Baranski, Ben Ahlers, Kelli O'Hara, Celia Keenan-Bolger, Taylor Richardson, Taissa Farmiga, Debra Monk, Donna Murphy, Louisa Jacobson, Simon Jones, and Harry Richardson. All nine episodes from the inaugural 2022 season – plus bonus features -- are available on DVD ($24.98 retail).
GULLIVER RETURNS (Shout! Kids/Shout! Factory): The beloved hero of Jonathan Swift's beloved children's story (voiced by Wayne Grayson) returns to aid the inhabitants of Lilliput in this animated fantasy feature directed by Ilya Maksimov, available on DVD ($16.99 retail).
HOT SEAT (LionsGate): Kevin Dillon and Mel Gibson topline director James Cullen Bressack's R-rated cyber-thriller, the former as a reformed computer hacker blackmailed into engineering a high-tech heist and the latter as a veteran bomb-squad officer seeking the blackmailer before he blows Dillon to kingdom come, with Shannen Doherty, Sam Asghari, and Lydia Hull caught in the crossfire, available on DVD ($19.98 retail) and Blu-ray ($21.99 retail). 
THE LOST CITY (Paramount Home Entertainment): Sandra Bullock (also a producer) and Channing Tatum pair up on sibling co-screenwriter/directors Aaron and Adam Nee's award-winning PG-13-rated adventure romp, a loose remake of 1984's Romancing the Stone, in which romance novelist Bullock must depend on cover model Tatum to rescue her from eccentric kidnapper Daniel Radcliffe, with Da'Vine Joy Randolph, Oscar Nunez, Stephen Lang, Joan Pringle, and Brad Pitt along for the ride, available on DVD ($25.99 retail), Blu-ray ($31.99 retail), and 4K Ultra HD combo ($34.99 retail).
"MARIA MONTEZ & JON HALL COLLECTION" (Kino Lorber Studio Classics): The title tells all in this Blu-ray triple feature ($49.95 retail) highlighting the talents of actress Maria Montez (1912-'51) and Jon Hall (1915-'79) in three vintage adventures released by Universal Pictures: White Savage (1943) co-starring Turhan Bey, Thomas Gomez, and Sidney Toler; Gypsy Wildcat (1944) co-starring Nigel Bruce, Leo Carrillo, and Gale Sondergaard; and Sudan (1945) co-starring Bey, George Zucco, and Andy Devine. Bonus features include audio commentaries and theatrical trailers.
MID-CENTURY (LionsGate): Sonja O'Hara directed and appears in this R-rated supernatural thriller starring Shane West (also an executive producer) and Chelsea Gilligan as a couple who rent a mid-century modern house designed years before by demented architect Stephen Lang (also an executive producer) – only to experience strange occurrences indicating that the spirits of the dead are restless, with Sara Hay, Mike Stern, and Bruce Dern on hand, available on DVD ($19.98 retail) and Blu-ray ($21.99 retail).
NATHALIE … (Cohen Media Group/Kino Lorber): The Blu-ray bow ($29.95 retail) of writer/director Anne Fontaine's 2003 drama, starring Fanny Ardant as a middle-aged gynecologist so enraged by husband Gerard Depardieu's philandering that she hires prostitute Emmanuelle Beart to seduce him in an effort to turn the tables on him – only to see her scheme backfire and threaten to destroy them all. In French with English subtitles.
"ONE LANE BRIDGE": SEASON TWO (Sundance Now/Acorn): Dominic Ona-Ariki returns as a Maori police detective in a small New Zealand town whose precognitive abilities aid him in solving cases – yet also put his career and life in jeopardy – in all five feature-length episodes from the 2021 season of the award-winning mystery series created by executive producer Philip Smith and associate producer/writer Pip Hall, with Joel Tobeck, Alison Bruce, Nathalie Morris, Alex Walker, and Phoebe McKellar rounding out the regular cast, available on DVD ($39.99 retail), replete with behind-the-scenes featurette.
SEXUAL DRIVE (Film Movement): Tateto Serizawa plays a mysterious stroke victim who encounters a variety of characters whom he's encountered in the past to tease and torment them with his philosophy about culinary and sexual obsession in writer/director Kota Yoshida's episodic, semi-satirical character study. Well-made and certainly offbeat, but is overly consumed (no pun intended) with its fetishistic quirkiness, although Matsumoto Akira's score is a standout and cult status is likely. In Japanese with English subtitles, available on DVD ($24.95 retail). **
YOU ARE MY SUNSHINE (TLA Releasing): David Hastings wrote, produced and directed this award-winning tearjerker detailing the 50-year relationship between two gay men in Britain, beginning in the 1970s when they were teenagers (played by Steve Salt and newcomer Jack Knight) and concluding with them in the current day (played by Charles O'Neill and Ernest Vernon) dealing with the infirmities of old age. Occasionally heavy-handed and long-winded but kept afloat by sincere, heartfelt performances. The DVD ($24.99 retail) includes audio commentary, interviews, and bloopers. ***
(Copyright 2022, Mark Burger)