PICK OF THE WEEK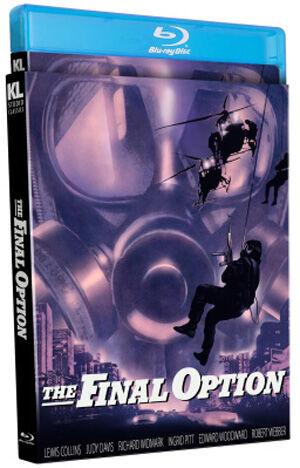 THE FINAL OPTION (Kino Lorber Studio Classics): It's back to the good old days of those jingoistic, right-wing, action blow-outs in the 1983 feature debut of director Ian Sharp. Originally titled Who Dares Wins and produced by Euan Lloyd (of The Wild Geese fame), it was acquired for U.S. distribution by Metro-Goldwyn-Mayer, reportedly at the recommendation of board member Alexander Haig (!).
Inspired by the 1980 Iranian Embassy siege in London, the film details the exploits of the Special Air Service (SAS), the British Army's crack commando unit, led by Capt. Peter Skellen (Lewis Collins in his feature debut). Skellen is ordered to infiltrate a militant anti-nuclear protest group (?) headed by fierce femme fatale Frankie Leith (Judy Davis), which is planning a raid on the U.S. Ambassador's residence with Secretary of State Arthur Currie (Richard Widmark) in attendance during a formal dinner. 
It's all very polished and slick, if overlong and a bit on the talky side. Collins (who was considered for 007 around this time) is macho and tough, Davis – who seems to be channeling an unhinged Vanessa Redgrave at her most militant – is nothing if not entertaining, and you haven't lived until you see her anti-nuclear protest cabaret number (!). The always-welcome Widmark enjoys some sharp banter with Davis, and it's nice to have such established pros as Robert Webber, Edward Woodward, Kenneth Griffith, Ingrid Pitt, Paul Freeman, Patrick Allen, Norman Rodway, and Tony Doyle on hand to keep things moving.
A big box-office hit in its native Britain, this tanked critically and financially stateside before finding an audience on cable television. Forget about political correctness, this is pure popcorn entertainment for action junkies. The special-edition DVD ($29.95 retail) includes audio commentary, theatrical trailers, and more. Rated R. **½  
ALSO AVAILABLE
99.9 (Cult Epics/CAV Distributing): A DVD/Blu-ray combo ($34.95 retail) of writer/director Agusti Villaronga's award-winning 1997 chiller starring Maria Barranco as the host of a radio show devoted to psychic phenomena who traces the footsteps of an ex-lover who was found dead under mysterious circumstances in a small Spanish village. Surreal, well-made and well-acted by Barranco, but slow-moving -- although it rebounds nicely during an exciting climax. In Spanish with English subtitles, bonus features include retrospective interview, behind-the-scenes featurette, and trailers. **½ 
DIRTY O'NEIL (Code Red/Kino Lorber): The Blu-ray bow ($29.95 retail) of the 1974 B-movie co-directed by writer/producer Leon Capetanos and first-timer Lewis Teague, starring Morgan Paull in the title role of a small-town cop and ladies man pitted against thugs that terrorize his town. Former Playboy Playmates Jean Manson and Liv Lindenland also appear in this uneven mash-up of action and comedy. Rated R. *½ 
"EDGAR G. ULMER SCI-FI COLLECTION" (Kino Lorber Studio Classics): The title tells all in this Blu-ray triple feature ($39.95 retail) of low-budget science-fiction features directed by Edgar G. Ulmer (1904-'72): The Man from Planet X (1951) starring Robert Clarke and Margaret Field (Sally's real-life mother), The Amazing Transparent Man (1960) starring Marguerite Chapman (in her final feature) and Douglas Kennedy, and Beyond the Time Barrier (also '60), starring Clarke (who also produced) and Darlene Tompkins (in her feature debut).  
GHOSTBUSTERS: AFTERLIFE (Sony Pictures Home Entertainment): Jason Reitman, son of the late producer Ivan Reitman, assumes the directing and co-screenwriting reins of this long-awaited, PG-13-rated follow-up to the blockbuster '80s comedies, with Carrie Coon, Finn Wolfhard, Mckenna Grace, Bokeem Woodbine, and Paul Rudd joined by franchise regulars Bill Murray, Dan Aykroyd, Sigourney Weaver, Ernie Hudson, and Annie Potts, as they contend with paranormal phenomena directly related to the earlier hauntings in New York City, available on DVD ($30.99 retail), DVD/Blu-ray combo ($38.99 retail), and 4K Ultra HD combo ($45.99 retail), each replete with bonus features.
GIVE OR TAKE (Breaking Glass Pictures): The award-winning feature debut of writer/producer/director Paul Riccio and writer/producer James Effros is a bittersweet comedy/drama in which Effros returns to his boyhood home on Cape Cod to settle his late father's estate – and to come to terms with his father's longtime partner (the terrific Norbert Leo Butz). Occasionally long-winded but undeniably affecting and sensitively played by an appealing cast that also includes Joanne Tucker, Louis Cancelmi, Annapurna Siriam, and Cheri Oteri, the latter providing comic relief as an incessantly chipper realtor, available on DVD ($24.99 retail). ***
"LIES AND DECEIT: FIVE FILMS BY CLAUDE CHABROL" (Arrow Video/MVD Entertainment Group): A self-explanatory, limited-edition Blu-ray selection ($99.95 retail) of films made by legendary French filmmaker Claude Chabrol (1930-2010), who was widely hailed as "The French Hitchcock": The award-winning 1985 thriller Cop Au Vin (Poulet au vinaigre), starring Jean Poiret and Stephane Audran (Chabrol's ex-wife), based on Dominique Roulet's novel Une mort en trop); Inspector Lavardin (1986), starring Poiret in the title role; the 1991 adaptation of Flaubert's classic novel Madame Bovary (rated PG-13), which earned an Oscar nomination for Best Costume Design and stars Isabelle Huppert in the title role; 1992's Betty, based on Georges Simenon, starring Marie Trintignant (in the title role) and Audran; and 1994's Torment (L'enfer), based on the screenplay from Henri-Georges Clouzot's unfinished 1964 film (titled Inferno), starring Emmanuelle Beart and Francois Cluzet. In French with English subtitles, bonus features include audio commentaries, retrospective and vintage interviews, collectible 80-page book, theatrical trailers, and more.
THE LONG NIGHT (Well Go USA Entertainment): Director Rich Ragsdale's R-rated shocker (originally titled The Coven) stars "scream queen" Scout Taylor-Compton and Nolan Gerard Funk as a young couple who run afoul of a latter-day Satanic cult in South Carolina, with genre stalwarts Deborah Kara Unger and Jeff Fahey on hand, available on DVD ($19.99 retail) and Blu-ray ($29.98 retail), each boasting bonus features including audio commentary, behind-the-scenes featurettes, and Ragsdale's 2019 short film The Loop. 
LOOPER (Sony Pictures Home Entertainment): A 10th-anniversary 4K Ultra HD combo ($30.99 retail) of writer/director Rian Johnson's nifty, award-winning 2012 sci-fi thriller, starring Joseph Gordon-Levitt (also an executive producer) as a futuristic assassin who is himself targeted for extermination by his future self (Bruce Willis). Convoluted at times, but undeniably entertaining and engrossing, with Emily Blunt, Paul Dano, Piper Perabo, Noah Segan, Garret Dillahunt, and Jeff Daniels rounding out a solid cast. Bonus features include audio commentary, behind-the-scenes featurettes, deleted scenes, animated trailer, and more. Rated R. ***
MIRANDA VEIL (Indican Pictures): Writer/director Levin Garbisch's award-winning, pseudo-black comedy stars Zach Steffey as an aspiring serial killer who carefully selects the title character (Annabel Barrett) as his first victim, only to discover that she can't be killed – which propels them on an existential road trip of self-discovery. Slow going at the outset, this picks up in the second half, with distinct echoes of Richard Kelly's 2001 cult classic Donnie Darko. Steffey's a little too clean-cut to be entirely convincing, but Barrett plays her role with conviction, available on DVD ($24.99 retail). **
MURPHY'S LAW (Kino Lorber Studio Classics): Of the many Charles Bronson vehicles directed by veteran J. Lee Thompson for the Golan/Globus duo at Cannon Films, this 1986 cop thriller is among the better ones (relatively speaking), as Bronson's booze-soaked, burned-out L.A. cop is framed for the murder of his stripper wife (Angel Tompkins) by crossbow-wielding psychopath Carrie Snodgress, forcing him to team up with tough-talking car thief Kathleen Wilhoite to clear his name. Good use of locations and Bronson's prickly chemistry with scene-stealer Wilhoite go a long way, with Robert F. Lyons, Lawrence Tierney, James Luisi, Richard Romanus, Bill Henderson, and Janet MacLachlan on hand. Wilhoite even croons the title tune over the end credits. Yours truly saw this three times (!) in the theater, but that's a story for another time. The special-edition Blu-ray ($29.95 retail) includes audio commentary, retrospective interview with Lyons, theatrical trailer, and radio spots. Rated R. **
ROCK HUDSON'S HOME MOVIES (Kino Classics): Filmmaker Mark Rappaport's award-winning, speculative 1992 pseudo-documentary explores the screen career of actor Rock Hudson by interspersing clips from his films that hinted, even obliquely, at his homosexuality with Eric Farr (in his only feature) playing Hudson as narrator. Gimmicky but thoughtful and even contemplative, available on DVD ($29.95 retail), which includes four short films directed by Rappaport. ***
SAINT-NARCISSE (The Film Movement): Screenwriter/director Bruce LaBruce's award-winning psycho-sexual odyssey showcases Felix-Antoine Duval in a dual role, as a man with an uncontrollable fetish for himself who embarks on a twisted, highly stylized, potentially redemptive odyssey when he learns he has a twin brother, now ensconced in a remote, morally corrupt monastery. Tania Kontoyanni plays the boys' mysterious mother and Alexandra Petrachuck her equally enigmatic companion. Not for all tastes but certainly original, with echoes of Pier Paolo Pasolini, Peter Greenaway, Nicolas Roeg, and Ari Aster throughout. In English and French with English subtitles, available on DVD ($24.95 retail), replete with bonus features including audio commentary and deleted scenes. **½ 
SCREAM (Spyglass Entertainment/Paramount Home Entertainment): The Radio Silence duo of Matt Bettinelli-Olpin and Tyler Gillett co-directed this long-gestating, R-rated follow-up to the popular '90s slasher franchise, with Courteney Cox, David Arquette, Neve Campbell, Marley Shelton, and Skeet Ulrich reprising their earlier roles as the latest incarnation of the knife-wielding "Ghostface" killer (again voiced by Roger L. Jackson) goes on a rampage in Woodsboro, with Melissa Barrera, Mason Gooding, Jenna Ortega, Heather Matarazzo, and Jack Quaid caught up in the fray, available on DVD ($25.99 retail), Blu-ray ($31.99 retail), and 4K Ultra HD ($34.99 retail), the latter pair boasting bonus features.
(Copyright 2022, Mark Burger)