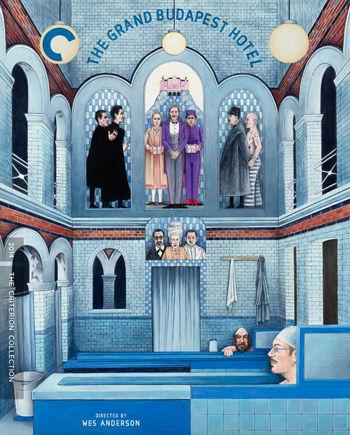 THE GRAND BUDAPEST HOTEL (The Criterion Collection): Wes Anderson brings his patented blend of quirky satire, visual splendor, eccentric characterization, and historical subtext to his 2014 comedy, which was not only one of his most financially successful films, but also one of his most-praised.
The principal setting, is the titular establishment, nestled in the heart of the Republic of Zubrowka, overseen by the ever-dutiful concierge, Monsieur Gustave (Ralph Fiennes), and his faithful sidekick, Zero the bellhop (Tony Revolori).
To condense the specifics of the storyline would be almost impossible, but it involves love, betrayal, murder, thievery, political chicanery, mistaken identity, social injustice, and not a little impertinence. Indeed, The Grand Budapest Hotel is bursting at the seams with ideas, some of which are are scarcely developed.
There's a lot to savor, particularly the star-studded cast, which includes several frequent Anderson collaborators: Bill Murray, Willem Dafoe, Tilda Swinton, Saoirse Ronan, Harvey Keitel, Jeff Goldblum, Jude Law, Tom Wilkinson, Owen Wilson, Adrien Brody, Lea Seydoux, F. Murray Abraham, Edward Norton, Jason Schwartzman, Bob Balaban, and Mathieu Amalric. It's sure nice having them aboard, even if some have little to do.
The film earned Oscars for Best Original Score, Best Production Design, Best Costume Design, and Best Makeup and Hairstyling, with additional nominations for Best Picture, Best Director, Best Original Screenplay, Best Cinematography, and Best Editing. Both the DVD ($29.95 retail) and Blu-ray ($39.95 retail) include audio commentary,  retrospective documentary and interviews, original trailer, and more. Rated R. *** 
BONES (Scream Factory/Shout! Factory): Director Ernest Dickerson's disappointing 2001 shocker stars Snoop Dogg in the title role as a feared and respected '70s-era gangster whose vengeful spirit returns two decades later to exact revenge against those who betrayed and murdered him. Clearly an attempt by New Line Cinema to fashion another Elm Street-type franchise , this is well-made, with obvious nods toward the "blaxploitation" era, but utterly predictable, with a decided lack of humor and Dogg simply coasting, while Pam Grier, Clifton Powell, Katharine Isabelle, Ricky Harris, and Michael T. Weiss easily outshine him. The collector's-edition Blu-ray ($27.99 retail) includes audio commentary, retrospective featurettes and interviews, and more. Rated R. *½   
CHINCHINETTE: THE ACCIDENTAL SPY (Kino Lorber): Co-cinematographer Nicola Alice Hens wrote and directed this documentary focusing on the life of Marthe Hoffnung Cohn, a French Jew who became an operative for the French Resistance in Germany during World War II, and who continues to be honored for her service as she approaches her 100th year. Remarkably low-key given the subject matter, but informative and warm-hearted – and the diminutive Cohn remains a dynamo. In English and French with English subtitles. **½ 
COLD CASE HAMMERSKJOLD (Magnolia Home Entertainment): Writer/director Mads Brugger's award-winning feature documentary examines the byzantine circumstances surrounding the death of United Nations secretary general Dag Hammskjold in a 1961 plane crash en route to a peace summit in the Congo. Occasionally distracting when Brugger takes center stage, but this offers a compelling, even convincing, argument that Hammerskjold was actually assassinated. Compulsive viewing for conspiracy theorists. ***½ 
DEADLINE (Vinegar Syndrome): Director/screenwriter Mario Azzopardi's English-language debut (originally titled Anatomy of a Horror) stars Stephen Young as a horror writer whose vocation threatens to destroy his marriage (to Sharon Masters, in her last feature to date), his family, his sanity, and ultimately his life. Clunky at times, but it has a blunt momentum, and does try -- with limited success and limited resources -- to add psychological shading to a well-worn genre. Filmed in 1979 but not released until 1984. The limited-edition DVD/Blu-ray combo ($34.98 retail) includes retrospective interviews. Rated R. ** 
DON'T DRINK THE WATER (Kino Lorber Studio Classics): New Jersey caterer Jackie Gleason and his family (Estelle Parsons and Joan Delaney) are trapped behind the Iron Curtain in this broad, scatterbrained 1969 adaptation of Woody Allen's Broadway hit, with Ted Bessell, Michael Constantine, Richard Libertini, Avery Schreiber, Phil Leeds, and director Howard Morris supplanting the slapstick shenanigans. Both the DVD ($19.95 retail) and Blu-ray ($24.95 retail) include audio commentary. Rated G. **
HELL RIDERS (Vinegar Syndrome): A limited-edition Blu-ray ($39.98 retail) of director/co-writer James Bryan's low-rent 1984 melodrama in which the titular biker gang terrorizes a small California town, with "star power" provided by Adam West as the local doctor and Tina Louise a waylaid Las Vegas hooker. According to some accounts, West and Louise filmed their scenes in a single day (!). Whether true or not, the use of doubles is often very obvious. Predictable and silly  even by schlock standards, but thanks to Vinegar Syndrome, the film has never looked better. *½ 
LORE (Folklore Films/Indican Pictures): For their award-winning 2017 debut feature, Christian Larsen and Brock Manwill wrote, produced, and co-directed this brooding chiller, inspired by Lakota folklore, starring Lyndsey Lantz and Max Lesser as an estranged couple who search the supposedly haunted forests of Idaho for their missing son (newcomer Derek Grange). This belated Blair Witch-type outing emphasizes characterization over thrills and has its effective moments and performances, but remains inconclusive and vague. The ever-busy Eric Roberts pops up as the local sheriff, while associate producer Sean Wei Mah plays a Native American guide. **
THE LURKER (Indican Pictures): Scout Taylor-Compton, still youthful enough to convince as a teenager, reinforces her "scream queen" status in director Eric Liberacki's throwback to the '80s slasher era, as the cast and crew of a high-school play fall prey to a sadistic killer. Reasonably well-made, with a good Misha Segal score and plenty of in-jokes ("Crystal Lake High School," anyone?) – but too many twists spoil the fun. Also on hand: Naomi Grossman (American Horror Story), Adam Huss, Casey Tutton, Domenica Cameron-Scorsese (daughter of Martin), and Ari Lehman (Friday the 13th's original Jason). *½ 
MALABIMBA (Vinegar Syndrome): This 1979 sexploitation shocker (also released as Malabimba: The Malicious Whore), directed by Andrea Bianchi (under the pseudonym "Andrew White"), stars Katel Laennac in her only screen role as a timid teenager possessed by a carnally-driven demon who promptly wreaks havoc on her family. In Italian with English subtitles, the limited-edition DVD/Blu-ray combo ($34.98 retail) includes audio commentary, retrospective interviews, and more.
MURDER, HE SAYS (Kino Lorber Studio Classics): George Marshall directed this slight but enjoyable 1945 farce starring Fred MacMurray as a pollster whose investigation into the disappearance of his predecessor puts him on a collision course with an eccentric, larcenous rural clan, headed by murderous matriarch Marjorie Main (perhaps a warm-up for the subsequent Ma & Pa Kettle series), available on Blu-ray ($29.95 retail), each boasting audio commentary and theatrical trailer. **½ 
PARASITE (Universal Pictures Home Entertainment): Bong Joon-Ho's scabrous, R-rated social satire (originally titled Gisaengchung) made history when it became the first foreign film to win the Academy Award as Best Picture, as well as Best Director, Best Original Screenplay (Joon-Ho and Han Jin-won), and Best International Film (formerly Best Foreign Language Film), with additional nominations for Best Editing and Best Production Design). The ensemble cast includes Song Kang-ho, Lee Sun-kyn, Cho Yeo-jeong, Choi Woo-shik, Park So-damn, and Lee Jung-eun. In English and Korean with English subtitles, available on DVD ($22.98 retail) and Blu-ray ($34.98 retail).
QUATERMASS 2 (Scream Factory/Shout! Factory): Released stateside as Enemy from Space, this well-paced 1957 sequel to 1956's The Quatermass Xperiment (The Creeping Unknown), based on the popular BBC series created by Nigel Kneale, sees Brian Donlevy reprising his role as the titular scientist, battling an insidious alien invasion – is there any other kind? -- in a small British town. Capably directed by encoring Val Guest and produced by Britain's legendary Hammer Studios, this is taut and intelligent sci-fi fare, available in a collector's-edition Blu-ray ($27.99 retail) boasting audio commentaries (including one with my friend, filmmaker Ted Newsom), retrospective and vintage interviews, and more. ***  
RICORDI? (Distrib Films/Icarus Films Home Video): Writer/director Valerio Mieli's award-winning romantic drama (also released as Remember?) shifts back and forth through time as it chronicles the highs and lows of a relationship between Luca Marinelli and Linda Caridi. Wistful, indulgent and ethereal at times, with the attractive leads bringing a lot of emotional heft to the proceedings. In Italian with English subtitles, available on DVD ($26.98 retail). ***
"UNIVERSAL HORROR COLLECTION" (Scream Factory/Shout! Factory): The latest four-film Blu-ray installments of classic chillers released by Universal Pictures: "Volume 3" boasts Tower of London (1939) with Basil Rathbone, Boris Karloff, and Vincent Price; 1941's Man-Made Monster stars Lionel Atwill and Lon Chaney Jr. (in his Universal horror debut); The Black Cat (1941) features Broderick Crawford, Gale Sondergaard, and Bela Lugosi; and Dick Foran headlines Horror Island (also '41). "Volume 3" includes Boris Karloff in Night Key (1937), which is more crime (melo)drama than horror; Night Monster (1942) with Atwill and Lugosi); Karloff returns in The Climax (1944), which earned an Oscar nomination for Best Art Direction/Set Decoration (color); and House of Horrors (1946) stars Martin Kosleck and Rondo Hatton. Each film includes audio commentary (Ted Newsom does Horror Island), and each collection retails for $69.97.
WINTER HUNT (Menemsha Films/Kino Lorber): Director/screenwriter Astrid Schult's impressive, award-winning 2017 debut feature (originally titled Winterjagd), originally made for German television, stars Carolyn Genzkow as a young woman who confronts – at gunpoint – an elderly man (Michael Degen) she believes was a guard at Auschwitz, only to have the tables turned by him and his embittered daughter (Elisabeth Degen, Michael's real-life daughter). Vaguely reminiscent of Ariel Dorfman's Death and the Maiden, this is well-acted, thought-provoking, and highly theatrical. In German with English subtitles, available on DVD ($24.95 retail). ***
(Copyright 2020, Mark Burger)