See How They Run, which marks the feature directorial debut of television veteran Tom George, is a sheer delight from beginning to end. Populated by an enthusiastic ensemble cast and packed with historical and pop-culture references and in-jokes, this farcical murder/mystery is pure escapist enjoyment.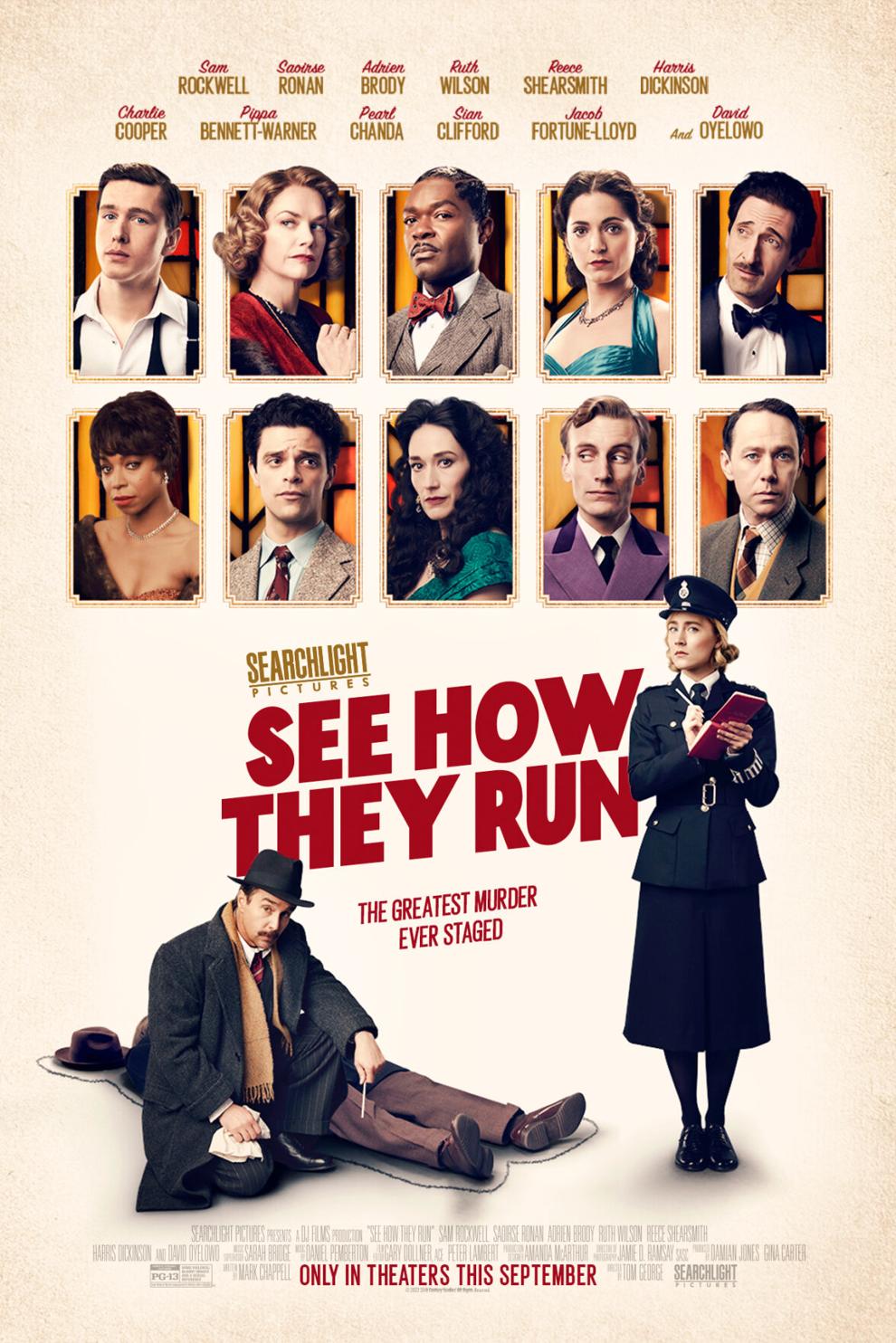 The year is 1953, and Agatha Christie's mystery play The Mousetrap is the toast of the town (London, in this case) — so much so that the film rights have been snapped up by producer John Woolf (Reece Shearsmith). To direct the film version, American expatriate Leo Kopernick (Adrien Brody) has been tapped, but Kopernick is the quintessential "ugly American": Boorish and uncouth. Few tears are shed when Kopernick is murdered in the theater, his body unceremoniously dumped on the stage.
One of the film's many novel concepts is having Kopernick serve as its narrator in an appropriately noir-ish fashion. Even he's not surprised he was murdered.
Sifting through a varied collection of red herrings and suspects are Scotland Yard's own Inspector Stoppard (Sam Rockwell) and eager-beaver Constable Stalker (Saoirse Ronan), and they've certainly got their hands full, particularly since they tend to get in the way of their own investigation.
The first half of the film, which essentially sets things up, is totally on the mark, but although it's inevitable that the momentum flags a bit at the midpoint, See How They Run is still a treat. It makes up its own rules then gleefully bends and breaks them. Screenwriter Mark Chappell (also a TV veteran) sends up the trappings of the traditional whodunit with brazen wit. There's no question that the film is self-indulgent, but it's never smug, and George keeps things moving at a steady, heady clip. 
One can detect tidbits of Robert Altman, Wes Anderson, and Rian Johnson's Knives Out (2019) — the sequel to which (The Glass Onion) is due shortly — but, not surprisingly and appropriately enough, it's the many nods and ties to Agatha Christie that the film most resonates with. For a long while, it appears as if Dame Agatha will not make an appearance, but when she belatedly does in the form of Shirley Henderson (playing it to the hilt and beyond), it's a wicked parody.
There's terrific teamwork by Rockwell and Ronan. The latter gets to showcase her considerable comedic talents as the motor-mouthed Constable Stalker, even if it is a little difficult to accept the perennially youthful Ronan as a war widow with two children. Rockwell essentially plays the straight man, but he brings some delightfully daffy mannerisms to the role of the shambling, gin-soaked sleuth. His glassy-eyed, glazed-over reactions to Ronan's constant nattering is an endless source of amusement.
David Oyelowo is great fun as the fussy, fiercely closeted screenwriter, whose hatred for Kopernick was well-known, while Harris Dickinson does a devastating impression of actor Richard Attenborough, who brawled with Kopernick the night of the murder. In fact, the real Attenborough did appear in the original stage production of The Mousetrap alongside actress Sheila Sim (played here by Pearl Chanda), whom he married. It's those factual tidbits (some of which have been altered slightly) that add a little more snap to the proceedings. Ruth Wilson, Charlie Cooper, Sian Clifford, Pippa Bennett-Warner, and Tim Key (as a clueless police commissioner) round out the first-rate cast. 
Whodunit? We'll never say, but let's just say it's very much in keeping with the Agatha Christie formula. In See How They Run, the play's the thing — and there's plenty of play (and playfulness) to be savored and enjoyed. 
See Mark Burger's reviews of current movies on Burgervideo.com. © 2022, Mark Burger.