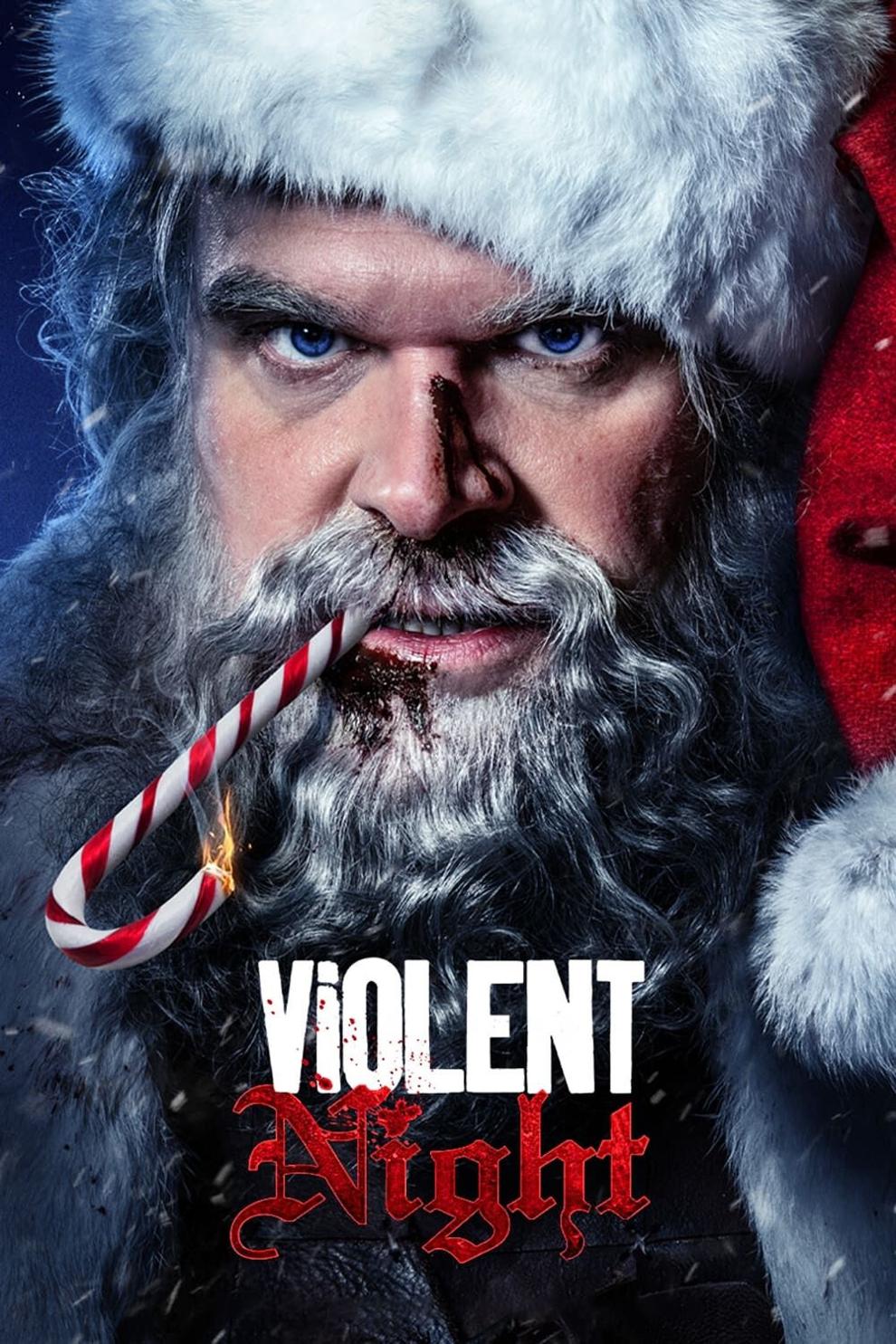 Nearly 40 years ago, the low-budget "Santa slasher" movie Silent Night, Deadly Night caused such a furor that its distributor — Tri-Star Pictures, no less — yanked it from theaters. 
There's been no such furor surrounding Violent Night, a "killer Santa" movie starring David Harbour, which perhaps speaks something (volumes maybe?) about the sort of entertainment 21st-century audiences are accustomed to. Then again, Silent Night, Deadly Night was played straight — and it was a lousy film. Violent Night is a mess but it's played for laughs, and sometimes it's very entertaining.
Taking a cue from Billy Bob Thornton's Bad Santa (2003), Harbour's Kris Kringle is a bilious, booze-soaked grouch weary of his gift-giving vocation. People seem to have lost sight of the spirit of Christmas, so he drowns his sorrows in spirits of another kind as he grumpily goes on about his chores. He's the sort of Santa who's more apt to pilfer a six-pack of beer than enjoy a glass of milk.
The screenplay, by the Sonic the Hedgehog duo of Pat Casey and Josh Miller, is not lacking in nerve or verve, nor in restraint. Audiences may get a chuckle out of Santa vomiting on an unsuspecting barmaid or urinating from his flying sleigh, but are these gags really necessary to propel the plot — such as it is — forward? Violent Night is naughtier and raunchier than it need be, although it does boast some inspired in-jokes, and merrily tweaks (and twists) traditional Christmas lore with pop-culture references. And, as the title indicates, it's plenty violent.
Santa's latest stop is during the Christmas Eve gathering of an obnoxiously wealthy family in snowy Connecticut, but his arrival coincides with the arrival of a team of gun-toting thieves (disguised as caterers) bent on stealing $300 million from an underground safe. Leading the larcenous baddies is one "Mr. Scrooge" (John Leguizamo), who hadn't counted on Santa to spoil his Christmas plans. The Die Hard analogy is particularly appropriate, to say nothing of overt, as one of Leguizamo's first studio roles was a villainous turn in Die Hard 2 (1990).
Although his magical powers appear predicated on his alcohol intake, Santa is able to knock off the thieves in spectacularly gruesome fashion. Nobody is quite willing to admit that Santa Claus exists, much less is trying to save their lives, with the exception of cute little Trudy (Leah Brady), with whom he communicates via walkie-talkie during the siege. 
There are some slow patches along the way, and there's not much suspense regarding how everything turns out, but Violent Night kills time easily enough for those suffering from a post-holiday hangover, and cult status is hardly out of the question. 
The grizzled Harbour manages to imbue this sullied Santa with the semblance of a heart, and gives a laudable performance. Beverly D'Angelo earns a few laughs as the monstrous matriarch of the boorish brood being held hostage, but there's not much to her role. The real treat is Leguizamo, recently seen to fantastic effect in The Menu. In his 30-year screen career, Leguizamo never quite achieved leading-man status (anyone remember 1997's The Pest?) but has repeatedly proven himself a versatile and talented performer. He can play good guys, bad guys, large roles and small, but he always brings a little something extra to them — and does so again here. He's a worthy antagonist who lives up — and down — to his Scrooge moniker, and rest assured that come Christmas Day he'll have received precisely the "gift" he deserves. 
See Mark Burger's reviews of current movies on Burgervideo.com. © 2022, Mark Burger.