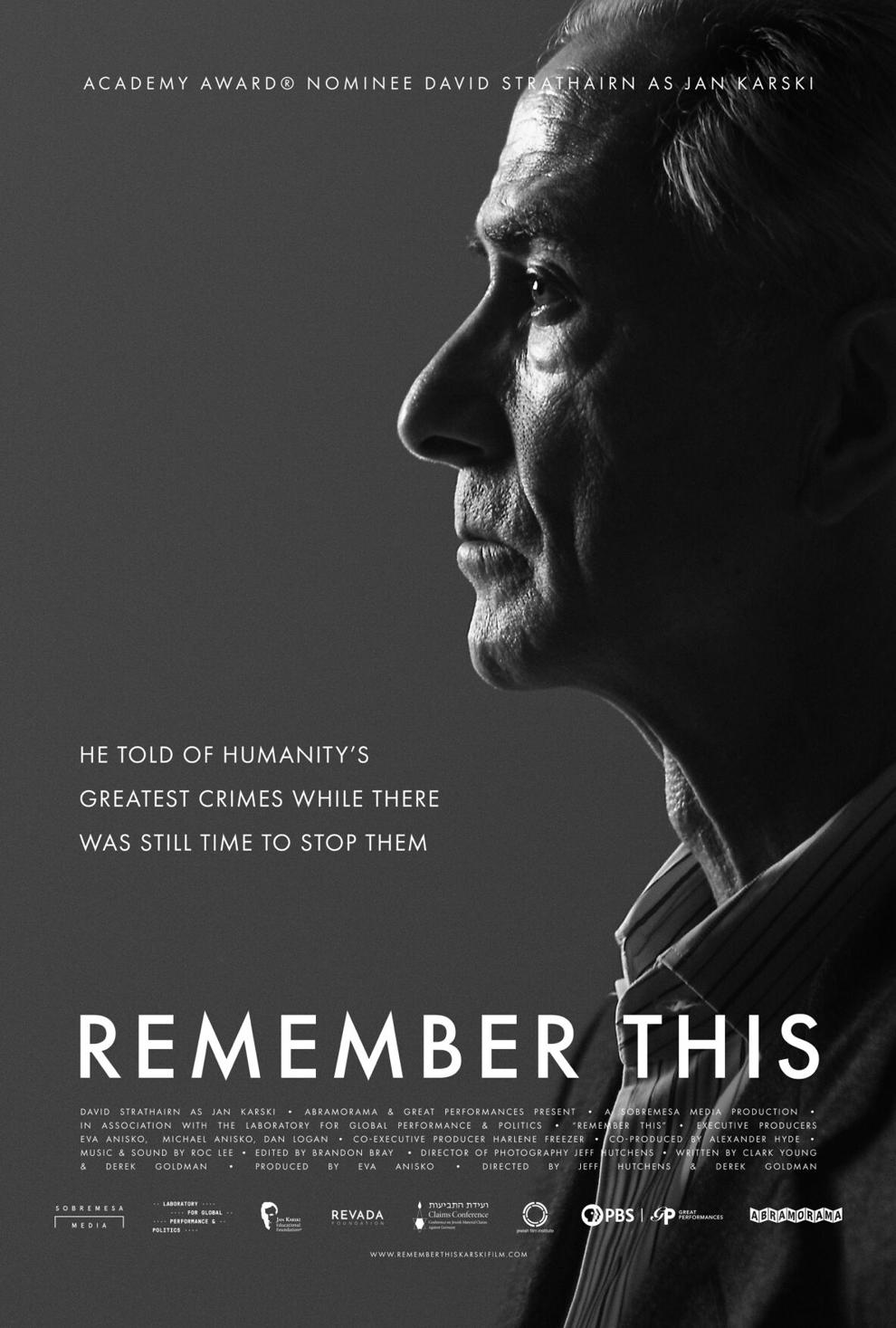 As its organizers enter the home stretch of preparations for the upcoming 25th festival, the RiverRun International Film Festival will present a free screening of Remember This at 7 p.m. Wednesday, March 2 at Marketplace Cinemas, 2095 Peters Creek Parkway, Winston-Salem. Admission is free, but tickets are required and are available at https://riverrunfilm.com/.
This fact-based drama details the life of Jan Karski, a member of the Polish Underground during World War II, who risked his life to offer first-hand accounts of war-torn Poland and the Holocaust to those in the West. Having survived torture at the hands of the Gestapo as a prisoner of war, he had experienced the atrocities inflicted upon Jews by the Nazis. Tragically, his warnings were ignored.
After the war, Karski earned his Ph.D. at Georgetown University, where he taught in the School of Foreign Service for 40 years. He was made an honorary citizen of Israel and awarded the distinction "Righteous Among the Nations." Karski died in Washington, DC, in 2000, but was posthumously awarded the Presidential Medal of Freedom by Barack Obama.
Remember This is based on the stage production Remember This: The Lesson of Jan Karski, which was commissioned for Karski's centennial, and first performed — appropriately enough — at Georgetown University. The one-man show starred David Strathairn (Oscar nominee for 2005's Good Night, and Good Luck.), who reprises his role as Karski in the film version under the direction of first-timers Jeff Hutchens and Derek Goldman. The film was originally presented on the long-running, award-winning PBS series Great Performances.
Remember This won the Audience Award for Narrative Feature at the 2022 Montclair Film Festival and the Audience Award for Best Narrative Feature and World of HA Change Maker Award at the 2022 Woodstock Film Festival.
"I had the opportunity to meet David Strathairn when he was in town last summer filming Angus MacLachlan's new film (A Little Prayer)," explained Rob Davis, RiverRun executive director, "and David mentioned the stage production of Remember This. When Eva Anisko decided to film the project, Beth Levison served as a consulting producer. RiverRun supporter Diane Barrett put us in touch with Beth when we showed her documentary, Storm Lake, and I reached out to her about Remember This, and she connected me with Eva.
"The story of Jan Karski is a compelling piece of history, and one that must be shared as widely as possible," Davis added. "All of us at RiverRun are honored to be able to show this film to our community. Jan Karski's story reveals human nature at its worst but also at its strongest from the standpoint of his perseverance and work. Through his story, we see the results of apathy and inaction in a tragic lesson we all need to remember."
A panel discussion will follow the screening featuring Barry Trachtenberg, the Rubin Presidential Chair of Jewish History at Wake Forest University, where he teaches classes on the Nazi Holocaust and Jewish responses to it, as well as classes on the history of Zionism, American Jewry, and other topics related to the modern Jewish past. Trachtenberg, who serves on the Board of Scholars of Facing History and Ourselves, has also authored the non-fiction books The Holocaust & The Exile of Yiddish: A History of the Algemeyne Entsiklopedye (2022), The United States and the Nazi Holocaust: Race, Refuge, and Remembrance (2018), and The Revolutionary Roots of Modern Yiddish, 1903-1917 (2008).
"We are excited to be partnering with RiverRun for one more screening event on the eve of the 2023 festival," said Zack Fox, general manager of Marketplace Cinemas. "Remember This is an incredibly powerful story starring the always-wonderful David Strathairn. I think this free event is only a taste of what wonderful films and programs Rob Davis and the RiverRun team have in store for us in the big festival!"       
Davis reciprocates the sentiment. "We're delighted to be working with Zack Fox and the Marketplace team again," he said. "The screenings at Marketplace have done well. For Nosferatu, we had 110 which is phenomenal for a 100-year-old silent film, and for Elf we had almost 100 — though that technically wasn't free as admission was two cans of food. Beetlejuice was a paid ticketed screening and did great too, with 106 in attendance. Also, our free 'Indie Lens' virtual screenings are doing well. Our most recent one, Love in the Time of Fentanyl, had 208 viewers."
As for the upcoming festival, "plans are going very well. We received over 1,750 submissions and are currently in the process of finalizing our schedule and accepting films for what promises to be a terrific silver-anniversary festival!"
The 25th annual RiverRun International Film Festival is scheduled for April 13-22, 2023.
For more information, call (336) 724-1502 or visit https://riverrunfilm.com/riverrun-halloween-retro-2022/.
See Mark Burger's reviews of current movies. © 2022, Mark Burger.