New Documentary 'The Mayberry Effect' Explores Enduring Legacy of 'The Andy Griffith Show'
Award-Winning Film to Be Released on 8/31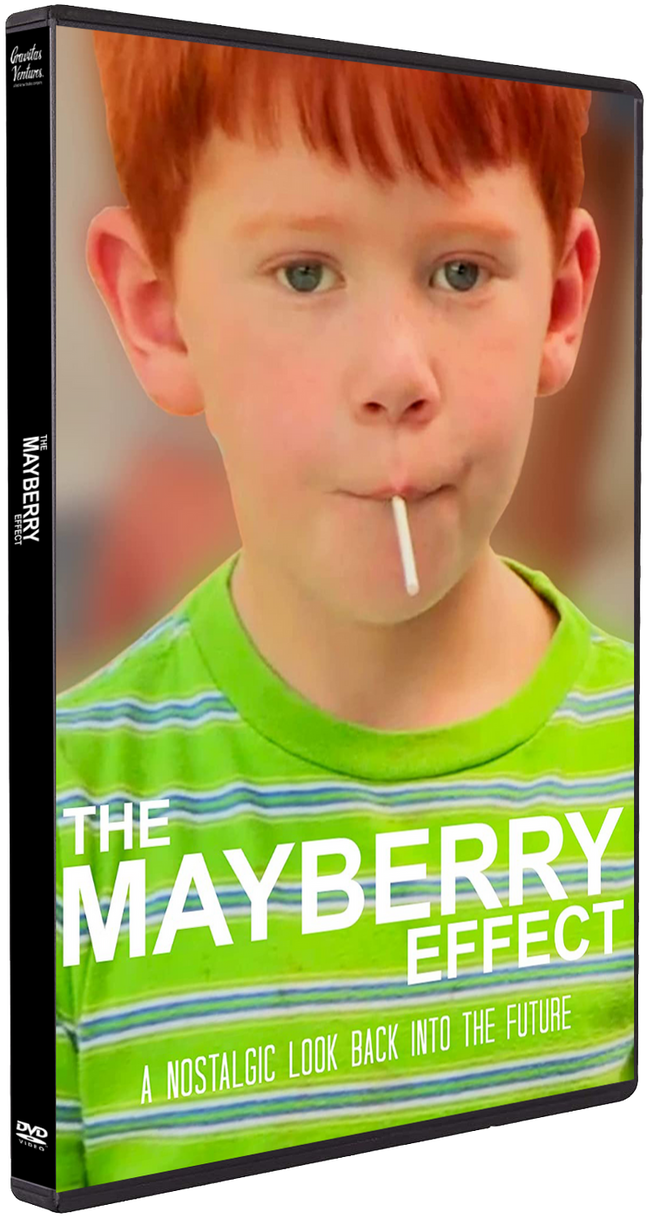 (Winston-Salem, NC) – Few television programs from the 1960s remain as instantly recognizable and still bring a smile to people's faces as The Andy Griffith Show.
Now, an award-winning feature-length documentary film, The Mayberry Effect, explores The Andy Griffith Show's enduring impact and the reasons so many fans of all ages are still drawn to it. The film will be released by Gravitas Ventures, a Red Arrow Studios Company and Chris Hudson Productions through more than 100 digital platforms on August 31.
The Andy Griffith Show originally aired on CBS from 1960 until 1968, generating consistently high ratings and winning six Emmy awards—five for actor Don Knotts ("Barney Fife") and one for actress Frances Bavier ("Aunt Bee")—as well as three additional Emmy nominations in humor and comedy categories. Six decades later, the iconic series about a Southern sheriff and the quirky characters in the fictional small town of Mayberry, North Carolina, remains in syndication around the world.
Mayberry was loosely modeled after actor Andy Griffith's real-life hometown of Mount Airy, North Carolina, which hosts Mayberry Days®, a festival that celebrates The Andy Griffith Show through tours, family events, musical performances and appearances by special guests. Writer-producer-director Chris Hudson uses the town and the festival as a jumping-off point for his documentary.
"I grew up watching reruns of The Andy Griffith Show as a kid in North Carolina," Hudson said. "The show has always been a part of my life, but when I attended Mayberry Days for the first time, I became fascinated with the people who came from all over to pay tribute to the characters and live out their Mayberry fantasy. I realized there was a story to be told."
Accepted in 37 film festivals, including the Orlando Film Festival and the George Lindsey UNA Film Festival in Florence, Alabama, The Mayberry Effect won 12 awards, including Best Documentary in the L.A. Short International Film Festival (2020), Green Mountain Christian Film (2020), and the Queen Palm International Film Festival (4th Qtr. 2020).
Though The Mayberry Effect touches on the history of The Andy Griffith Show, the documentary is more about the present than the past, examining the show's lingering influences on pop culture. Much of the film was shot in Mount Airy, but Hudson also spent five years conducting interviews throughout the U.S. with scholars, superfans and cast members of The Andy Griffith Show.
Actress Betty Lynn, who played Barney Fife's girlfriend "Thelma Lou" on The Andy Griffith Show, fell in love with Mount Airy and moved there from Los Angeles several years ago.
"People from all over come to see me," she says, in The Mayberry Effect. "Some are pastors. They use The Andy Griffith Show at their church to teach Bible school."
"…we're talking about Andy and Barney like they're real people with real problems," says Rick Houston, who leads the "Andy Griffith Bible Study" at Boonville Baptist Church in North Carolina. "The lessons that are to be found in The Andy Griffith Show are absolutely straight out of the Bible."
The Mayberry Effect focuses primarily on the feel-good aspects of The Andy Griffith Show, but also touches on the show's lack of significant Black characters. Though actor Rockne Tarkington guest starred as a former NFL player on one episode, only a few African American actors ever appeared on the show, usually in the background. In later years, Griffith said he wished he had insisted on having more Blacks on the show.
"Andy said if we had had a Black on our show, especially during the early years…CBS would have wanted us to put that person into a prominent role as a doctor or a lawyer," explained Neal Brower, author of the book Mayberry 101: Behind the Scenes of a TV Classic. "He said there's no way it would be believable in a Southern town, during that time period, that you would have Black professionals that would interact with the Whites."
The fact that race was not addressed on The Andy Griffith Show, however, is not unusual. The show was not political or controversial, preferring instead to focus on day-to-day personal problems in Mayberry, always ending on a happy note with a positive lesson to be learned.
"Watching my dad in the few clips of The Mayberry Effect reminded me again of the deep love he had for the show and its cast and crew," said Dixie Griffith, Andy Griffith's daughter. "In his film, Chris Hudson readily conveys the heart of Mayberry that lives on."
The Mayberry Effect will be released through most major digital platforms on August 31, 2021. More information is available at TheMayberryEffect.com.
About Chris Hudson
Emmy-nominated and Silver Telly Award-winning television producer/director Chris Hudson has worked in television for over 20 years. With an MFA in Documentary Film from Wake Forest University, Hudson started his career at WTVI, Charlotte's PBS affiliate, doing World War II documentaries. He currently works as an independent producer of documentaries, commercials and web videos. 
About Gravitas Ventures
Gravitas Ventures, a Red Arrow Studios company, is a leading all rights distributor of independent feature films and documentaries.  Founded in 2006, Gravitas connects independent filmmakers and producers with distribution opportunities across the globe.
Working with talented directors and producers, Gravitas Ventures has distributed thousands of films into over a hundred million homes in North America - over one billion homes worldwide. Recent releases include Our Friend directed by Gabriela Cowperthwaite, starring Casey Affleck, Dakota Johnson, and Jason Segel, Vanguard, directed by Stanley Tong and starring Jackie Chan, The Secret: Dare to Dream, directed by Andy Tennant and starring Katie Holmes; End of Sentence starring Logan Lerman and John Hawkes; Looks that Kill; Tread; Loopers: The Caddie's Long Walk, narrated by Bill Murray; and Colin Hanks' All Things Must Pass.  For more information, please visit www.gravitasventures.com, and follow @GravitasVOD on Twitter and @gravitasventures on Instagram. 
About Red Arrow Studios
Red Arrow Studios is one of the world's leading creators and distributors of entertainment content, comprised of an acclaimed network of international production companies and labels in seven territories; world-leading digital studio, Studio71, based in six countries; and global film and TV distributors Red Arrow Studios International and Gravitas Ventures. The group's significant output includes scripted, non-scripted and formatted content and IP, from TV and film to short-form and branded content, made for an array of global networks and platforms. Red Arrow Studios is part of ProSiebenSat.1 Media SE, one of Europe's leading media groups. Redarrowstudios.com