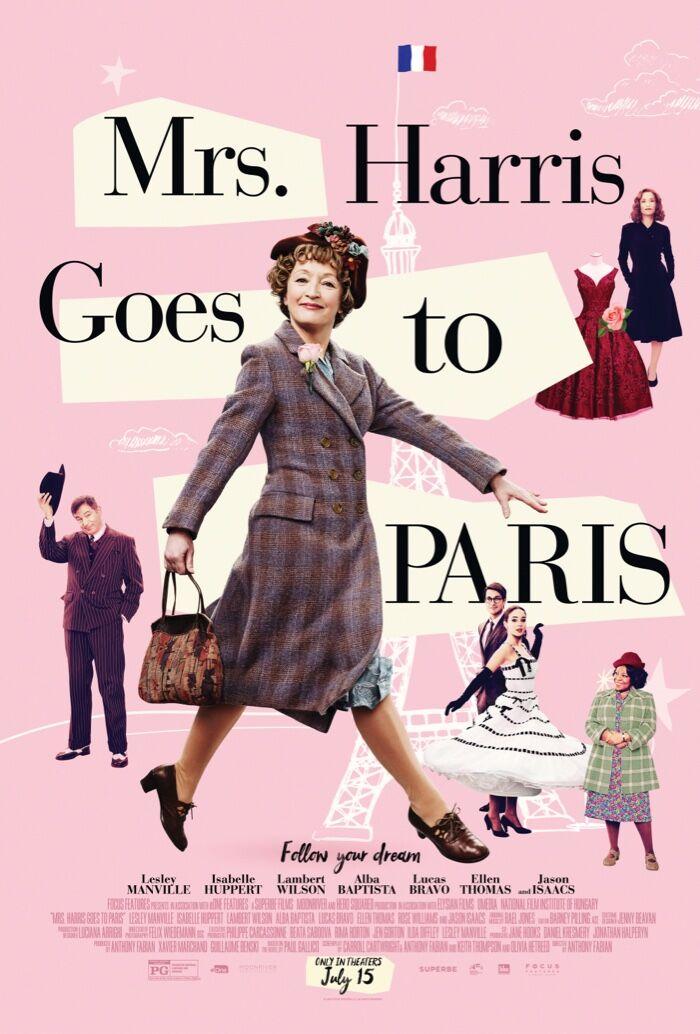 Having primarily distinguished herself in character roles, particularly those she's played for Mike Leigh (eight films in all) and an Oscar-nominated turn in Paul Thomas Anderson's The Phantom Thread (2017), Lesley Manville takes center stage in Mrs. Harris Goes to Paris, in which she plays the title character and also served as an executive producer, and she takes full advantage of the opportunity.
The film is based on the 1958 novel Mrs. 'Arris Goes to Paris by Paul Gallico, who fashioned an entire series of Mrs. 'Arris novels and is probably best known for The Snow Goose and The Poseidon Adventure (which became a blockbuster film in 1972). Grace Fields earlier played Mrs. Harris in a 1958 "Studio One" television episode, and Angela Lansbury essayed the role in a contemporized 1992 TV movie, but this is the first feature film based on the character.
Manville's Ada Harris is a hard-working housekeeper in the London district of Battersea. As the film opens, it is 1957 and Mrs. Harris has only now just learned that the husband she's awaited in all that time was killed in action during World War II. Like other hardships she's endured, she accepts her grief with grace, and goes about her work with due diligence, until she happens to lay eyes on a Christian Dior dress.
Not only is Mrs. Harris enchanted by the sight, but she quickly becomes obsessed with purchasing one for herself. To that end, she scrimps and saves — and even does a little gambling — to finance her trip to Paris. Having never really left Battersea before, the City of Lights is truly an eye-opening experience, and it will ultimately become a life-changing one, as well.
Produced and directed by Anthony Fabian, who also co-wrote the screenplay with Carroll Cartwright, Keith Thompson, and Olivia Hetreed, Mrs. Harris Goes to Paris is nothing if not agreeable throughout. Although awash in sentimentality, the film refrains from becoming too cutesy — although it does come close at times. It luxuriates in the stylish trappings of its haute couture milieu, sprinkled with the kind of cinematic fairy dust that, at its best, recalls the whimsy of Frank Capra.
At heart, Mrs. Harris Goes to Paris is a whimsical, warm-hearted fable about following your dreams. It's may seem unusual that Focus Features would choose to release it in the summer amid the deluge of big-bang, big-buck comic-book extravaganzas, but it does serve as a viable alternative to those larger, louder films. It's quaint, even old-fashioned, and leisurely paced — perhaps a bit too much so. The simple, homespun wisdom that Mrs. Harris espouses, which has such a charming yet powerful effect on those she meets in Paris, she comes to realize also applies to her own life, but by that point the audience is way ahead of her.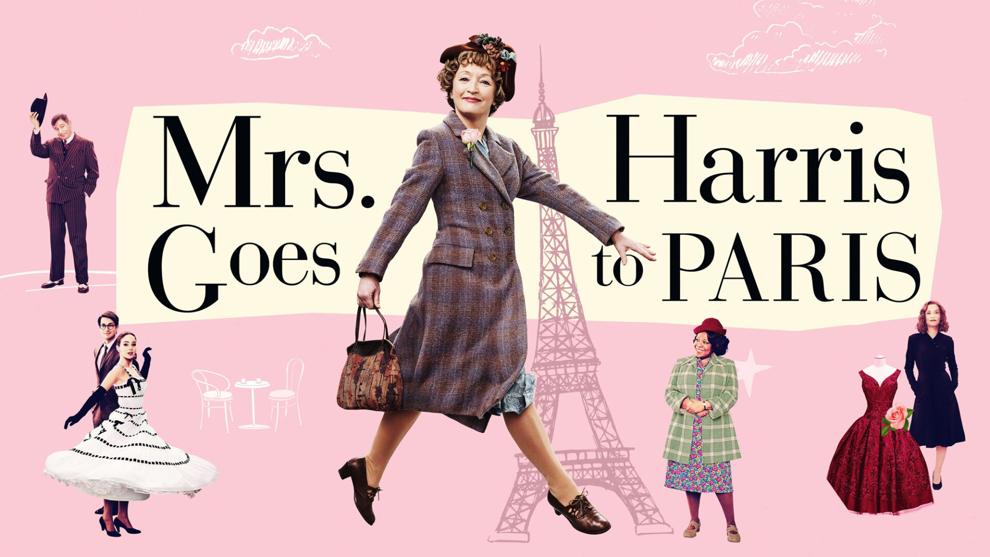 The film has some very nice moments and some very nice scenes, but there are a lot of character and subplots percolating throughout, and the film can't comfortably accommodate all of them. As a result, several seemingly significant characters don't have much significance and are given short shrift. Still, there's a very friendly cast on hand: Lambert Wilson, Alba Baptista, Lucas Bravo, Rose Williams, Ellen Thomas, Anna Chancellor, Christian McKay, and Phillipe Bertin (as Christian Dior).
Faring best are Jason Isaacs as Archie, the lovably rakish Battersea bookmaker whose cheerful flirtations with Mrs. Harris mask a genuine affection, and Isabelle Huppert as her "nemesis" Claudine Colbert, the snooty Dior administrator constantly exasperated by Mrs. Harris. Huppert, herself an embodiment of Gallic glamor and a superb dramatic actress, enjoys a change of pace playing a more light-hearted role than she usually does. Her onscreen parrying with Manville allows both actresses to display their not-inconsiderable comedic talents. It's these little character moments that keep Mrs. Harris Goes to Paris buoyant.