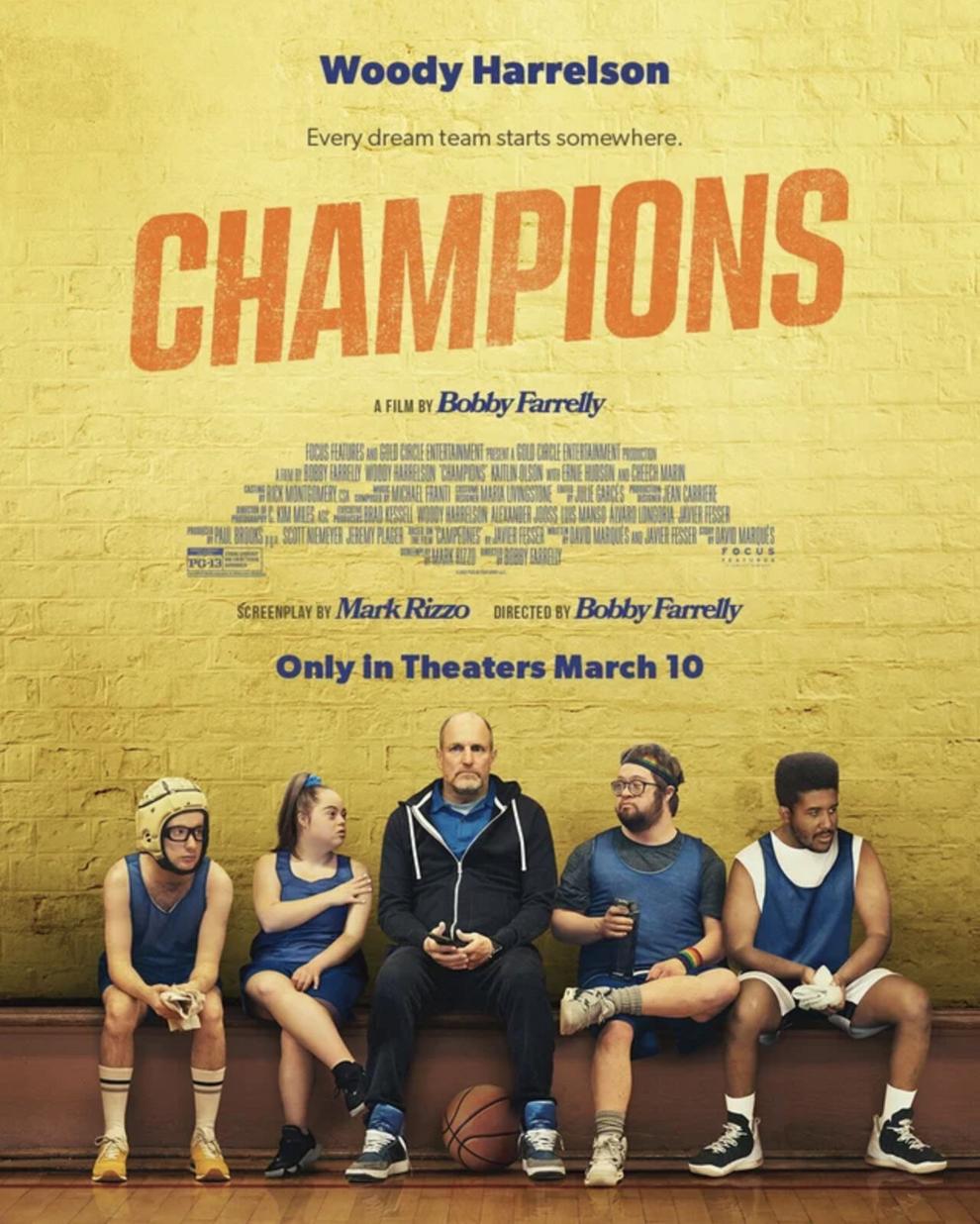 Champions has a good cast, a nice message, and some hearty laughs — but it's utterly predictable and a good half-hour too long, which all but negates its positive attributes. Lesser would have been sharper, better, and stronger.
The film, a remake of the award-winning 2018 Spanish comedy Los Campeons, reunites Woody Harrelson with Bobby Farrelly, who directed him in 1996's Kingpin — a far better sports comedy. Harrelson (also doubling as an executive producer) plays Marcus Marakovich, a minor-league basketball coach with a major-league attitude problem. The character's a boozer and loser in need of redemption, a distaff variation on the one-armed bowler he played in Kingpin.
Having lost his job as an assistant coach with the Iowa Stallions after an altercation with head coach Resetti (Ernie Hudson), Marcus plows into a parked police car after drowning his sorrows in a local tavern, and is sentenced to 90 days community service in Des Moines coaching a Special Olympics squad called the "Friends." Marcus initially displays little affinity for mentoring intellectually-challenged kids, but — surprise, surprise — he slowly comes around to the task, and it's only a matter of time before — surprise, surprise — the Friends get on a hot streak.
None of this is remotely surprising, but what is genuinely surprising is Farrelly's slack pacing. This is the first film he's directed without brother Peter, and even the basketball scenes lack intensity and punch. In contrast, the bowling scenes in Kingpin were splashy, funny, and exciting. There was a real sense of suspense. Champions shuffles along, slogging through an endless string of sports-movie clichés until it reaches its end. (Rest assured, "Sweet Georgia Brown" — the theme song of the Harlem Globetrotters — gets trotted out eventually.)
The Friends are played by actual people with emotional disabilities, some of whom have never acted professionally before. They're a winning and winsome team, particularly James Day Keith as Benny and North Carolina's own James Iannucci as Johnny, whose older sister Alex (Kaitlin Olsen), recently "enjoyed" (as it were) a one-night stand with Marcus and finds herself falling for him. 
There's also nice work from Matt Cook as Marcus's assistant coach Sonny, Cheech Marin as the recreation center's manager Julio, and the always welcome Hudson. It's a very friendly ensemble cast, which keeps Champions from stagnating entirely — although it's frequently an uphill battle. There's no question that the film has good intentions, but in this case, it simply isn't enough. What could have been a slam dunk is instead an airball. 
See Mark Burger's reviews of current movies. © 2023, Mark Burger.