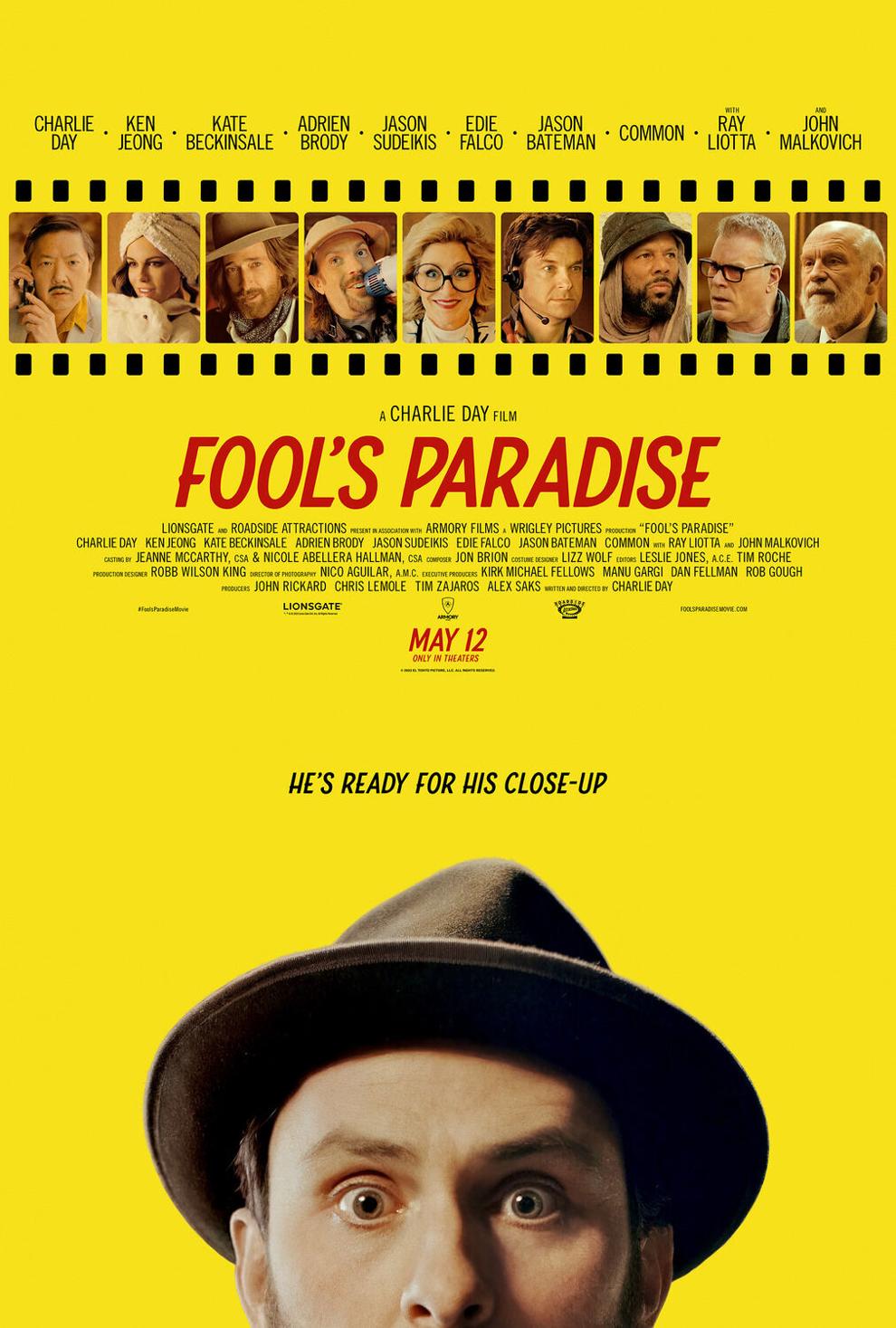 After what will very likely be a brief theatrical release, Fool's Paradise may well find more favor on the small screen. The feature writing/directing debut of leading man Charlie Day (It's Always Sunny in Philadelphia) was completed in 2018, but its delay in reaching the screen is less due to quality than a concept that is remarkable — but somewhat refreshing — out of step in the contemporary big-buck big-bang movie mentality.
The film is Day's homage to such comedy icons as Charlie Chaplin and Jacques Tati. If the hat he wears isn't quite the bowler of the Little Tramp or the beret of Monsieur Hulot, it's a close enough approximation to make the inference. A more recent inspiration would be Rowan Atkinson's Mr. Bean, as well as Chance, the guileless gardener so brilliantly played by Peter Sellers in Being There (1979). Like those characters, Day's "Latte Pronto" — who speaks nary a word (until the end) — bumbles and stumbles into circumstances beyond his control, utterly confounded by what's transpiring around him yet somehow powerless to escape.
When first glimpsed in a psych ward, his character condition is described as "medically undefinable." He might be an interesting case study, but because of government cutbacks, he is unceremoniously bused to the middle of Los Angeles and literally dumped on the streets, which turn out to be paved with gold — sort of.
It is there he is glimpsed by a hotshot movie producer (the late Ray Liotta) and whisked to the set of his latest movie, Billy the Kid. The leading man (also played by Day) is a booze-soaked boor who refuses to work, so his lookalike is promptly prepped for his big-screen bow. "Do nothing," Liotta advises. "It works for tons of actors."
Although his first scene requires 20 takes, our hero manages to emerge as a superstar, and Liotta's demand for a "latte — pronto" to a production assistant is assumed to be his discovery's moniker. In quick succession, Latte gets a publicist (an unrestrained Ken Jeong), an agent (Edie Falco), and even a partner in the form of his co-star, a blathering diva named Christiana Dior (Kate Beckinsale), who impetuously beds him, marries him and adopts three children from impoverished third-world countries — before divorcing him, of course.
The Hollywood satire in Fool's Paradise is sometimes obvious, sometimes silly, and sometimes inspired. And if the film doesn't always hit the target — indeed, sometimes it misses badly — there's considerable compensation in the star-studded cast, which also includes Adrien Brody as Latte's reckless co-star (who describes himself as a "half-method" actor), Jason Sudeikis and Steve Coulter as domineering directors, Common as a former action icon-turned-homeless sage, Jason Bateman, Jimmi Simpson, Jillian Bell, Alanna Ubach, Day's real-life wife (and It's Always Sunny in Philadelphia) Mary Elizabeth Ellis, and John Malkovich as some sort of tycoon whose teeth-gnashing tantrum unmistakably echoes Ned Beatty's similar (and Oscar-nominated) rant in Network (1976).           
The film's novelty tends to lose steam around the midpoint, and Day's attempts to inject pathos into the proceedings — shades of Tati and Chaplin once more — seem rather forced, but there's no mistaking his noble attempt. If FoolFs Paradise is a failure, it's certainly an interesting and well-intentioned one. The film is not without its share of flaws, but it's swinging away at every turn. For that, Day deserves some respect.
See Mark Burger's reviews of current movies. © 2023, Mark Burger.