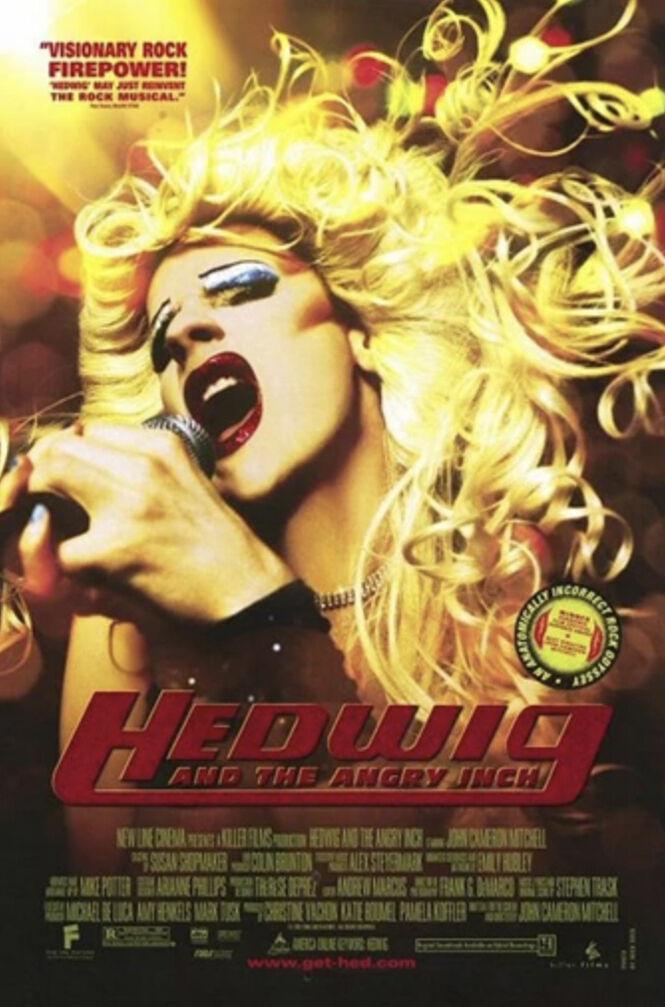 "OUT at the Movies," Winston-Salem's popular LGBTQ+ screening series and annual festival, has teamed up with Camel City Playhouse and Mystery Men Productions for a special screening of John Cameron Mitchell's award-winning cult smash Hedwig and the Angry Inch on Friday, March 31 at Camel City Playhouse, 110 W. Seventh Street, Winston-Salem. Doors open at 6:30 p.m., tickets are $10 in advance (at https://outatthemovies.org/) or $15 at the door.
"I am excited about our screening of this cult film because Hedwig always delivers in fostering discussion and conversation about what gender means, how we use gender to define identity and how we treat people who, for whatever reason, don't fall within conventional conceptions of male and female," said Rex Welton, the co-founder and director of the "OUT at the Movies" screening series and festival.
There will be a live performance at 7 p.m. prior to the 7:15 start time for the film, after which there will be a panel discussion regarding the enduring legacy of Hedwig and the Angry Inch and transgender representation in film moderated by "OUT at the Movies" board member Angela Stewart. Beer and wine will be available for purchase during the event.       
Based on the 1998 off-Broadway punk-rock musical written by Mitchell and Stephen Trask, Hedwig and the Angry Inch follows the title character (played by Mitchell), a flamboyant, gender-queer East German rock star pursuing former collaborator and lover Tommy Gnosis, who has plagiarized her songs and become a superstar in his own right. The play ran for two years and won both the Obie Award and Outer Critics Circle Award for Best Off-Broadway Musical.
In 2001, Mitchell and Trask brought Hedwig to the big screen, with Mitchell making his feature directorial debut. Miriam Shor, who played the role of Yitzhak in the original play, reprised her role, with Trask playing Skszp, Michael Pitt as Tommy Gnosis, Andrea Martin, Rob Campbell, Alberta Watson, and Michael Aronov (in his feature film debut) rounding out the cast.
Although it grossed less than $5 million during its theatrical release, Hedwig was undoubtedly a critics' darling, with Mitchell receiving a Golden Globe nomination for Best Performance by an Actor in a Motion Picture (Comedy or Musical), three awards at the 2001 Deauville Film Festival (Cinélive Award, Critics Award, Grand Special Prize), winner of the New Generation Award and nominee for the LAFCA Award at the 2001 Los Angeles Film Critics Association Awards, winner of the NBR Award for Outstanding Directorial Debut from the National Board of Review, winner of the Audience Award and Directing Award and a nomination for the Grand Jury Prize at the 2001 Sundance Film Festival, and many others.
In 2014, Hedwig and the Angry Inch made its Broadway debut with Neil Patrick Harris as Hedwig and won four Tony Awards, including Best Actor in a Musical, Best Featured Actress in a Musical (Lena Hall), and Best Revival of a Musical. Mitchell would reprise the role of Hedwig for a limited time upon Harris's departure, and received a special Tony Award as a result.
These are busy times at "OUT at the Movies": The annual fund-raiser, "Key West in Winston-Salem," is scheduled for 7 p.m. June 3rd, a full-blown bash that will include island-inspired delicacies, tasty drinks, female impersonators, exotic dancers, and surely a surprise or two, followed by a downtown after-party at 11 p.m.
The 10th annual "OUT at the Movies" International Film Festival is scheduled for Sept. 28th-Oct. 1st in downtown Winston-Salem. "Our screening committee has begun watching films to assist us in the process of determining our programming," Welton said. "We have already received several strong submissions and look forward to a stellar festival and celebration of 10 years of movies, Q&As, concerts, and parties!"
Like the RiverRun International Film Festival, "OUT at the Movies" offered ticketed virtual screenings during the COVID-19 pandemic. "Although last year's festival was in-person, all of our films were available online and quite a few folks preferred to watch movies from home," Welton said. "Our in-person attendance was down, and although part of it was due to the remnants of Hurricane Ian, I believe there were many audience members who stayed away due to COVID. Here's hoping that 2023 is a smashing success as we celebrate the 10th anniversary of our festival and the 20th anniversary of our film series."
For more information, call (336) 918-0902 or visit the official "OUT at the Movies" website: https://outatthemovies.org/.
See Mark Burger's reviews of current movies. © 2023, Mark Burger.