With a tangy Latin flavor, Puss in Boots: The Last Wish is a belated sequel to 2011's Puss in Boots, which showcased the title character (voiced by Antonio Banderas) first introduced in Shrek 2 (2004). That the film took 11 years to be made is the quintessential Hollywood development hell. There were numerous false starts, tossed concepts, and production permutations. Indeed, the tykes of yesteryear who flocked to Puss in Boots are now teens, many of whom wouldn't be caught dead at what they'd perceive as a "kiddie movie."
That said, The Last Wish easily establishes its own identity and offers plenty of entertainment for kids and adults alike. Like the Shrek franchise, the film's bouncy, nicely balanced sense of humor is not limited to children. 
As the story opens, Puss comes to discover that he has used up eight of his nine lives. He impulsively buries his cape and attempts, rather amusingly, to settle into retired anonymity. But when he learns that "the Wishing Star" has been located in the vicinity of the "Dark Forest," he reasons that he can wish for more lives and embarks on a quest to this end, accompanied by old sparring partner Kitty Softpaws (voiced by Salma Hayek) and a new companion, the perennially optimistic pup called Perrito (voiced by Harvey Guillen).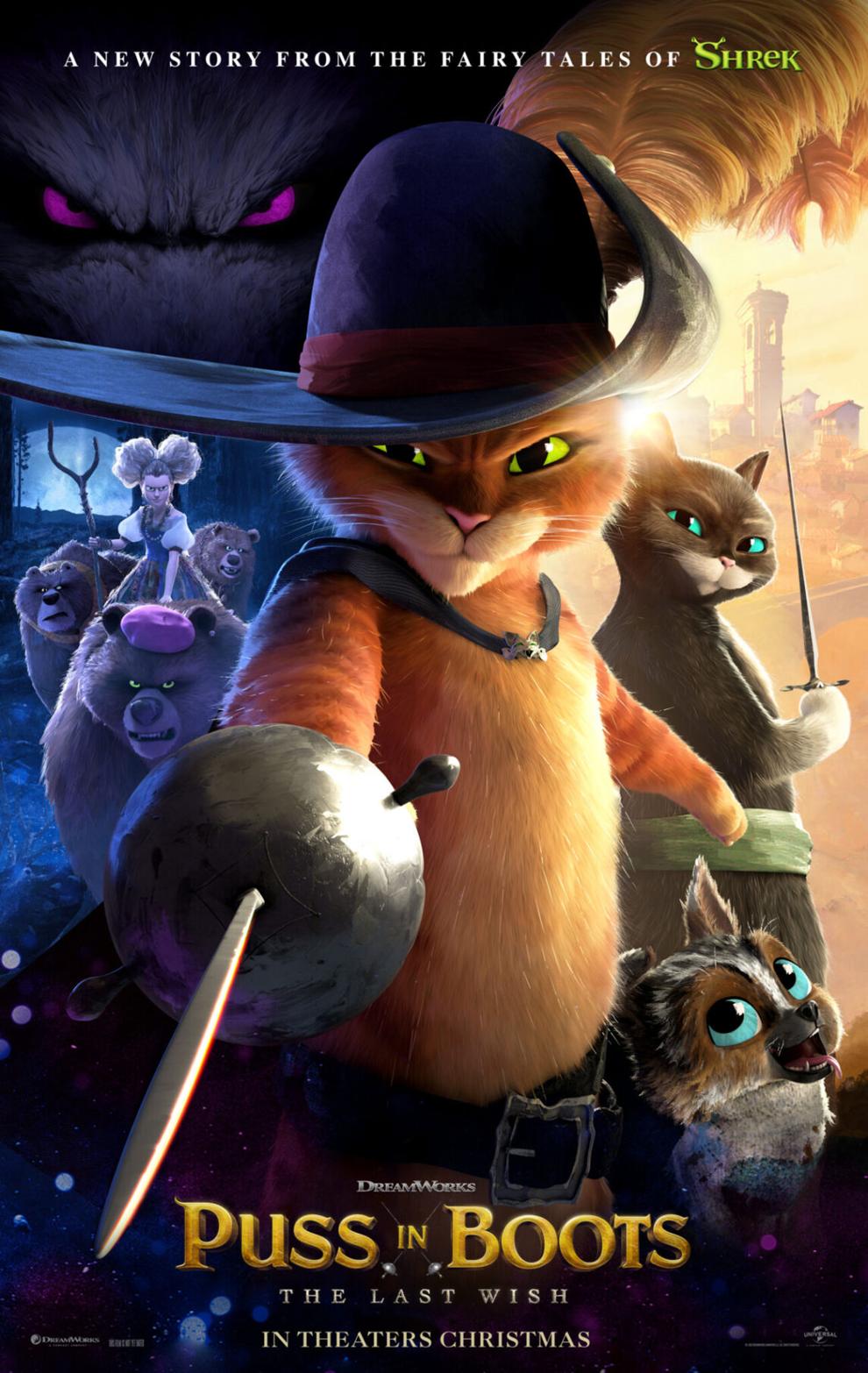 They aren't the only ones seeking the Wishing Star, and here the filmmakers have incorporated some inspired reinvention of traditional fairy-tale characters. Goldilocks (voiced by Florence Pugh) and the Three Bears (voiced by Olivia Colman, Samson Kayo, and reliable Ray Winstone) are portrayed as a Cockney crime ring, and "Big" Jack Horner (voiced by John Mulaney) is the blubbery baker's son bent on absolute power, and essentially the villain of these proceedings.
There is another menacing presence: The black-cloaked red-eyed, sickle-wielding Wolf (voiced by Wagner Moura). He's not after the Wishing Star, he's after Puss in Boots. Wolf represents death, and his relentless pursuit genuinely petrifies Puss. He's also one of the scarier characters in an animated family film in quite some time, and he's never played for laughs. When he appears, the tone of the film becomes distinctly darker.
Amid the colorful, occasionally overblown action sequences, Puss in Boots: The Last Wish is one of the (very) few animated features in which the main character confronts his own mortality, which — surprisingly — is its strongest attribute. For smaller children who might not grasp the concept of death, there's more than enough flash and panache to keep them entertained, but The Last Wish is not without some resonance for grown-ups, too. 
Banderas invests the character with his trademark bravado and savoir-faire but also a touch of melancholy. This may be reading too much into it, but it seems entirely plausible that Banderas, who suffered a heart attack in 2017, had a hand in shaping the character's emotional arc. This time, Puss in Boots has found himself in something of an existential quandary, and who would have expected that?
It wouldn't be fair to reveal how it all turns out, but the last scene indicates that we've not seen the last of Puss in Boots, and that we may well be seeing some old friends in the next installment, but let's hope it comes to pass more quickly than it took this film to reach the screen.
Leave it to that wily feline of the title — "outlaw to some, hero to others, legend to all," as he modestly boasts — to extract some unexpected, but undeniably welcome, magic from a well-worn but still-potent franchise. Puss in Boots is still the cat's meow. 
See Mark Burger's reviews of current movies on Burgervideo.com. © 2022, Mark Burger.