The Camel City Playhouse raises the curtain on its production of the classic Tennessee Williams drama The Glass Menagerie at 7 p.m. Thursday. The play runs through March 19 at 110 W. Seventh Street, Winston-Salem. Showtimes are 7 p.m. Thursdays through Saturdays, and 2 p.m. Sundays. Tickets are $20 and can be purchased here: https://camelcityplayhouse.com/tickets-2/.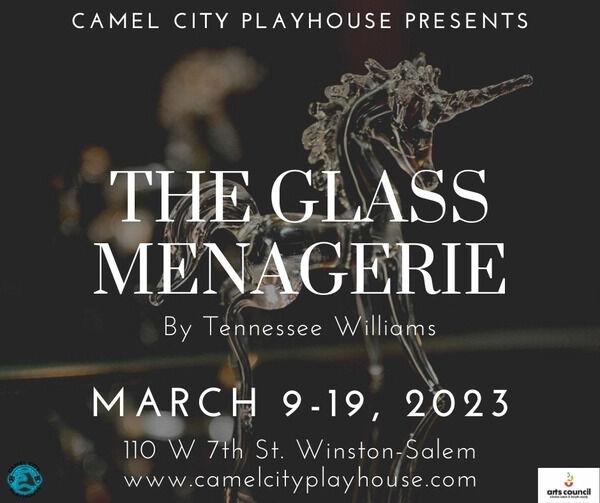 The Glass Menagerie is a semi-autobiographical drama set in St. Louis during the late 1930s. Amanda Wingfield is a faded Southern belle, abandoned long ago by her husband, who has tenaciously raised their children Tom and Laura by herself. But in doing so, she has unwittingly alienated them with her smothering love. Tom and Laura adore their mother but also wish to be free of her intense attention, realizing that she has imparted many of her neuroses upon them. It is a timeless depiction of a quintessentially dysfunctional family, rife with passion and pain, longing and loss.
The original 1944 stage production did not receive unanimous raves when it premiered in Chicago, but made the move to Broadway and won the 1945 New York Drama Critics' Circle Award as Best American Play. That accolade, combined with a lengthy run (over a year), established Williams as a front-rank dramatist and essentially made his career. The play has been revived countless times and has also enjoyed several screen versions, the most recent being Bahram Tavakoli's award-winning Here Without Me (2011), in which the action was transplanted to modern-day Iran (!). The Camel City Playhouse production of The Glass Menagerie is directed by Lara Ianni.
The Camel City Playhouse is also holding auditions for its next staged reading of an original piece by Mark Pirolo called Bandwagons. This ensemble drama focuses on a group of college friends who bonded while protesting the Vietnam War in the late 1960s. Years later they reunite, only to discover that the passage of time has frayed the ties that originally brought them together, forcing them to confront the past while attempting to move forward into the future.
The auditions will take place on March 18 from 1 to 3 p.m. at the Camel City Playhouse. The five principal characters are Drew Byrnes (late 30s-early 40s), a best-selling novelist; Kate Taylor Byrnes (mid-late 30s), Drew's estranged, long-suffering wife; Matt Russel (mid-late 20s), a macho marine biologist who is now Drew's partner; Ceil Huntsinger (late 30s-early 40s), a gifted painter who has enjoyed a long friendship with Drew and Kate and is also devoted to Matt; and Bill Prentice (early 40s), Ceil's laid-back partner.
Last week marked the Camel City Playhouse's inaugural presentation of "Madame Mae's Horror Frights," a series of big-screen shockers hosted by Madame Mae, a horror hostess in the grand (guignol) tradition and (jugular) vein of Cassandra Peterson's Elvira, Ernie Anderson's Ghoulardi, and Svengoolie (played by Jerry G. Bishop and Rich Koz). It's no joke to say that, for local monster mavens, Madame Mae is the hostess with the "mostest."
Last week, Madame Mae got the jump on St. Patrick's Day by presenting the 1993 horror-comedy Leprechaun, starring Warwick Davis (in the title role) and a young Jennifer Aniston, who probably wishes she didn't have it on her resumé. "It was great," said Mae. "We had about 25-30 people there. They all were fun and fantastic to talk with."
Next on the hit parade is David Cronenberg's The Fly (1986) on March 14, the award-winning cult classic Ginger Snaps (2000) on March 21, and Joel Schumacher's The Lost Boys (1987) on March 28. Audience members are encouraged to "dress" for the occasion — as Jeff Goldblum's character in The Fly (which ought to be interesting, to say the least), as their favorite "Final Girl" for Ginger Snaps, and as a teen vampire for The Lost Boys.
"I wanted to create a space for people to gather together and share their love of horror and make real connections to one another," Mae explained. "I know a lot of people are looking for friends in this area but it's honestly really scary to do that sometimes because you never know if they have something in common with you or not. This is a great way to already have a baseline of conversation. Making that idea more expansive, I wanted to include the community as a whole. Each month we will be doing a charity event or pairing up with a business to give back to the community and to unite people together. I guess you could say that personal connection and community outreach brought this series to life."
Admission to the "Horror Frights" screenings is free, but donations are appreciated. There will also be refreshments available, many of them designed specifically for each film. For Ginger Snaps, for example, there will be ginger snap cookies and blood bags filled with Blood Mead. 
For more information, call (336)546-7543 or visit the official Camel City Playhouse website: https://camelcityplayhouse.com/.
See Mark Burger's reviews of current movies. © 2023, Mark Burger.