They're young. They're in love. And they eat people.
That, in a nutshell, describes Bones and All, producer/director Luca Guaganino's striking adaptation of the best-selling novel by Camille DeAngelis. It's a coming-of-age tale with a unique — and uncomfortable — twist. The Menu (reviewed last week) is not for all tastes, but it's a black comedy. Bones and All is not. It's presently strictly in dramatic terms, utterly devoid of humor but not humanity.
Taylor Russell stars as Maren, a teenager in the 1980s who lives with her divorced father (André Holland). But when she commits an act of cannibalistic violence, he leaves her to her own devices, prompting her to embark on a journey of self-discovery — one that Guaganino and screenwriter/producer David Kajganich (who previously collaborated in 2018's Suspiria remake) depict in absorbing terms.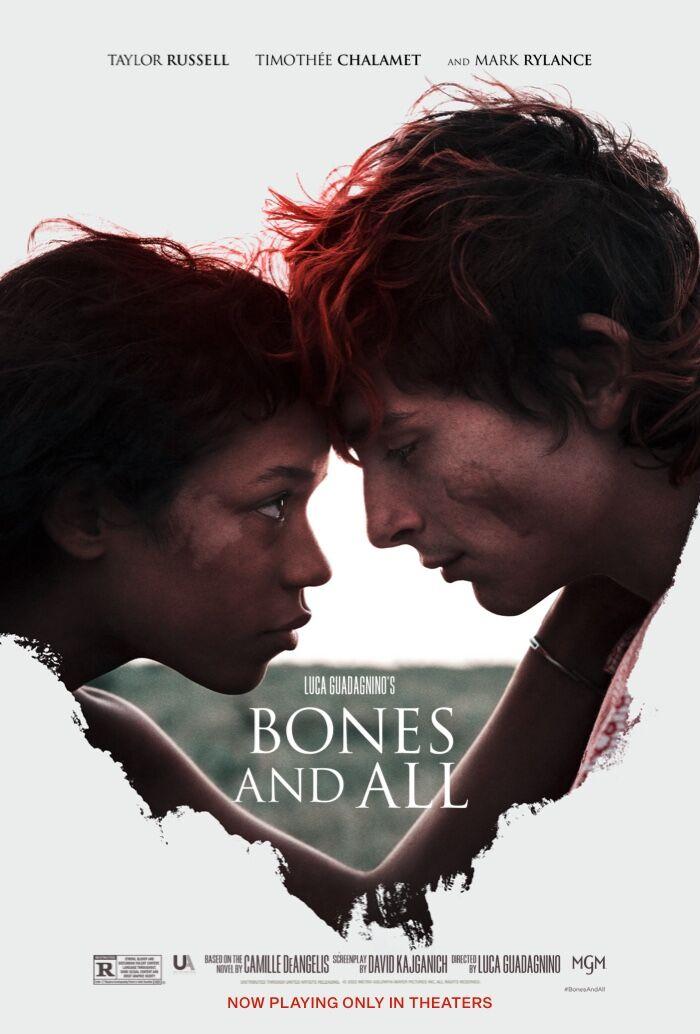 During her cross-country jaunt to seek out her birth mother, Maren encounters Lee (Timothée Chalamet), a fellow "eater" who shows her the ropes of the nomadic lifestyle they must pursue. According to the film, there's an entire sub-culture of cannibals at large in the heartland of America. They don't need to eat human flesh for sustenance but are unable to control their urge for long periods of time. The camaraderie they share is unmistakable, to say nothing of uncomfortable.
The remarkable thing is that no matter how heinous Maren and Lee's crimes are — or how vividly they are depicted (the squeamish are forewarned) — the actors manage to muster a certain amount of empathy for these tortured characters. The filmmakers treat their condition in matter-of-fact, even indifferent terms, as if it were an addiction (possibly hereditary) that they can't suppress. 
Augmented by Arseni Khachaturan's sweeping cinematography and an appropriately mournful score by Trent Reznor and Atticus Ross, Bones and All succeeds as a psychological thriller, a twisted character study, and even as a love story. Yet at the end, the narrative feels not so much ambiguous as incomplete. The final shot, suggesting that the memory of love trumps all, doesn't quite ring true.
The leads are impeccable. Chalamet, reuniting with Guaganino after Call Me by Your Name (2017) and doubling as a producer, has repeatedly proven himself an actor willing to take chances, and he does so again here, expertly combining Lee's vulnerability with a lethal charm. Russell, in a breakout performance, basically holds the film together with a poignant portrayal of adolescence in turmoil, afraid to love and trust because she knows what she's capable of. They're a dangerous and dynamic duo.
Also on hand are Jessica Harper, Chloe Sevigny, an unrecognizable Michael Stuhlbarg, noted filmmaker and UNCSA School of Filmmaking David Gordon Green (amusingly clad in a Dokken T-shirt), and Mark Rylance, as reliable as any actor working today, offering perhaps his most chilling screen performance as Sully, a fellow cannibal who sniffs Maren out and becomes increasingly, desperately obsessed with her. 
 Bones and All may not work on every level, but it again demonstrates Guaganino's penchant for tackling difficult, multi-layered material. This certainly qualifies, for those who can take it.
See Mark Burger's reviews of current movies on Burgervideo.com. © 2020, Mark Burger.