As pre-Halloween scare fare goes, The Invitation is all trick and no treat. It's the sort of simple-minded film in which the audience is way ahead of its protagonist almost the entire way.
That would be Game of Thrones graduate Nathalie Emmanuel, giving a pallid, unpersuasive performance as Evie Anderson, a part-time caterer's assistant in New York City who is struggling to make ends meet yet lives in a pretty nifty loft with a good view of the skyline.
In one of many contrivances cooked up by screenwriter Blair Butler, Evie takes a DNA test and learns she is distantly related to a wealthy, affluent family in England. She meets "Cousin" Oliver (Hugh Skinner), and impetuously accepts his equally impetuous invitation to attend a family wedding, jetting across the Atlantic — at Oliver's expense — and ending up at the mammoth mansion known as New Carfax Abbey (hmmm …), where she immediately captures the eye of handsome host Walter DeVille (hmmm …), played with rakish sex appeal by Thomas Doherty. 
Evie is so taken with her ornate surroundings and her attentive new suitor that she fails to notice such odd goings-on as the dwindling number of maids on the household staff. What she doesn't realize — but the audience does — is that she's being groomed to continue the DeVille bloodline — in more ways than one.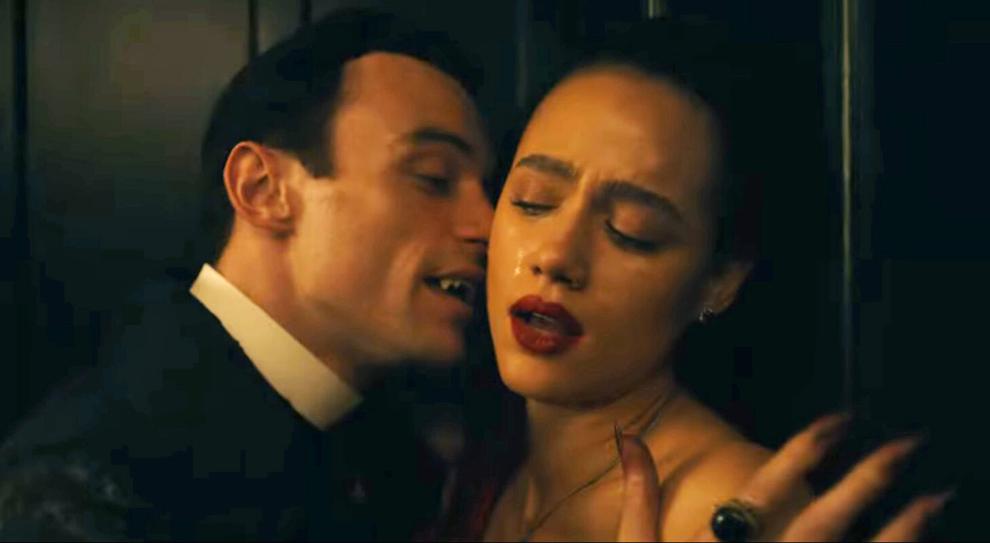 Directed in clunky, plodding fashion by Jessica M. Thompson (also an executive producer), The Invitation isn't even good for campy or unintentional laughs. The film takes itself very seriously, to an almost self-defeating level, and the "alterations" to traditional vampire lore — including the notion that the undead can freely traipse about in daylight — are hardly improvements. 
A few performances are reasonably competent: Doherty (who replaced Garrett Hedlund before filming), Skinner as jocular Cousin Oliver, and kittenish Alana Boden as blonde bridesmaid Lucy. The ever-reliable Sean Pertwee plays Mr. Fields, the sort of stiff-backed British butler who knows where all the bodies are buried … probably because he's the one who buried them. The score, by Dara Taylor, would have done justice to a better film, and Felicity Abbott's marvelous production design strikes the film's only triumphant note.
Aside from those points of interest, however, The Invitation is a bloody bore. Thompson promises that the home-video release of The Invitation will have even more blood, for those who care. Few are likely to.