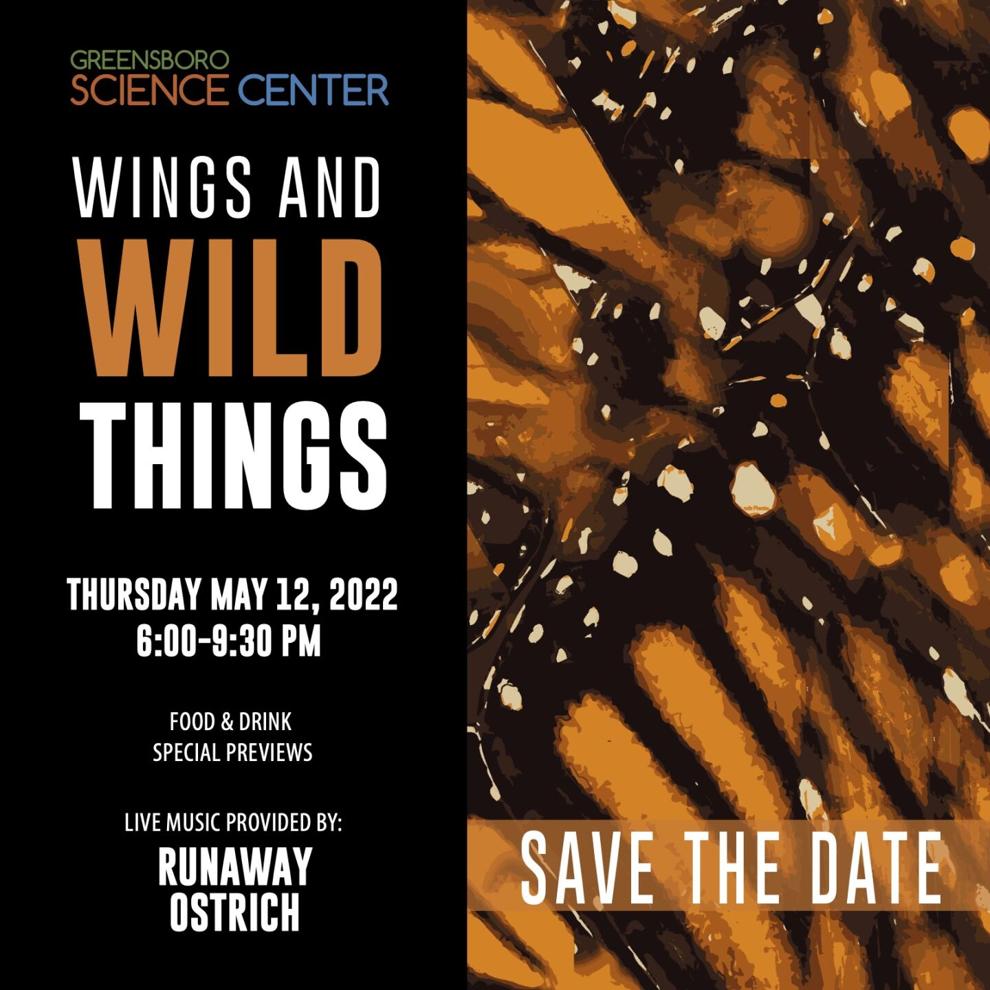 Wings & Wild Things Scheduled for Thursday, May 12
GREENSBORO, NC -- The Greensboro Science Center (GSC) will host its second annual Wings & Wild Things fundraising event on Thursday, May 12, 2022 from 6:00 p.m. - 9:30 p.m. 
Kathy Neff, the GSC's VP of Development, shared, "Wings and Wild Things is our signature spring fundraising event where we will be celebrating two new exhibits opening later this spring, The Cole Family Monarch Conservation Center and Butterfly House and the Amazing Butterflies traveling exhibit. Along with previewing these new exhibits, attendees will have the unique opportunity to engage with some of our ambassador animals and their keepers."
In addition to sneak previews, guests will be invited to stroll through the zoo, listen to live music by Runaway Ostrich and engage with performers from Paper Hand Puppet Intervention. Appetizers will be provided by Pepper Moon Catering and an assortment of beer, wine and non-alcoholic beverages will be available.
Tickets start at $150 per person and guests must be age 21 or older to attend. Tickets can be purchased online at www.greensboroscience.org/wingsandwildthings/.
"Proceeds from Wings and Wild Things will allow us to continue to build on our science-focused vision. Your sponsorship will support animal care, educational programs and wildlife conservation initiatives, allowing the Greensboro Science Center to grow to be top 5 science destination in NC. Thank you for believing in the GSC as we inspire "scientists" both young and old to appreciate the wonders of our natural world," Neff said.
# # #
About the Greensboro Science Center
The Greensboro Science Center is a premier family attraction in North Carolina that offers the state's first accredited inland aquarium, a hands-on science museum, an accredited Animal Discovery Zoological Park, a state-of-the-art OmniSphere Theater, and SKYWILD, an animal-inspired treetop adventure park. The GSC is also NC's only dually accredited AZA (Association of Zoos and Aquariums) and AAM (American Alliance of Museums) science attraction – an honor only 14 attractions in the nation can claim. The Greensboro Science Center is located at 4301 Lawndale Drive in Greensboro and is a 501 (c) 3 non-profit organization. For more information, visit www.greensboroscience.org.