Today, the Winston-Salem Urban League (WSUL) launched the Tent Tutors remote learning program at Rupert Bell Park (1501 Mt Zion Pl) and Belview Park (2800 Burgandy St). Tent Tutors is a free outdoor remote learning program designed to support Winston-Salem Forsyth County School System students that have had difficulty accessing online learning programming. The Center for Disease Control and other experts have found that generally, COVID-19 spread is less likely in outdoor environments. As a result, hosting Tent Tutors outdoors, combined with proper masking and social distancing, allows for a unique learning environment with a lower risk of COVID-19 infection.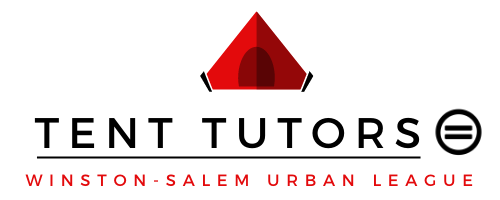 Tent Tutors remote learning sites, Rupert Bell Park and Belview Park, are in geographic areas where as many 58% of students failed to log into Winston-Salem/Forsyth County School System online learning systems in the spring of 2020.
Tent Tutors supports some of the most in-need students in the WS/FC School System, by providing a safe robust learning environment and healthy meals. Each morning starts at 7:30 am with breakfast delivery by the WS/FC School System and arrival of the WS/FC School System WiFi buses. Educational programming, led by Sheryl Ragland, a former principal in the Harlem Children's Zone, kicks off each morning at 8 am. The Winston-Salem/Forsyth County School System provides as many as four tutors at each site. Ragland and the tutors assist students with tech issues and synchronous and asynchronous online learning. The WS/FC School System delivers lunch around noon. Then students eat lunch from noon to 12:30 pm and then resume classes until 3:30 pm.
Tent Tutors operates with the support of a number of partners. The WS/FC School System provides tutors, meals, Wifi buses and strategic support. United Way of Forsyth County provides program funding. The City of Winston-Salem's Parks and Recreation Department provides access to Rupert Bell and Belview Park facilities. The Winston-Salem Urban League manages and oversees the project.
Sheryl Ragland, Tent Tutors Project Manager said, "We served our first group of kids yesterday. I saw how eager they were to learn. We were able to provide the basic support system that every child deserves: a healthy meal, a safe location and a focused learning environment."
Winston-Salem Urban League CEO, James Perry, remarked, "I knew there was a scalable strategy that could help students in need. Thankfully, our partners, the school system, United Way and the City Recreation Department rallied to make this possible. In order to continue to scale, we will need to raise more funds, but I have faith that the community will continue to rally around this project."
Students in 2nd through 12th grade may enroll in Tent Tutors. Click here to register. Email tenttutors@wsurban.org with programmatic questions or concerns.