Two Wounded Veterans to Receive Track Chairs from HPU Fraternity and The Independence Fund
The special presentation will take place during HPU's Annual Veterans Day Celebration.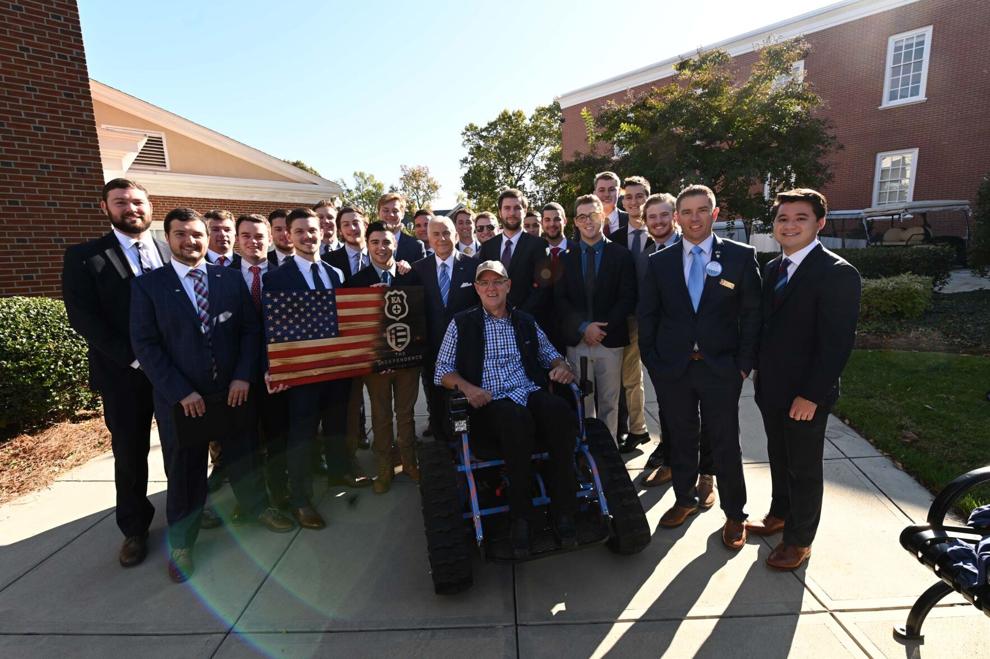 HIGH POINT, N.C., Oct. 28, 2021 – During High Point University's Annual Veterans Day Celebration, brothers of Kappa Alpha Order at HPU will once again give the gift of mobility to wounded veterans, thanks to their continued fundraising efforts to support The Independence Fund.
The Independence Fund is a leading national veterans organization and North Carolina nonprofit that partners annually with the brothers of Kappa Alpha Order at HPU on their Operation K.A.R.E initiative. This year, they have teamed up to change the lives of two U.S. veterans.
During HPU's Annual Veterans Day Celebration, which will welcome more than 1,000 veterans and their families at 8 a.m. on Nov. 11, these HPU fraternity brothers will present two track chairs to two veterans, who will be in attendance. The veterans are: Sgt. Joey Aguilar, who lives in Hillsborough, North Carolina, and served in the Army infantry during Operation Iraqi Freedom, and Sgt. 1st Class Randy Stone, who lives in Midlothian, Virginia, and served in the Army, deploying for Operation Desert Storm and for several tours in Iraq and Afghanistan.
The veterans were identified by The Independence Fund as people whose lives would be improved by the unique and durable track chairs, which increase outdoor mobility.
"Our brothers are honored to support our nation's heroes each year," says Alex Hallahan, COO of Operation K.A.R.E. and KA brother. "This year, we are especially excited to present not one, but two track chairs to two deserving individuals so they can once again be more active with their families. Supporting veterans aligns with our fraternity's values, High Point University's values and the mission of the Independence Fund and Operation K.A.R.E. It makes it even more special to see these organizations unite to make this possible."
"As the CEO for The Independence Fund, I'm proud of the many patriotic men and women who gather together every year to host fundraising events for our nation's heroes," says Sarah Verardo. "As the wife of a catastrophically wounded war veteran and proud older sister of a High Point University graduate, I am even more impressed by the men of this fraternity and the students of HPU. The leadership they are showing for future generations is vital in reminding America's wounded veterans that they are not and will never be forgotten. We salute and congratulate the school and fraternity on such an incredible outcome." 
"The patriotism of these High Point University students touches my heart and reflects our university's pride for our great nation and its heroes," says HPU President Dr. Nido Qubein. "We are a God, family and country institution, and American flags fly high and mighty on our campus. The work of this fraternity to support our nation's heroes is a shining example of our values."
How Operation K.A.R.E. Began
In 2016, High Point University student and Kappa Alpha fraternity members, led by Michael Esposito, began Operation K.A.R.E. – an effort to raise thousands of dollars to donate to The Independence Fund in Charlotte, North Carolina. The funds provide track chairs to wounded veterans in order to increase their outdoor mobility and help them get back to enjoy activities they love.
Since its inception, the Operation K.A.R.E project led by HPU's Kappa Alpha Order has raised more than $132,000 and donated six track chairs, including the two track chairs that will be presented during the event.
In addition to the direct contributions of these HPU fraternity brothers, they have also scaled Operation K.A.R.E. to numerous other Kappa Alpha Order chapters on 50+ campuses nationwide. Nationally, the fraternity and Operation K.A.R.E. have raised more than $670,000 to donate 14 Action Trackchairs and support six different programs to help veterans and their families.
"It has been incredible to see the Operation K.A.R.E. initiative, which began on HPU's campus, grow into a nationwide initiative that has been far reaching and impactful for our nation's most deserving veterans," says Michael Esposito, a 2017 HPU graduate who started Operation K.A.R.E. "I am very proud of my fraternity brothers at HPU who remain dedicated to advancing this noble cause."
About The Independence Fund:
Founded in 2007, The Independence Fund (501c3) is committed to empowering our nation's catastrophically wounded, injured or ill veterans to overcome physical, mental and emotional wounds incurred in the line of duty. The Independence Fund is dedicated to improving the lives of Veterans and their families by providing tangible impact. Through the Fund's Mobility, Caregiver, Adaptive Sports, Advocacy, Suicide Prevention, Family and Crisis Relief programs, The Independence Fund strives to bridge the gap of unmet needs for veterans and their caregivers. The Independence Fund believes in fairness and equality for all veterans and families irrespective of race, gender, religion, and sexual orientation, and will continue to uphold these American values.
About High Point University:
At High Point University, every student receives an extraordinary education in an inspiring environment with caring people.® HPU, located in the Piedmont Triad region of North Carolina, is a liberal arts institution with 5,850 undergraduate and graduate students. It is ranked No. 1 by U.S. News and World Report for Best Regional Colleges in the South and No. 1 for Most Innovative Regional Colleges in the South. The Princeton Review named HPU in the 2022 edition of "The Best 387 Colleges" and on the Best Southeastern Colleges "2022 Best Colleges: Region by Region" list. HPU was also recognized as a Great School for Business/Finance Majors, a Great School for Communication Majors and Great Dorms. For 11 years in a row, HPU has been named a College of Distinction with special recognition for career development, business and education programs. The university has 62 undergraduate majors, 64 undergraduate minors and 14 graduate degree programs. It is a member of the NCAA, Division I and the Big South Conference. Visit High Point University on the web at highpoint.edu.
Photo: 1) High Point University Kappa Alpha Order brothers regularly partner with The Independence Fund to provide wounded veterans with track chairs that increase their outdoor mobility. This year, two chairs will be presented to two veterans.Pictured is a 2019 track chair presentation to U.S. Army veteran Steve Slate after HPU's Annual Veterans Day Celebration.