Sternberger Elementary Physical Education Teacher Named GCS Teacher of the Year
Christopher Carroll to Represent the District in Regional Competition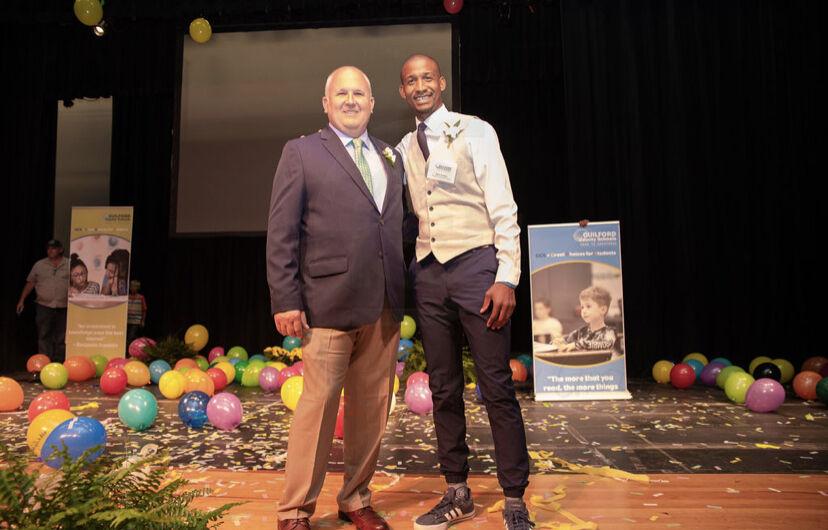 Greensboro, N.C. – Veteran educator Christopher Carroll is taking home one of Guilford County Schools' (GCS) highest honors. During the annual Celebration of Excellence, Leah Carper, the 2022 North Carolina Teacher of the Year, announced Carroll, a physical education teacher, as the 2022-2023 GCS Teacher of the Year.
Carroll, who is entering his 25th year as an educator, said the power of education is all in the "why." He uses his lessons to answer that question for students and demonstrate how they can live active and healthy lives. 
Before passing on her title, former GCS Teacher of the Year and current North Carolina Teacher of the Year Leah Carper said, "In my position as North Carolina Teacher of the Year, I travel across the state and I have to say we are the best. We are strong, we are smart and we are innovative."
Carroll was also named Elementary Teacher of the year. Holly Herberg of Ferndale Middle was named Middle School Teacher of the Year and Weaver Academy's Nina Sumpter took home the honor of High School Teacher of the Year. Other finalists included Olivia Gerald from Grimsley High and Juana Rhili of Guilford Elementary.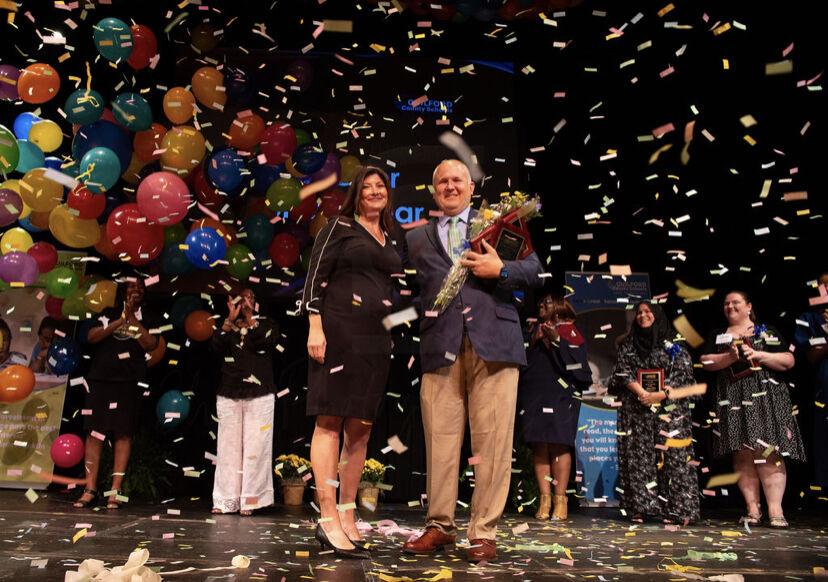 The Teacher of the Year announcement was one of several announcements made Thursday at Eastern High as the district's top educators were recognized. The Guilford Education Alliance, The Joseph M. Bryan Foundation and Racial Equity Institute, LLC sponsored the event and related prize money. 
The evening's events also included announcing the GCS Principal of the Year. That honor and $1,000 in prize money went to Paul Travers of Washington Montessori. Travers also received the Elementary Principal of the Year award. "At Washington, one of the things we try to do everyday is communicate hope. We want parents to know and believe that when they drop their students off, that we're creating hope. We don't talk to our kids about what do they want to be in the future, we talk to them about how they want to impact the world."Kristina Wheat of Northern Middle School earned the Secondary Principal of the Year distinction.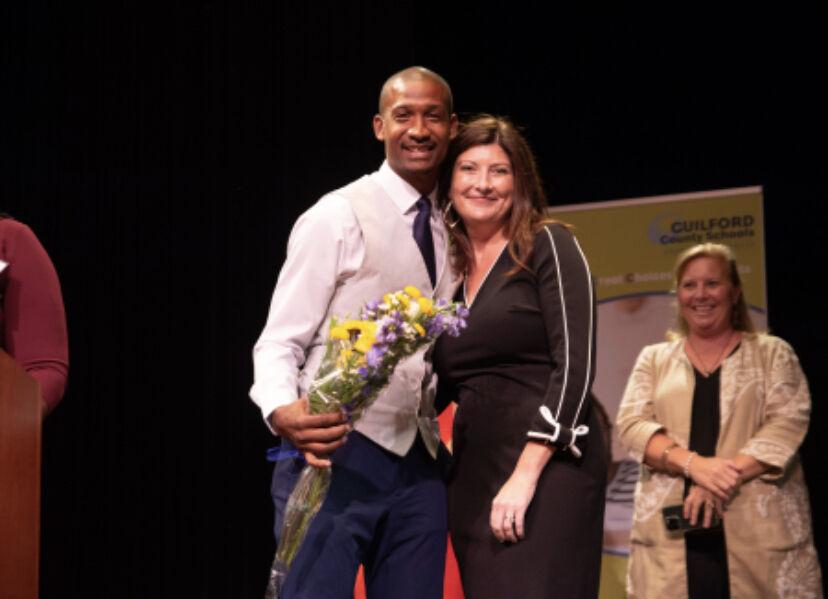 Rookie Teacher of the Year Jerico Carrillo said the key to connecting with his students is understanding what motivates them. The Southern High band director says when students feel seen, heard and understood, they become more active participants in their education.
Zaynah Brooks from Wiley Elementary, Gary Kight at Morehead Elementary, Kathryn Porter from Jamestown Middle and Brooklynn Whipple from Fraizer Elementary were recognized as Rookie Teacher of the Year finalists.
For the first time, GCS named a Social Worker of the Year. Brittany Wells from Jamestown Middle received the inaugural honor. In her application, Wells said, "We are all granted a life that allows us to use our passions, talents, values and energy in any capacity, and social welfare is where I use mine. I believe that if we begin thinking about humankind as our family and the world's problems as our problems, we can change the world." Other finalists included Shameka Byers from Pearce Elementary and Terri Sims Starling, who serves at Washington Montessori, the Middle College at GTCC-Greensboro and STEM Early College at N.C. A&T State University.
Ashley Lopez-Davila took home two trophies Thursday night. The Alderman Elementary school counselor earned the title GCS Counselor of the Year and Elementary School Counselor of the year.
 In her application for Assistant Principal of the Year, winner Kimberly Leighty underscored the importance of teamwork. The Western Guilford High School administrator noted, "Our system needs a diverse army of equity warriors who can use our collective voice to advocate for what education can be." That army is what she says will create change and a pathway to prosperity for students. 
Western Guilford High School has two award-winning administrators. Christina Sapusek took home the honor of Mentor of the Year. She was joined by finalists Emily Rex of Guilford Elementary, Yvette Spratling from Wiley Elementary and Bryant Thompson of Ferndale Middle.
Haynes Inman Education Center's school pride shined. They took home a trophy for secondary schools. Sumner Elementary School received a spirit award for elementary schools.  
About Guilford County Schools 
Guilford County Schools, the third-largest school district in North Carolina and the 50th largest of more than 14,000 in the United States, serves nearly 70,000 PK-12 students at 126 schools. With approximately 9,800 employees, GCS works in partnership with parents, businesses, colleges, and the community to deliver an education that connects student interests and skills with the careers and economy of our future here and around the world. We provide educational choices to meet individual student needs in a culturally diverse citizenship and new opportunities to help our students Soar to Greatness. For more information, visit the district's website at www.gcsnc.com.